Hot chocolate malt cupcakes frosted with chocolate malt buttercream and topped with maltesers.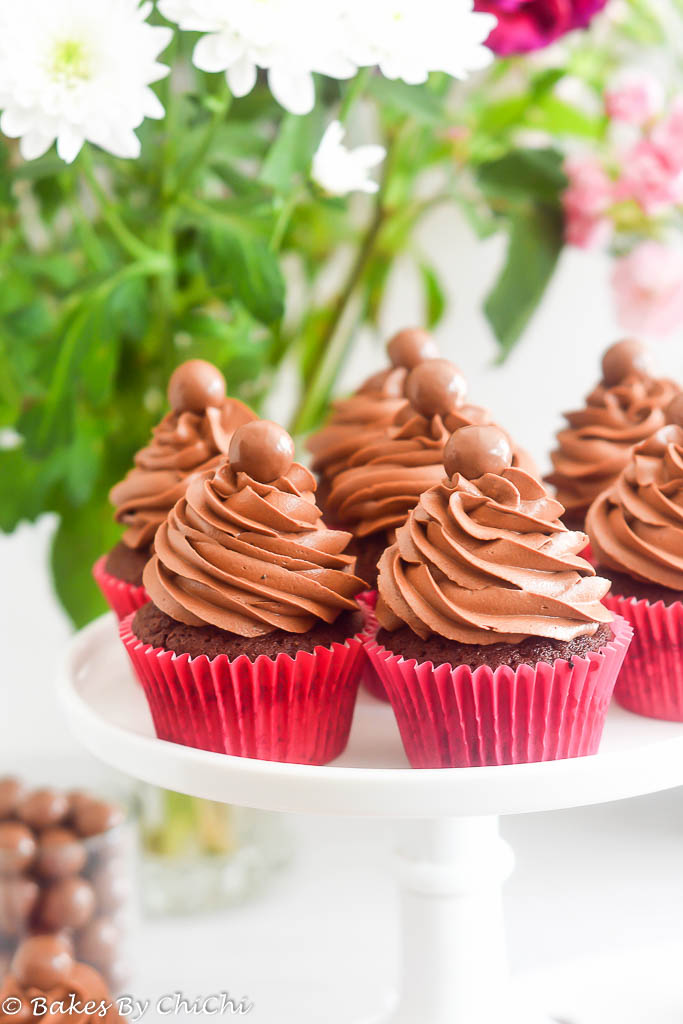 Happy October. Whoop!! Whoop!! It's my birthday month.
I have been on a MIA from blogging for about 2 months now. It was a really busy summer. I spent four glorious weeks in Ghana. There was a wedding…… not mine :-), lots of going out, delicious food and much needed vitamin D. Oh can I just tell you how glorious the weather was. Warm lovely weather. I got to spend lots of time with family and friends. And enjoy lots of food. Accra is such a vibrant city with places to eat to suit every taste and budget. You don't have to go find to far to find food, no matter the time of day. After a night of partying, must have been 2 am we drove to a night market in Osu for food. And you would think at that time of the morning, you would be limited with food choice. No no no, I had a choice of kebab, kenkey, fried rice and copious amount of meat. It was nice to drink coconut water straight from an actual coconut than a can. And then once I was done drinking the coconut water, the soft coconut flesh was scooped out for me to enjoy. A truly fantastic summer.
But alas I am back to reality, back to normal :-(. What I missed during my time away was blogging.
I have been comforting myself with maltesers. These moreish treats are a total weakness of mine. I try my hardest to stay away but not with much luck though. So today I give you malteser flavours replicated in a cupcake.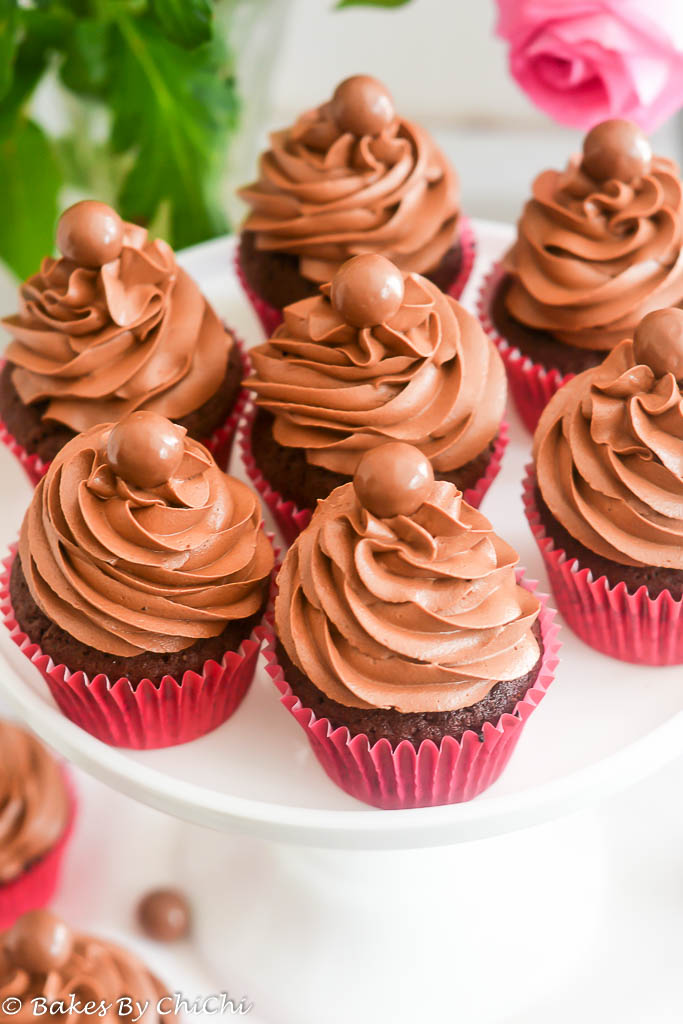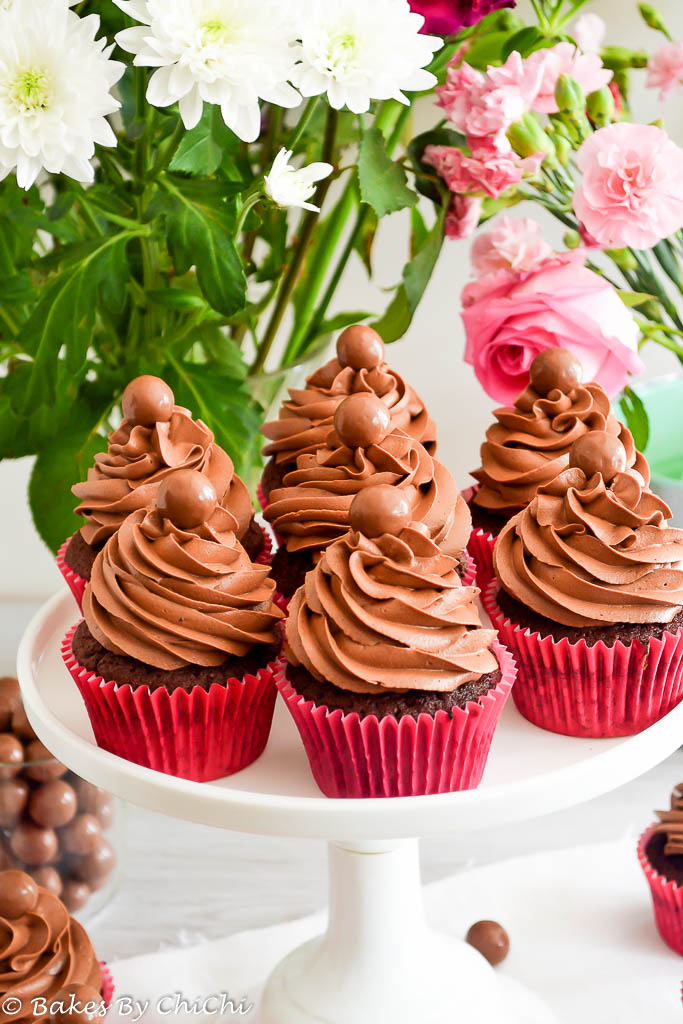 One bite of this rich hot chocolate malt cupcake with the creamy frosting will leave you wanting more.
Lets talk about just how good the cupcake and frosting is. The Hot Chocolate Malt Cupcakes are made using a one-bowl recipe. It is a variation of my favourite chocolate cake recipe which I used for the Chocolate Cake with Cookies and Cream. I reworked this recipe by mixing together cocoa powder and malt milk with a cup of hot water. The chocolate frosting is made with cocoa powder, chocolate ganache and malt powder . The cocoa and malt powder gives the frosting it's flavour with the chocolate ganache adding lightness and creaminess.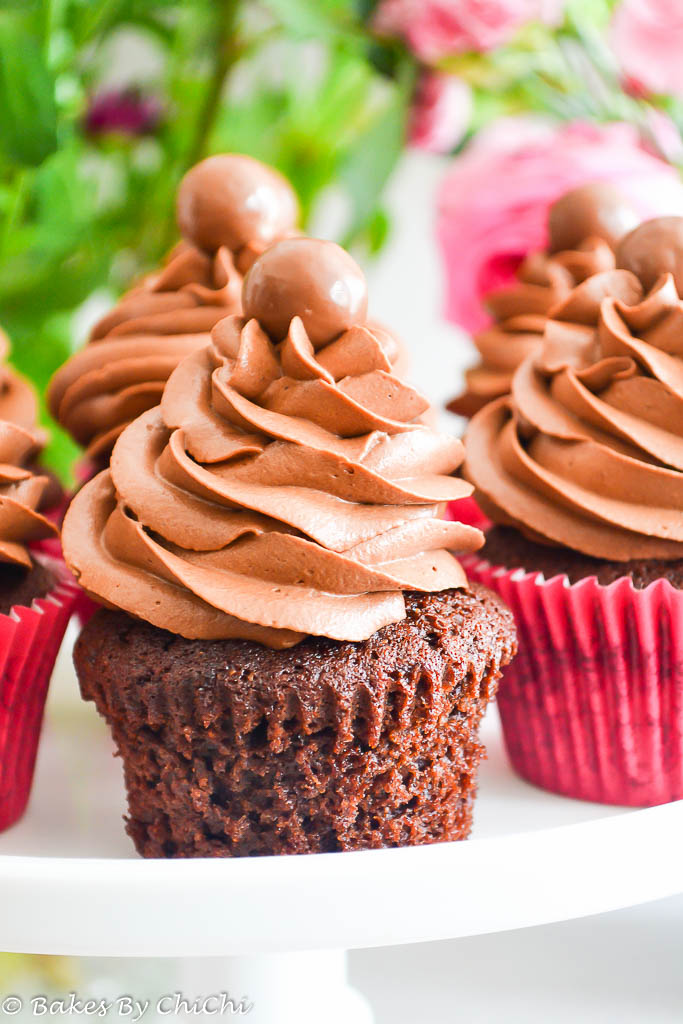 Once your hot chocolate malt cupcakes are ready all you have to do is wait for them to cool and pipe on the lush creamy frosting. Then enjoy!!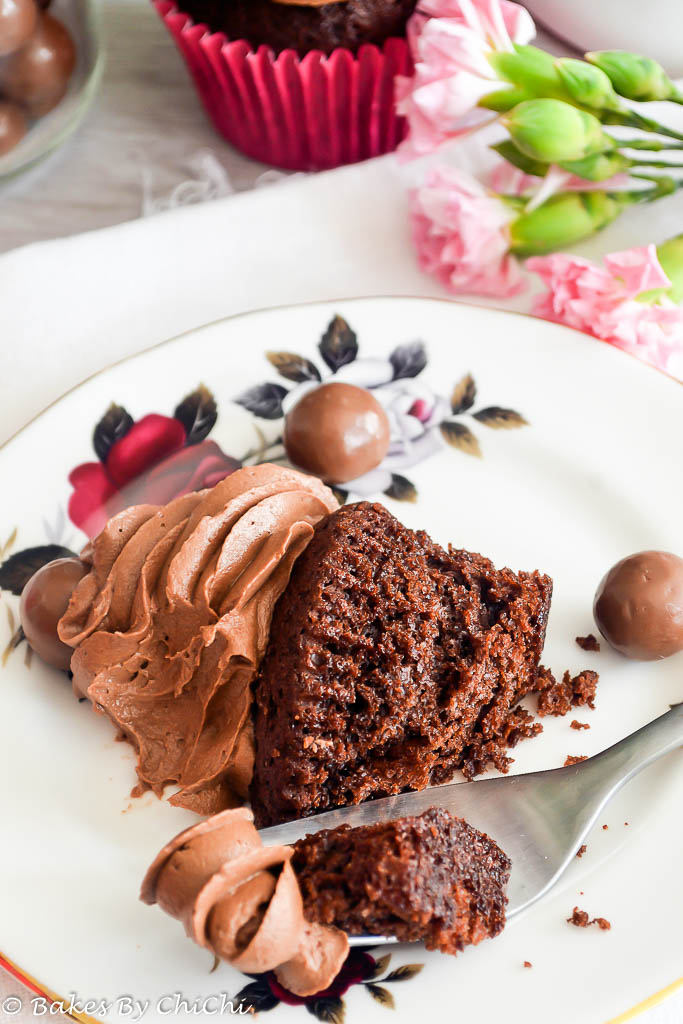 Stay up to date with Bakes by ChiChi on:
Facebook | Instagram | Pinterest | Google Plus | Bloglovin
or you can subscribe to my weekly newsletter
Hot Chocolate Malt Cupcakes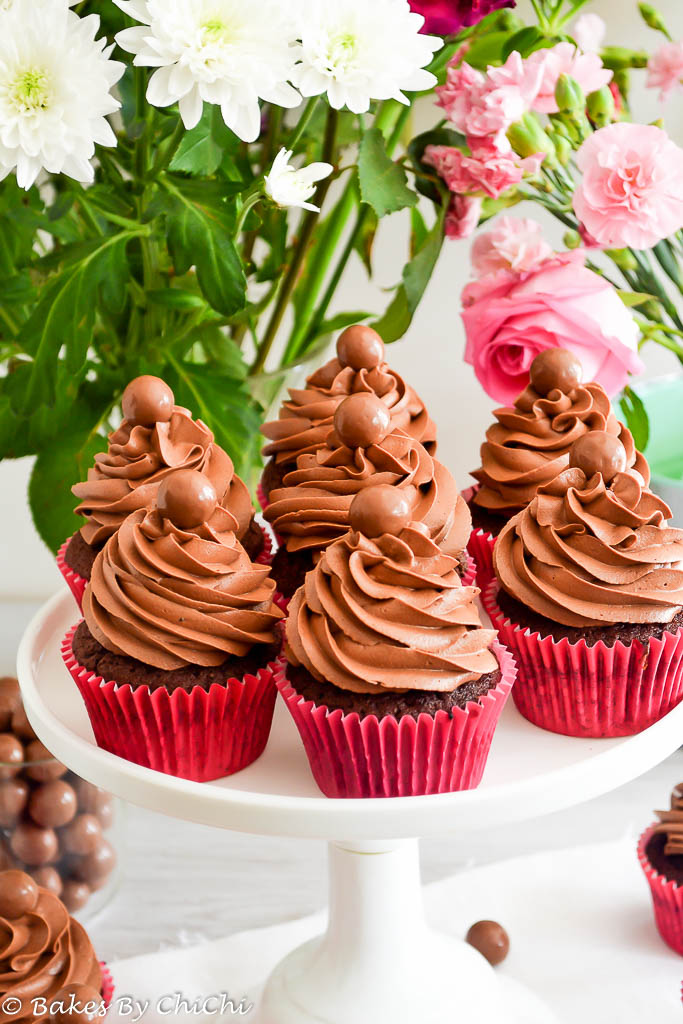 Ingredients
Hot Chocolate Malt Cupcakes

180 g (1 1/2 cups) all purpose or plain flour
180 g (1 cup ) light brown sugar
100 g (1/2 cup) caster sugar
60 g (1/2 cup) cocoa powder
65 g (1/2 cup) malt powder
1 teaspoon bicarbonate of soda
1 1/2 teaspoon baking powder
1/2 teaspoon salt
3 eggs
2 teaspoon vanilla extract
120 ml (1/2 cup) sunflower oil
120 ml (1/2 cup) whole or semi skimmed milk
120 ml (1/2 cup) hot water

Chocolate Malt Buttercream

240 g (1 cup) unsalted butter room temperature
120 g (1/2 cup) Trex (vegetable fat)
400 g (4 cups) sifted icing sugar
130 g (1 cup) malt powder
2 teaspoons vanilla extract
150 g (5.3 oz) dark chocolate, chopped
80 ml (1/3 cup) whipping cream
Instructions
Hot Chocolate Malt Cupcakes
Preheat oven to 160 degrees Celsius. Line muffin tin with paper liners.
In the bowl of your stand mixer sift together sugars, flour, bicarbonate of soda, baking powder and salt.
Mix together cocoa powder, malt powder and hot water in a bowl and set aside.
In a measuring jug or bowl combine eggs, oil, milk and vanilla extract. Add liquid mixture to flour mixer and beat on medium speed until smooth and incorporated. Stir in cocoa powder mixture.
Fill each liner 2/3 full with batter. Bake for 18- 20 minutes or until a toothpick inserted in the centre comes out clean. Let cupcakes cool in pan for 5 minutes before removing to cooling rack to cool completely.
Chocolate Malt Buttercream
To make the chocolate ganache, place chopped chocolate and cream in a microwave safe bowl. Melt in 30 second bursts in microwave, stirring with a whisk after each time, until completed melted. Stir ganache gently with a whisk until smooth and no streaks of cream remain.
In bowl of stand mixer beat butter and vegetable shortening on medium speed until light and creamy, about 5 minutes.
Turn down speed to low and add sifted icing sugar a cup at a time and beat well until combined. Mix in malt powder and then the chocolate ganache.
Add vanilla extract and beat until frosting is light and fluffy.
Frost cooled cupcakes and decorated with maltesers . Enjoy!!
3.1
https://bakesbychichi.com/hot-chocolate-malt-cupcakes/