Starting off the summer with this Fresh Berry Cream Cake.  Three layers of soft, fluffy and tender vanilla sponge filled with whipped mascarpone cream and topped with fresh berries. This delicious cake is easy to make and perfect for any occasion.
Let's get into the details for the cake
There are three parts to this cake. 
First is the vanilla cake. Made with cake flour, oil and yoghurt for a softer fluffy cake.  I added in vanilla bean paste  to give the cake an intense vanilla flavour.  It is a bit pricey, however totally worth adding to your cake. 
The other part to this cake is the mascarpone whipped cream. Mascarpone is my secret weapon to making stabilised whipped cream. This Italian cheese also makes the whipped cream decadent and creamy. 
Finally, the fresh berries to garnish the cake.  Strawberries, raspberries and blackberry are some of my favourites. 
The vanilla cake is made with basic baking ingredients you probably have. Each ingredient serves a purpose, so I wouldn't recommend any substitutions. 
Cake Flour-  It contains a lower percentage of protein which makes a soft, fluffy and light vanilla cake.
Baking Powder- Gives the cake it's rise.
Salt- Balances the sweetness.
Unsalted Butter + Vegetable oil: Oil gives the cake a moist texture, whilst the butter adds in rich buttery flavour. 
Sugar- Caster or granulated sugar sweeten the cake.
Vanilla Bean Paste- Provides a more intense vanilla flavour. You can also use good quality vanilla extract. 
Eggs- Provides structure, stability, flavour and richness to the cake. 
Yoghurt- Greek yogurt brings a slight tang and gives the cake a nice moist texture.
Milk- Whole milk makes the crumb extra rich and adds moisture. 
Tips for Vanilla Cake Success
Use room temperature ingredients. The batter mixes together evenly when all the ingredients are at room temperature. 
Beat butter, oil, sugar and vanilla beat paste until light and fluffy. Doing this evenly disperses the sugar throughout the batter and also incorporates more air into your batter. 
Oil and line your cake pans with baking or parchment paper. I use PME Release A Cake. Trace the bottom of the cake pan with a pencil and then cut into circles. Grease the sides and bottoms of the pans and line the bottom of the pan.
Use a digital scale to measure and evenly distribute the cake batter between cake tins. 
Cool the cakes completely before frosting.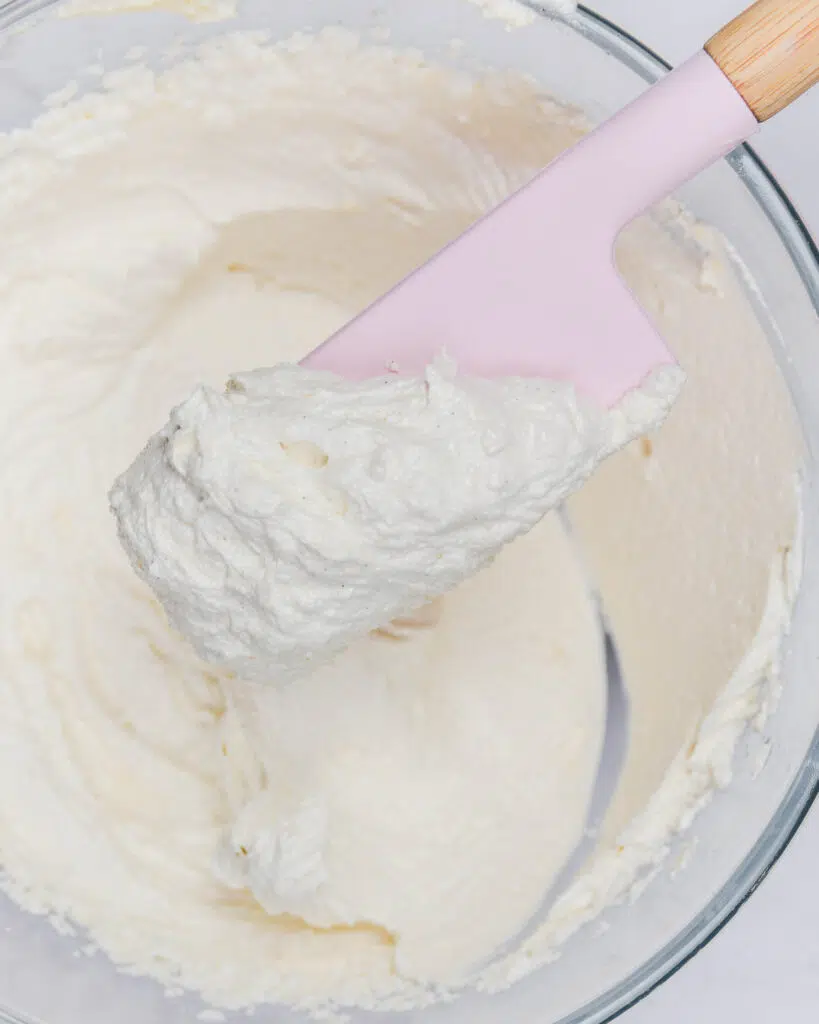 This mascarpone whipped cream is great for frosting cakes, as a topping cheesecake or for making Tiramisu. To make this, you will need whipping cream, icing sugar and mascarpone.  Mascarpone is an Italian cheese that has a creamier texture and has a subtle flavour. I love using it to make whipped cream as it stabilises the whipped cream and holds it shape. The cream can be made a day in advance. 
To make the mascarpone whipped cream, you will need:
Mascarpone – It will need be cold. Drain out any excess liquid from your mascarpone before using.  
Cream– Use double, whipping or heavy cream. The colder the cream, the quicker it will be to whip into soft peaks. 
Icing or Powdered Sugar– It adds sweetness to the cream and also acts as a stabilizer. 
Vanilla Bean Paste- adds flavour to the whipped cream 
Wash your berries in a diluted vinegar bath made with 250ml (1 cup) vinegar to 750 ml (3 cups) water. This will remove any bacteria and help the keep the pesky mould away and help the berries last longer. Drain the berries in a colander and rinse under cool running water. Finally, spread the berries on paper towels, and pat and roll lightly with towel to dry them well. We want to remove the moisture from the berries. 
Store the berries in sealable container lined with paper towels. Leave the lid partially open to avoid trapping moisture. 
Tips for assembling the cake
Bake your cake a day in advance. Let the layers cool before wrapping with cling film and chilling in the fridge until you are ready to frost the cake. Chilled cake cakes make for fewer crumbs and are easier to decorate. 
Trim the dome off the cake using a serrated knife to get a level cake. This ensures the cake layers will stack evenly. 
Place the cooled cake layer cut side down on your cake plate or board. This way you have a smooth surface to work with. 
Use an offset spatula to evenly spread the frosting over the top of the cake.
Every bite of this light cake with the fluffy cream and juicy berries is amazing. 
For more layered cake, check these out: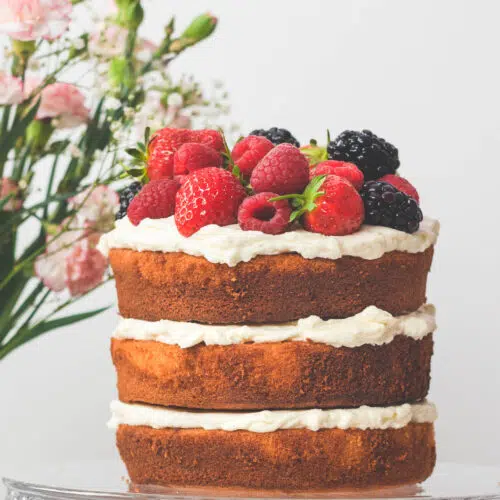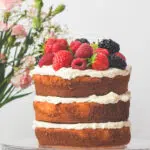 Fresh Berry Cream Cake
This Fresh Berry Cream Cake is three layers of soft, fluffy and tender vanilla sponge filled with whipped mascarpone cream and topped with fresh berries. This delicious cake is simple to make and perfect for any occasion.
Print
Pin
Rate
Ingredients
Vanilla Cake
240

grams

(2 cups) cake flour

2

teaspoons

baking powder

½

teaspoon

salt

120

grams

(½ cup) unsalted butter, room temperature

60

ml

(¼ cup) neutral oil (sunflower or vegetable)

200

grams

(1 cup) caster sugar

2

teaspoons

vanilla bean paste

3

large

eggs, room temperature

60

ml

(¼ cup) Greek yoghurt , room temperature

125

ml

(½ cup) whole milk, room temperature
Whipped Mascarpone Cream
300

ml

(1 ¼cup) whipped or heavy cream, cold

250

grams

(8.8 oz) mascarpone cheese, cold

80

grams

(½ cup + 2 tablespoons) icing or powdered sugar, sifted

1

teaspoon

vanilla bean paste

300

grams

(10.58 oz) fresh berries (strawberries, raspberries and blackberries) to garnish
Instructions
Make the Vanilla Cake
Preheat oven to 170 ° Celsius. Grease the bottom and sides of 3 , 6 -inch round cake tins and line the bottom with parchment paper.

Sift together flour, salt and baking powder, set aside.

In the bowl of stand mixer beat butter, oil, sugar and vanilla bean paste until light and fluffy, for about 5-7 minutes.

Add eggs one after the other beating well after each addition.

Beat in the yoghurt. Scrape down the sides and the bottom of the bowl as needed.

With mixer on low, alternately add the flour mixture and milk, beginning and ending with flour mixture.

Divide batter evenly between cake tins. (To ensure each tin had the same amount of batter I used a measuring cup and a scale).

Bake for 30 minutes or until tooth pick inserted in centre comes out clean. Leave to cool on a wire rack for 20 minutes, then invert onto a wire rack gently, discard parchment paper and cool completely before assembling.
Make the whipped mascarpone cream
Chill the mixing bowl and whisk attachment for 30 minutes in the fridge or 10 minutes in the freezer.

Add whipped cream, icing sugar and vanilla paste to the chilled bowl. Whip until soft peaks form.

Drain any excess liquid from the mascarpone. Add mascarpone cheese to whipped cream and whip until stiff peaks form. This will happen fairly quickly. Cover and chill in the fridge for up to 3 days.
To assemble the cake
Cut the dome off the top of your cake with a serrated knife.

Place one layer of cake, cut side down on your serving plate or cake stand. Add some mascarpone cream to the top the cake and spread evenly.

Top with the second layer and spread more cream on top.

Add the final layer of cake on top and spread mascarpone cream over the top.

Finish the cake by garnishing with fresh berries.

Refrigerate the cake until ready to serve. The cake is best eaten within 3 days.
Notes
To make cake flour: Measure 120 g (1 cup plain flour). Remove 2 tablespoons of flour and replace with 2 tablespoons of corn starch. Sift the flour and corn starch mixture about 5 times. The corn starch and flour needs to be well incorporated and flour aerated.
If you made this recipe, I would love to hear from you.
Tag Bakes By Chichi on Instagram or hashtag #bakesbychichi