These delicious chocolate peanut butter cupcakes start off with chocolate cupcakes stuffed with peanut butter cup and frosted with creamy peanut buttercream and topped with reese's peanut cup mini.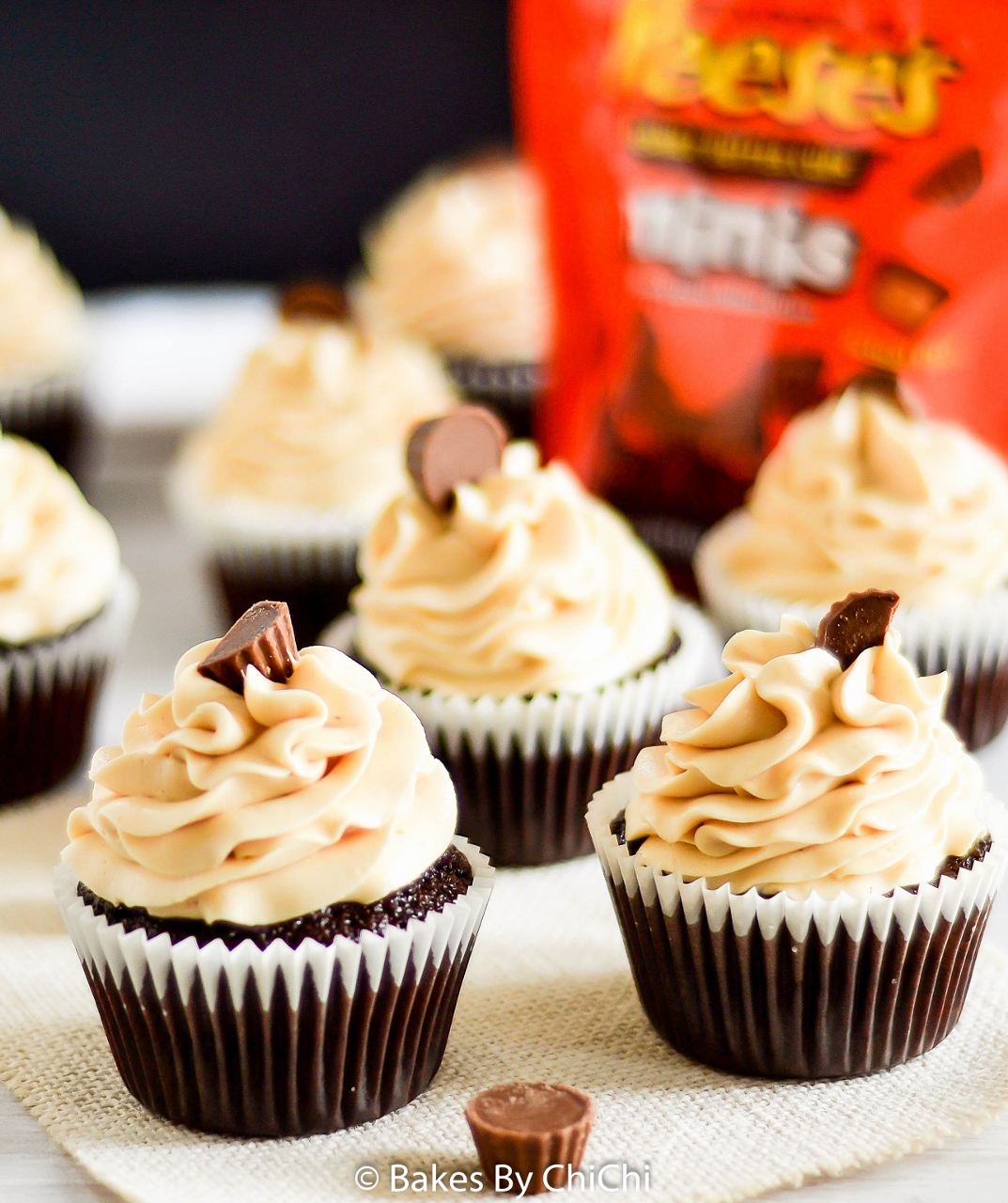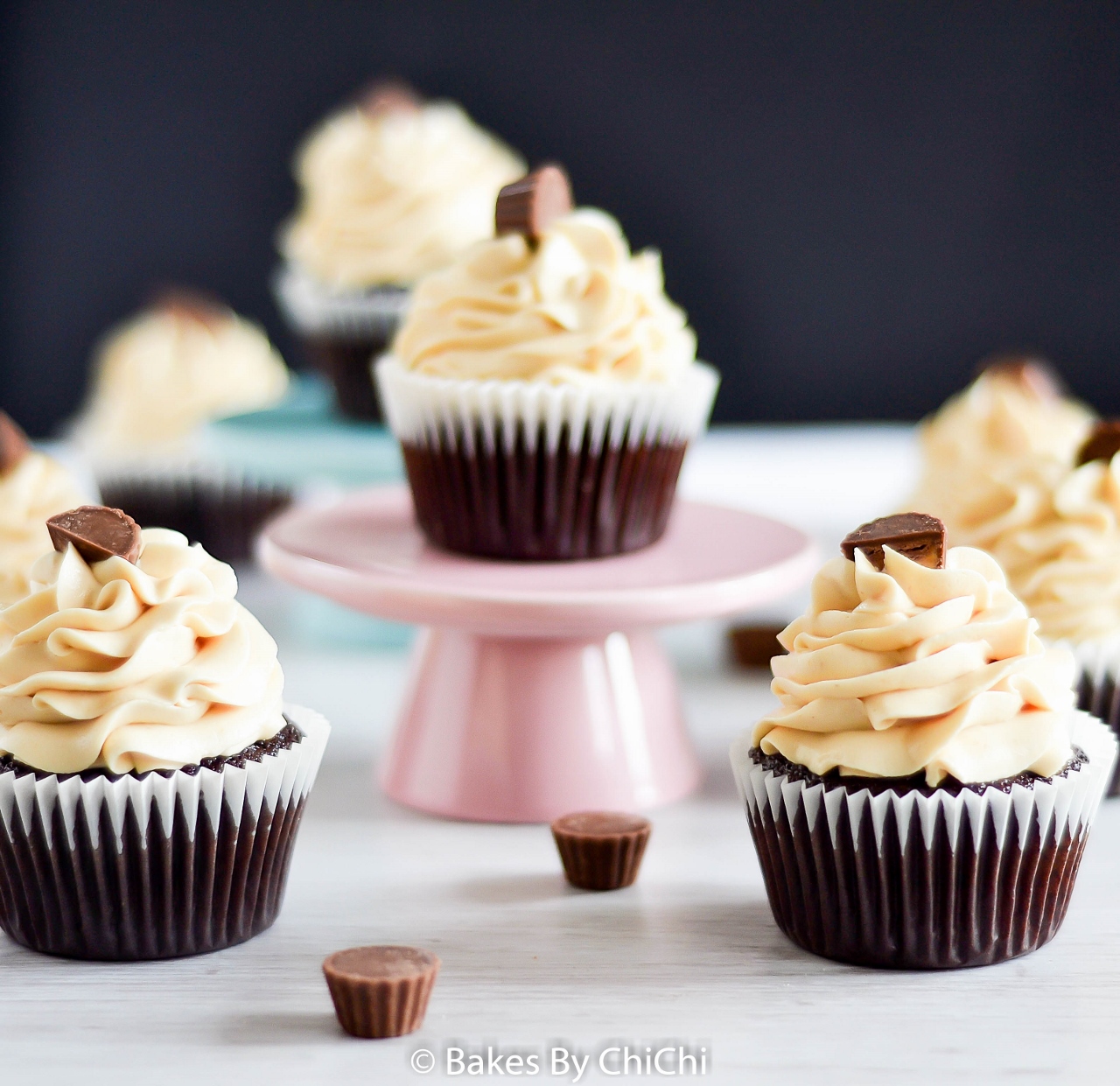 Recently I went to a baby shower. There is always games to be played at baby showers.  One of the games we played was the sweet mess baby shower game, thank you Google for providing the name.  And that was my introduction to reese's peanut butter cup. We are only supposed to have a little taste to guess what is in the nappy, but I did a double taste. Don't judge me :-). I love peanut butter. Peanut butter on bread, peanut butter with banana, peanut butter banana bread , peanut soup. I could go on and on.
Let's start with the chocolate peanut butter cupcakes. We will be using my all time favourite from scratch chocolate cupcake recipe. It is a one bowl recipe which produces a moist and soft cupcake with an intense chocolate flavour cupcake. I used a mixture of large reeses and mini ones. The large ones I left whole and pushed into the batter  and the chopped mixed in with the batter. You don't have to make cupcakes both way.  I would recommend freezing the reese's butter cups for an hour before adding them to the chocolate cupcake batter. It stops them from disappearing into the cupcakes.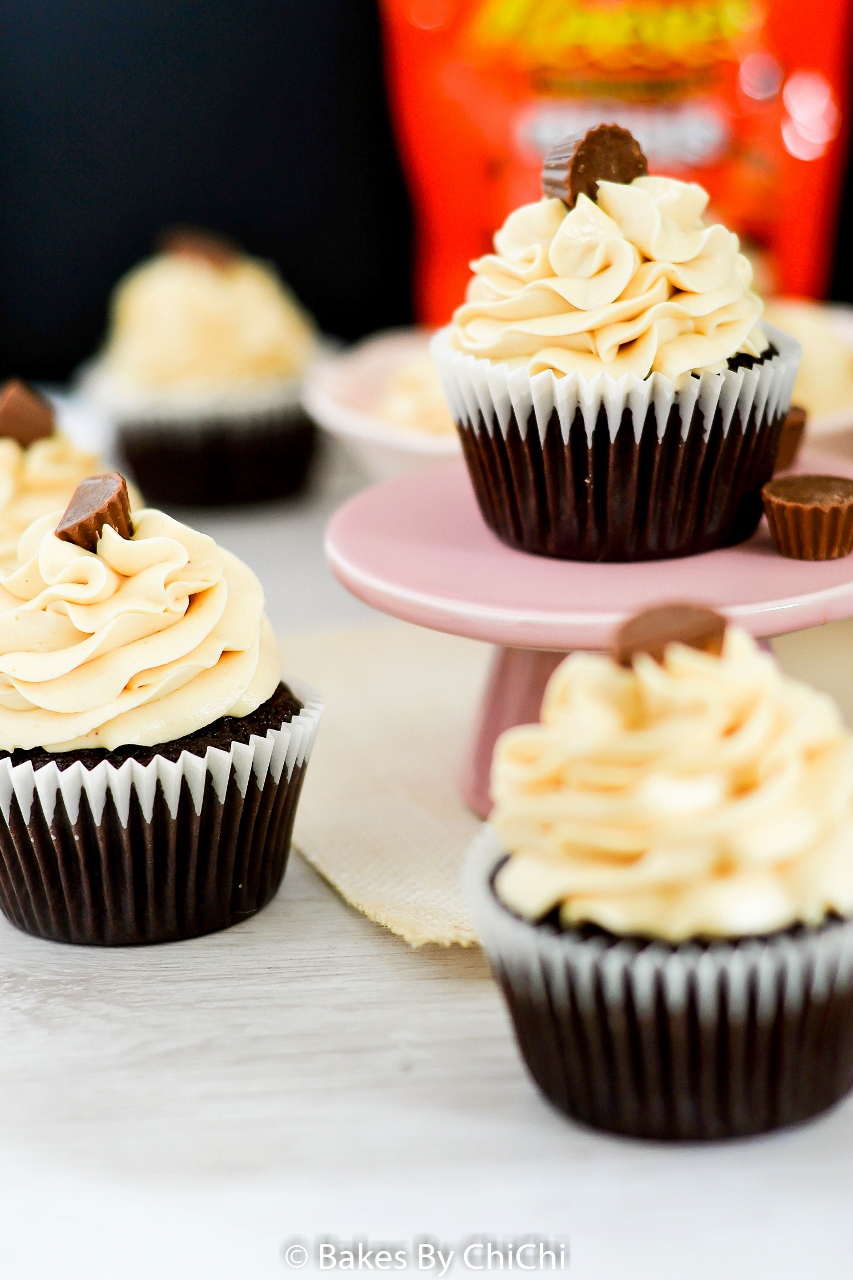 And then the frosting. If you love peanut butter, then you in for a treat. It is light, creamy, fluffy and full of peanut flavour. A perfect balance of  sweet and salty. There is no skimping on the peanut butter. I could happily eat it all.
Pipe swirls of creamy peanut buttercream on the cooled chocolate peanut butter cupcakes and top with peanut butter cup minis.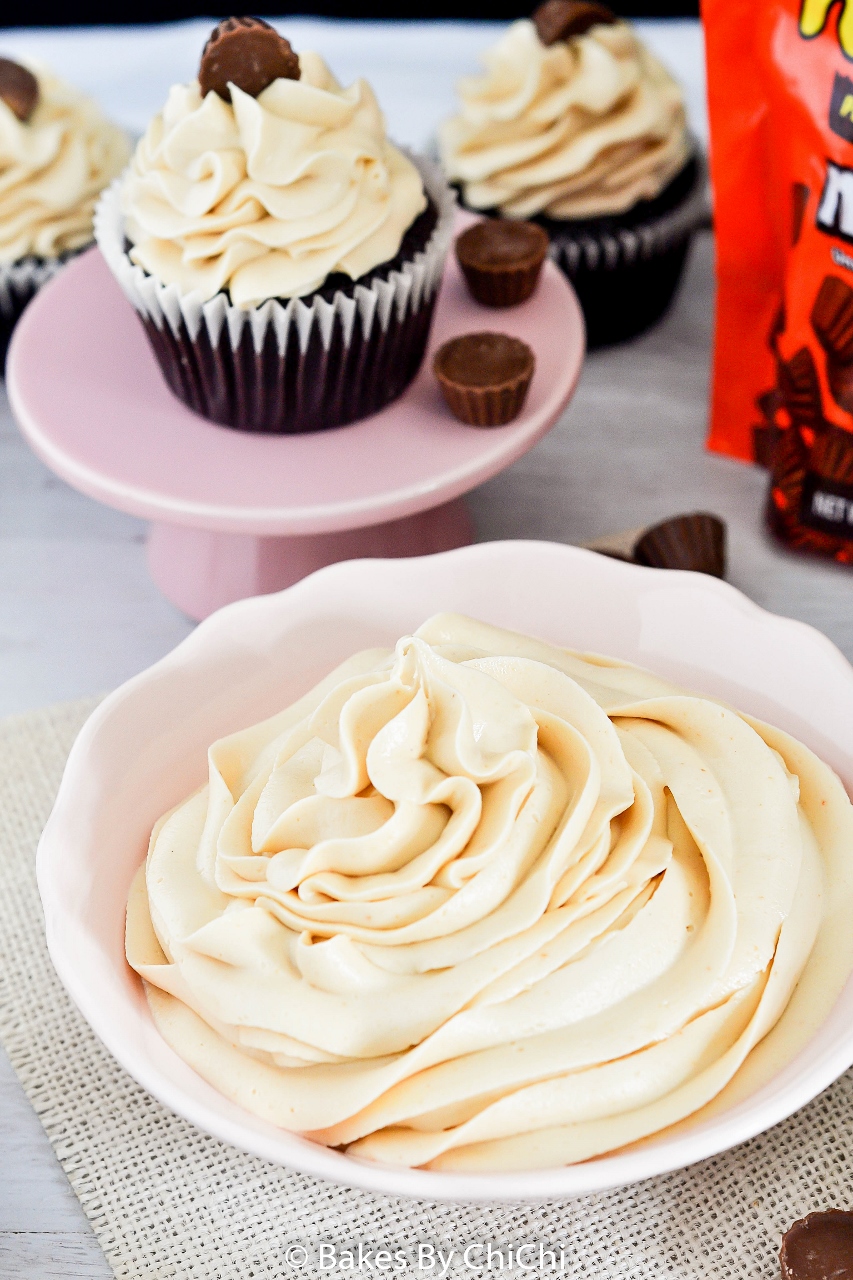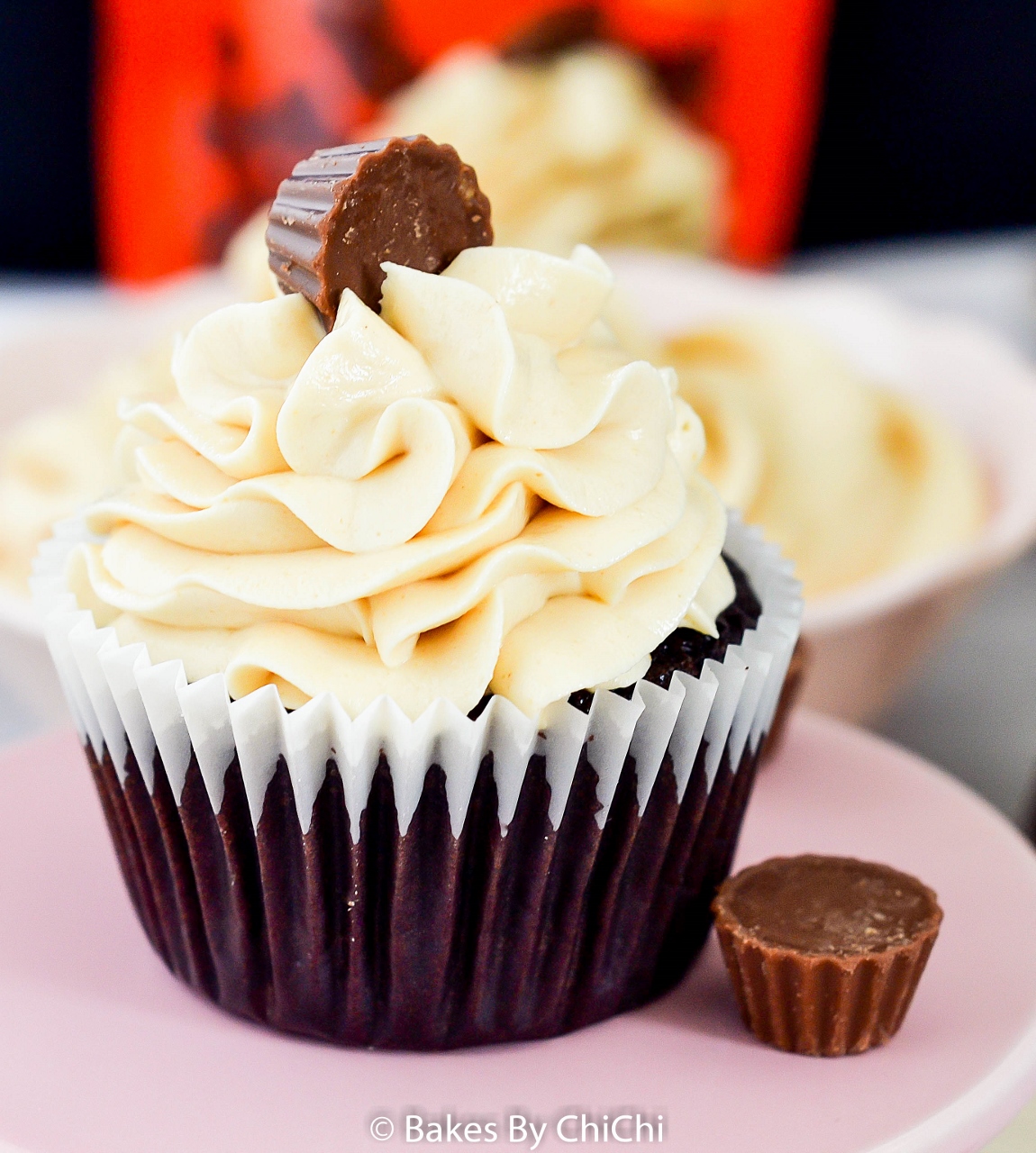 To pipe the swirls on the cupcakes I used a Wilton 1M open star tip. I have a video tutorial here showing how to frost swirls of frosting on cupcakes.
And enjoy!!! 🙂
 Stay up to date with Bakes by ChiChi on:
Facebook | Instagram | Pinterest | Google Plus | Bloglovin
or you can subscribe to my weekly newsletter
Peanut Buttercream frosted Chocolate Peanut Buttercup Cupcakes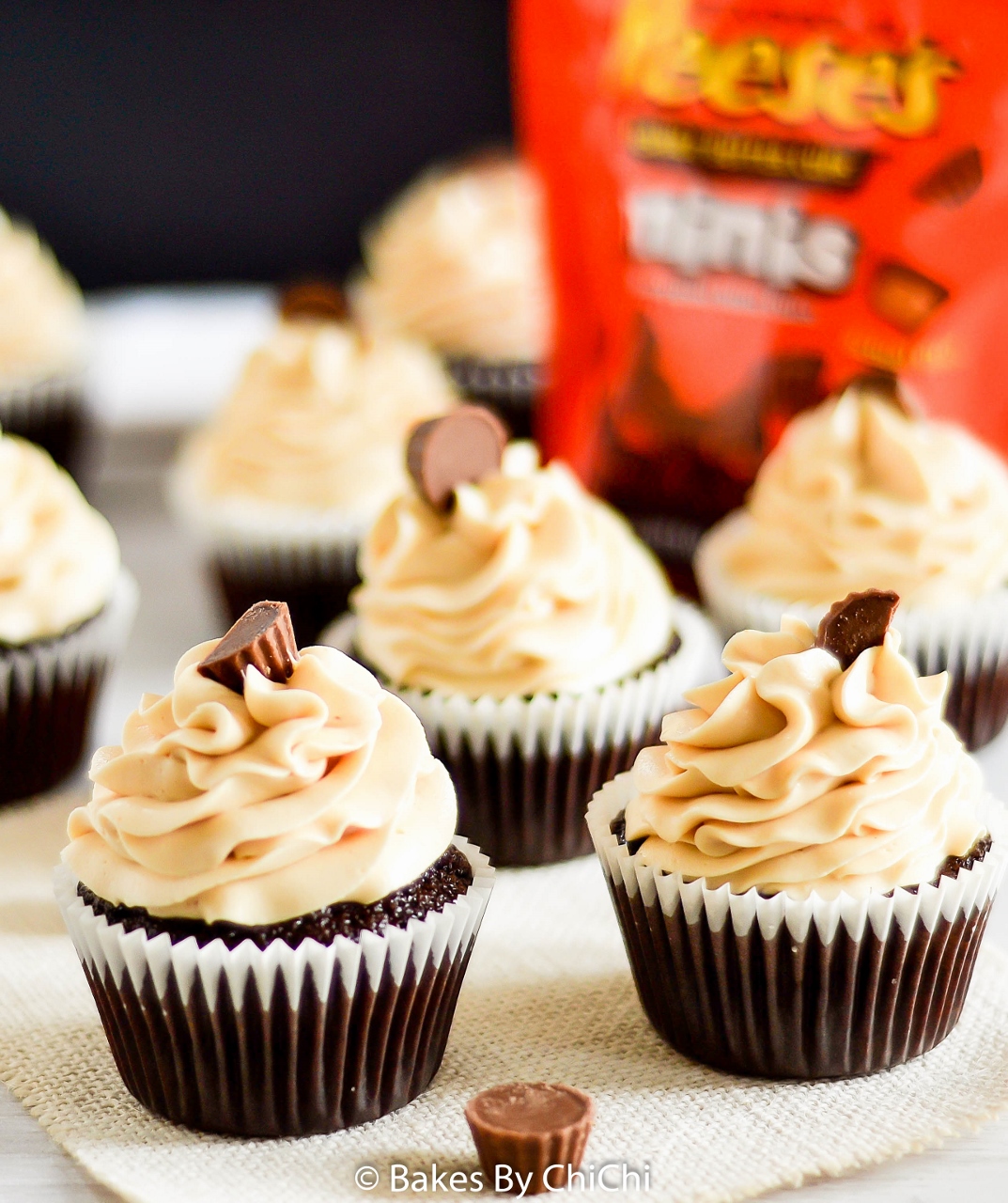 Ingredients
Chocolate Peanut Buttercup Cupcakes

210 g (1 3/4 cup) all purpose or plain flour
400 g (2 cups) sugar
120 g (1 cup) cocoa powder
1 1/2 teaspoon bicarbonate of soda
1 1/2 teaspoon baking powder
1/2 teaspoon salt
2 eggs
120 ml (1/2 cup) sunflower oil
250 ml (1 cup) buttermilk
250 ml (1 cup) hot coffee (1/2 tablespoon of coffee dissolved in hot water)
Reese's peanut butter cups, whole or chopped

Peanut Buttercream

240 g (1 cup) unsalted butter room temperature
120 g (1/2 cup) Trex (vegetable fat)
400 g (4 cups) sifted icing sugar
2 teaspoons vanilla extract
210 g (3/4 cup) peanut butter
60 ml (1/4 cup) whipping cream
reeses peanut butter cup minis, optional
Instructions
Chocolate Peanut Butter Cupcakes
Preheat oven to 160 degrees Celsius. Line muffin tin with paper liners.
In the bowl of your stand mixer sift together cocoa powder, sugar, flour, bicarbonate of soda, baking powder and salt.
In a measuring jug or bowl combine eggs, oil, buttermilk and vanilla extract. Add liquid mixture to flour mixer and beat on medium speed until smooth and incorporated. Stir in hot coffee.
Fill each liner 2/3 full and press one large or chopped reese's into each cupcake. Bake for 20 or until a toothpick inserted in the centre comes out clean. Let cupcakes cool in pan for 5 minutes before removing to cooling rack to cool completely.
Peanut Buttercream
In bowl of stand mixer beat butter, vegetable shortening and smooth peanut butter on medium speed until light and creamy, about 5 minutes.
Tun down speed to low and add sifted icing sugar a cup at a time and beat well until combined.
As frosting thickens add whipping cream and beat until frosting is light and fluffy. Beat in vanilla extracts and beat until evenly incorporated.
Frost cooled cupcakes and decorated with reese's peanut butter cup minis. Enjoy!!
3.1
https://bakesbychichi.com/chocolate-peanut-butter-cupcakes/