Soft crumbly rose chocolate spritz cookies sandwiching delicious floral rose ice cream with fruity lychee and raspberry swirls.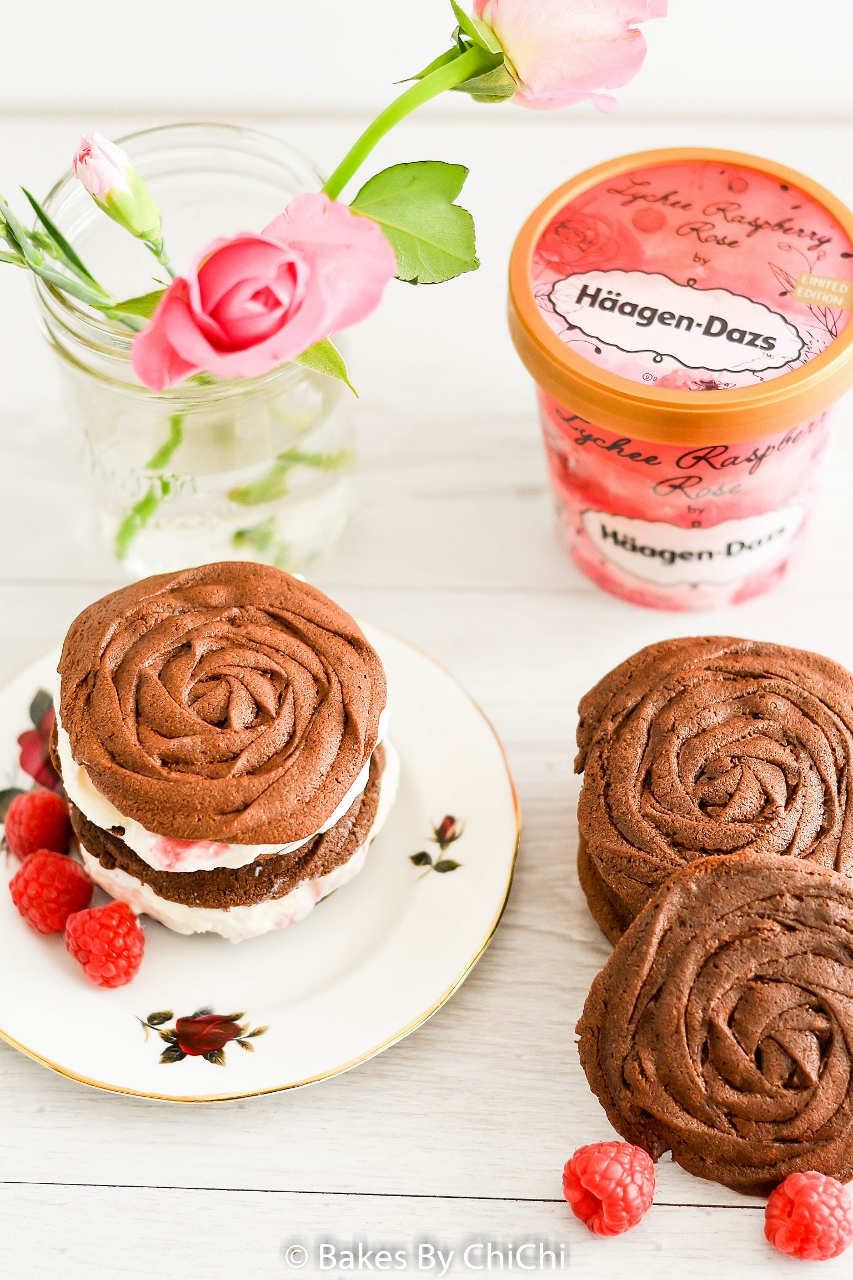 Longer days, the bloom of spring flowers and sounds of ice cream vans are the surest signs that warmer weather is coming.  When I was invited to try the two new Häagen-Dazs limited edition floral fruity flavours I was so excited. Häagen-Dazs recently launched  Lychee Raspberry Rose and Apricot Lavender ice creams which are available in store at  Liberty London  now for a limited period. 
I started off by trying the limited edition Lychee Raspberry Rose.  It is a creamy ice cream with a subtle hint of rose extract and filled with swirls of lychee and raspberry. When I tasted the ice cream I knew I had to make something rose inspired. Remember these vanilla and spritz cookies, I made a rose chocolate version of them. These rose chocolate spritz cookies are rather simple to make and best of all can be made in advance.
To the cookie batter I added a teaspoon of rose extract and substituted 30 g (1/4 cup) of flour for cocoa powder. Don't worry if you don't own a cookie press. The rose chocolate spritz cookies can be piped using an open star nozzle in a piping bag. The cookie batter is just the right consistency, so easy to pipe out. I would recommend chilling the cookies in the fridge for 30 minutes, for a more defined rose shape before baking. Only 10-12 minutes baking time and the cookies are ready to be put together. I am so excited 🙂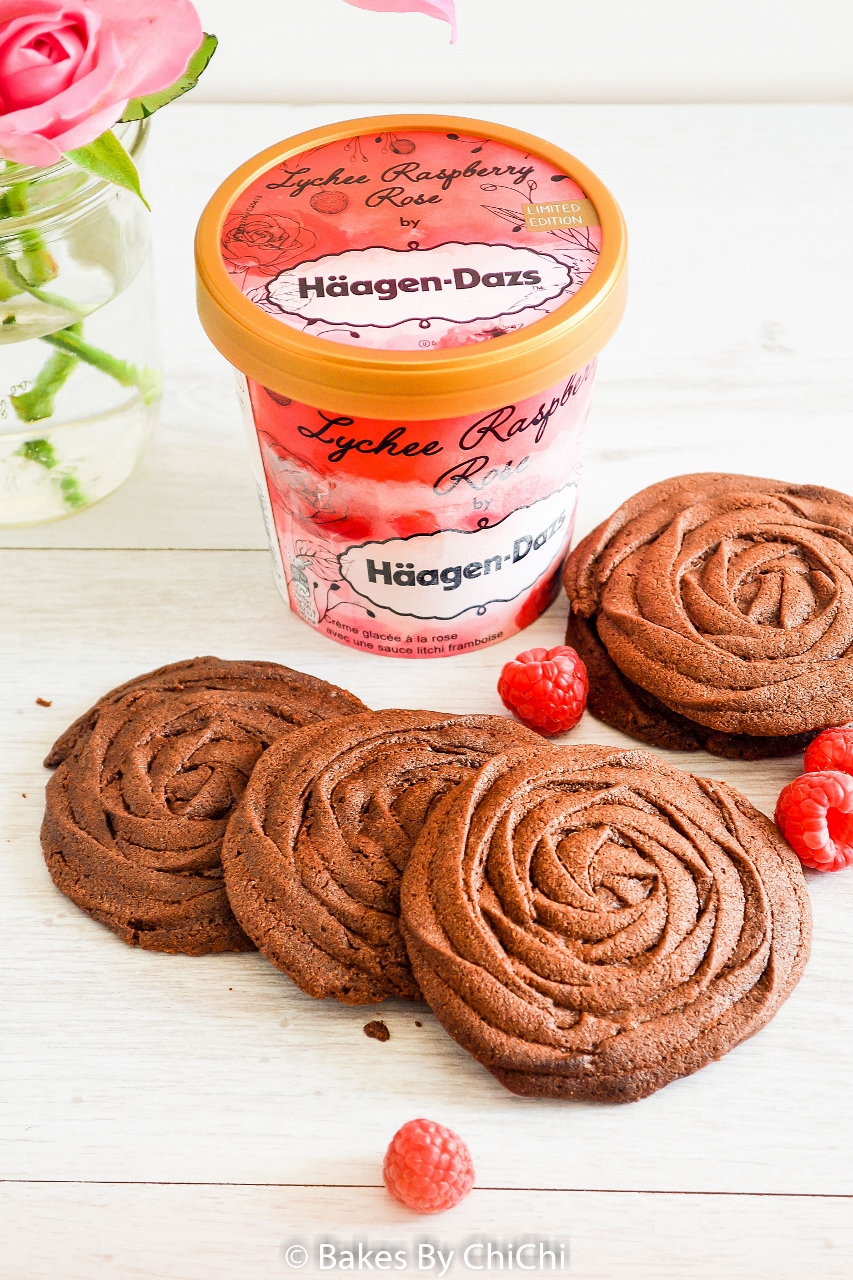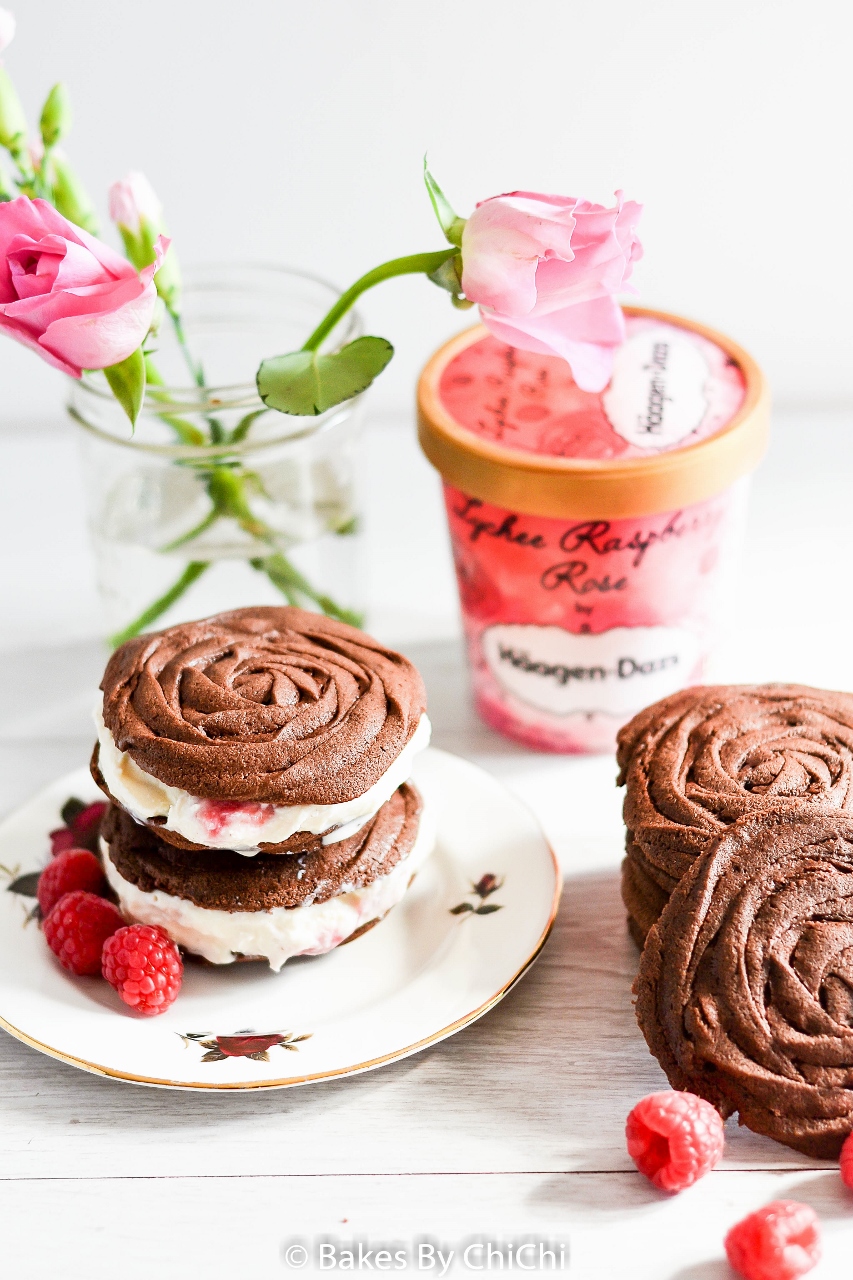 To assemble the ice cream sandwiches, take the lychee raspberry rose ice cream out of the freezer and leave out for about 5 minutes. Take a rose chocolate spritz cookie and place a scoop of lychee raspberry rose ice cream on the underside of the cookie and place another rose chocolate cookie bottom side down on top of ice cream. Press cookies together lightly to adhere. You can eat it there and then. Or wrap in a cling film and freeze until ready to serve.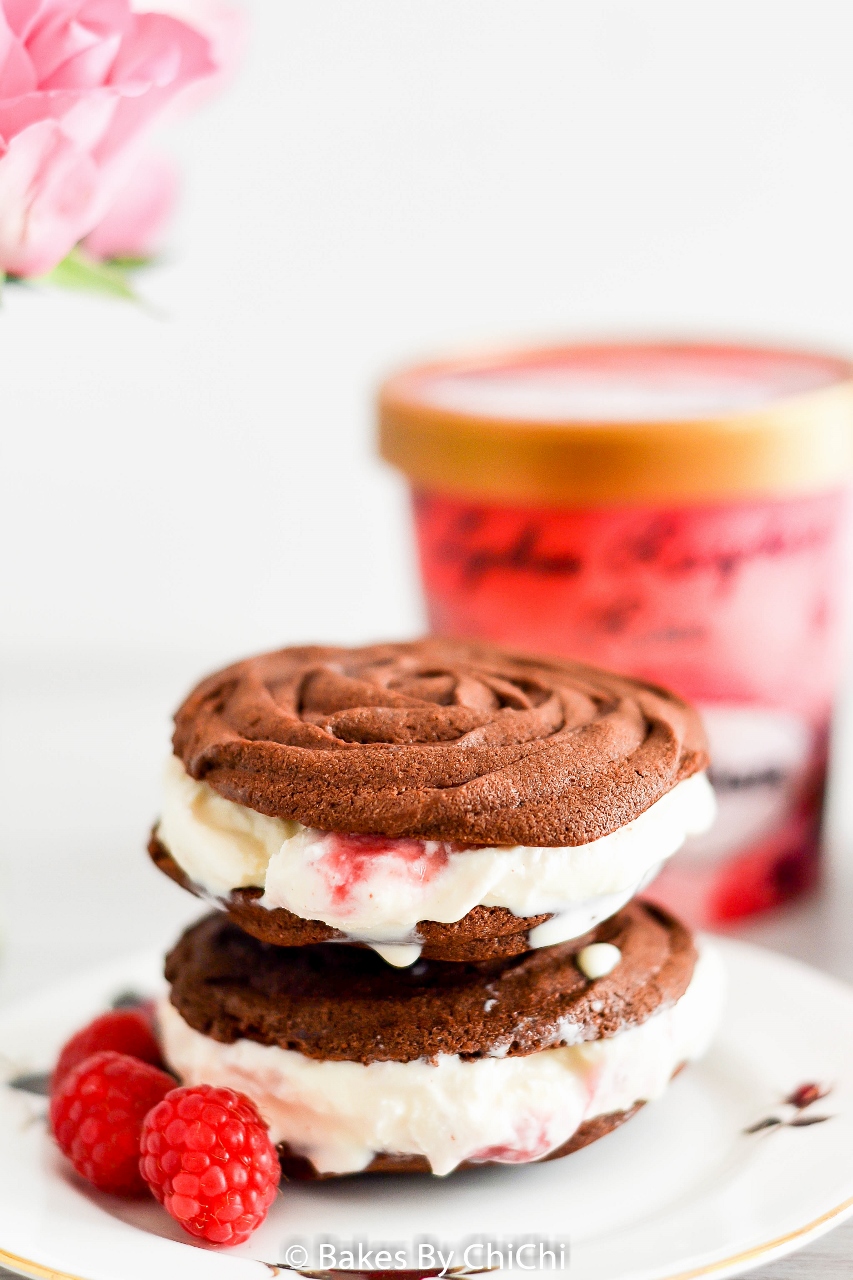 What we have is a floral spring inspired dessert. The different flavours come together to produce a delightful chocolatey fruity floral dessert. The not so sweet chocolate spritz cookies is perfect with the sweet lychee raspberry rose ice cream.
This is a sponsored post.  All opinions are 100% mine.
Stay up to date with Bakes by ChiChi on:
Facebook | Instagram | Pinterest | Google Plus | Bloglovin
or you can subscribe to my weekly newsletter
Rose Chocolate Spritz Ice Cream Sandwich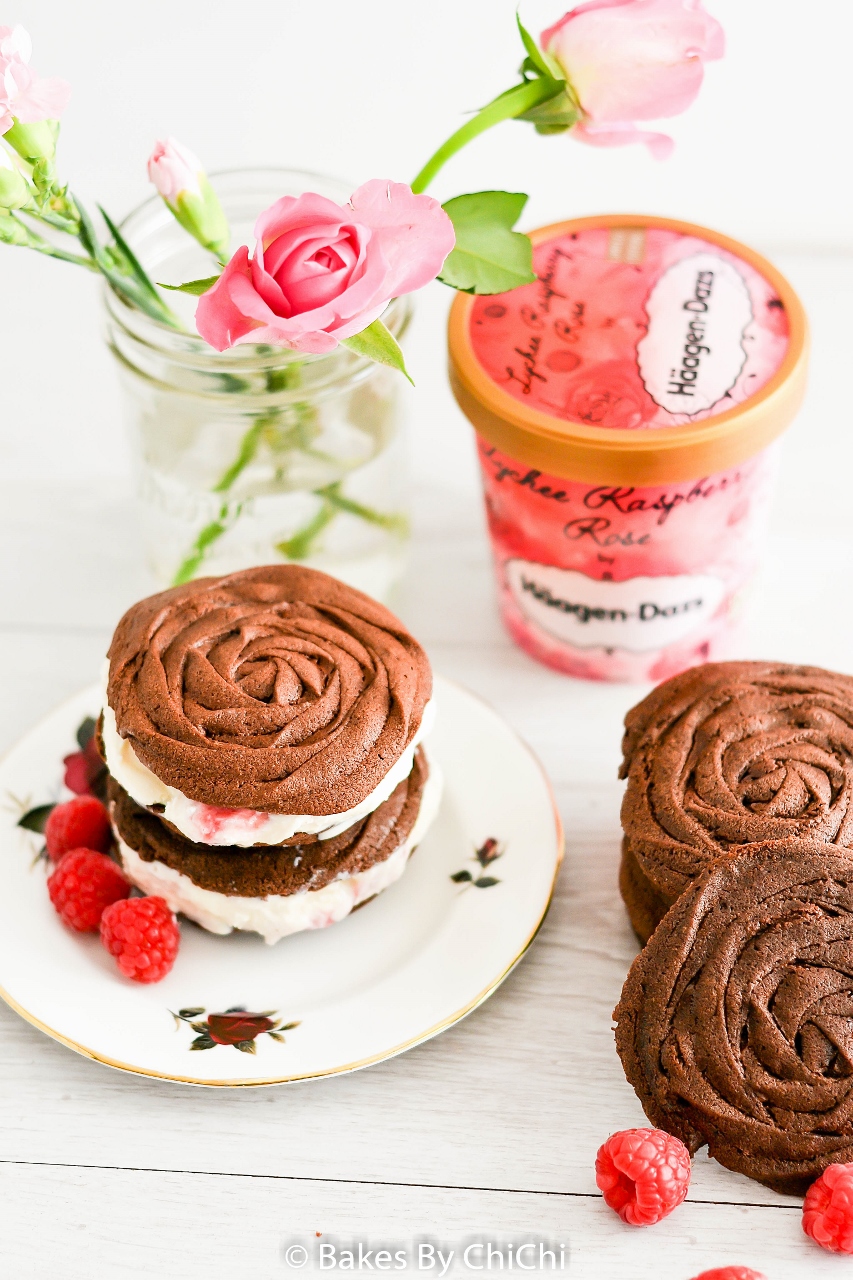 Ingredients
Rose Chocolate Spritz Cookies

180 g (3/4 cup) unsalted butter, room temp
100 g (1/2 cup) caster sugar
1 large egg plus 1 egg yolk
1 teaspoon rose extract
1 teaspoon vanilla extract
180 g (11/2 cups) plain flour
30 g (1/4 cup) cocoa powder
Häagen-Dazs Lychee Raspberry Rose
Instructions
Line two baking sheets with greaseproof or parchment paper.
In the bowl of your stand mixer, cream together butter and sugar until light and fluffy, about 5 minutes.
Add egg and egg yolk and beat until well combined. Mix in rose and vanilla extract.
Sift together flour and cocoa powder and add mixture to butter mixture and mix until dough is well combined.
Place an open 1M star tip into a piping bag and fill with cookie dough. Pipe dough starting off in the centre and begin piping a circular swirl outward and then taper off.
After piping, chill dough in the fridge for 30 minutes.
Pre-heat oven to 180 C or 160 C fan. Bake cookies for 10-12 minutes.
Remove cookies from oven and gently transfer to wire rack to cool completely.
Sandwich the cookies together with ice cream and enjoy or wrap in cling film, freeze until ready to be served
3.1
https://bakesbychichi.com/rose-chocolate-spritz-cookies-ice-cream-sandwich/