This Champagne Cake filled with Strawberry Conserve and White Chocolate Buttercream is the perfect cake to celebrate the New Year. The soft vanilla sponge is brushed with Champagne syrup to create a delectable champagne flavoured cake.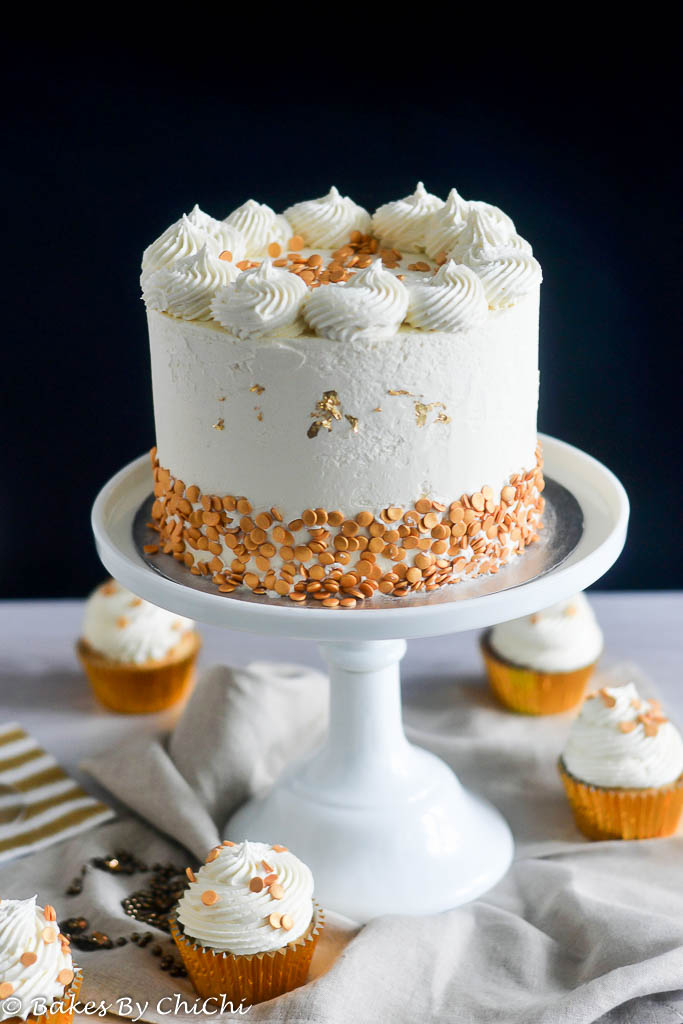 It has been a busy week for me. I spent couple of days recipe testing and trying to perfect a gold drip cake. Have a look at the finished cake here. Please be on the look out for the tutorial, which I plan on sharing in 2017. I also spent part of my week shooting videos and editing. The layout of my kitchen does not make it easy to shoot a video in. In spite of the struggle faced whilst filming, I think I did it. For this reason, I doff my imaginary hat to video bloggers. See the finished videos here. Fingers crossed there will be a lot more videos in 2017. Enough about what I have been up to. Let's talk about the cake.
As we enter a New Year, why not do it with a celebratory cake. And a Champagne cake doesn't get anymore celebratory.
I made this cake twice. The first round was a complete disaster. I added champagne to the cake batter and ended up with a runny, lumpy mixture and the cake didn't bake well.
So it was take 2, which I am sharing with you. To begin with, we bake a soft and fluffy vanilla sponge cake. The cake batter is enough for a 3 layer , 6 inch cake and also 6 cupcakes. Making the cupcakes are optional. I made the cupcakes so my daughter Esme could enjoy the cake as well, minus the champagne syrup.
Once the layers are baked and cooled, we will brush them with champagne syrup. Brush the cupcakes with champagne syrup as well. The champagne syrup adds a lovely subtle champagne flavour as well as making the cake super moist. I would recommend using a brittle brush because the brush makes it easier to control the amount of syrup you add to the cake. Brush each sponge with a thin coat of syrup. Adding too much syrup will make your sponge soggy.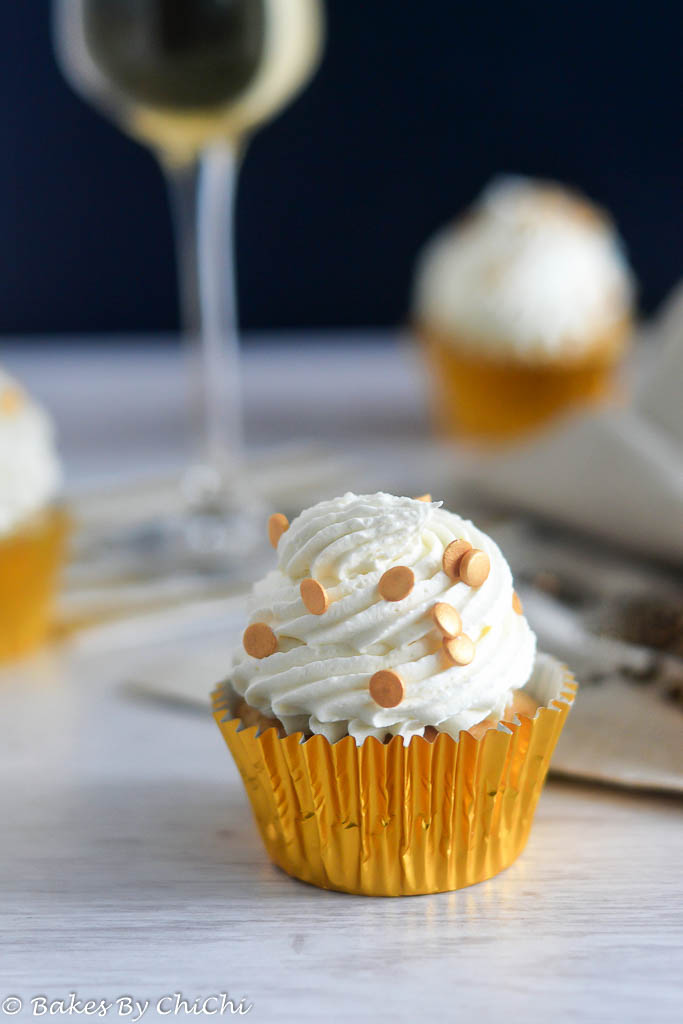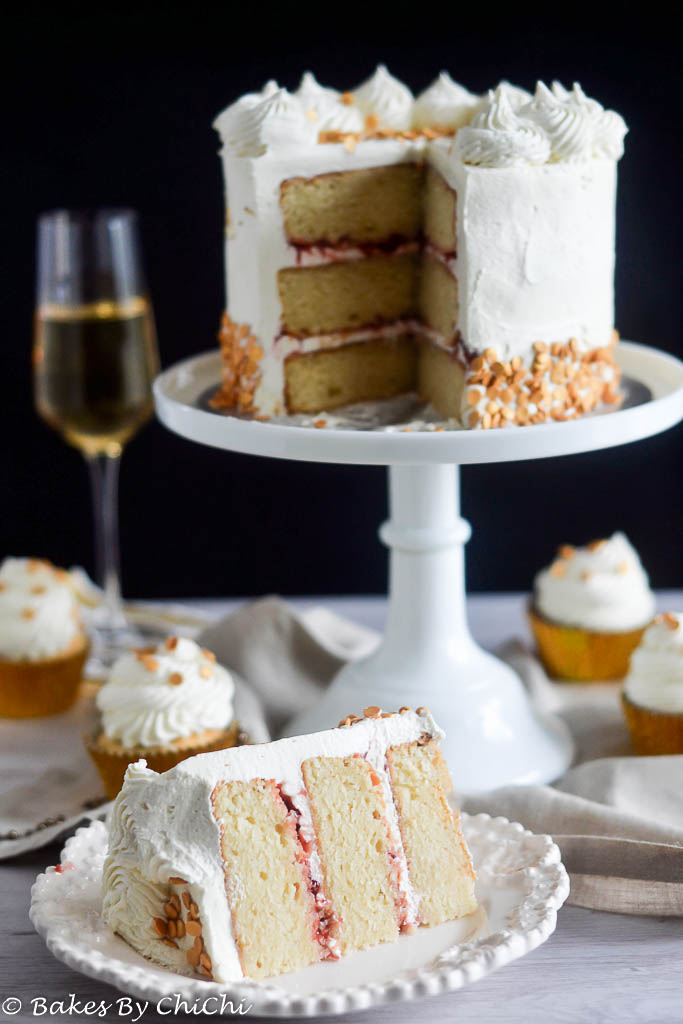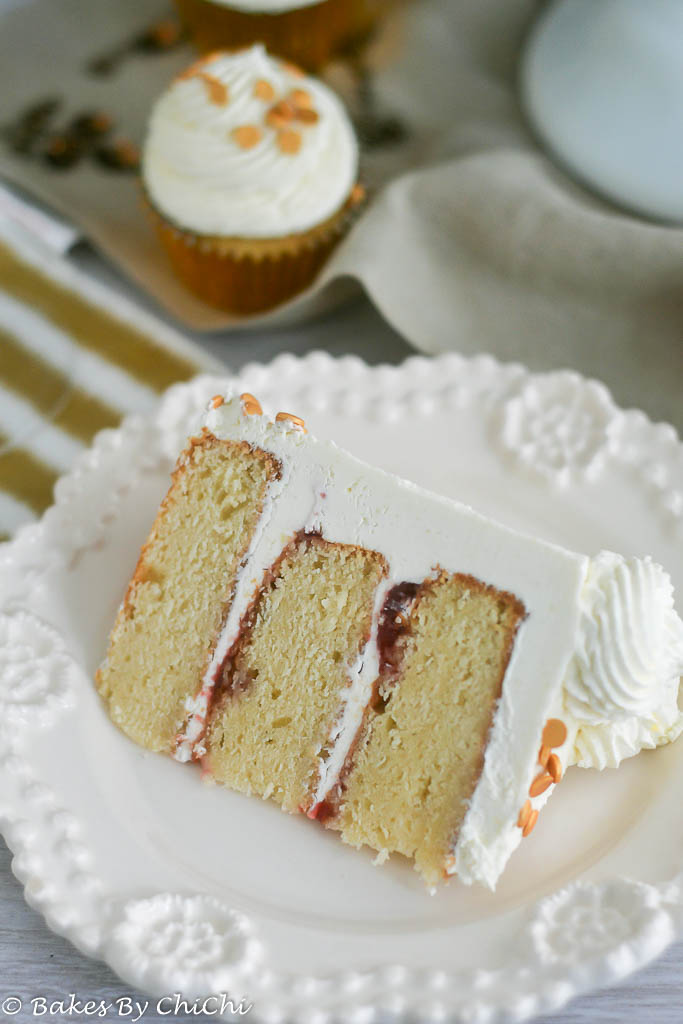 Fill the syrup soaked layers with strawberry conserve and white chocolate buttercream. I wanted a sort of white buttercream so I tinted my buttercream white with a few drops of White-White Icing Colour. This step is optional. Wrap the cake with plastic film and chill the cake in the fridge for 1-2 hours to allow the layers to set.
Remove the champagne cake from the fridge and frost with buttercream. In keeping with the New Year theme, I decorated the cake with gold confetti. Start at the bottom of the cake and press the gold confetti around the side of the cake and move around. It can get quite messy. Place the cake on a tray to catch any sprinkles that fall. You will re-use them.
Edible gold leaf was added to the side of the champagne cake :-). The cake deserved some 24 carat magic.
Pipe decorative swirls on top of cake using a large french open star nozzle and sprinkle the top with gold confetti.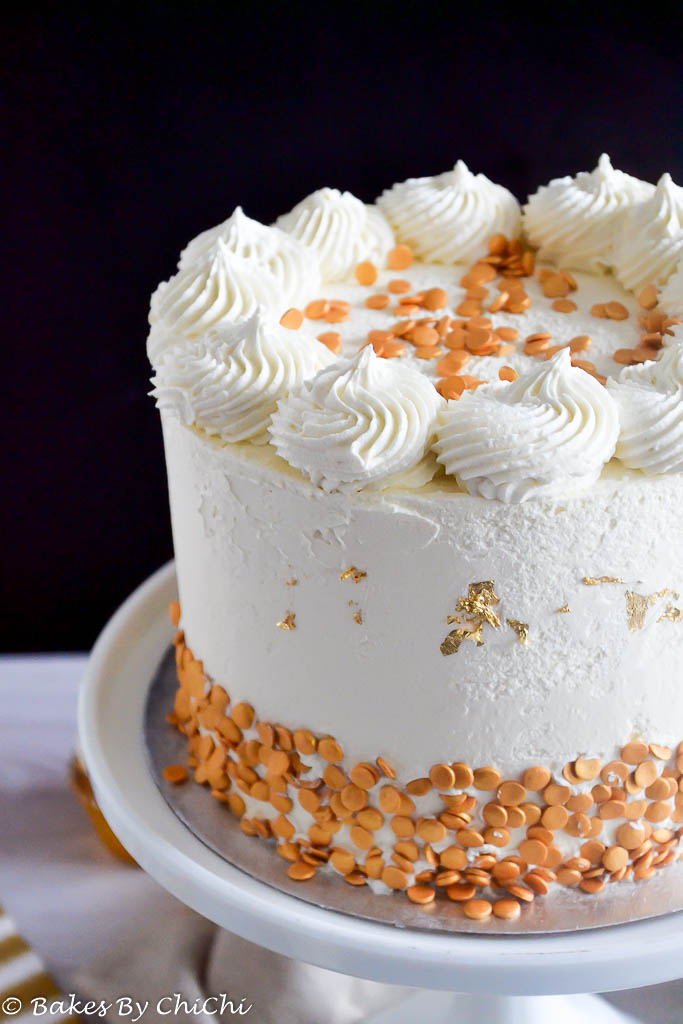 Happy New Year Everyone 🙂 Thank you so much for all the love and support. See you in 2017.
Champagne Cake and White Chocolate Buttercream
Ingredients
Vanilla Cake

250 g (1 cup) unsalted butter, room temp
300 g (1 1/2 cups) caster sugar
2 teaspoons vanilla bean paste or vanilla extract
6 egg whites (180 g )
3 cups (360 g ) plain flour
2 teaspoons baking powder
1/4 teaspoon salt
250 ml (1 cup) milk (I used semi skimmed)
Strawberry Conserve

Champagne Syrup

125 ml (1/2 cup) champagne
100 g (1/2 cup) sugar

White Chocolate Buttercream

250 g (1 cup) butter
125 g (1/2 cup) trex
700 g (7 cups) icing sugar
200 g white chocolate, chopped
60 ml (1/4 cup) whipping cream
few drops white food colour
Instructions
Preheat oven to 160 degrees Celsius. Grease bottom and sides of 3 , 6 -inch round cake tins and line bottom with parchment paper. Line a cupcake pan with 6 paper cases.
In the bowl of stand mixer beat butter and sugar until light and fluffy about 6 minutes.
Sift together flour, salt and baking powder, set aside.
Add egg whites a little at a time,beating well after each addition Add vanilla bean paste or vanilla extract and beat until combined.
With mixer on low, alternately add the flour mixture and milk, beginning and ending with flour mixture.
Fill the cupcake cases with batter, only 2/3 full.
Divide batter evenly between cake tin. (I used a measuring cup and a scale)
Bake the cupcakes for 15 - 20 minutes or until a tooth pick inserted in centre comes out clean.
Bake for the cakes for 20 - 25 minutes or until a tooth pick inserted in centre comes out clean. Leave to cool tin on wire racks for 10 minutes, then invert onto rack gently, discard parchment paper and cool completely.
Wrap cakes in cling film and chill in the fridge for 1- 3 hours.
Champagne Syrup
Stir champagne and sugar in a saucepan over a low heat until sugar has completely dissolved. Bring champagne syrup to a boil over medium heat, stirring frequently. Remove from heat and allow to cool completely before using.
White Chocolate Buttercream
Place white chocolate and whipping cream in a heat proof bowl. Melt in microwave at 30 second bursts stirring with a whisk after each time, until completed melted. Leave to cool.
In bowl of mixer cream butter and shortening until light and creamy, about 5 minutes.
Add icing sugar a cup at a time and beat well until combined. As frosting thickens add melted chocolate.
Beat in vanilla extract and beat until frosting is light and fluffy.
Assembling Cake
Place the first layer of sponge on a 8 inch thin cake board, flat size down. Brush the cake with champagne syrup using a pastry brush (repeat this process with remaining layers of cake). Fit a 1/2 inch round nozzle into a piping bag.
Pipe a dam of buttercream around the cake for clean even layers of frosting. Fill the dam with frosting and use an off set spatula to spread the frosting carefully. You can also pipe the entire layer of frosting, if you don't want to use the offset spatula to spread the frosting. Spoon 3 tablespoons of strawberry conserve over buttercream, smoothing it over buttercream.
Repeat with remaining 3 layers of vanilla cake, until all three layers of cake are stacked.
Wrap cake with plastic cling film and chill for 1-3 hours.
Remove cake from fridge. Spread a thin layer of white chocolate buttercream on the sides and then top of cake. It helps to use a turntable when frosting a cake. Hold a scraper flat against the side of the cake and then turn the turntable and scraper to make a nice, smooth coat of icing. Smooth the top of cake with scraper, drawing the peaks o the top edges of cake into the centre.
Chill crumb coated cake in fridge for 30 minutes until buttercream is nice and firm.
Once cake is chilled, cover evenly with white chocolate buttercream using an off set spatula and then use a scraper to smooth the edges.
Chill cake for 1 hour.
Place a large baking tray on a turntable and place cake on the baking tray.
Grab a handful of confetti, starting at the bottom and press them into the side of the cake. Spin the turntable as you work. Reuse the confetti that have fallen at the base of the cake.
Transfer some of the buttercream into a piping bag fitted with a large french open star tip. Pipe swirls around the top edge of the cake.
Pipe buttercream swirls on cupcakes as well.
3.1
https://bakesbychichi.com/champagne-cake-and-white-chocolate-buttercream/