These apple cinnamon rolls are soft, fluffy and even more delicious when drizzled with delicious homemade caramel sauce. They are perfect for Christmas Day breakfast.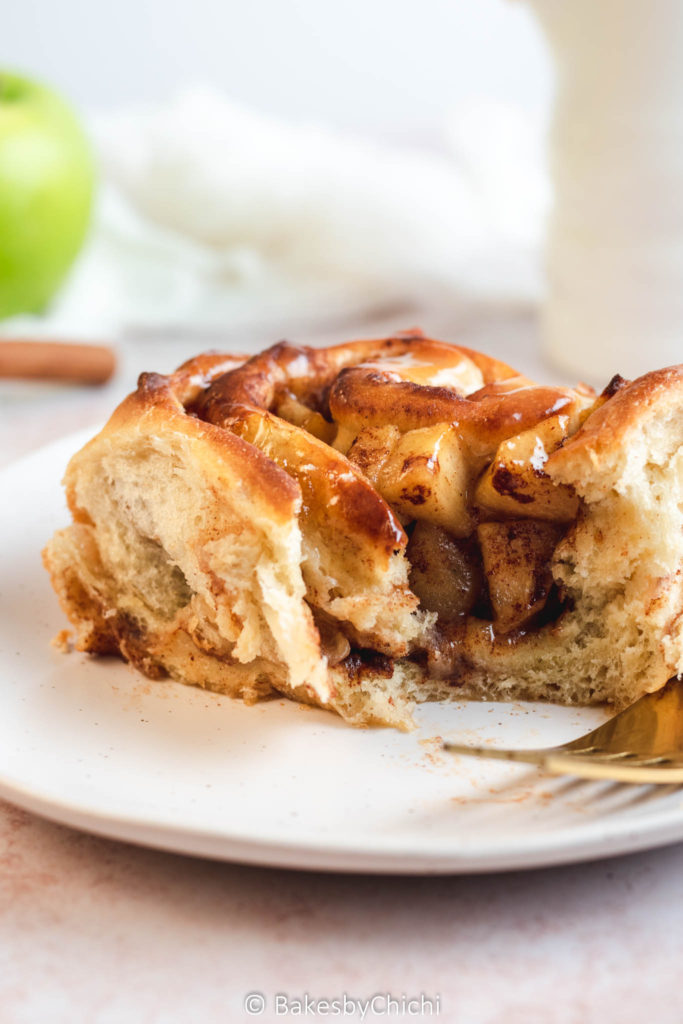 When I had cinnamon rolls in the past it was those shop bought ones either filled with raisins which I have a dislike for or drowning in sugar. For a long time, I was put off from making cinnamon rolls because the recipe contained yeast. You hear all these stories about how the bread didn't rise or was over-proofed. But that is a discussion for another day.
After making and tasting homemade cinnamon rolls, I can never ever ever ever return to the shop bought stuff, while unless it is made by some renowned pastry chef. Lol.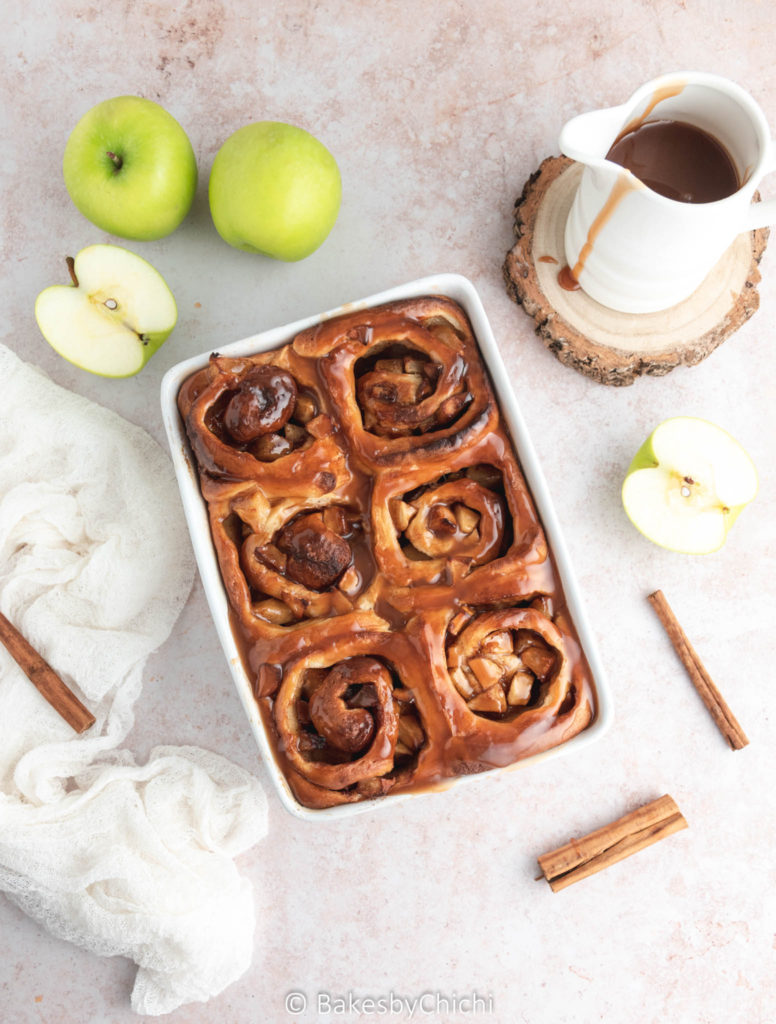 Ingredients in Caramel Apple Cinnamon Rolls
This cinnamon apple rolls do not require a lot of ingredients. What it requires is a lot of time and patience.
Apples: I use Granny Smiths. They are one of my go to apples for baking. The tart apples hold their shape well when cooked and also keeps the baked dish from being overly sweet.
Brown Sugar: Use either light or dark brown sugar. The dark brown sugar gives the dish a deeper molasses flavour. You'll need this to cook your apples with and also to make the mix the cinnamon with.
Butter: Nothing beats butter. I used unsalted, but you can also use salted. You'll be using it to cook the apples, to make the dough and to spread over the dough before baking and also to make the caramel sauce.
Whipping Cream: You'll need this for your caramel sauce
Flour: Either plain or bread flour work for this recipe. I prefer to use bread flour which has a higher protein level and this keeps the rolls soft and fluffy. The higher gluten content in bread flour produces a baked good with a softer chewy texture. Saying that if you have only plain flour at hand, use it. It works well too. I have made this recipe with both.
Milk: I recommend using whole milk. I have not tried this recipe with a plant based milk, but there is no reason it shouldn't work.
Granulated Sugar: Use this to sweeten the cinnamon roll dough.
Egg: One egg is all you need for this recipe. Eggs bind the ingredients together as well as provide a rich texture.
Yeast: Use either fast action, instant or easy blend yeast. These do not activation with warm water and they help the dough rise faster. If the yeast is old or you are unsure that it is live, then activate by dissolving the yeast in a bowl of warm water with a teaspoon of sugar. Leave for 5 minutes. If the yeast is active, it should begin to froth up. If it doesn't, it means the yeast is stale and should not be used. Opened tubs of dried yeast can be stored in the fridge with the plastic lid secured tightly for 4 months.
Cinnamon: Need I say more. You will need two tablespoons of this.
Salt: This adds taste as well as brings out the flavours. It also helps in tightening the gluten structure and adding strength to your dough.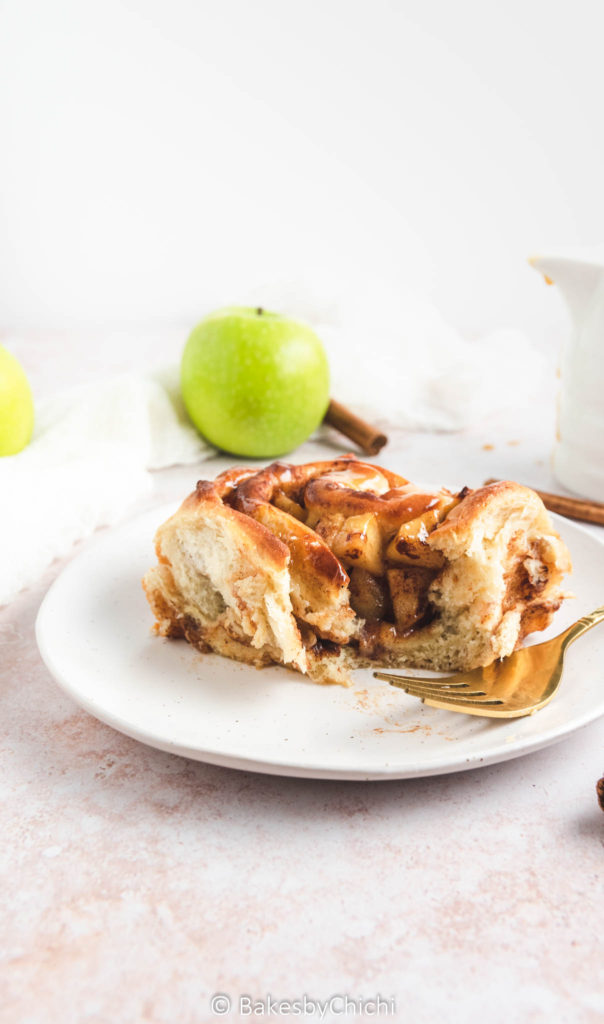 Tips for making the Caramel Apple Cinnamon Rolls
Do not overheat your milk. The temperature of the milk should be 105°F-110°F (slightly warmer than lukewarm). Anything hotter than 139°F will kill the yeast. To test the temperature, simply dip your finger in the milk. If it's too hot, leave it to cool for a few minutes and then test again.
The rolls can be be prepared the night before. Cover the pan up tightly with cling film. Place in the fridge to allow the rolls to rise again overnight. The next morning, allow to rise at room temperature before baking.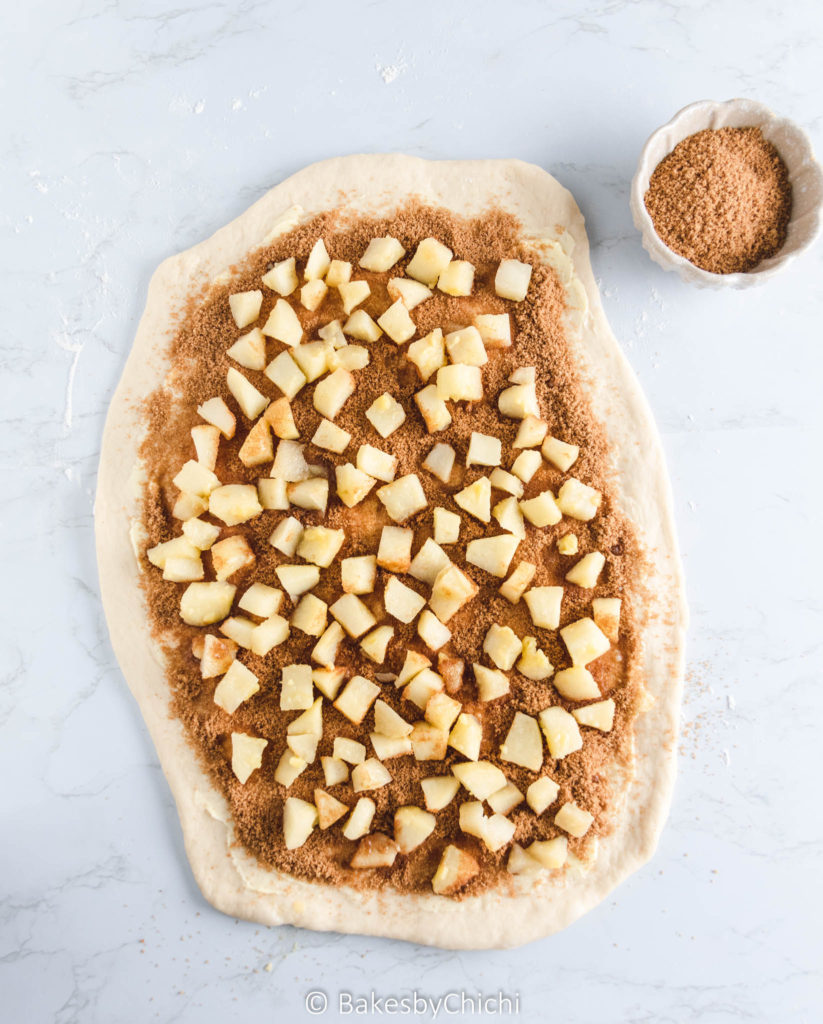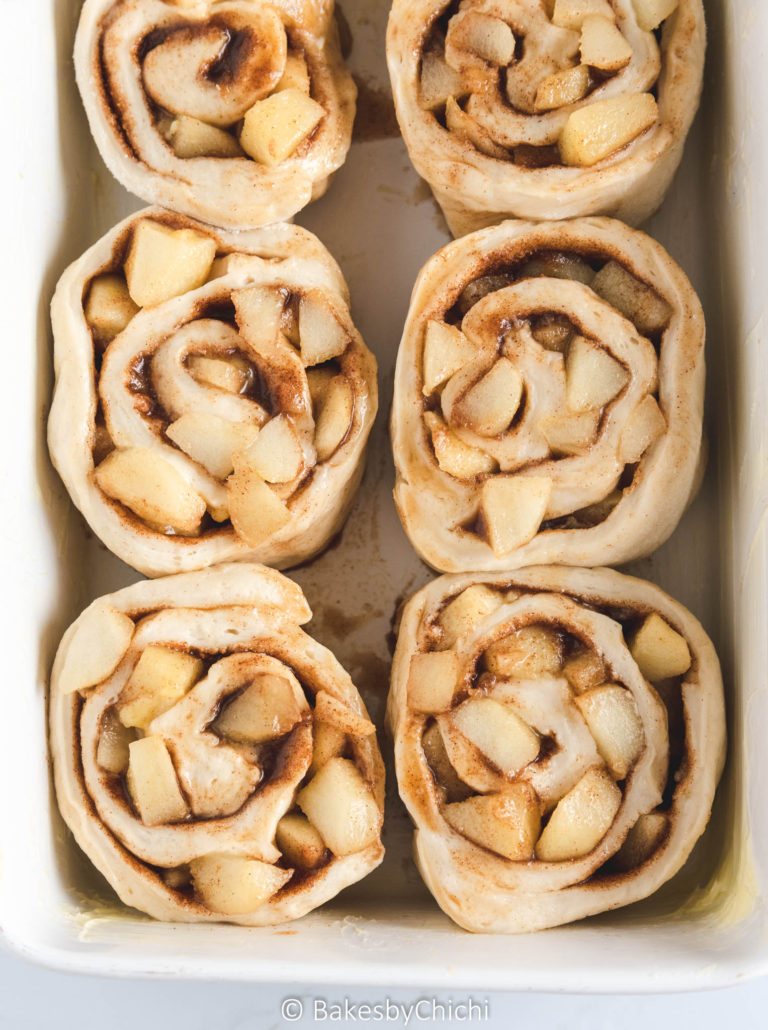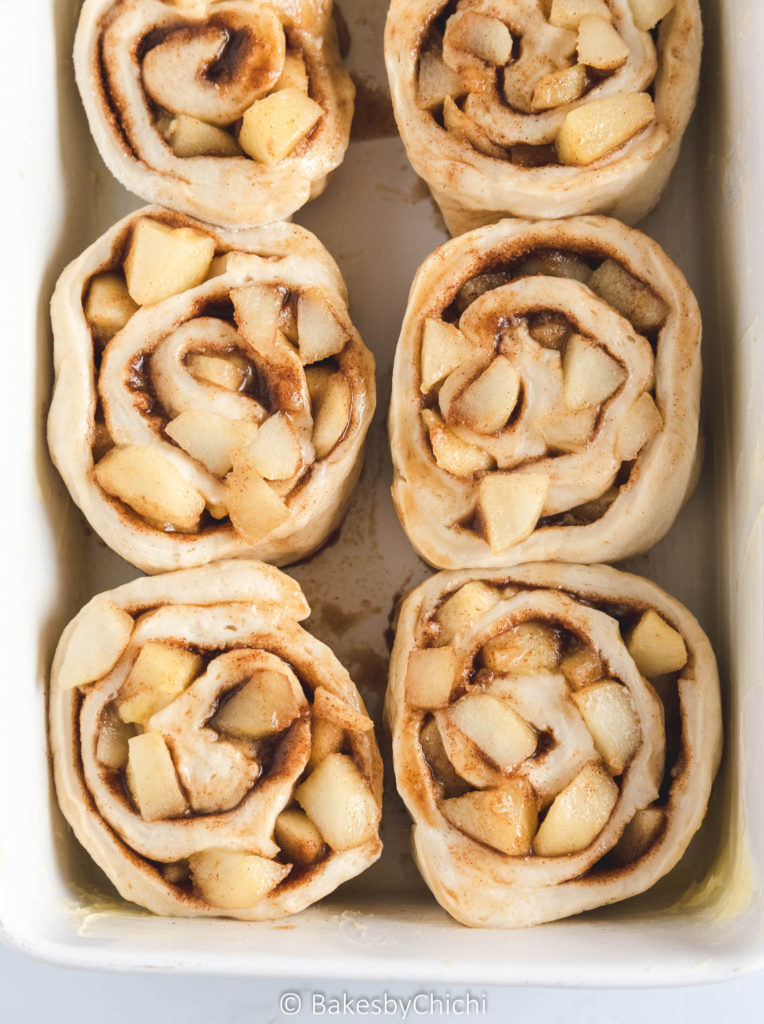 The dough can kneaded in a stand mixer with a dough hook or by hand. Knead the dough in the stand mixer for 6-8 minutes and for 10 minutes by hand. You know your dough is ready when it pulling from the sides of the mixing bowl and is tacky but not sticky to touch.
Proof the dough in a warm place. I find the oven is the best place to proof my dough. Pre-heat your oven for 2 minutes and then turn it off. Cover the dough with cling film and leave to proof for up to 1-2 hours or until doubled in size.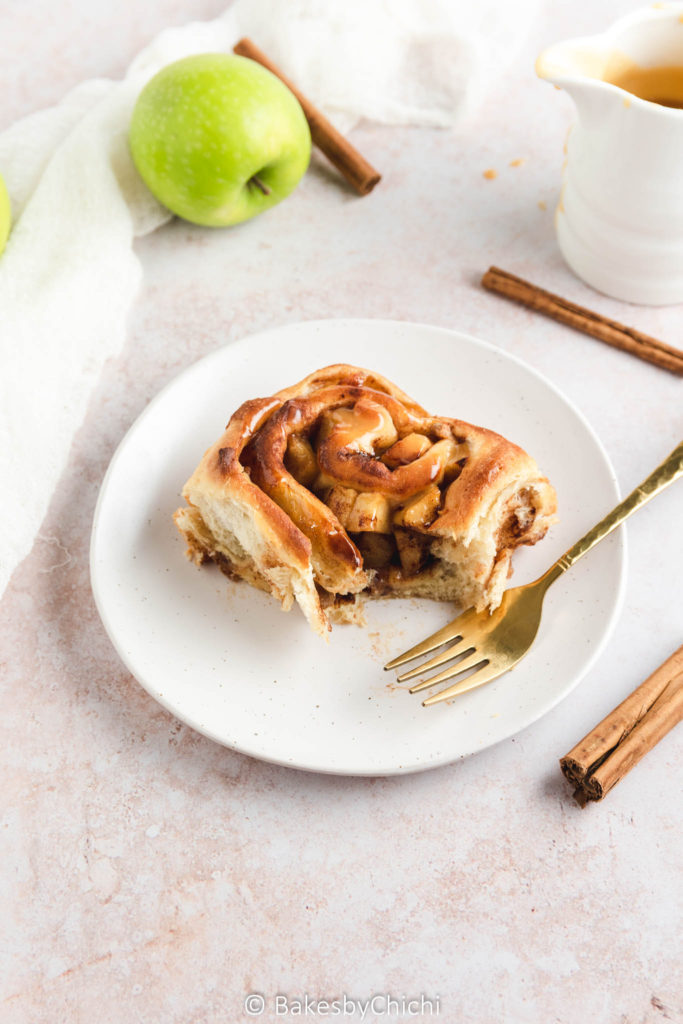 Drizzle with your warm cinnamon rolls with homemade caramel sauce and enjoy. What your taste buds get are soft dough layers, sweet cinnamon apples and delicious sticky caramel sauce. It 's so hard to eat just one caramel apple cinnamon roll. This is autumn comfort food at it's best. I honestly can't wait to make these rolls again. They are perfection.
For more autumn comfort foods, check out these recipes:
Apple Crumble and Cognac Caramel Sauce
Gingerbread Cake with Caramel Swiss Meringue
Caramel Gingerbread Cookies
Soft Baked Ginger Crinkle Cookies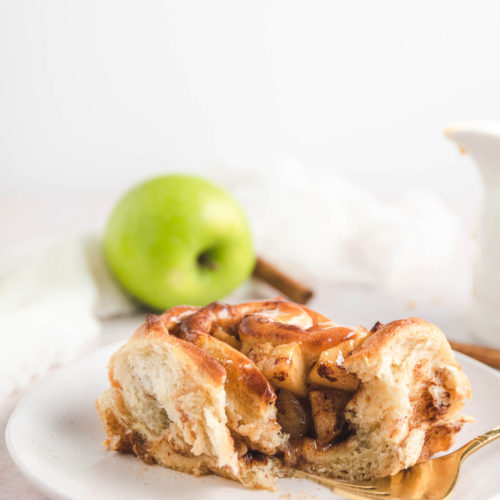 Caramel Apple Cinnamon Rolls
Soft fluffy cinnamon rolls filled with chopped apples and drizzled with easy homemade caramel sauce.
Print
Pin
Rate
Ingredients
Dough
7

g

(¼ ounce) yeast

120

ml

(1/2 cup) warm water

120

ml

(1/2 cup) whole milk

1

egg

80

g

(1/3 cup) unsalted butter, chopped

50

g

(¼ cup) sugar

480

g

(4 cups) plain or bread flour

divided use
Filling
6

Granny Smith apples, peeled, cored and chopped

75

g

(5 tablespoons) unsalted butter, room temperature

divided use

180

g

(½ cup) light or dark brown sugar

2

tbsp

cinnamon
Caramel Sauce
130

g

(⅔ cup) granulated sugar

80

ml

(⅓ cup) whipping cream

30

g

(2 tablespoons) unsalted butter

¼

salt
Instructions
Prepare the apple filling by peeling and chopping 6 Granny Smith apples. Toss the apples in lemon juice, so they do not discolour. Melt 45 g (3 tablespoons)of butter in a frying pan and sauté the apples for about 5 minutes until soft. Leave to cool. Drain the apples of any liquid.

Whisk together brown sugar and cinnamon. Set aside.

In a small bowl, dissolve a packet of yeast in warm water and set to one side. Heat milk and butter in a saucepan until warm, about 110°F and pour into a large mixing bowl. Add to the bowl, sugar, salt and egg. To this mixture, add 240 g (2 cups) plain flour and mix until smooth. Give the yeast mixture a quick mix then add to the dough mixture. Then add the remaining flour.

Turn the dough onto a lightly floured surface and knead by hand for 5 – 10 minutes or until the dough is very smooth and elastic and no longer sticky. You could also knead the dough with a stand mixer fitted with a dough hook for 6-8 minutes.

Shape the dough into a ball and then put in a lightly oiled bowl. Cover with cling film and leave to rise in a warm place for 1 to 11/2 hours or until doubled in size. The best place to do this, is on the oven. Turn the oven on to 200°F. Heat for 2 minutes and then turn it off. Place your covered dough in the oven and leave it to rise.

Grease and line a 9 by 13 inch baking tin. Turn out the dough onto a lightly floured surface and knead gently for 1 minute. Roll out the dough into a rectangle 15 by 9 inches. Spread 30 g of softened butter over the dough leaving a 1 inch border all round. Sprinkle the buttered dough with cinnamon sugar mixture. Lightly press the cinnamon sugar into the butter.

Roll up starting from one long edge and press down to seal. Use a sharp knife and cut into 9 pieces. Arrange in the prepared tin. Cover with cling film and leave to proof in a warm place for 40 minutes.

Preheat the oven to 190 °C. Bake the rolls in the preheated oven for 20 – 25 minutes, until well risen and golden in colour. Remove from oven and place on a cooling rack.
Caramel Sauce
Pour sugar into In a heavy based sauce pan. Pour the water around the edges and stir to mix in. Dip a clean pastry brush in water and wash any sugar that gets on the edges of the saucepan.

Turn on the burner and cook on medium high heat. Swirl the saucepan occasionally to redistribute the caramel around the pot. Cook until the mixture turns to caramel. This takes 4-5 minutes.

Immediately remove from heat, then carefully stir in cream and butter. Caramel will bubble rapidly. Once the bubbling has stopped, mix in salt.

Leave the salted caramel sauce to cool, then transfer to an airtight container or jar.
If you made this recipe, I would love to hear from you.
Tag Bakes By Chichi on Instagram or hashtag #bakesbychichi