These French Madeleines are light, airy and buttery. Their beautiful and distinct scalloped shell make them instantly distinguishable. These mini buttery cakes are decorated with melted white chocolate and sprinkles making them perfect for a New Year celebration.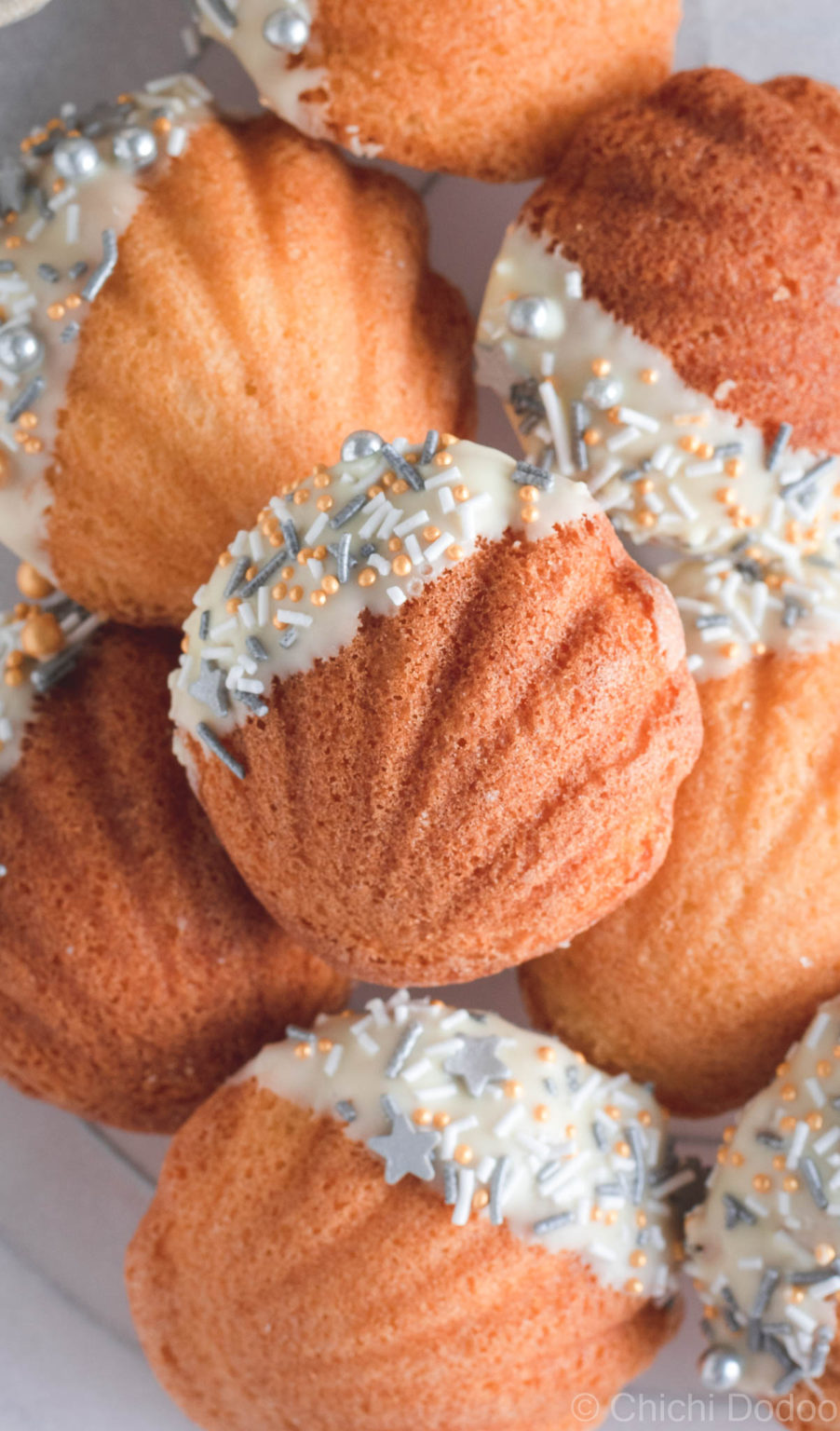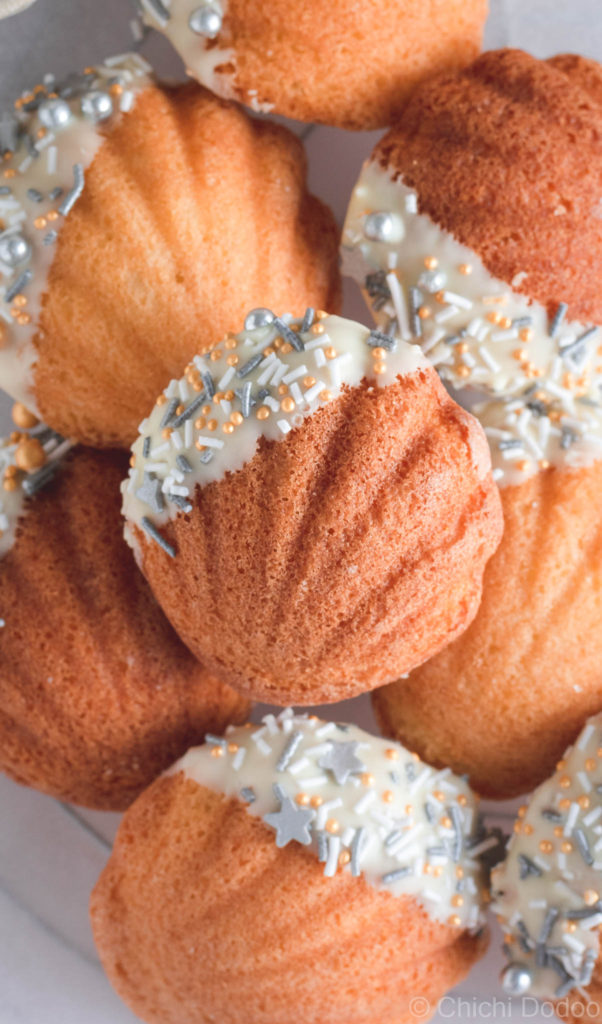 France is renowned for it's wonderful desserts and pastries. From simple cakes to tarts or easy desserts. I find them all chic. We actually have the French to thank for the word "dessert," which is the participle of the French desservir, meaning "to clear the table,". Before long the word was adopted in English by both the British and American and desserts became an essential end to every dinner.
Madeleines, are classic mini French delicacies which are the size of a cookie but have all the texture and taste of a cake. I love these mini cakes as they are perfect for celebrations and can be prepped the day before. This dessert can be a bit intimidating to make and to French bakers, the hump make or break a madeleine. But don't let that deter you from making these. I will be sharing all my tips and tricks for a successful recipe.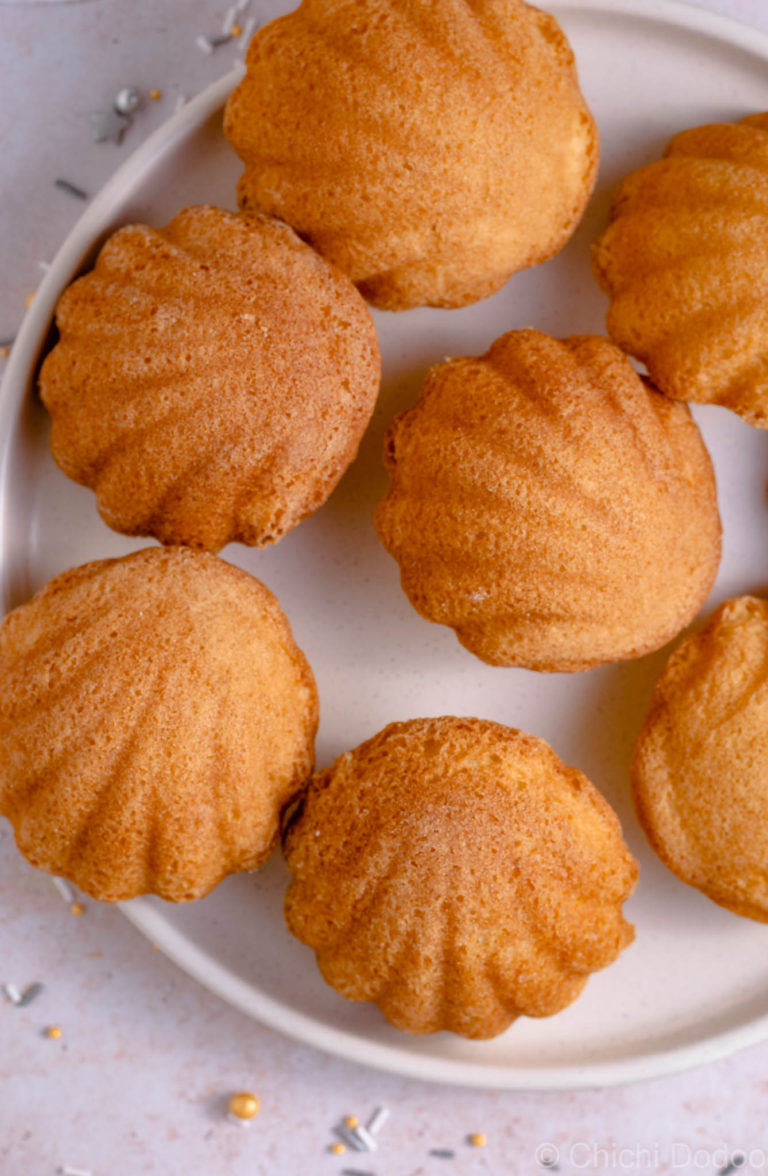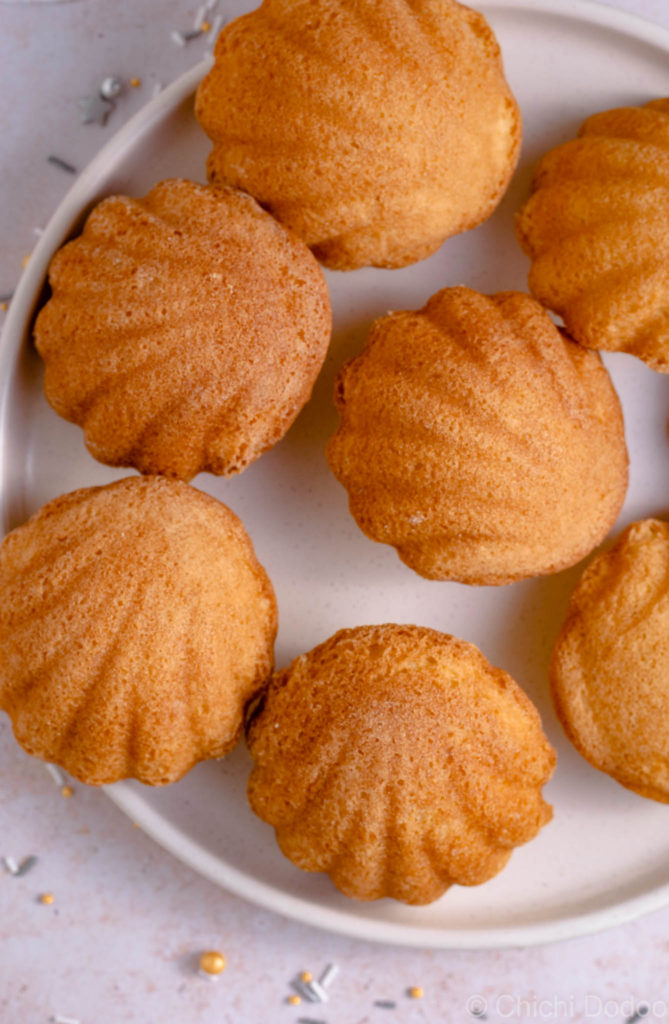 Tips for a making French Madeleines
Madeleines are traditionally baked in a shell-like shaped mould. I baked mine in this metal Madeleine baking tin which can be purchased on Amazon . I highly recommend these.
Melt the butter in a saucepan over medium heat. Pour into a heatproof bowl to stop it cooking any further and allow to cool.
Use room temperature eggs. Eggs combine easier when at room temperature and disperse more evenly into the batter. Room temperature eggs also produce light airy cakes.
Madeleines are made with genoise batter. It starts off with beating the eggs and sugar together. Doing this for 5 minutes whips air into the mixture and creates volume.
Lightly fold the flour mixture into the egg mixture to prevent the batter from deflating.
Allow the madeleine batter to chill before baking. This is another important step. Allowing the batter to rest in the fridge before baking helps hydrate the flour which thickens the batter and gives the cakes their characteristic little bump. Leave the batter to rest in the fridge from 1 hour to 24 hours.
It is important to properly butter and flour your madeleine pan. Lightly brush the pan with melted butter and then dust with flour.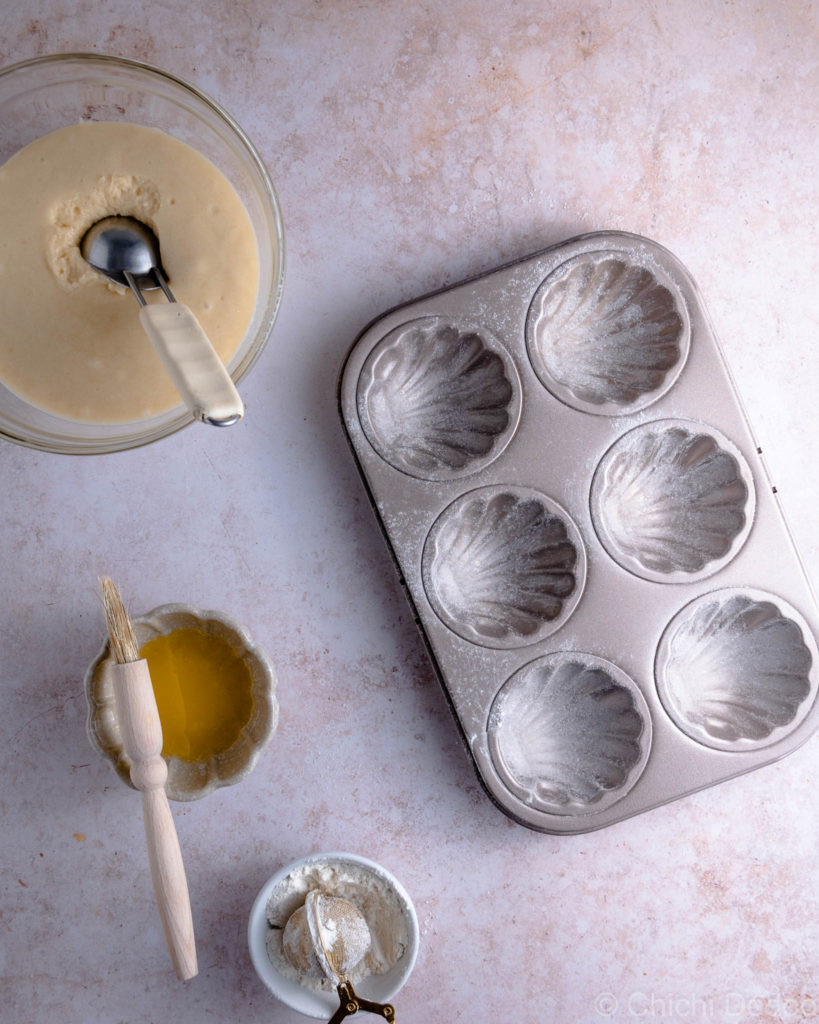 Spoon a tablespoon of batter into the madeleine pan and bake in a pre-heated oven for 10-12 minutes.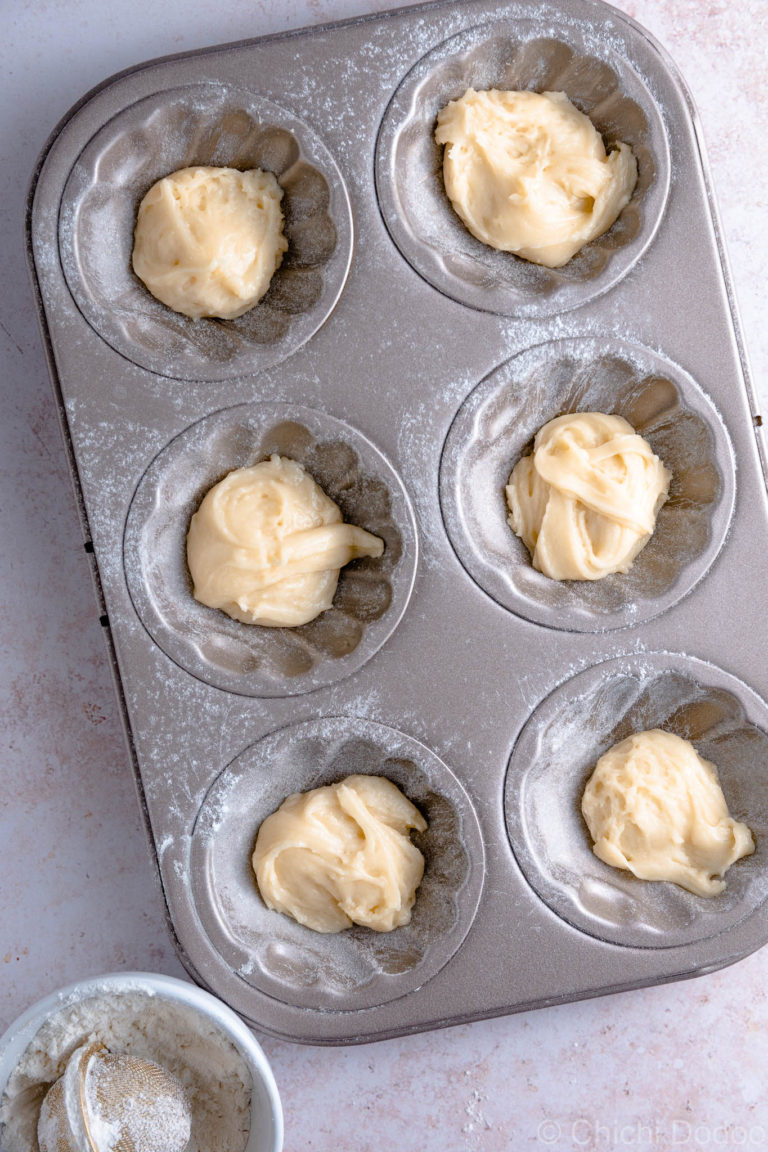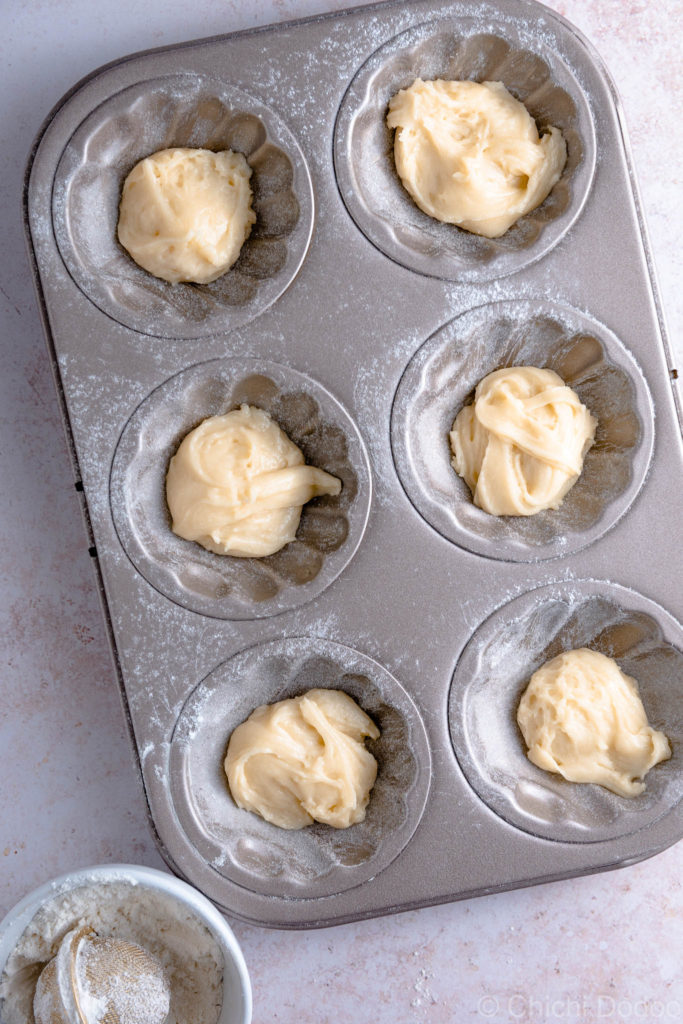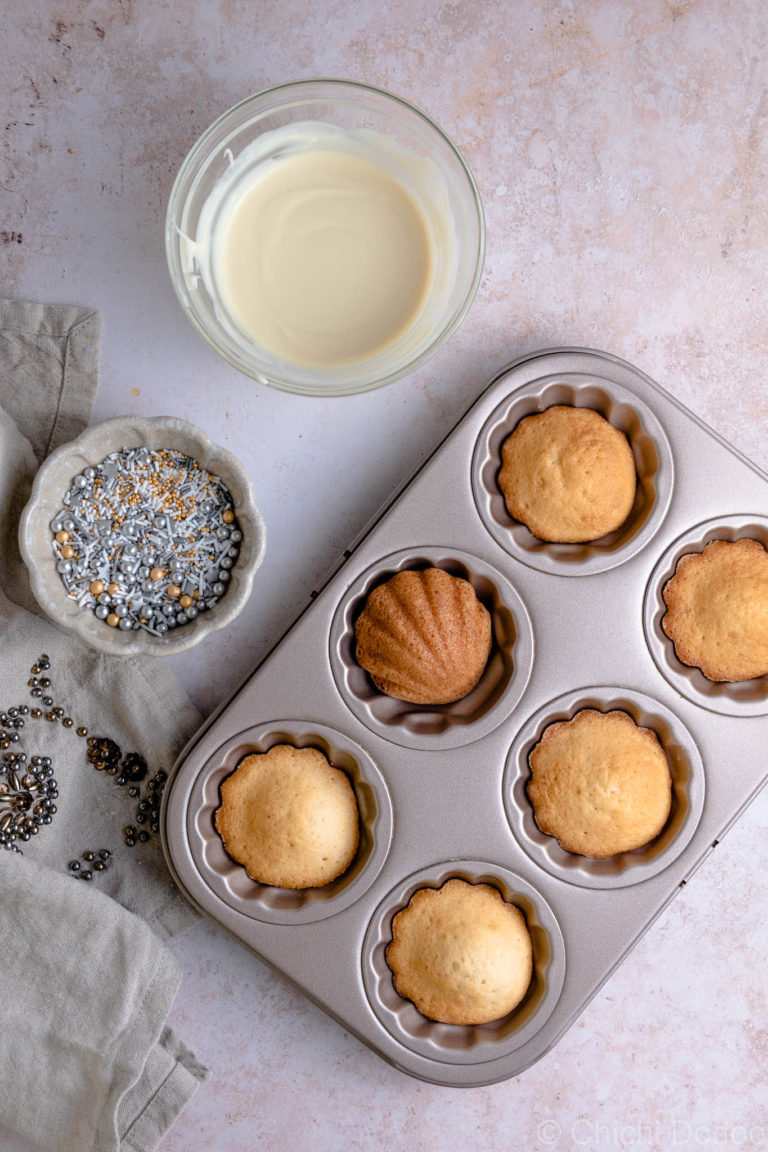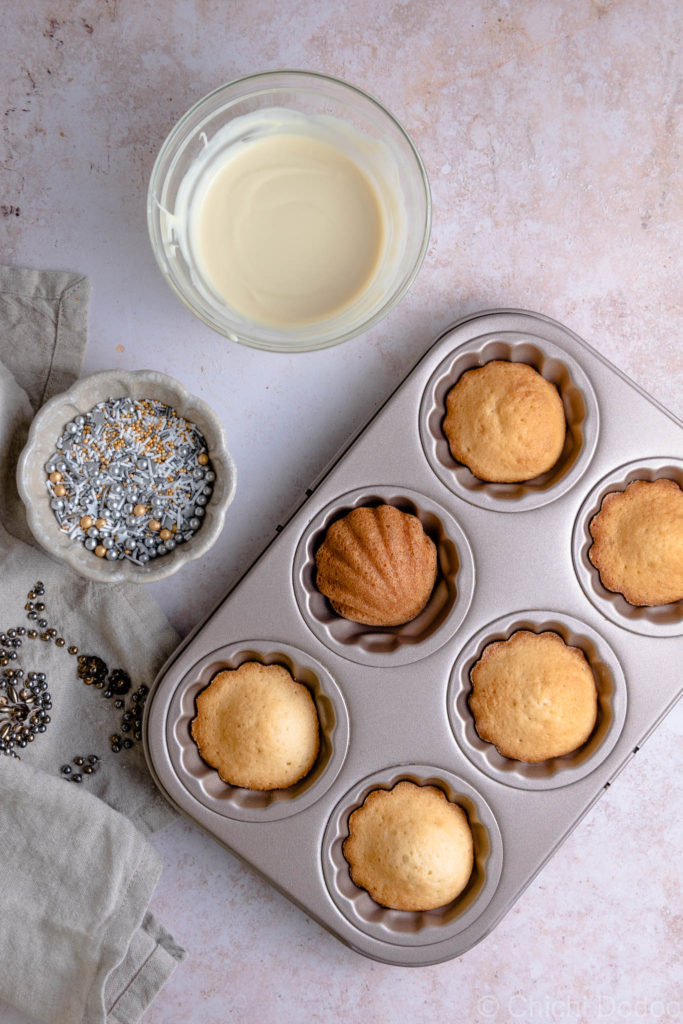 When removed from the oven these madeleines have crisp edges with moist tender crumbs. They taste best when eaten straight away. You can eat them plain or dusted with icing sugar. Alternatively, dip them in melted white chocolate and cover with sprinkles.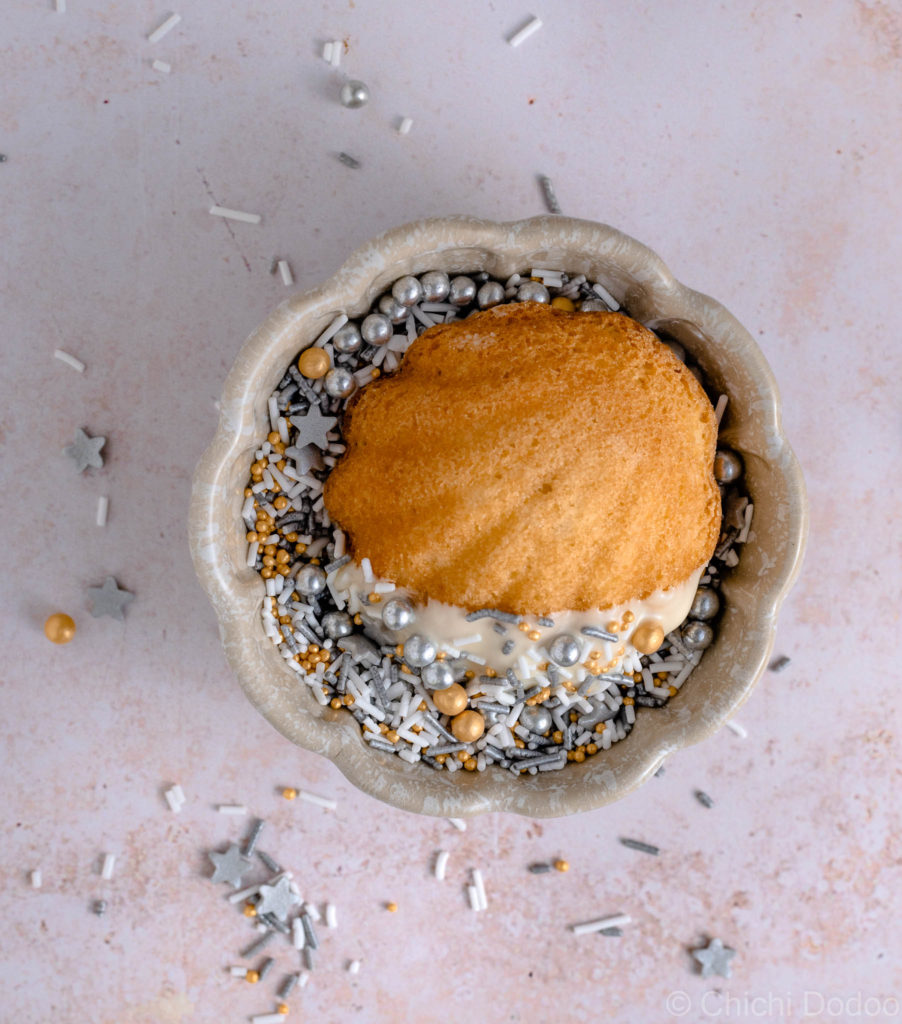 These madeleines are perfect for celebrations. So as we ring in the New Year, pair these light buttery mini cakes with a glass of your favourite drink.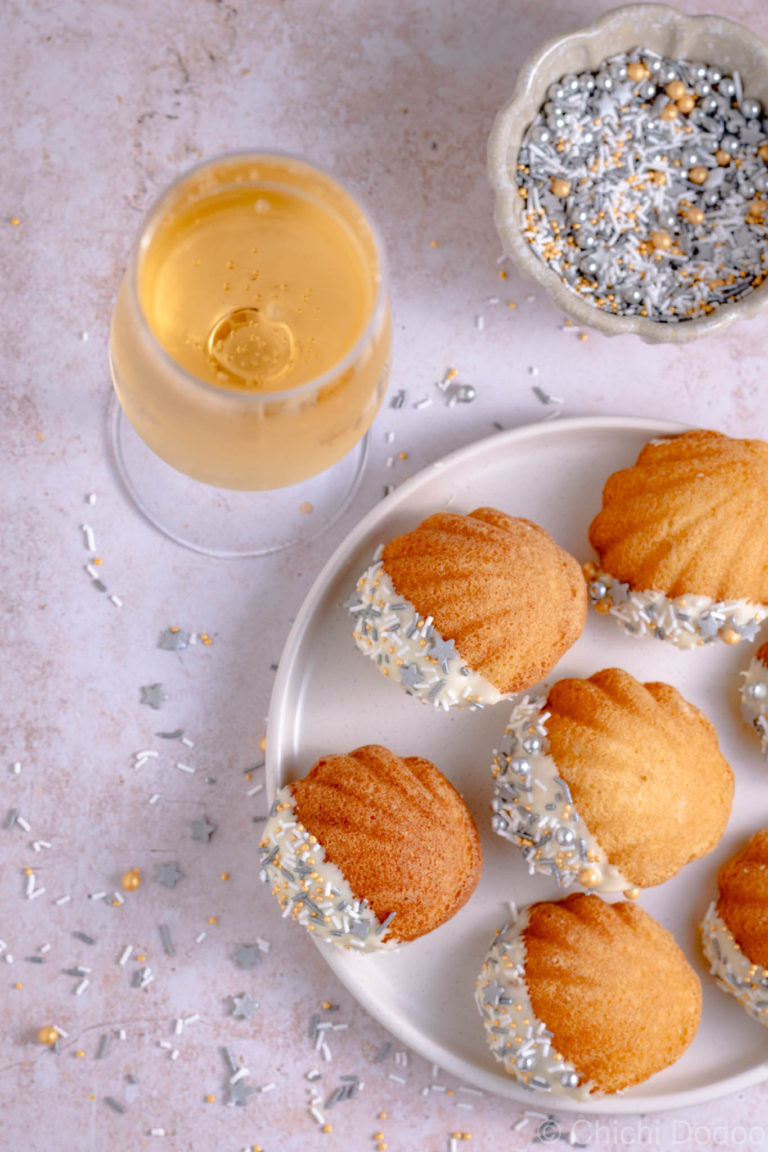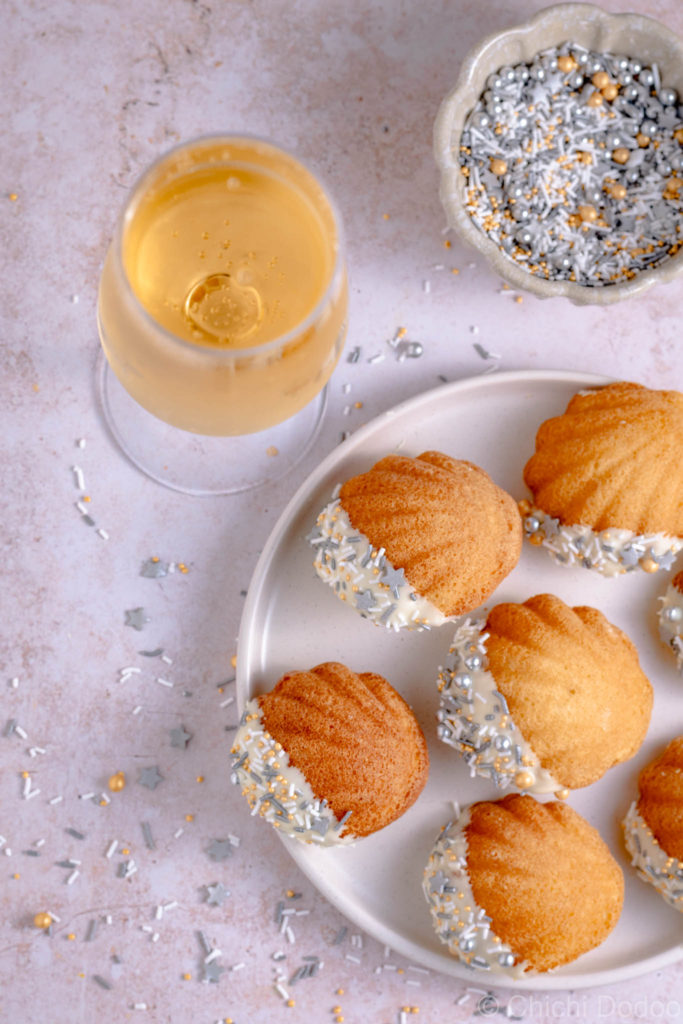 For more New Year recipes, check these out:
Dazzling New Year's Cake Pops
Mixed Berry Sorbet and Prosecco
Pomegranate Mojito
Champagne Cake with White Chocolate Buttercream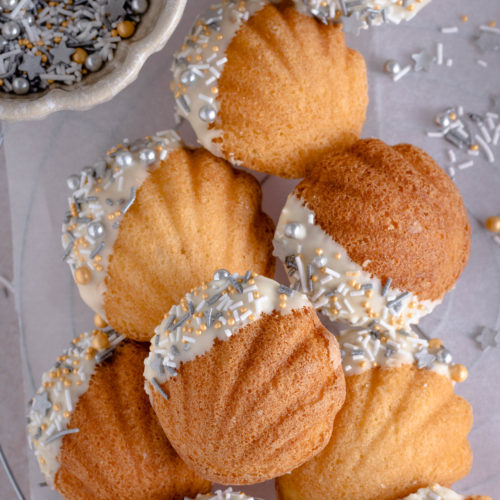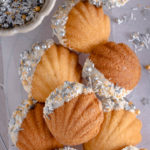 Ingredients
120

grams

(½ cup) unsalted butter, melted

2

eggs, room temperature

100

grams

(½ cup) caster sugar

1

teaspoon

vanilla extract

120

grams

(1 cup) plain or all-purpose flour. sifted

½

teaspoon

nutmeg, optional

¾

teaspoon

baking powder

pinch of salt

100

grams

white chocolate, melted

sprinkles
Instructions
Add butter to a small saucepan. Melt the butter over medium heat. Cook until the butter has melted. Remove from the heat and pour into a heat-proof bowl and leave to cool to room temperature.

In the bowl of the stand mixer place the eggs and sugar and whip on high speed until the mixture is thick and pale, for about five minutes.

In a large mixing bowl sift together flour, baking powder and salt. Add the flour to the egg mixture and using a spatula, gently fold into the egg mixture.

Add the melted butter and using a spatula, fold the butter into the mixture. Take care not to over mix.

Cover the batter with cling film and refrigerate for at least 1 hour or overnight.

At least 15 minutes before your are ready to bake, pre-heat the oven to 160°C. Using a pastry brush, lightly brush the pan with melted butter, then lightly dust with flour. Shake off any excess flour from the pan.

Using a tablespoon, fill the deepest part of the mould with 1 level tablespoon of the batter. You do not need to spread the batter. Cover and refrigerate any remaining batter.

Bake for 10-12 minutes. The madeleines are ready when the humps have risen and bounce back when lightly pressed. Remove from the oven and allow to cool on a wire rack for 10 minutes. Invert and lightly tap the pan to release the madeleines from the pan and place on a wire rack to cool completely.

Melt chocolate in 30 second bursts in the microwave until melted. Dip each madeleine in melted chocolate and decorate with sprinkles.
If you made this recipe, I would love to hear from you.
Tag Bakes By Chichi on Instagram or hashtag #bakesbychichi