Vanilla and nutella marble cake drizzled with nutella ganache has a tender and moist crumb that just melts in your mouth.Wonderfully rich and buttery cake.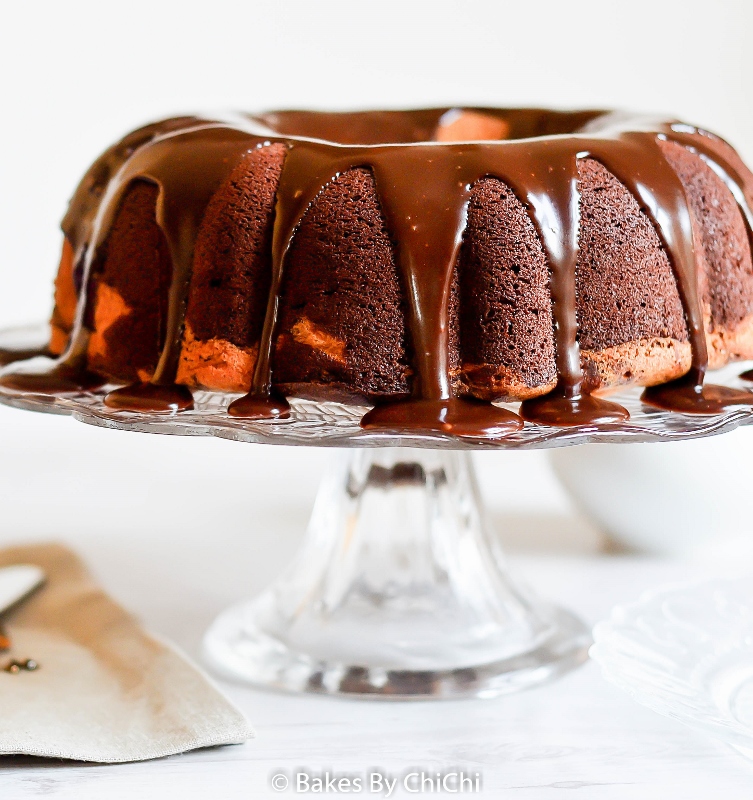 When I am not sure whether to make a vanilla cake or a chocolate cake, a marble cake is the way to go. A bit of vanilla and a bit of chocolate . In my house chocolate always wins.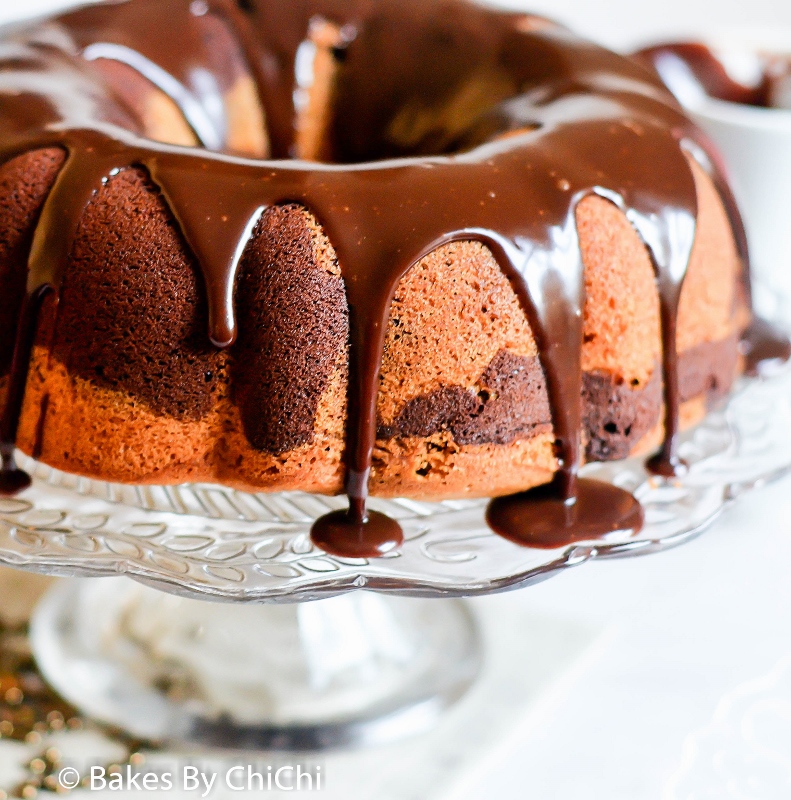 This vanilla and nutella marble cake begins with a simple yet delicious vanilla cake recipe. The cake batter contains equal measurement of butter, sugar and self raising flour. Also in the batter are 5 eggs and sour cream to make the cake extra rich, moist and tender. I recommend using a scale to measure out the ingredients for this recipe. With scales you get an accurate measurement. One of the first tools I ever invested in when I started baking was a scale and it was money well spent.
Split the batter into two and one half mixed with nutella and cocoa powder.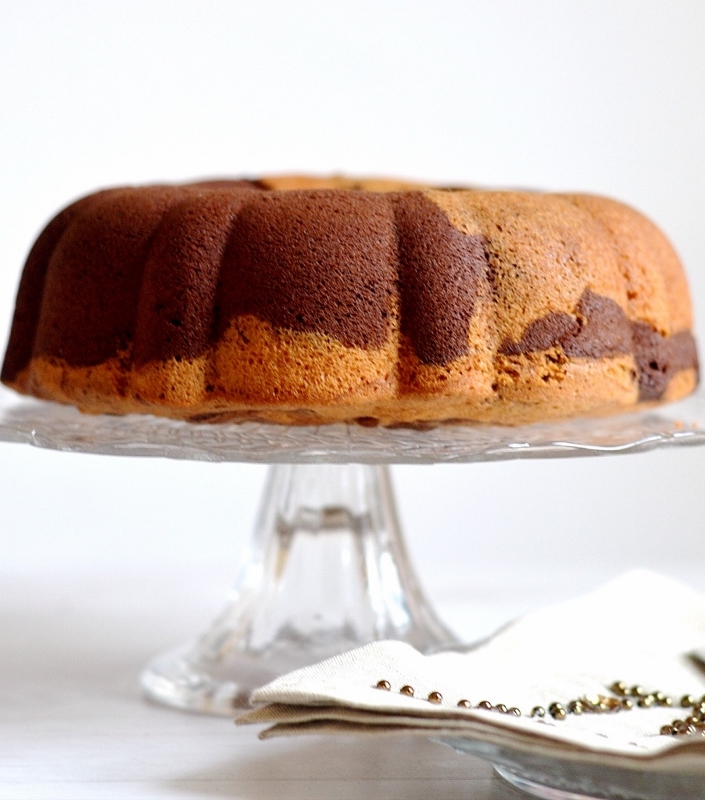 Vanilla and nutella mixtures are placed alternatively in a well greased bundt tin then swirled together using a knife to create the marble effect( becareful not to overmix, you don't want to loose the marble effect). Then baked in a pre-heated oven for 40 to 45 minutes or until a toothpick inserted in the middle comes out clean.
When you cut into the cake what you presented with are lovely swirls of nutella and vanilla cake. And because we love nutella so much i made a chocolate nutella ganache and poured it over the cake for the extra nutella flavour.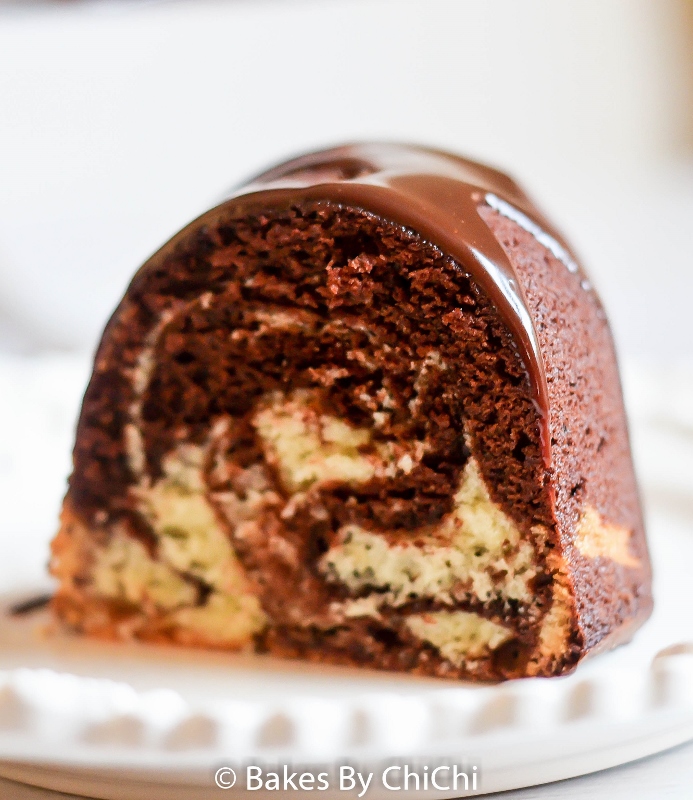 Stay up to date with Bakes by ChiChi on:
Facebook | Instagram | Pinterest | Google Plus | Bloglovin
Vanilla & Nutella Marble Cake with Nutella Ganache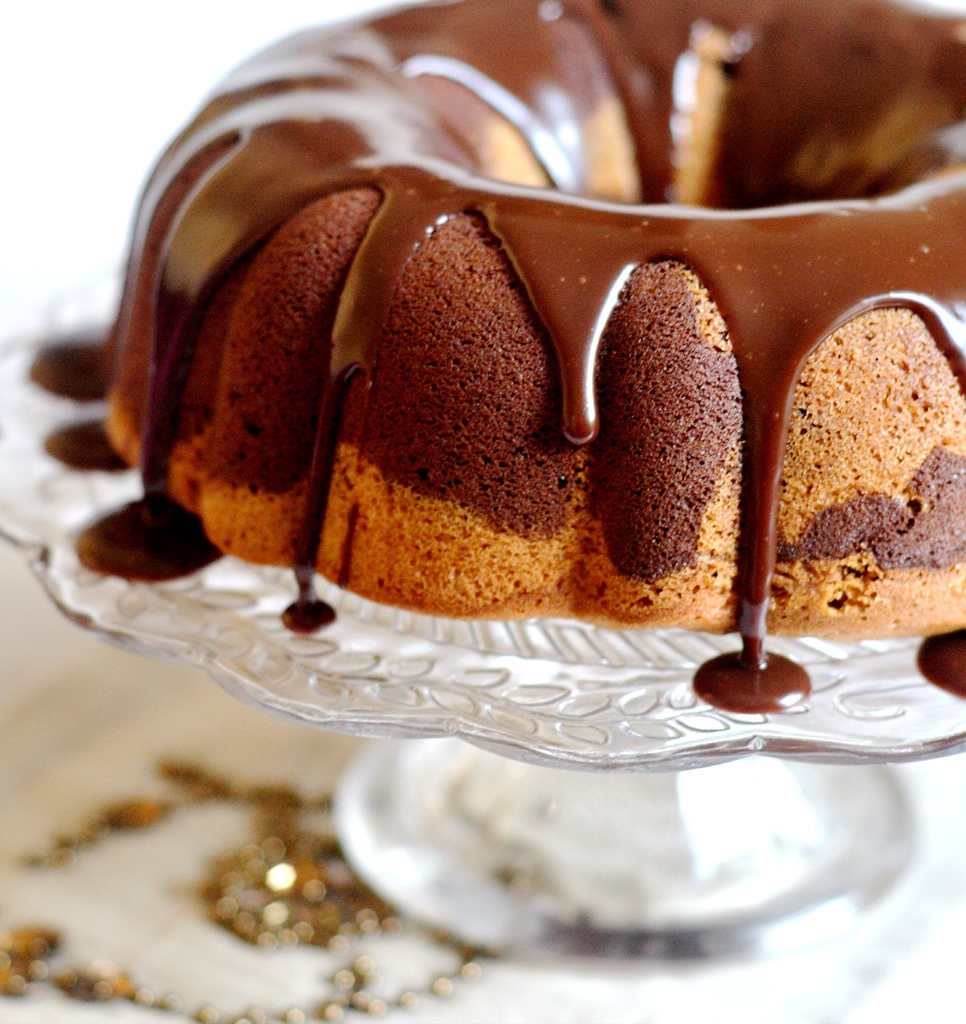 Ingredients
Vanilla and Nutella Marble Cake

250g (1 cup + 1 tablespoon) unsalted butter, room temperature
250g ( 11/2 cup) caster sugar
5 eggs
2 teaspoons vanilla extract
60ml (1/3 cup) sour cream
250g (2 cups + scant 2 tablespoons) self raising flour
1/2 cup nutella
30g (1/4 cup) cocoa powder
1/2 tablespoon hot water

Nutella Ganache

100g semi sweet chocolate, chopped
80ml (1/3 cup) double or whipping cream
1/4 cup nutella
Instructions
Vanilla Nutella Marble Cake
Pre heat your oven to 160 degrees Celsius. Generously grease a 10cm bundt tin.
In bowl of mixer beat butter until smooth, then gradually add sugar and beat until light and fluffy (about 5 minutes)
In a bowl , mix together cocoa powder, nutella and hot water and set aside.
Add eggs one at a time, beating well after each addition. Beat in vanilla extract and sour cream.
With the speed of mixer on low gradually add self raising flour.
Remove half the batter and place in a different bowl.
To the remaining batter add the nutella mixture and beat until well combined.
Take two spoons and use them to dollop the nutella and vanilla batter into the tin altenatively. Once all the mixture has been used up, tap the bottom of the tin on your work surface to ensure there aren't any air bubbles.
Take a skewer or a knife and swirl it through the batter to create a marbled effect. Don't over mix.
Bake for 40 - 45 inutes or until a toothpick inserted in the centre comes out clean.
Remove from oven and allow to cool on wire rack for 15 minutes before attempting to unmold.
To unmold place a large plate on top of the bundt tin and invert the pan holding the plate tight to the pan. Leave to cool completely.
Nutella Ganache
Place cream and chopped chocolate in a saucepan over low heat.
Gently stir until chocolate has melted.
Remove from heat and stir in nutella. Leave to cool slightly before pouring ganache over cake.
3.1
https://bakesbychichi.com/vanilla-nutella-marble-cake-with-nutella-ganache/