This Roasted Vanilla Berries and Mascarpone Cream Parfait is so simple to make yet bursting with so much flavor. A combination of Vanilla Roasted Berries and Mascarpone Cream. The roasted berries just makes this dessert extra special. And the luxurious whipped mascarpone cream works wonders.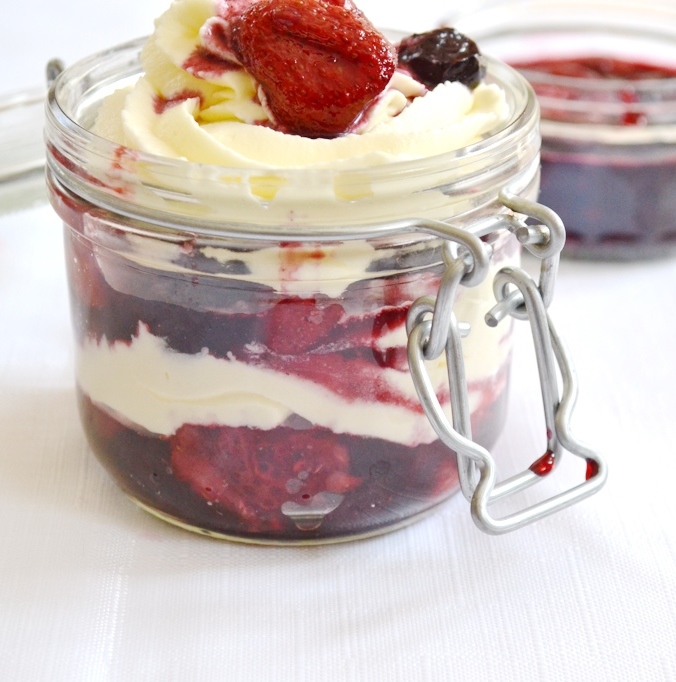 I can't believe how far into the year we have gone. I suppose life happens. And it happens so fast we don't even get a chance to savour moments. June has felt like one of those months for me. There were moments i felt so overwhelmed by things happening in my life and around me. My highs and lows. I wished for moments when i life just had pause button. When i have felt there weren't enough hours in the day, i stop and remember to enjoy the little things. Celebrate life, my family.
Good advice!!!!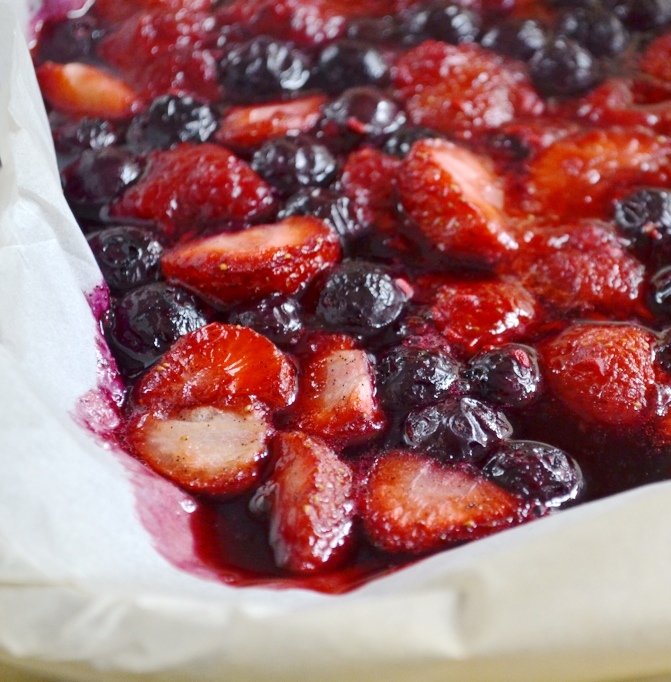 Now this dessert encompasses the pleasure we can derive from simplicity. A mixture of strawberries, raspberries and blueberries tossed in sugar and vanilla bean paste and roasted for 15 minutes. The smell of the roasted berries will just have your taste buds tingling. Roasting the berries releases the juices and the vanilla bean infused with the berries is just delicious.
The smooth luxurious mascarpone cheese just pairs nicely with whipping cream giving a perfectly rich blend.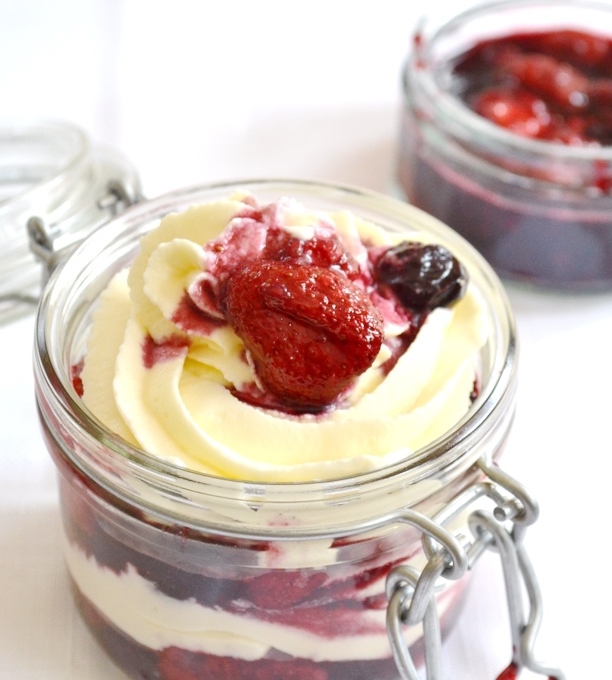 Hope you enjoy making this as much as i did.
Roasted Vanilla Berries and Mascarpone Cream Parfait
Ingredients
Roasted Berries

25g (1/4 cup) fresh blueberries
30g (1/4 cup) fresh raspberries
200g (1 cup) fresh strawberries
2 teaspoons sugar
1 teaspoon vanilla bean paste

Mascarpone Cream

230g (8 ounces) mascarpone
180ml (3/4 cup) whipping cream
2 tablespoons sugar
Instructions
Roasted Berries
Preheat oven to 200 degrees.
Line a baking sheet with baking paper 
Wash berries, pat dry, hull and cut strawberries in half. Place them in a bowl.
Add sugar and vanilla bean paste to berries and mix well.
Spread berries evenly on baking tray and bake for up to 15 minutes, depending on how soft you want your berries.
Remove from oven and allow to cool completely.
Mascarpone cream
In the bowl of stand combine mascarpone cheese, whipping cream and sugar. Whip until thick, soft peaks form
To assemble
Line up jars or serving dish .
Spoon a quarter of the berries in your jar or serving dish. Pipe mascarpone cream over the roasted berries , then repeat the process.
3.1
https://bakesbychichi.com/roasted-vanilla-berries-and-mascarpone-cream-parfait/