These Brown Butter Chocolate Chip Cookies are soft, chewy and have a delicious nutty flavour. Chunks of chocolate and chips create pockets of gooey melted chocolate inside the cookies.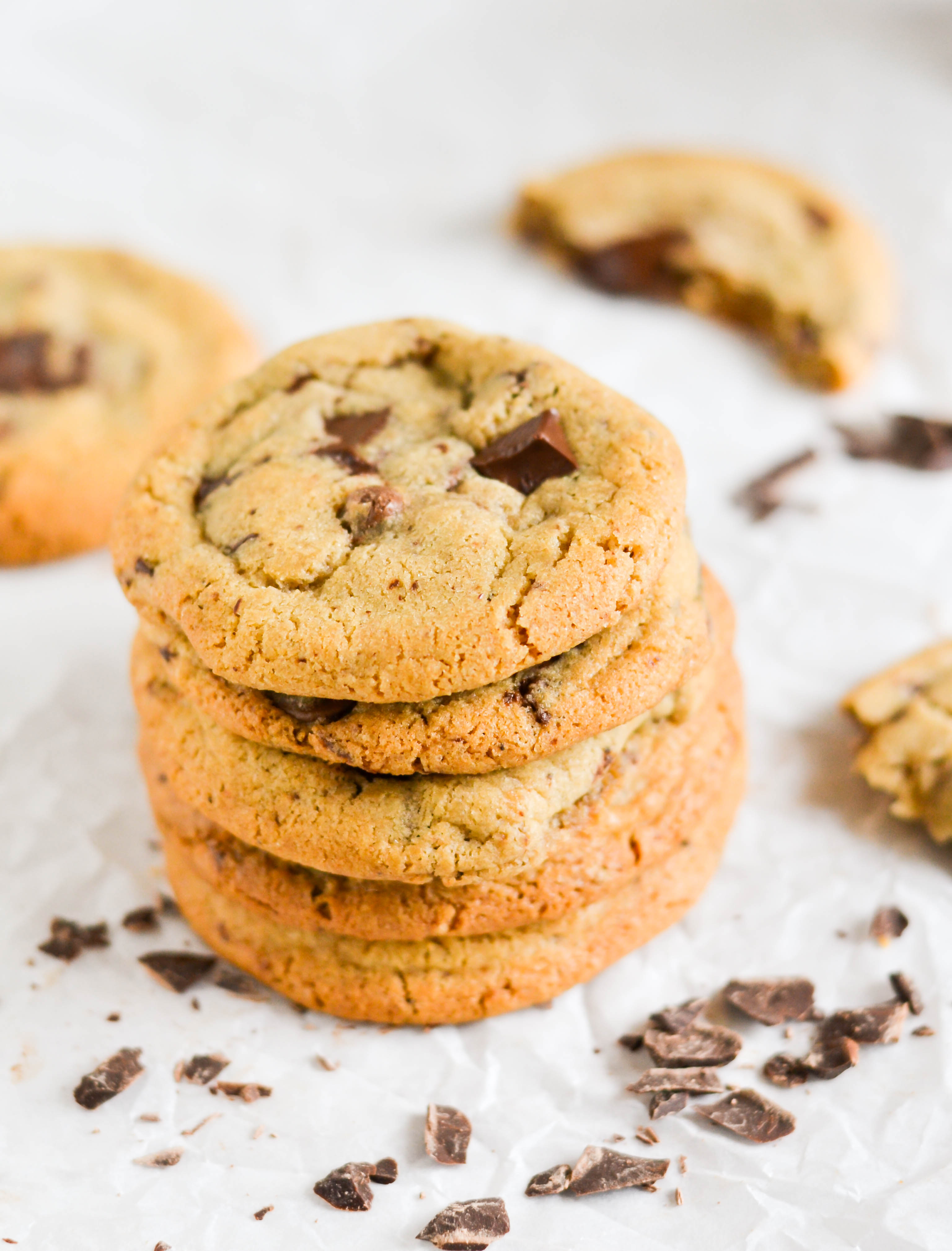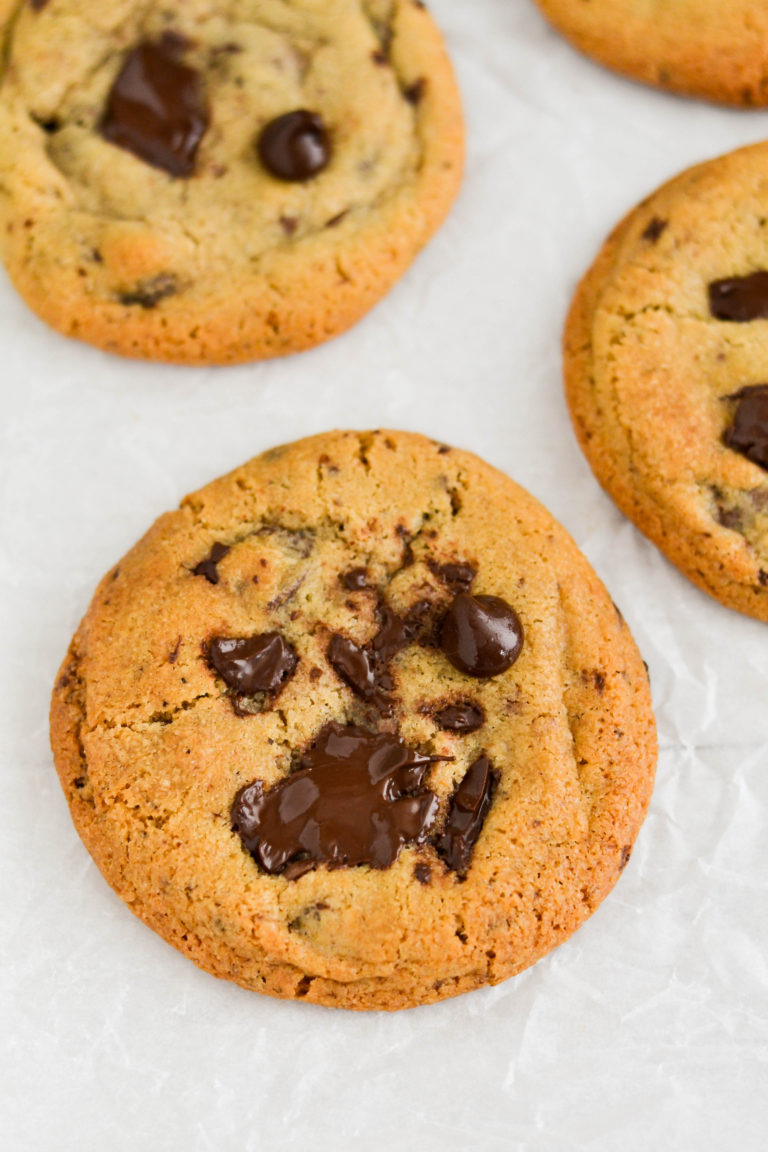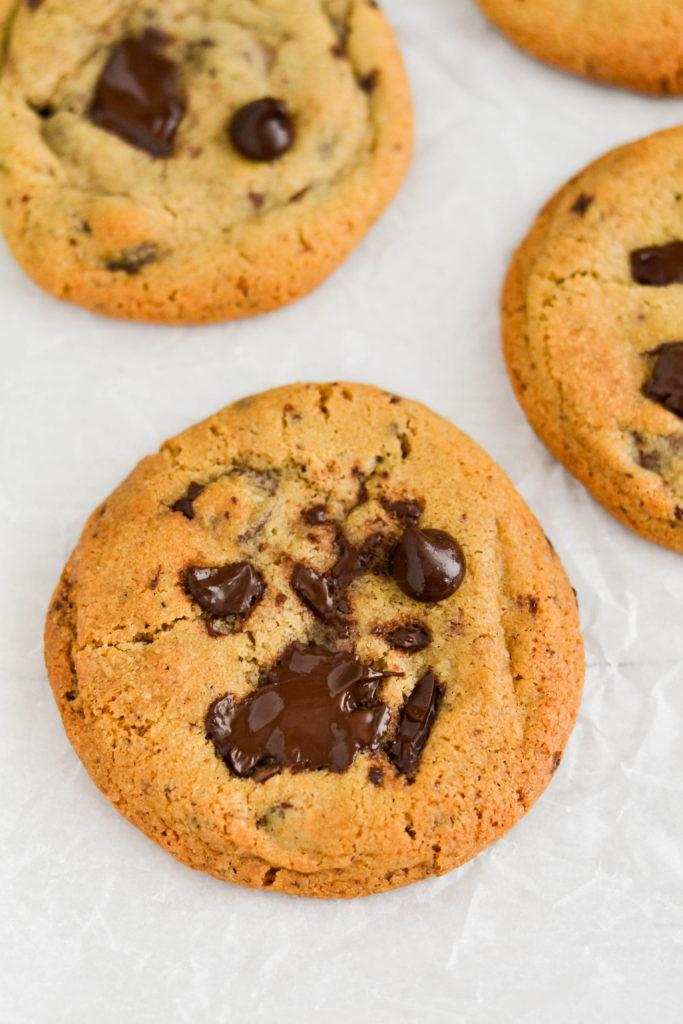 Oh browned butter where art thou been all my life?? You know when you have been missing something yet don't know what you have been missing until you find it. This is how I felt when browned butter came into my life. Brown or Browned butter is made when butter is cooked until the fat and milk separate and the milk from the butter sinks to the bottom of the pan and begins to brown creating this rich nutty flavoured butter. French chefs call this butter beurre noisette (hazelnut butter).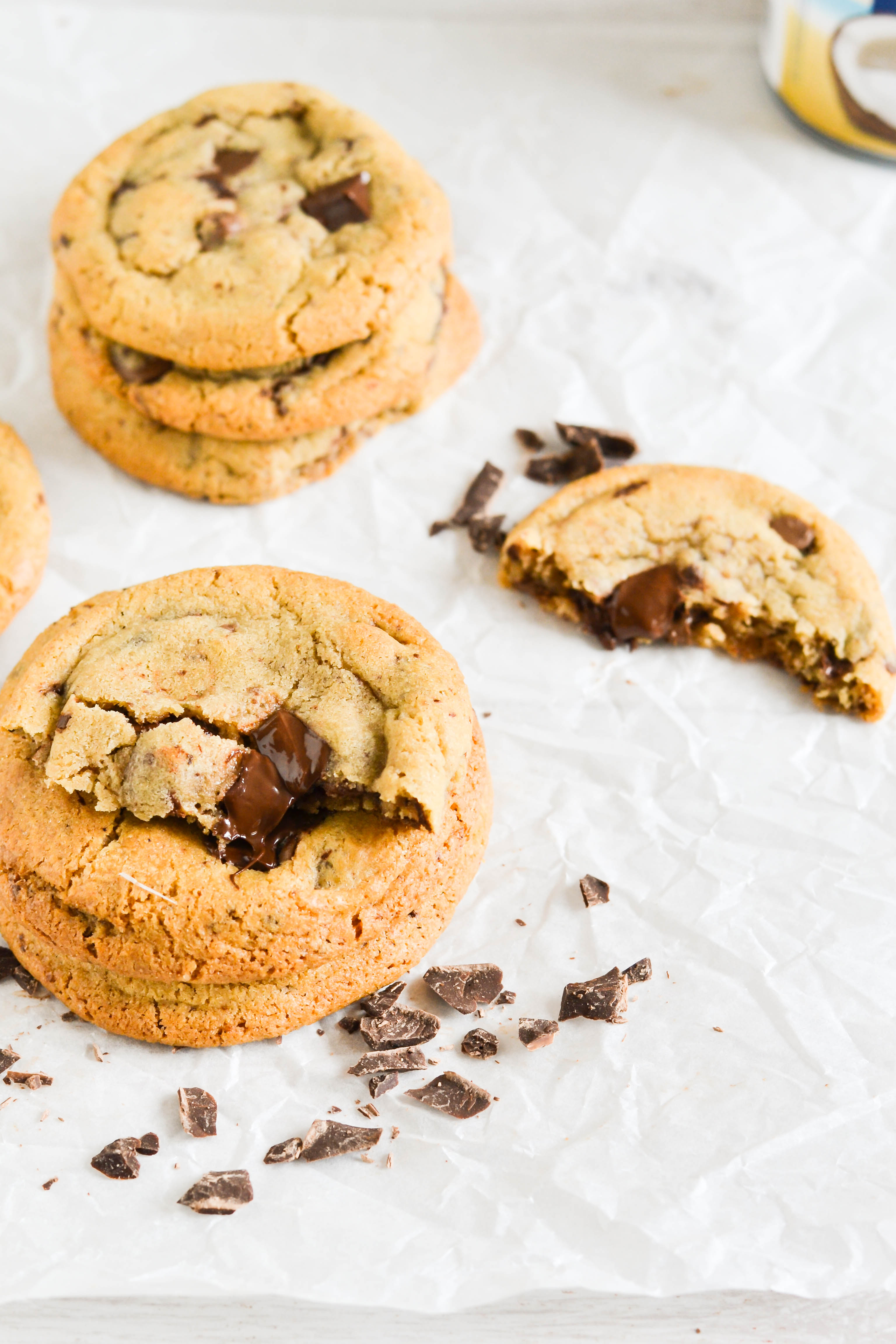 How to Make Brown Butter
Before you start making the brown butter have a small glass bowl next to the cooker. Place pieces of butter in a saucepan. Slowly melt the unsalted butter over a low heat until it is foamy on the surface. Pour the melted butter into a small glass bowl and leave it to stand for about a minute. Using a teaspoon, carefully remove the foam from the surface and discard it.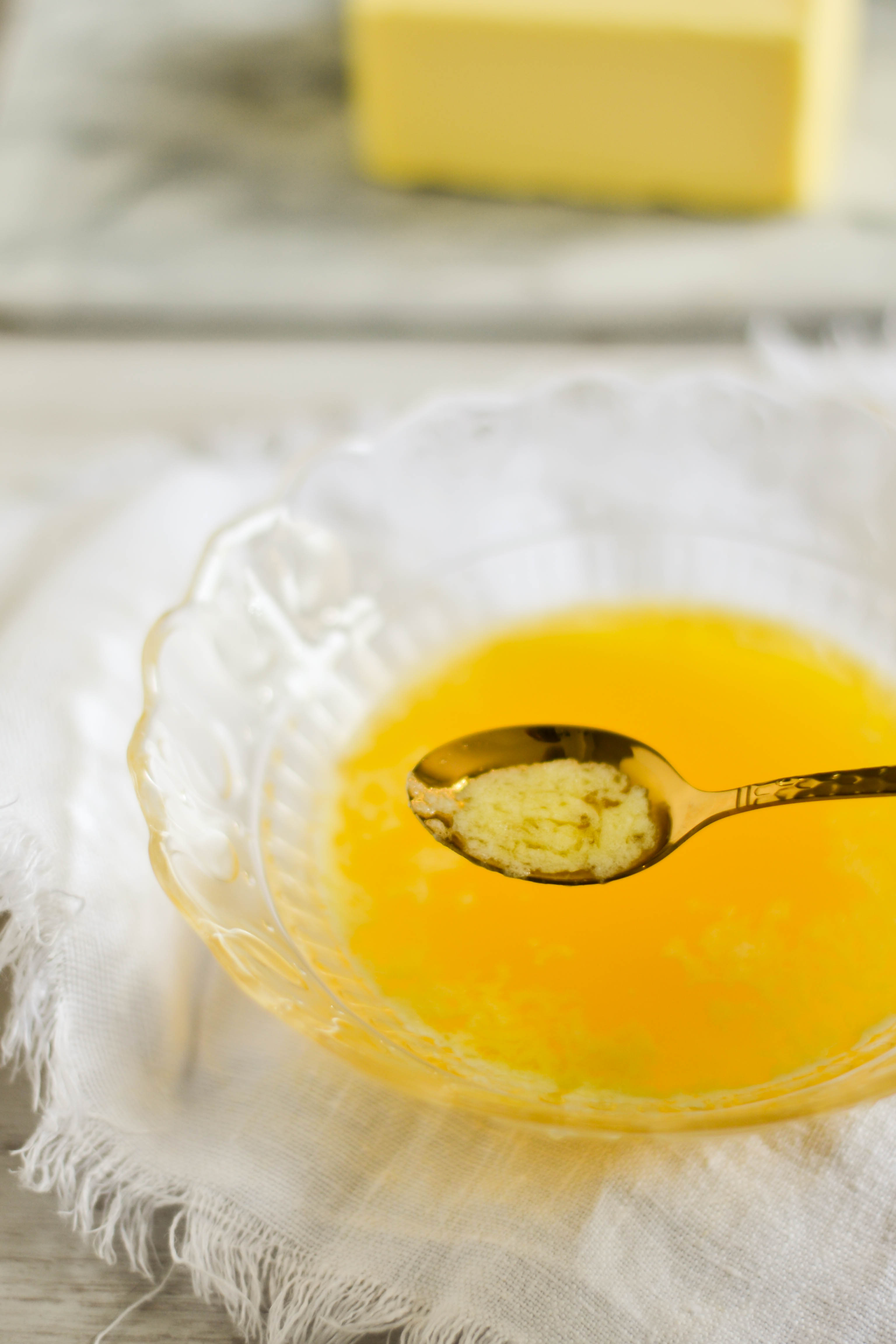 Return the melted butter to the saucepan and heat on low heat until light brown and has a nutty frangrance (watch the pan as it is very easy for the butter to burn). Immediately remove from the heat and and pour into a bowl with all the bits. Leave it to cool for 20 minutes, cover tightly with cling film and place in the fridge for at least 1 hour.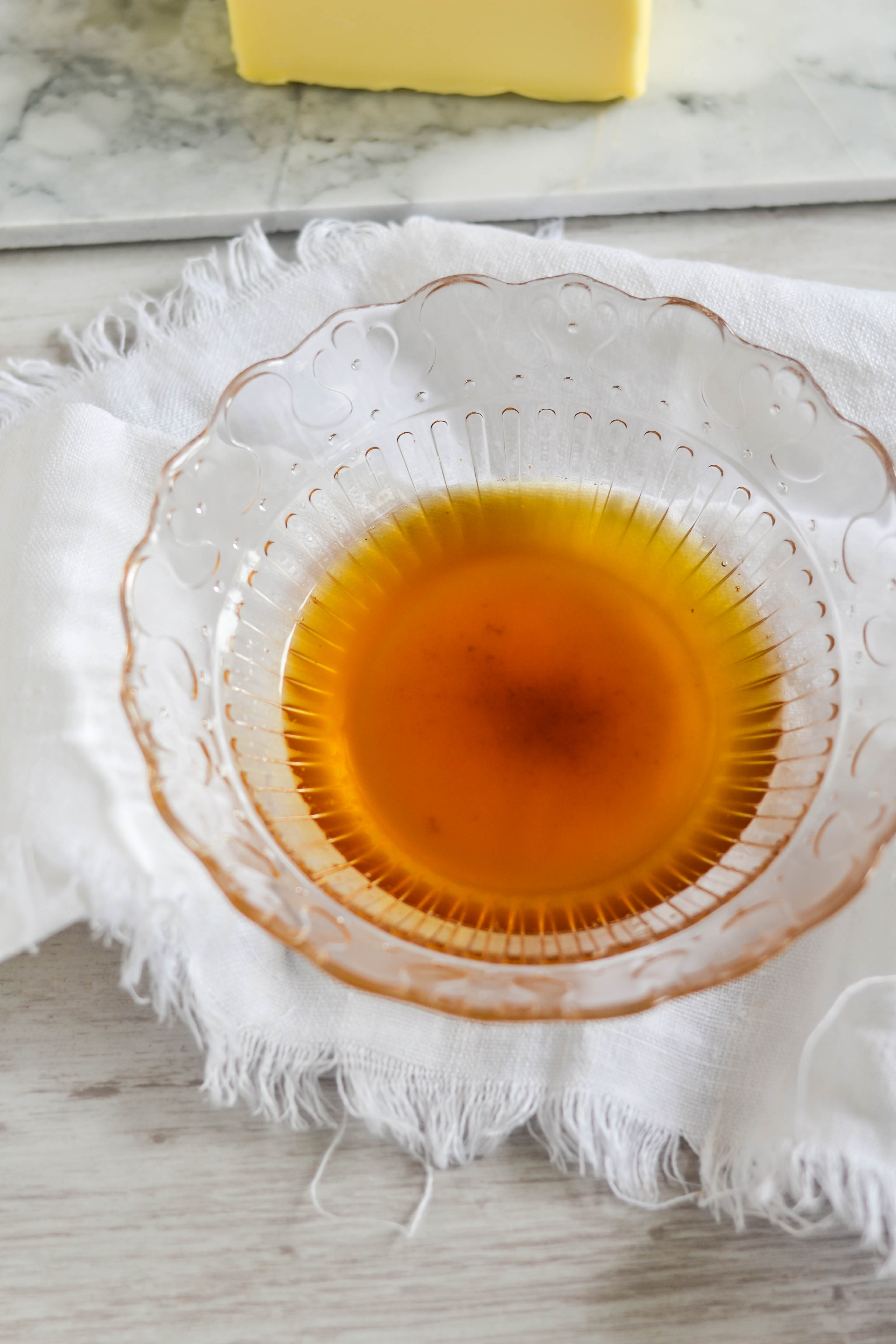 Other ingredients for the cookies
Sugar- Use a combination of light brown sugar and caster or granulated. I use more brown sugar because it produces a moist, chewy cookie and reduces spreading.
Vanilla Extract– To add rich flavour to the cookies.
Eggs- I used 1 whole egg and a yolk. Partly for a richer tasting cookie and also to replace the moisture lost during the browning process.
Baking soda– the carbon dioxide released helps leaven the cookie dough, creating a soft, fluffy cookie.
Cornstarch– make the cookies stay soft and thick.
Salt– it enhances the sugar and vanilla flavours and balances out the flavours.
Chocolate– I mixed in a combination of milk chocolate chips and semi sweet chocolate chunks . Using both kinds of chocolate balances out the sweetness of the cookie batter. Be sure to use favourite brand of chocolate you enjoy eating.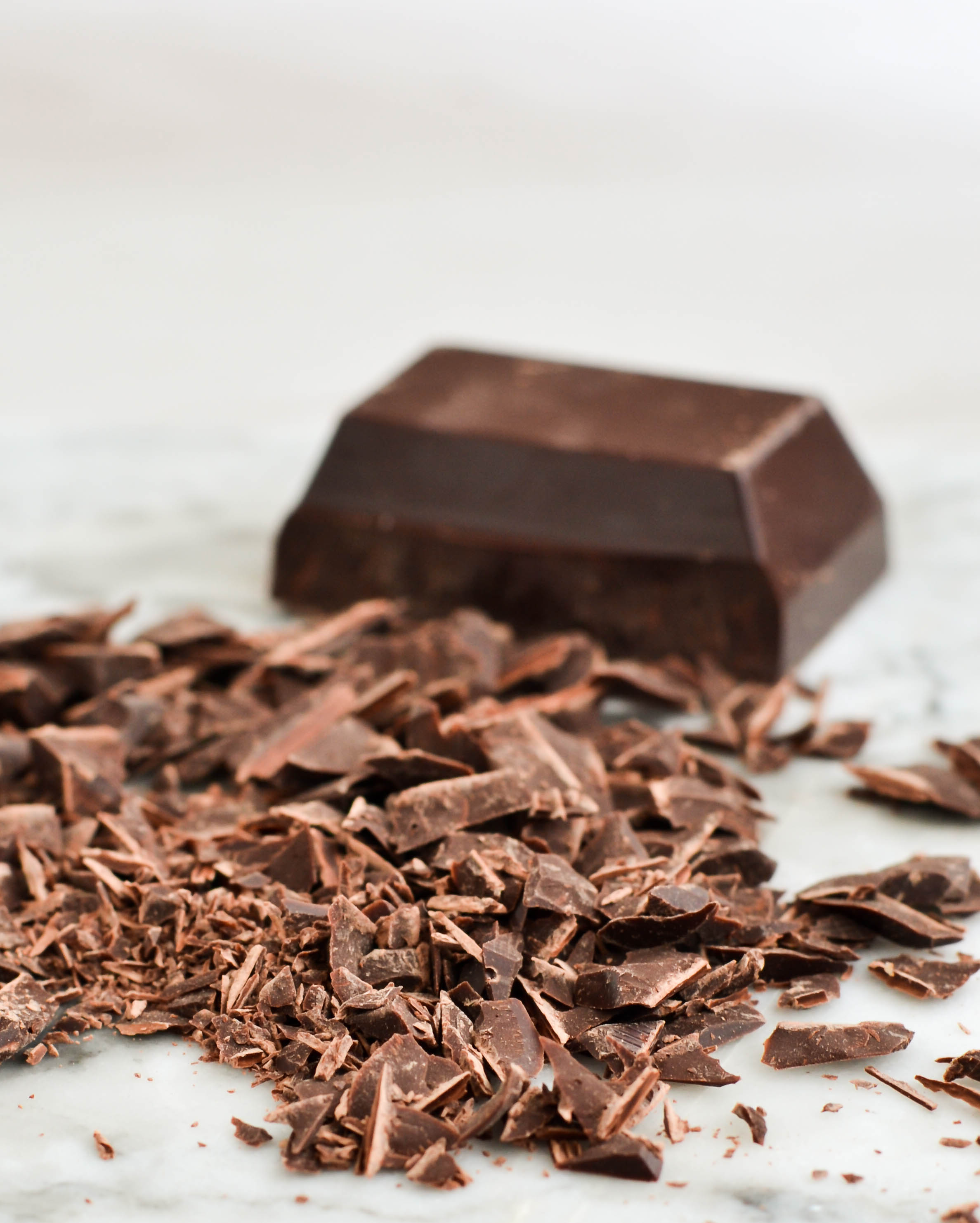 After making the batter, scoop two tablespoons and roll into ball and place on a plate. Repeat with the remaining batter and chill the cookie balls for at least 24 hours.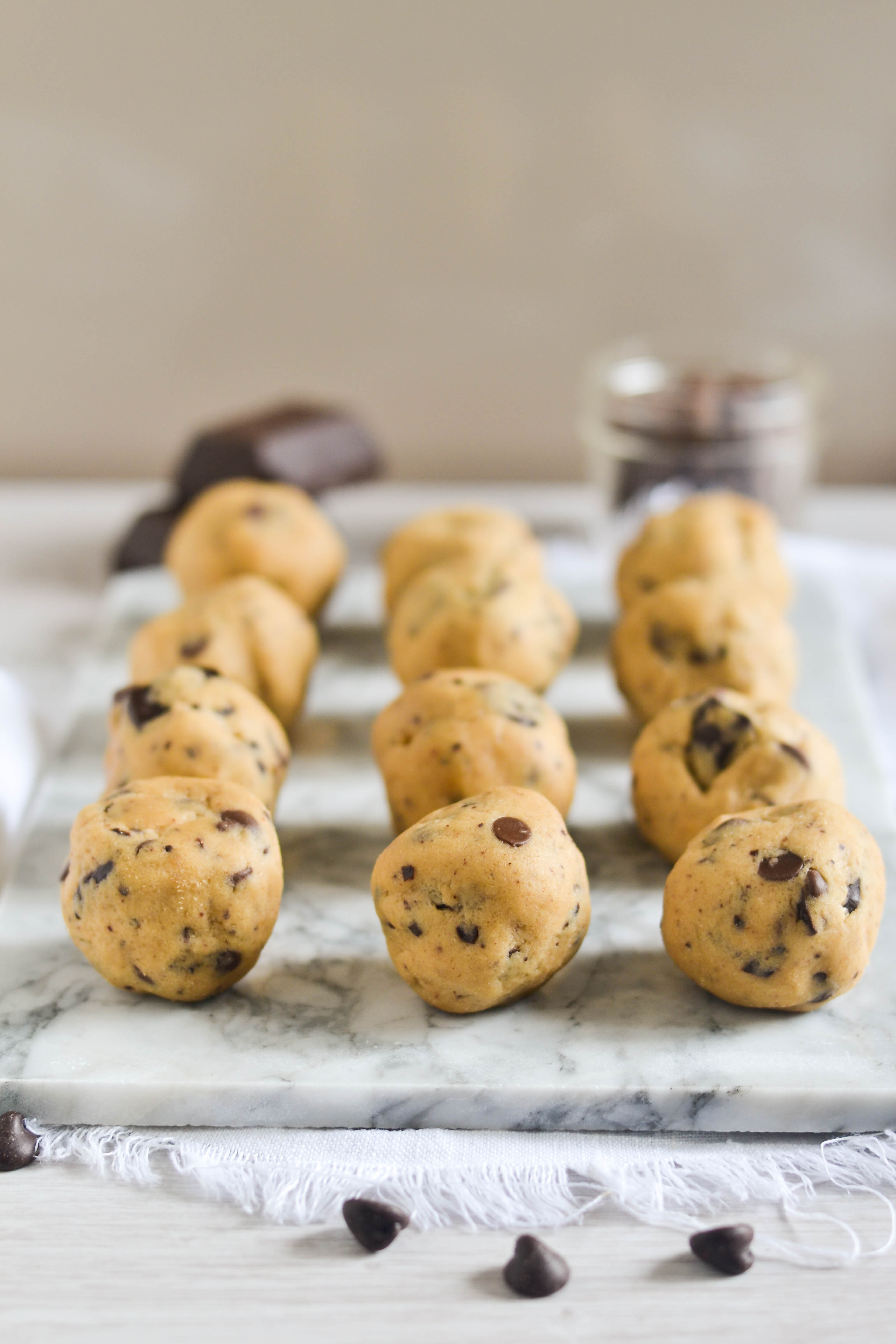 Tips for successful cookies
Use good quality chocolate or chocolate you enjoy eating for this recipe. I chopped a block of coverture chocolate into pieces and added it to the cookie batter. You can also use chocolate bars.
Chill the cookie dough for at least 24 hours. Doing this allows the fat in the cookies to chill and firm up and prevent the dreaded spread. It also allows the flour to fully absorb the liquids in the dough. This results in a more flavourful cookie. I enjoy the cookies even better after it has chilled at least 2 days in fridge. They develop an even richer flavour.
Before baking, take the cookie balls out of the fridge and leave on the countertop until it comes to room temperature.
Line your baking tray with either baking paper or a silicone baking mat. Do this to avoid the cookies sticking to the pan. The baking paper also aids in a more evenly baked cookie.
Underbake for soft cookies. The cookies will continue to bake as they cool.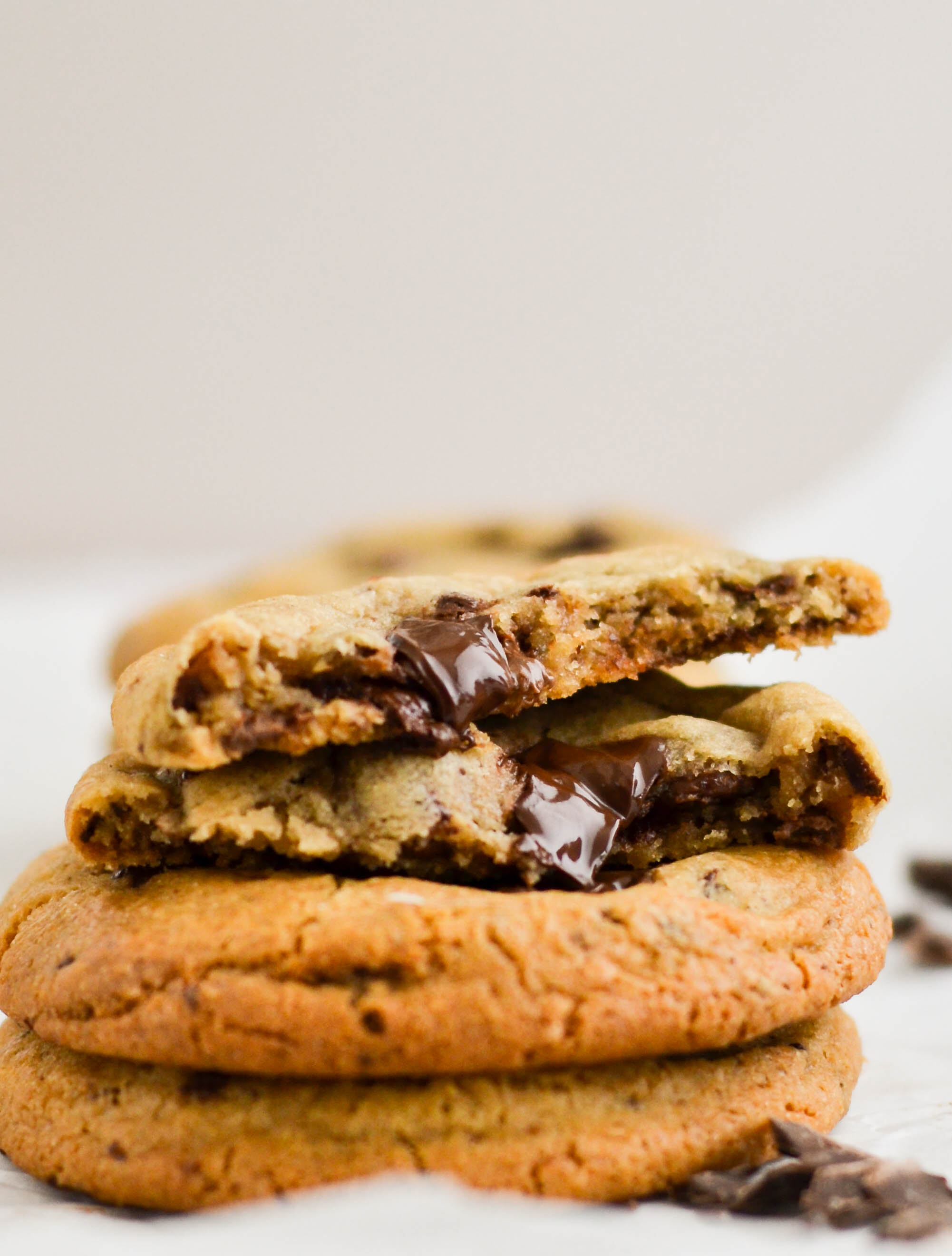 For more cookie recipes, check out my spiced chocolate chip cookies or my mocha chocolate chip pudding cookies.
If you make these delicious Brown Butter Chocolate Chip Cookies , leave a comment below and tag @bakesbychichi on Instagram.
The photos in this post have been updated.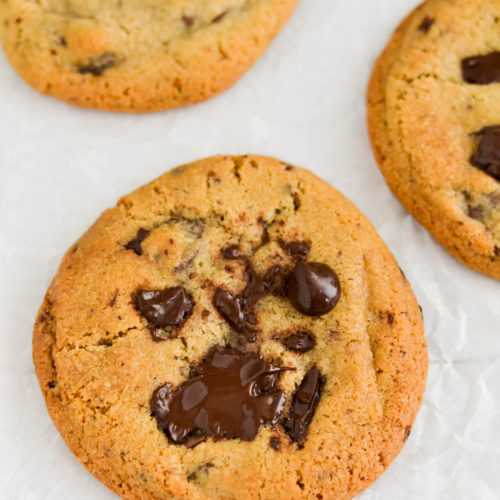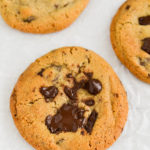 Ingredients
170

grams

unsalted butter, sliced

180

grams

light brown sugar

50

grams

granulated or caster sugar

1

whole

egg plus a yolk

2

tsps

vanilla extract

265

grams

plain flour

100

grams

milk chocolate chips

1

tsp

baking soda

100

grams

semi-sweet chopped chocolate chunks or bars
Instructions
Place sliced butter ( butter is sliced so that it melts faster and evenly) in a saucepan over low heat.

Slowly melt the butter until it is foamy on the surface. Pour the melted butter into a heatproof or glass bowl. Let it stand for 1 minute. Use a teaspoon and carefully remove the foam from the surface.

Return the melted butter to the saucepan and heat until light brown specks begin to form and you smell a nutty aroma. Remove from heat and and pour into a small bowl with all the bits. Leave it to cool for 20 minutes and then place in the fridge to chill for 1 hour.

Sift sift flour, baking soda, cornstarch and salt in a large mixing bowl. Set aside.

In the bowl of a stand mixer, beat together brown butter, brown sugar and white sugar . Whisk the eggs and vanilla extract until light and creamy. Pour the egg mixture into the sugar mixture. Mix in the flour mixture .

Fold in the chocolate chips and chunks.

Scoop two tablespoons each of the cookie batter and roll into balls. Cover the cookie balls with plastic wrap and leave to chill in the fridge for at least 2 hours or overnight.

Line 2 baking tray with parchment paper. Remove the cookie dough and leave to come to room temperature. Place cookie balls on the baking tray at least 2 inches apart.

Remove the cookie dough and leave to come to room temperature for 10 minutes.

Bake for 10 – 12 minutes. Remove from oven and place on cooling rack. The centre of cookies may look slightly under baked. Leave to cool for at least 10 minutes before serving.
Notes
When the butter is browned, moisture is lost. Add 1 or 2 tablespoons of milk if your dough is dry. This will add moisture back into the cookie dough. 
Every oven is different and temperatures may vary from top to bottom and side to side. So rotate the baking tray halfway through baking to ensure an even bake  
If you made this recipe, I would love to hear from you.
Tag Bakes By Chichi on Instagram or hashtag #bakesbychichi