Rich creamy minty ice cream with bits of crushed candy cane.

And a recipe for light peppermint meringue cookies.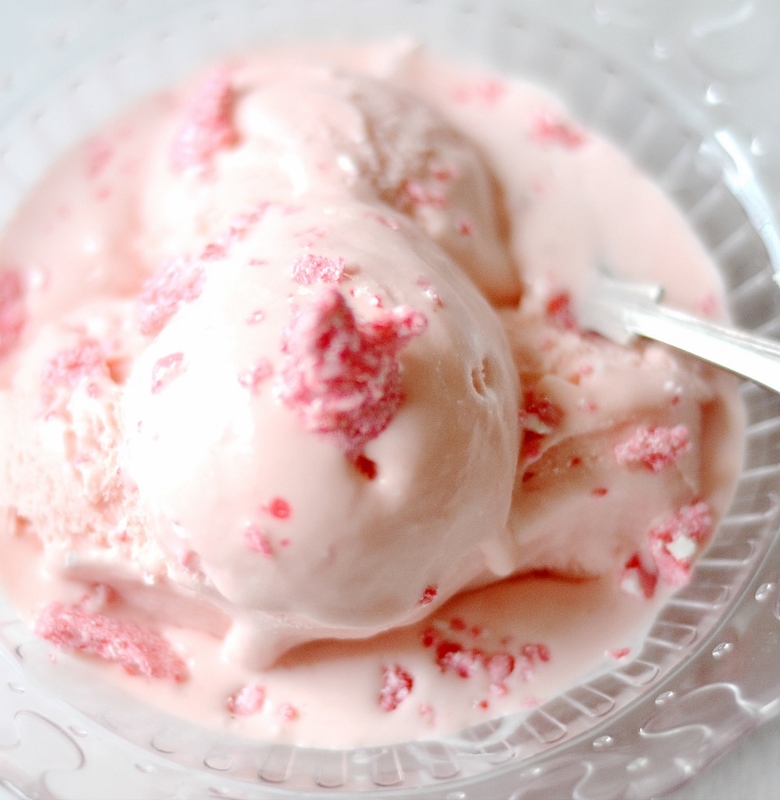 I finally invested in an ice cream machine. Well the fact it was discounted even made buying it all the more appealing. Who doesn't love a bargain, i know i do.What i also love are candy canes. Each time i walk into my local pound shop i stock up on some, they are also a bargain at £1 for a pack of 12.
Peppermint ice cream is just right for this time of the year. Flavoured with peppermint extract and a generous helping of crushed candy cane , this minty goodness is bound to get you in the festive spirit.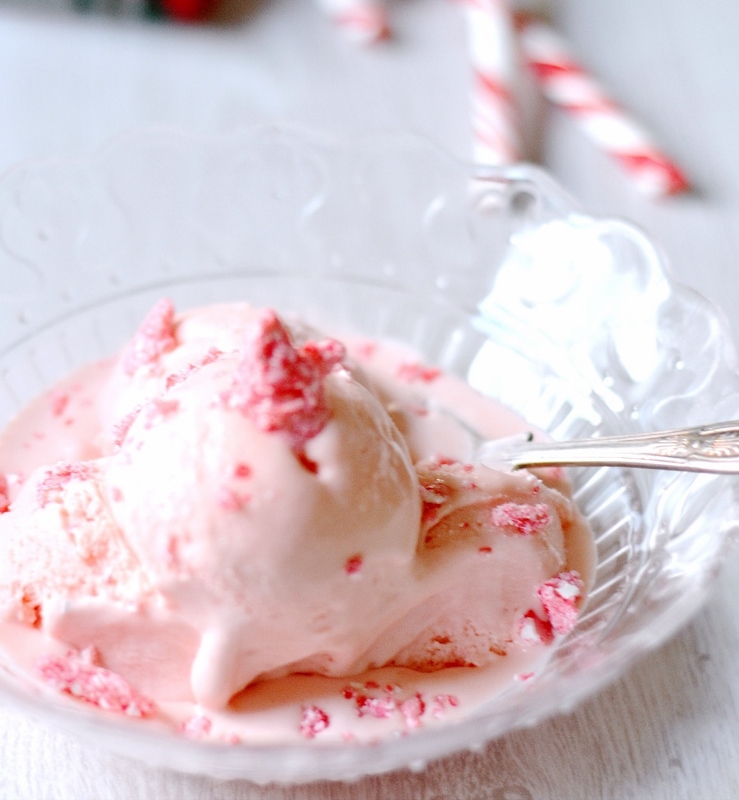 If you are using an ice maker with a freezer bowl to save time when you chill the custard for ice cream also pre-freeze the freezer bowl as well.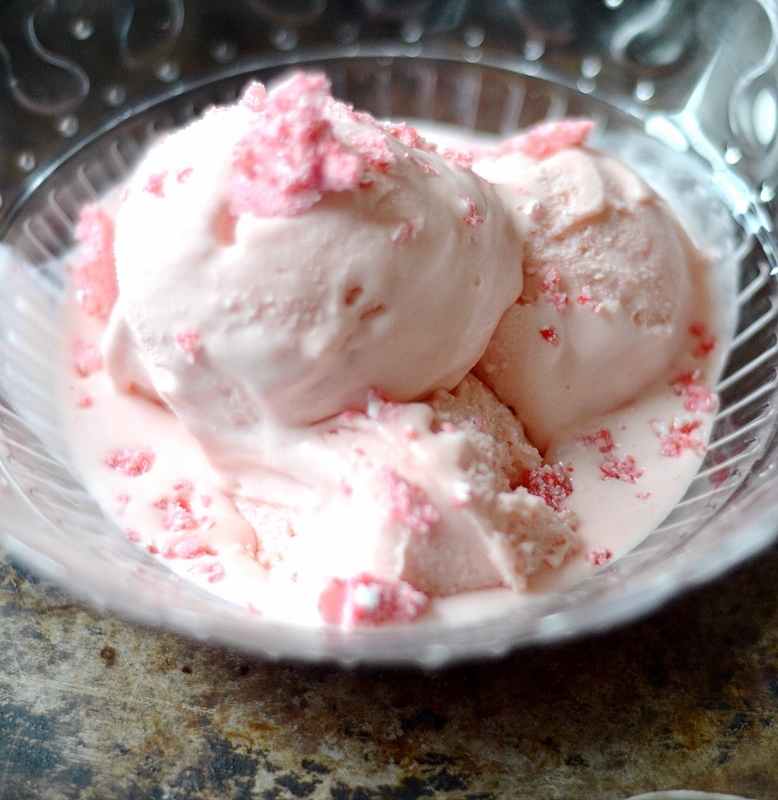 Now if you are wondering to do with all the left over egg whites when you separate the eggs i have a recipe as well for peppermint meringue cookies.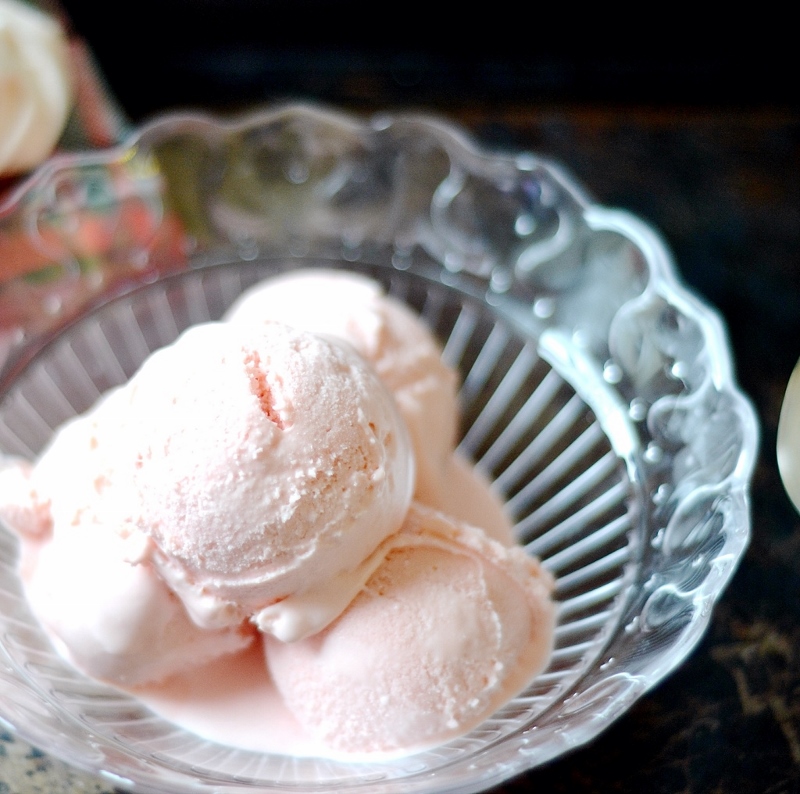 Candy Cane Peppermint Ice Cream & Peppermint Meringue Cookies
Ingredients
Candy Cane Peppermint Ice Cream

250ml (1 cup) whole milk
200g (1 cup) caster sugar
pinch of salt
5 large egg yolks
560ml (21/4 cup) whipping cream
peppermint extract, to taste
Red food colouring
10 candy canes, crushed

Peppermint Meringue Cookies

100g egg whites
100g (1/2 cup) caster sugar
100g (1 cup) icing sugar
1/8 teaspoon peppermint extract
Red food colouring
Instructions
Candy Cane Peppermint Ice Cream
Heat milk, sugar and salt in a saucepan, ensuring the sugar and salt dissolve completely.
Prepare an ice bath by placing a small bowl in a larger bowl partially filled with ice and water. Pour the whipping cream into the smaller bowl and set a strainer over the top.
Stir together the egg yolks in a separate bowl. Gradually pour some of the milk into the yolks, whisking constantly. Scrape warmed yolks back into saucepan.
Over low heat cook the mixture, stirring constantly with a heat proof rubber spatula or a wooden spoon and scrapping the bottom as you stir. Cook until the custard thickens enough to coat the spatula.
Pour the custard through the strainer into the whipping cream. Stir over the ice bath until cool. Add peppermint extract to taste. Mix in red food coloring, add enough until it is the colour you want.
Chill mixture in fridge overnight.
Once chilled freeze custard in your ice cream according to manufacturer's instructions.
Fold in crushed candy cane into ice cream once it has formed .
Put ice cream in airtight contained and freeze until ready to serve.
Peppermint Meringue Cookies
Preheat oven to 100 degrees celcius. Line two baking sheets with greaseproof paper.
Clean bowl and whisk with lemon juice to ensure mixing bowl is entirely grease free before you start.
In the bowl of a stand mixer using the whisk attachment add egg whites and start whisking at medium speed until the mixture resembles a fluffy cloud and stands up in stiff peals when the blades are lifted.
Turn speed of mixer up and slowly add caster sugar a tablespoon at a time. Whisk until meringue mixture becomes thick and glossy , becareful not to over whisk .Sift 50 g (1/2 cup) icing sugar over the mixture, then gently fold it in with a big metal spoon or rubber spatula. Continue to sift and fold in the remaining icing sugar. Again, don't over-mix. The mixture should now look smooth and billowy, almost like a snow drift.
Add peppermint extract and slowly fold in sifted icing sugar into the meringue mixture using a rubber spatula.
Divide meringue and keep part white and mix in other part with red food color.
Spoon meringue mixture into a piping bag fitted with a star tip and pipe little rosettes onto the lined baking trays.
Bake meringues in preheated oven for 2 - 3 hours or until meringues are fully dried out. Meringues
Leave to cool on baking trays. Store meringues in airtight container for up to 2 weeks or frozen for a month.
Notes
Ice cream recipe from David Lebovitz
3.1
https://bakesbychichi.com/candy-cane-peppermint-ice-cream-peppermint-meringue-cookies/