The perfect crème brûlée has a soft creamy custard filling and a crisp caramelized sugar topping. This classic dessert looks rather complicated but it is simple to make.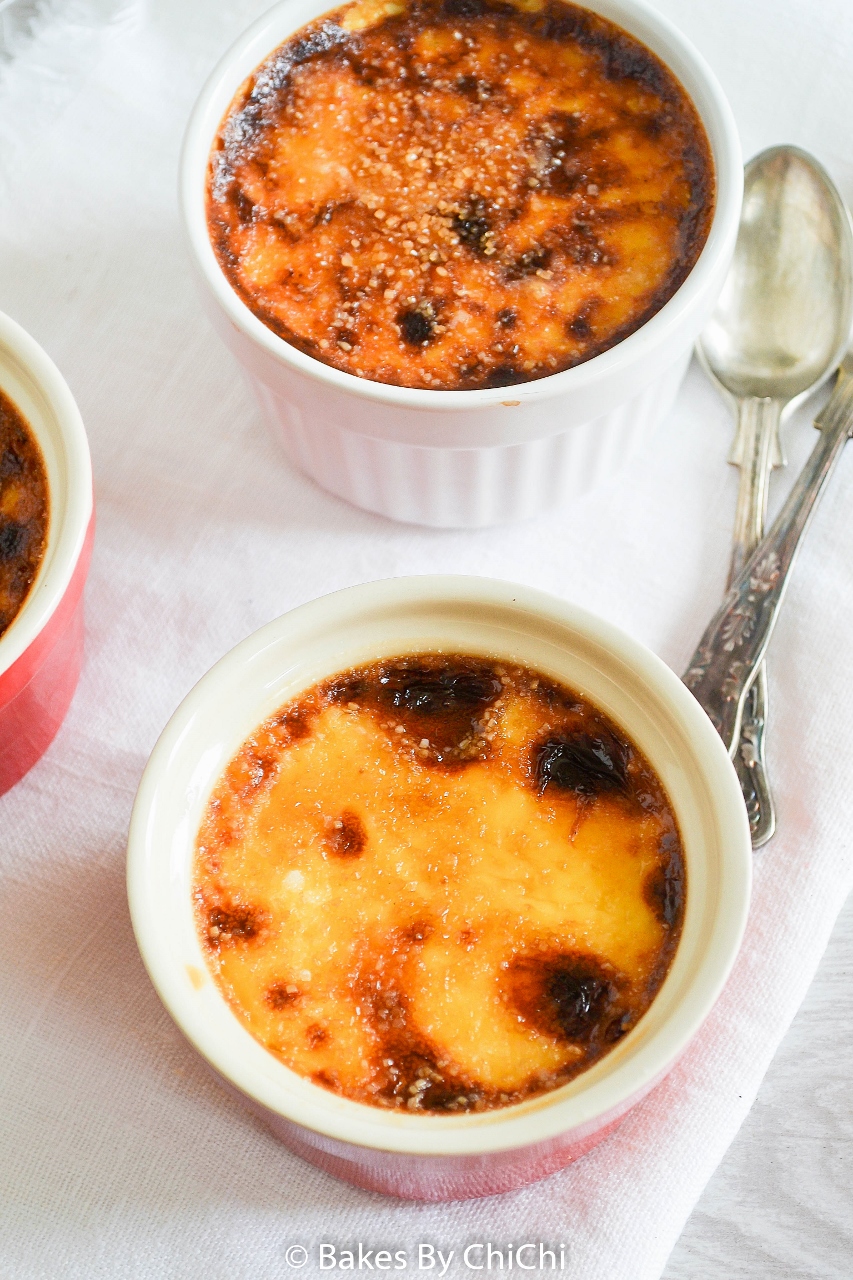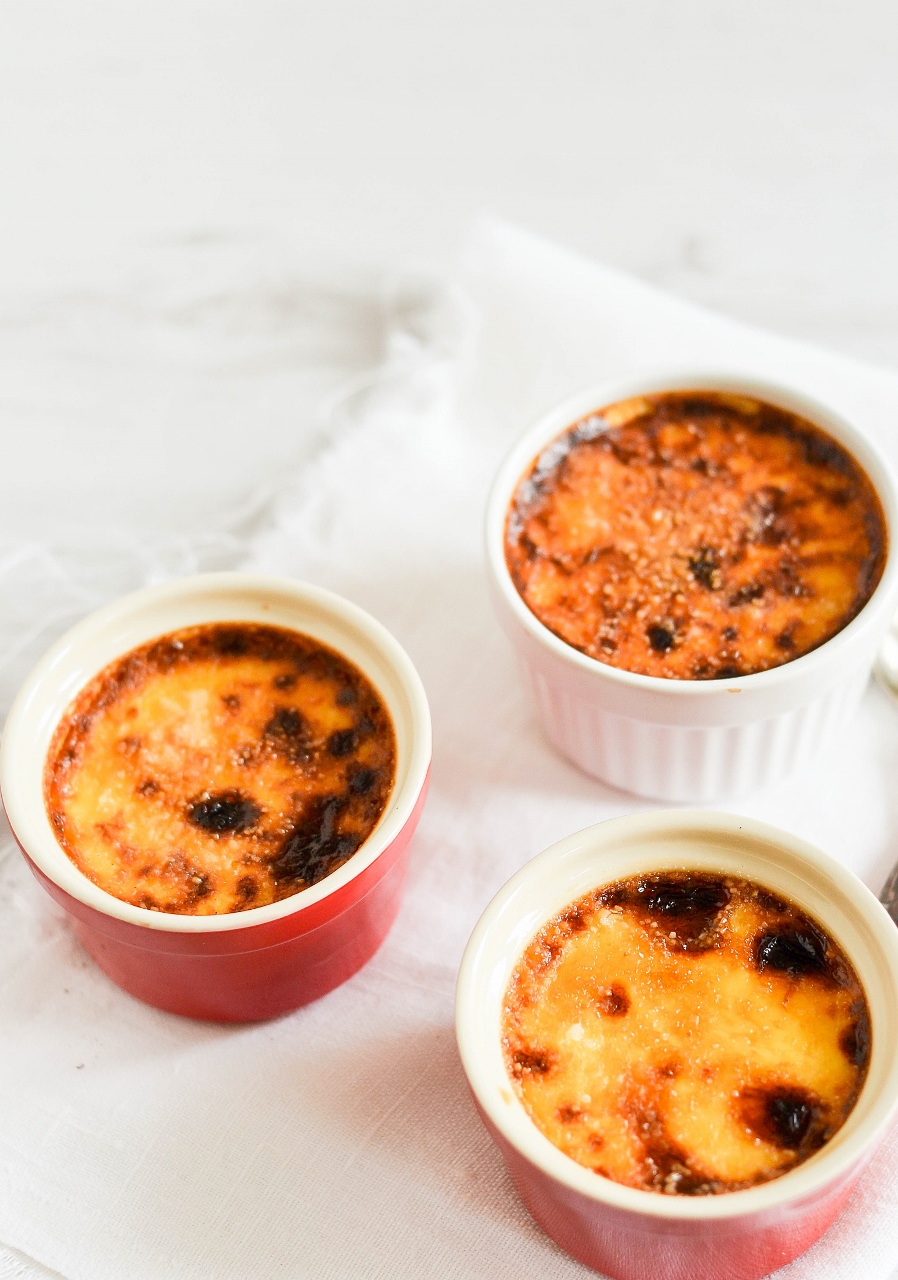 Games of Thrones is BACK!!!! YAS! YAS! YAS! Don't worry no spoilers from me. First episode of the new season started strong. I love it.
You know how I also love my simple recipes. Crème Brûlée is a classic dessert which is an all time favourite of mine. When I am dining in a restaurant and it's on the dessert menu, I am definitely having it.
With a name like crème brûlée, I always had this image in my head that this dessert will be difficult to make. I imagined all sort of complex techniques. And I would end up with scrambled eggs rather than the creamy deliciousness served in restaurants. But after making it the first time, I discovered how incredibly simple this elegant dessert is to make. I will be sharing with you, the method to creating the yummiest custard dessert.
Crème Brûlée can be made using five ingredients. Double cream, milk, sugar, egg yolks and vanilla bean. Cream and egg yolks are the main ingredients in this dessert. I would recommend using room temperature eggs. Be sure to have all your ingredients measured out and ready to use.
To start off sit four ramekins in a deep baking tin. Pour double cream and milk into a pan. Split open a vanilla bean and scrap out the seeds. If you haven't got vanilla bean pod's you can use vanilla bean paste. Add vanilla seeds and pod to cream mixture, then set to one side.
Whisk together the egg yolks and sugar, until it is pale in colour and a bit fluffy. Heat cream and milk over medium heat, until bubbles appear around the edge. You want to bring the cream almost to a boil. Mix in a pinch of salt. Remove the vanilla pod and pour hot cream into beaten egg yolks, while whisking constantly. Strain the hot mixture through a wire sieve.
For the best results bake this custard dessert in a water bath , so it bakes slowly and evenly without burning. Your custard is ready when it wobbles a little bit like jelly. Just give the roasting tin a gentle sway. Remove the custard carefully from the water bath, place on a wire rack to cool for about 10 minutes. Then leave in fridge to cool completely. Preferably overnight.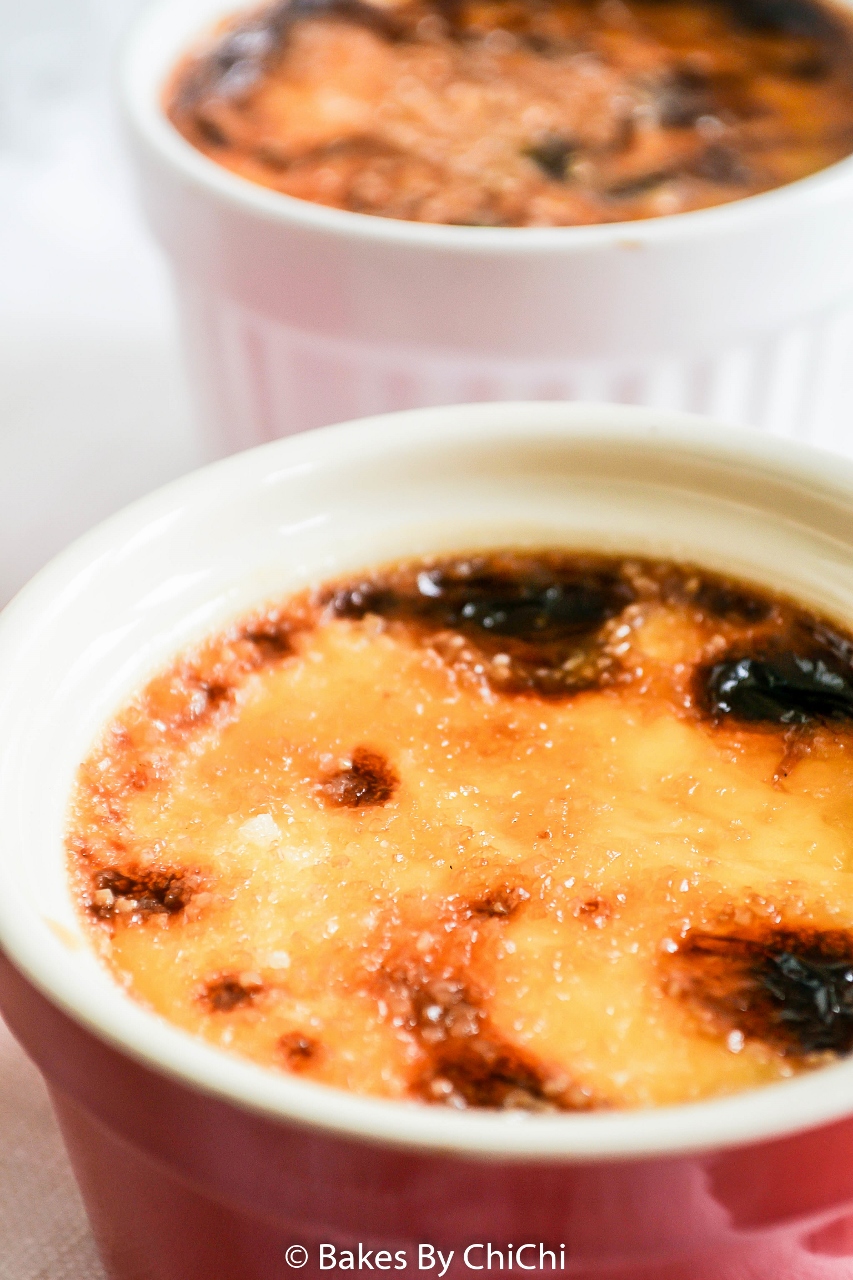 Crème Brûlée is a great dessert to serve at parties or gatherings as it can be made a couple of days ahead. When you are ready to serve sprinkle with some demerara sugar. I don't own a blowtorch so the custards were grilled under a hot grill for few minutes until golden brown.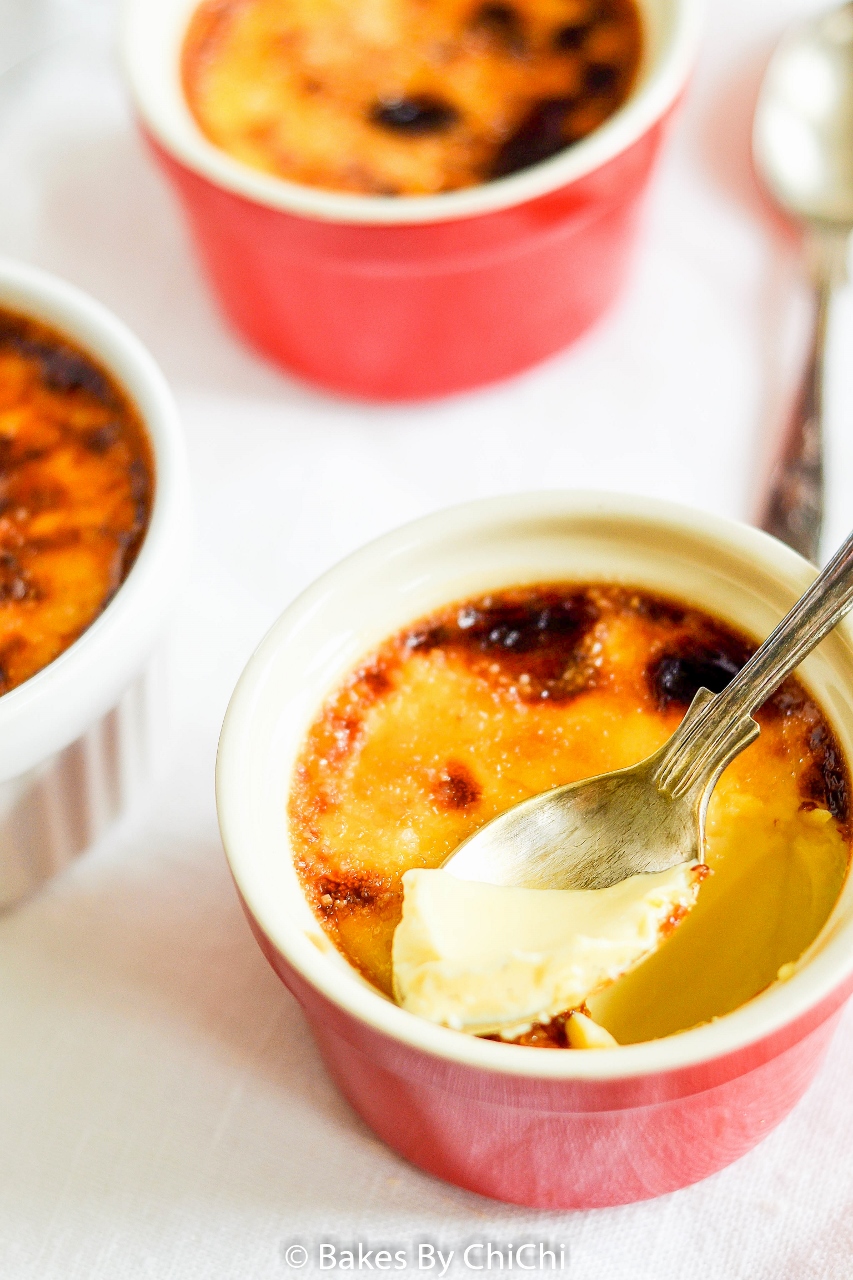 And Enjoy!!!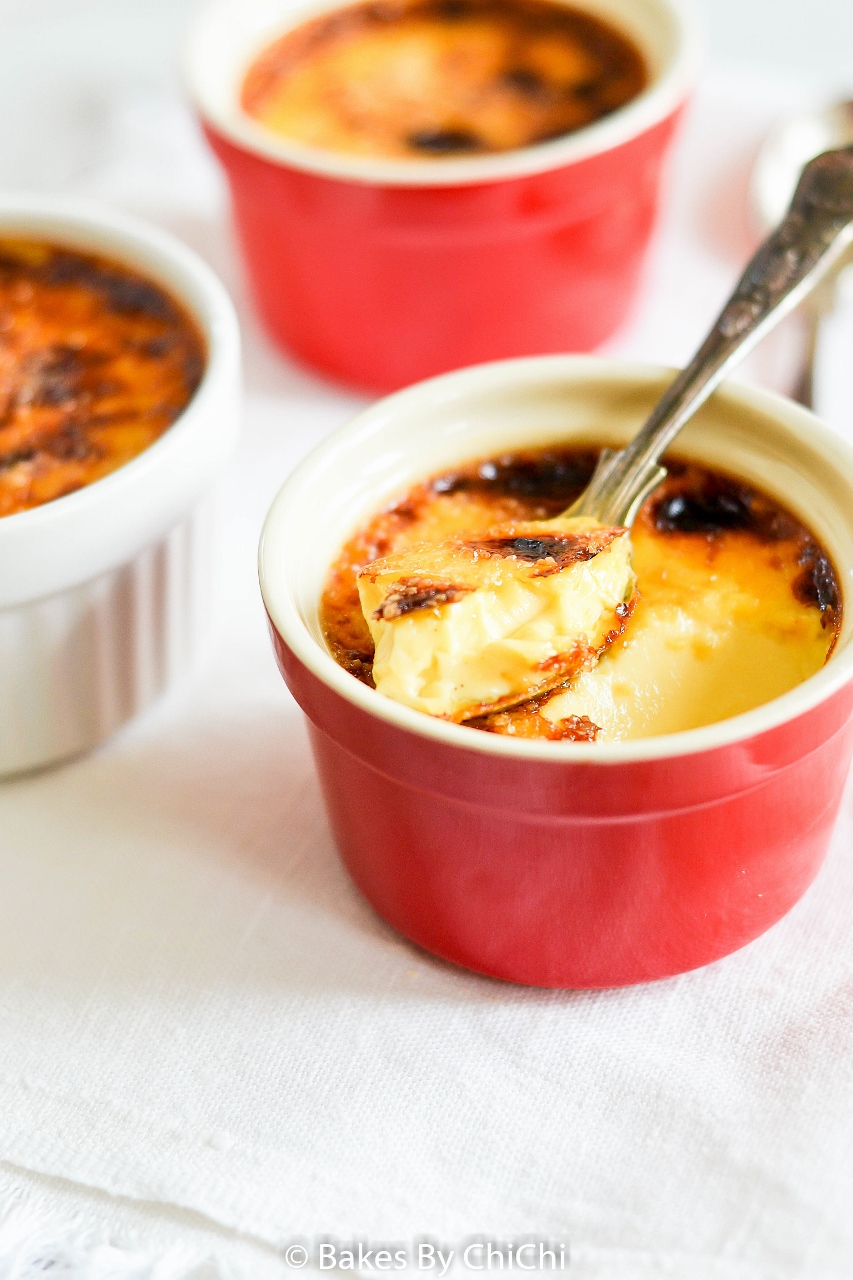 Stay up to date with Bakes by ChiChi on:
Facebook | Instagram | Pinterest | Google Plus | Bloglovin
or you can subscribe to my weekly newsletter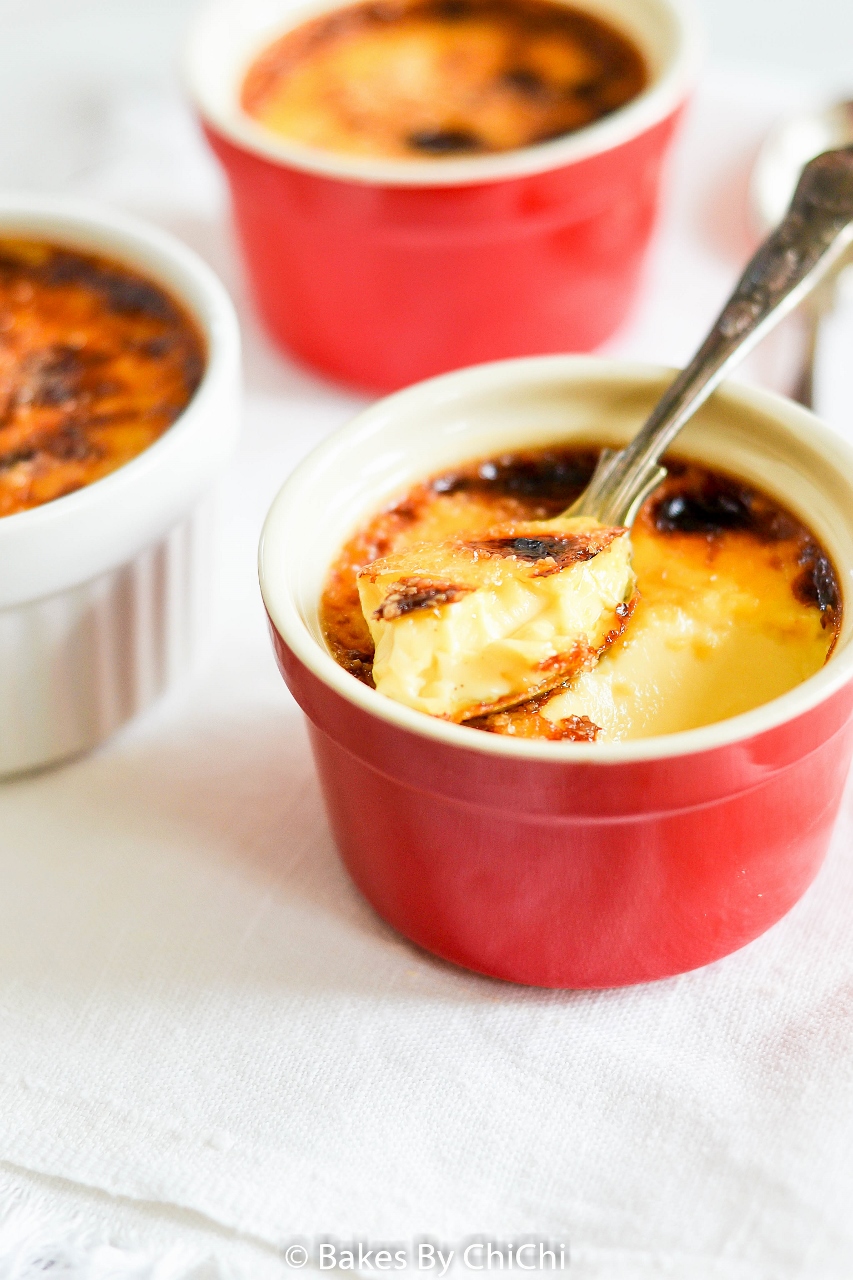 Ingredients
430 ml (11/2 cups plus 1/3 cup) double cream
120 ml (1/2 cup) whole milk
1 vanilla bean pod, scrapped or 1 teaspoon vanilla bean paste
Pinch of salt
50 g (1/2 cup) sugar
5 egg yolks
1 tablespoon demerara sugar
Instructions
Preheat oven to 160C.
Into a saucepan pour cream and milk, add to the mixture a scraped vanilla bean and pod or vanilla bean paste. Set to one side.
Beat together egg yolks and caster sugar until pale in colour and a little fluffy.
Heat the cream and milk mixture,bringing it just to the boil. Mix in a pinch of salt and remove the vanilla bean pod.
Pour the hot cream slowly into the egg and sugar mixture, whilst whisking constantly.
Pass the mixture through a sieve into a jug.
Use a big spoon and scoop off all the foam on top of the custard and discard.
Set four ramekins in a large roasting tin and pour in hot water to the depth of 2 centimetres.
Pour the mixture equally into ramekins.
Put the tray carefully into the oven pre-heated oven. Cover the ramekins with a baking sheet so it sits well above the ramekins and covers them, but not the whole tin, leaving a small gap for air to circulate.
Bake the custards for 30 minutes until it is gently set. To check if custards are ready, gently sway the baking tray and if crème brûlée are ready they will wobble a bit like jelly in the middle.
Remove the tray from the oven and set on a wire rack to cool for 10 minutes. Transfer the ramekins to a fridge, to cool completely.
When you are ready to serve, sprinkle a small amount of demerara sugar evenly over custard and place under a hot grill until golden brown.
3.1
https://bakesbychichi.com/classic-creme-brulee/