Tender crumb pound cake filled with tangy apricots. This apricot pound cake is even better paired with Apricot Lavender Ice cream. It just melts in your mouth with each bite.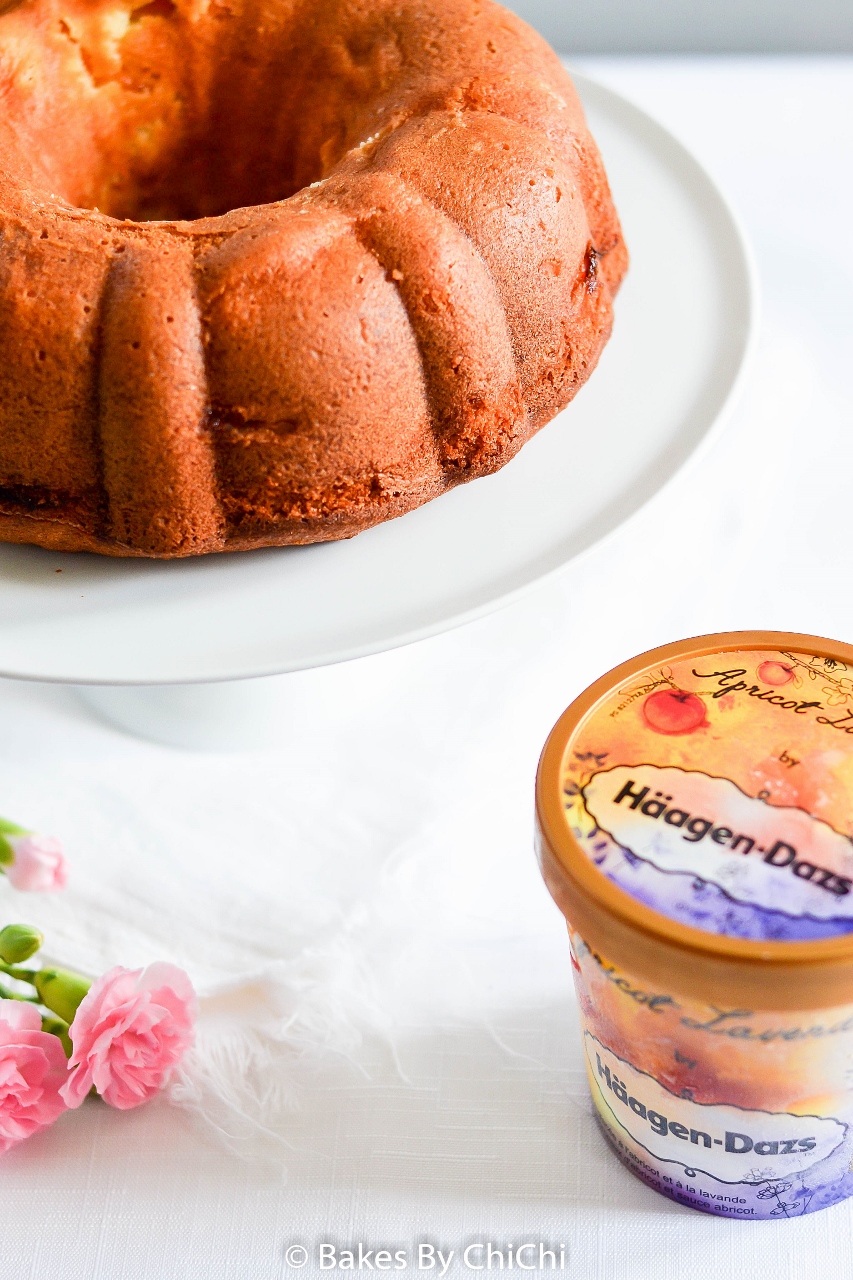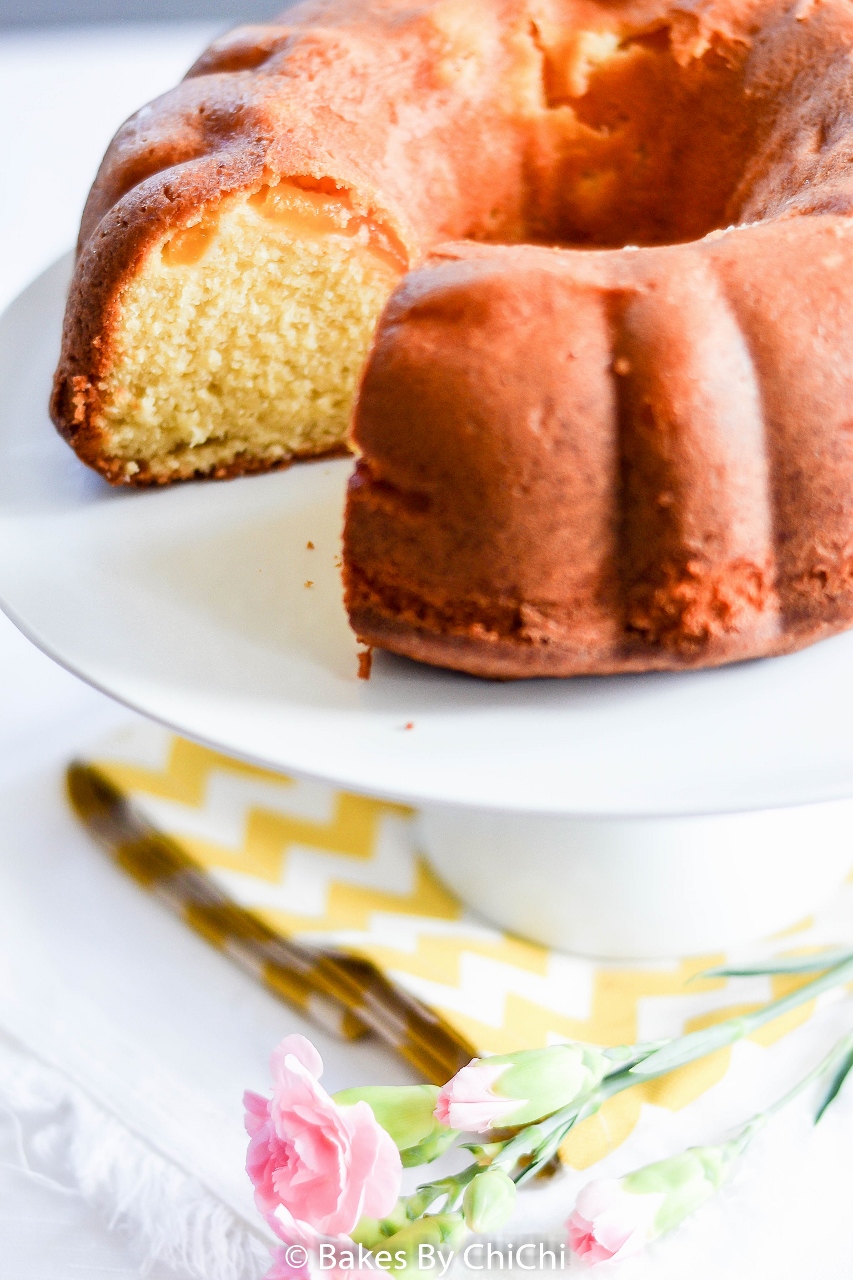 We are basking in some wonderful spring sunshine. Tomorrow promises to be even warmer.. Yay for English springtime!!!! A couple of days ago I shared with you my rose chocolate spritz cookies sandwiched with delicious fruity floral  Häagen-Dazs Lychee Raspberry Rose.
Today I share with you the Limited Edition Apricot Lavender Ice Cream. The ice cream is wonderful combination of aromatic and  fruity. The delicate lavender flavour compliments the sweet fruity apricots.   When I tried the ice cream I just knew it had to be paired with cake. Nothing beats cake and ice cream. It's a favourite of mine. Pound cake is one of those cake that is delicious but can also be boring.  To spice it up I folded in some chopped apricots. After many trips to different supermarkets I found out apricots are not in season yet. Tinned apricots it was, they make a good substitute.
This cake is wonderfully rich, moist and filled with little pieces of apricot. And the recipe is rather easy.  Another bonus is this apricot pound cake keeps well for days, so can be made in advance.  A tip for making this cake is to use room temperature ingredients. It is easier to incorporate the ingredients when they are all the same temperature.  As well as produce a uniformly textured tender baked cake.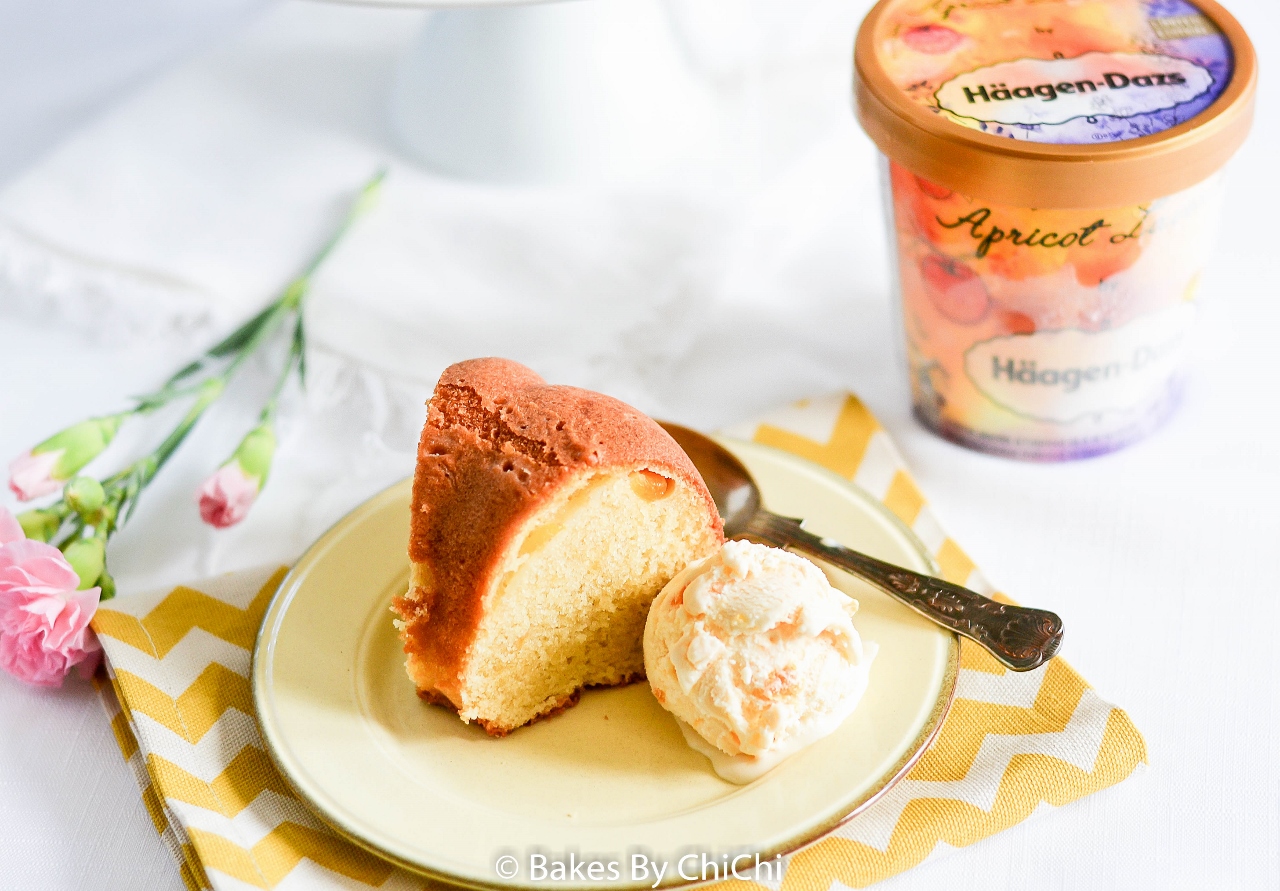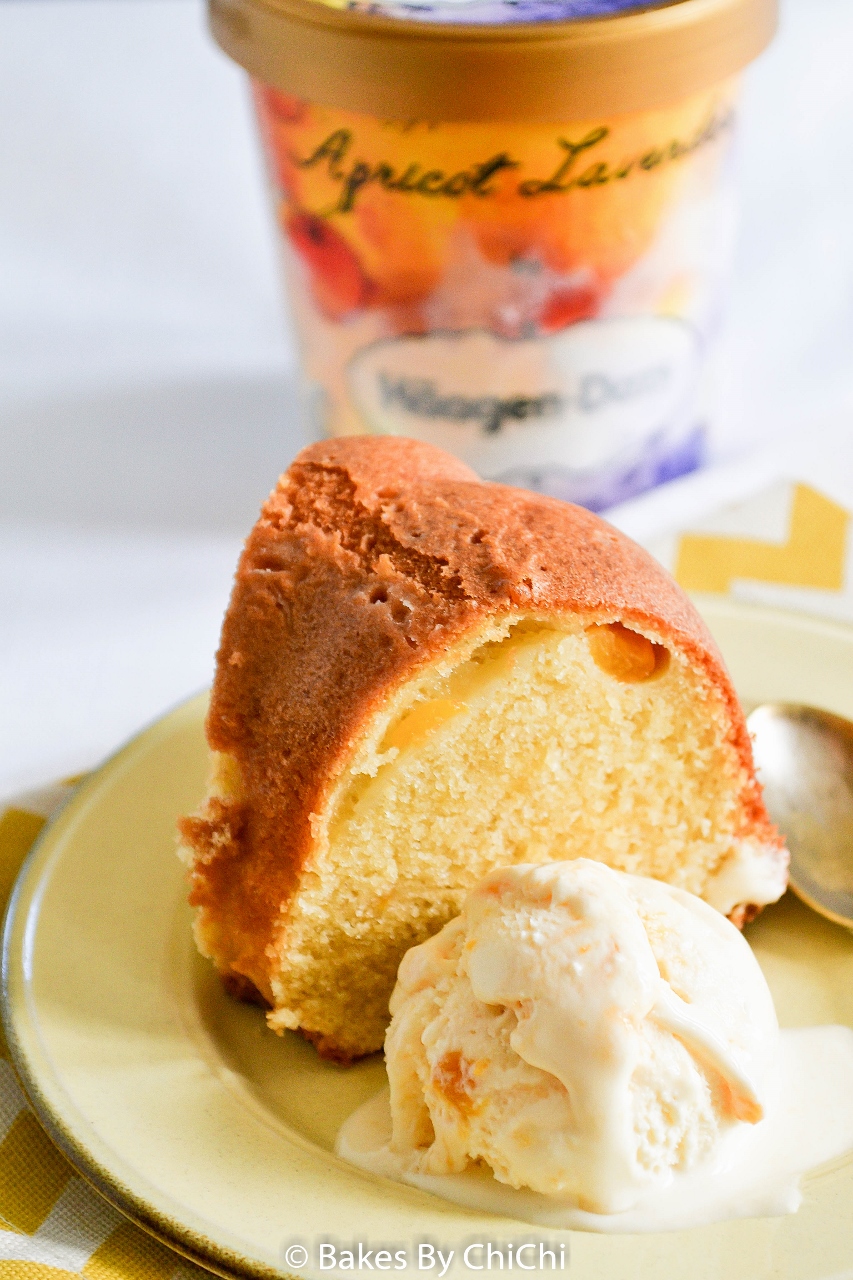 This is my favourite part. Once the cake is baked, serve warm with a scoop of apricot lavender ice cream. Oh yes! The wonderful taste of the ice cream coupled with the warm delicious pound cake makes each bite delightful. Absolutely divine. Words cannot describe how good this tastes.
It is just perfect for a weekday treat.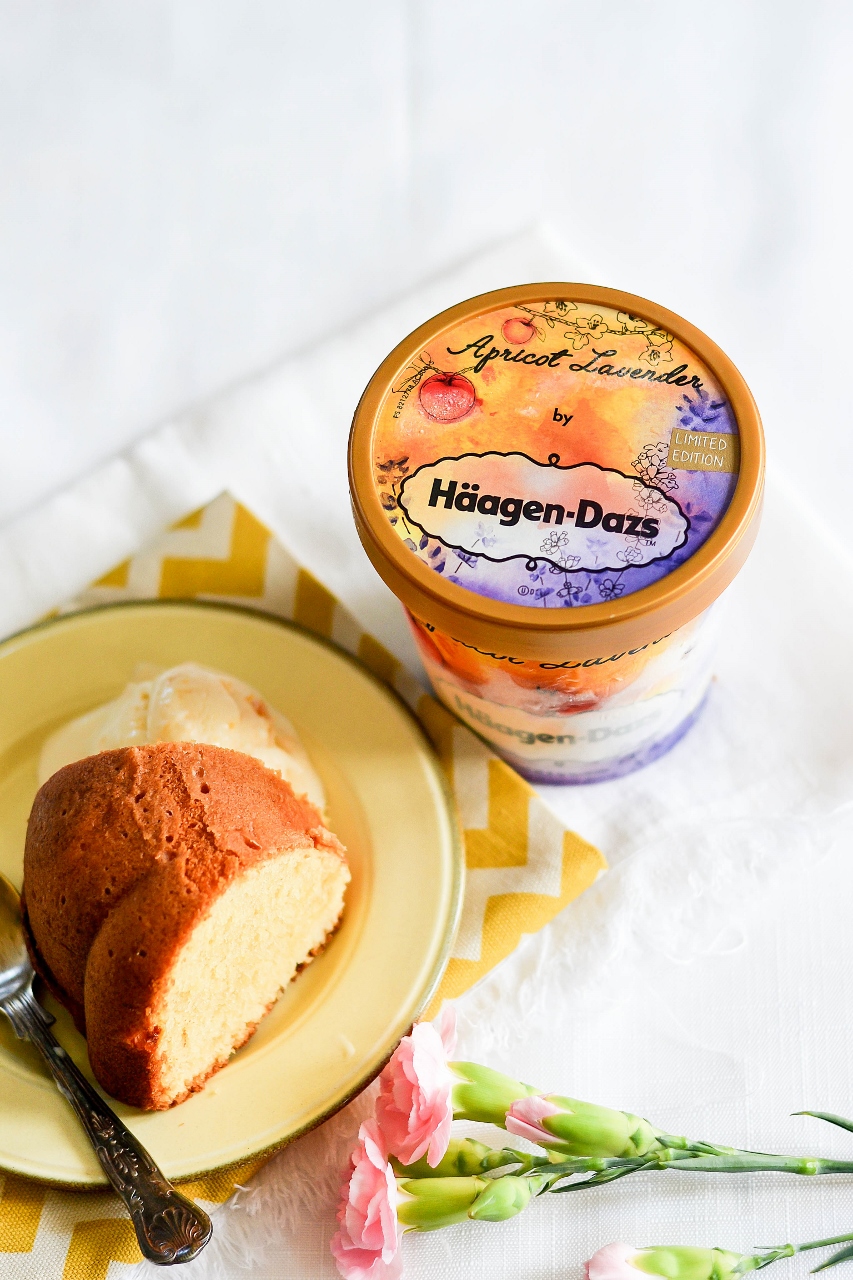 P.S- Häagen- Dazs Apricot Lavender Ice Cream is available at Liberty London for a limited period only.
Stay up to date with Bakes by ChiChi on:
Facebook | Instagram | Pinterest | Google Plus | Bloglovin
or you can subscribe to my weekly newsletter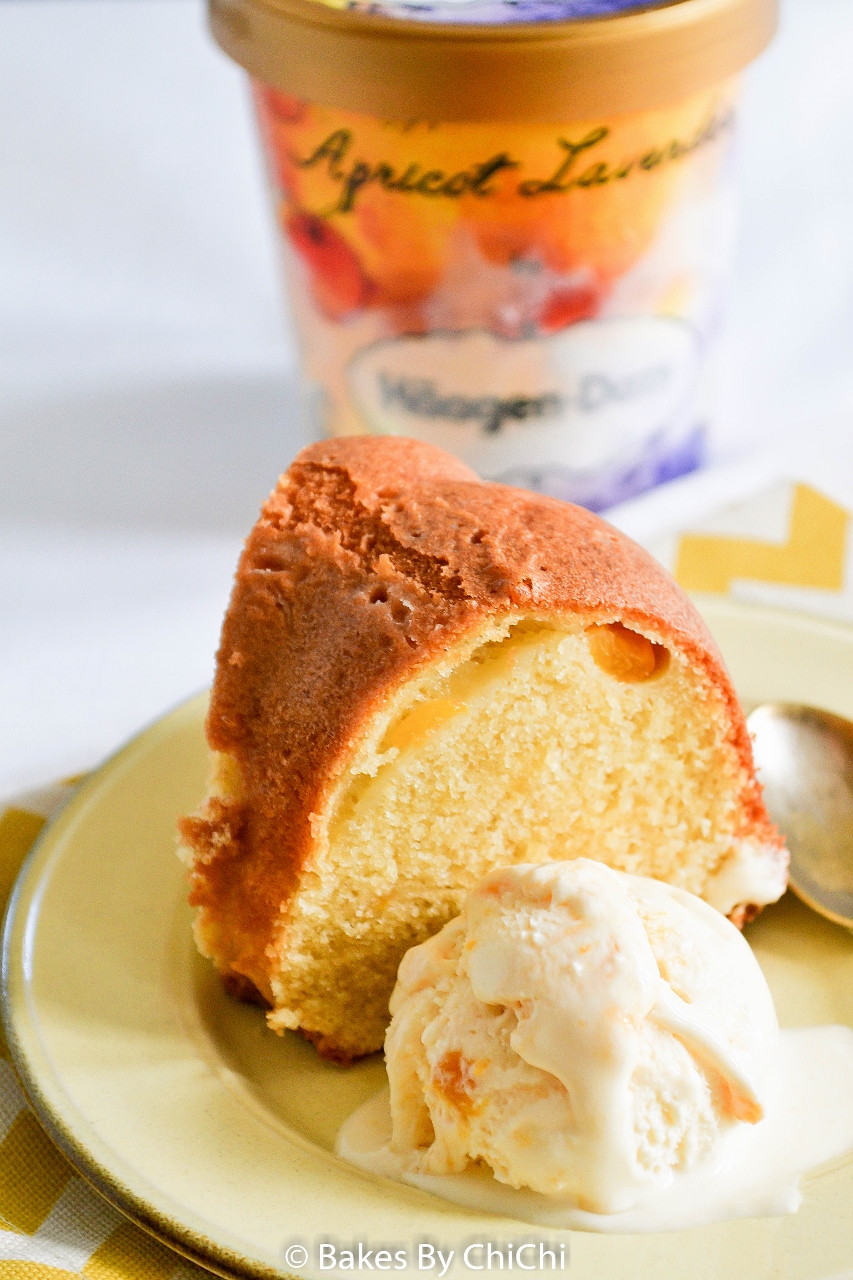 Ingredients
240g(1 cup) unsalted butter at room temperature
250g(1 1/4 cups) caster sugar
2 teaspoons vanilla bean paste
240g (2 cups) plain flour
5 eggs
1/2 teaspoon salt
1 teaspoon baking powder
60 ml (1/4 cup) milk
4 - 6 tinned apricots, chopped
Häagen-Dazs Apricot Lavender Ice Cream , to serve
Instructions
Grease and lightly dust a bundt tin
Preheat oven to 170 degrees Celsius.
In the bowl of mixer cream butter until light then gradually add sugar and beat until fluffy, about 5 minutes.
Sift flour, baking powder and salt into a bowl.
Add eggs one at a time, beating well after each addition. Mix in vanilla extract.
At a low speed add flour mixture slowly then milk until well combined.
Toss chopped apricots in flour and fold into cake batter.
Pour cake batter into loaf tin, smooth the top of batter.Tap tin gently on counter top to eliminate air bubbles. Bake for 60 minutes or until a toothpick inserted in centre of cake comes out clean.
Cool cake in tin for 15 minutes, then invert tin onto rack.
Serve warm with ice cream
3.1
https://bakesbychichi.com/apricot-pound-cake/