These mixed berry fruit tartlets made with pâté Sucre ( sweet shortcrust pastry), luscious crème patisserie and medley of mixed berries is a simple yet elegant dessert to make for family and friends.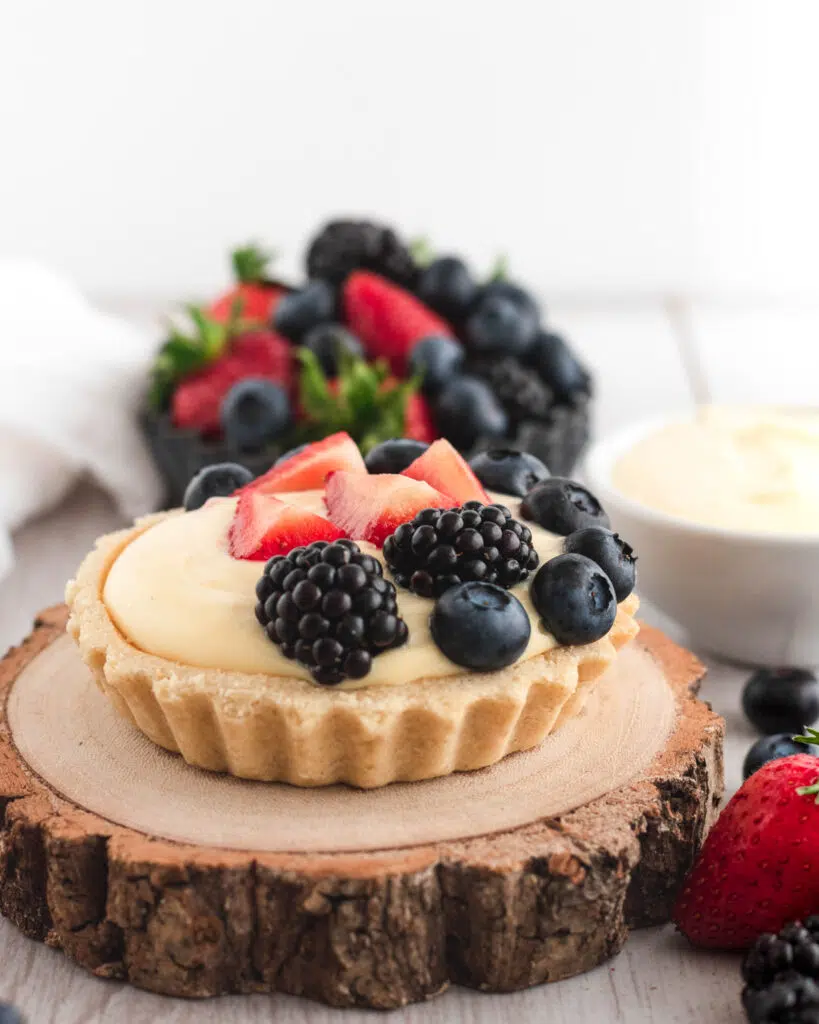 The abundance of fresh berries inspired me to put together this mixed berry fruit tartlets. No trip to the supermarket is complete without me walking out with strawberries, blueberries, raspberries and cherries. The thing with berries is that the have a rather short shelf life. Raspberries especially. They go mouldy not long after purchase, which can be rather disappointing as well as annoying. It isn't like berries are cheap as well. I was so glad when I came across an online discussion where I picked up tips on how to keep berries fresh for longer. Those tips have worked and saved me from throwing my money in the bin.
First things first, you want to set the berries free of squashed packaging.
Make a diluted vinegar bath of one cup vinegar to 3 cups water. Wash the berries in diluted vinegar bath.
Drain berries in a colander and rinse under cool running water, to remove the taste of vinegar.
Line a tray or large plate with paper towels and spread berries on top to dry.
Store berries in a sealable container lined with paper towels and leave the lid open slightly to allow moisture to escape. With the steps you are guaranteed an extended shelf life of your berries by days or even a week or two.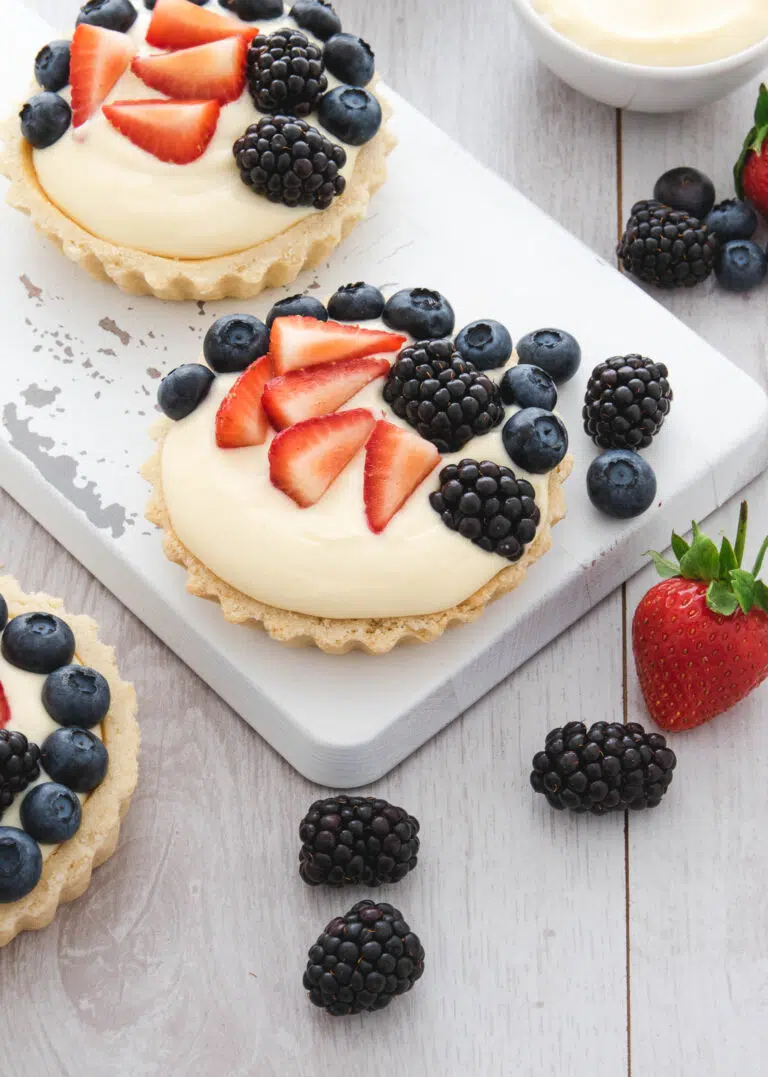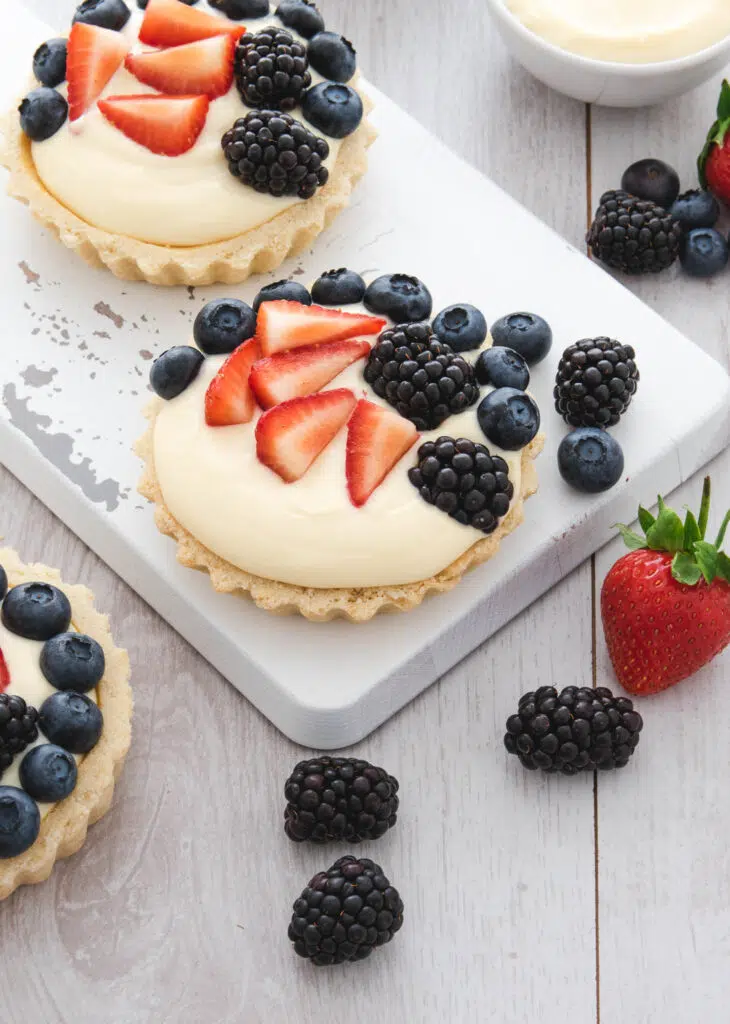 This mixed berry fruit tartlets starts off with a pâte sucrée(sweet shortcrust pastry) base. This is a richer shortcrust pastry than the one I made here. Made with plain flour, unsalted butter, sugar and eggs, it has a cookie like crust and sweet flavour. Additional ingredients like ground nuts , lemon rind, spices can be added for flavour . To save on time you can prepare the shortcrust pastry and store in the fridge until ready to use. Remove the pastry from fridge and leave to stand at room temperature for 30 minutes before rolling out. Pâte sucrée can be quite crumbly, so it may be easier to roll out between two sheets of cling film. The pâte sucrée will need to be pre-baked and cooled to set the pastry before the creme patissiere is added.
The creme patissiere, is a thick custard made with milk , sugar ,eggs yolks, vanilla and cornstarch and cooked over slow heat. Again you can always make this a couple of days in advance and store in the fridge until ready to use. Breaking a dessert like this down into parts makes it easier and sometimes less stressful to put together. I like my creme patissiere quick light and fluffy. So just before assembling it all together, I lightened mine up by folding in some softly whipped cream.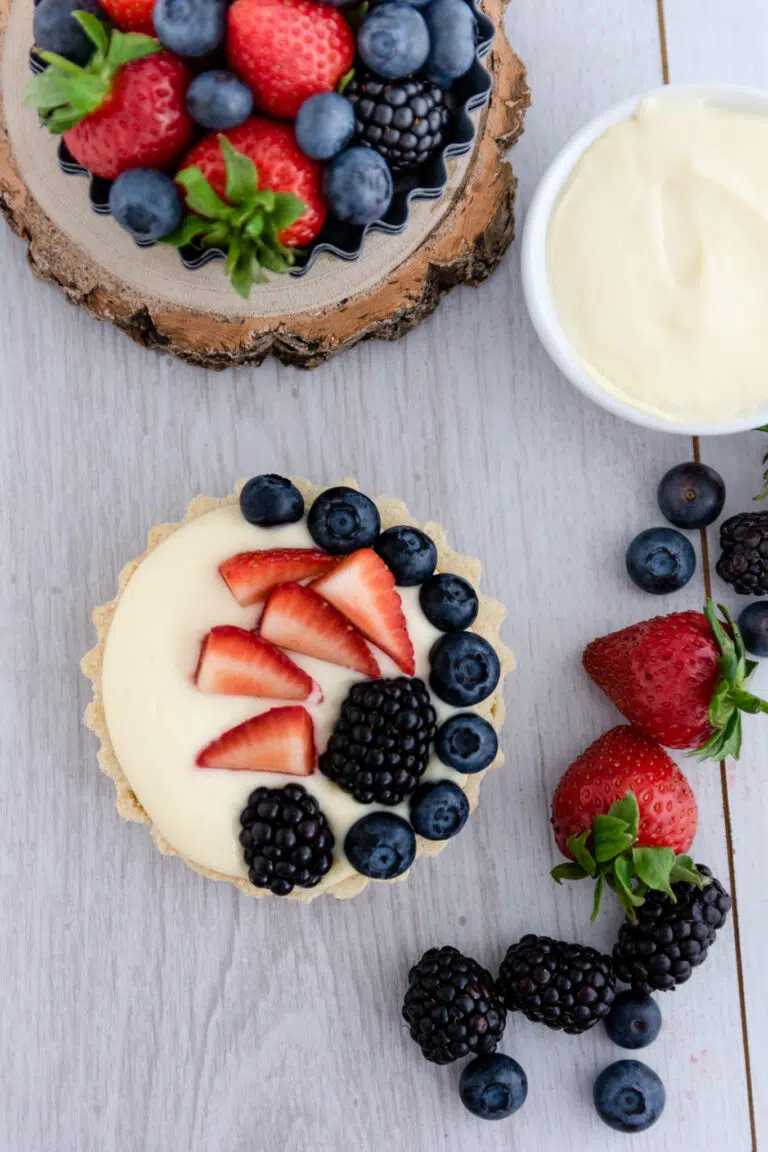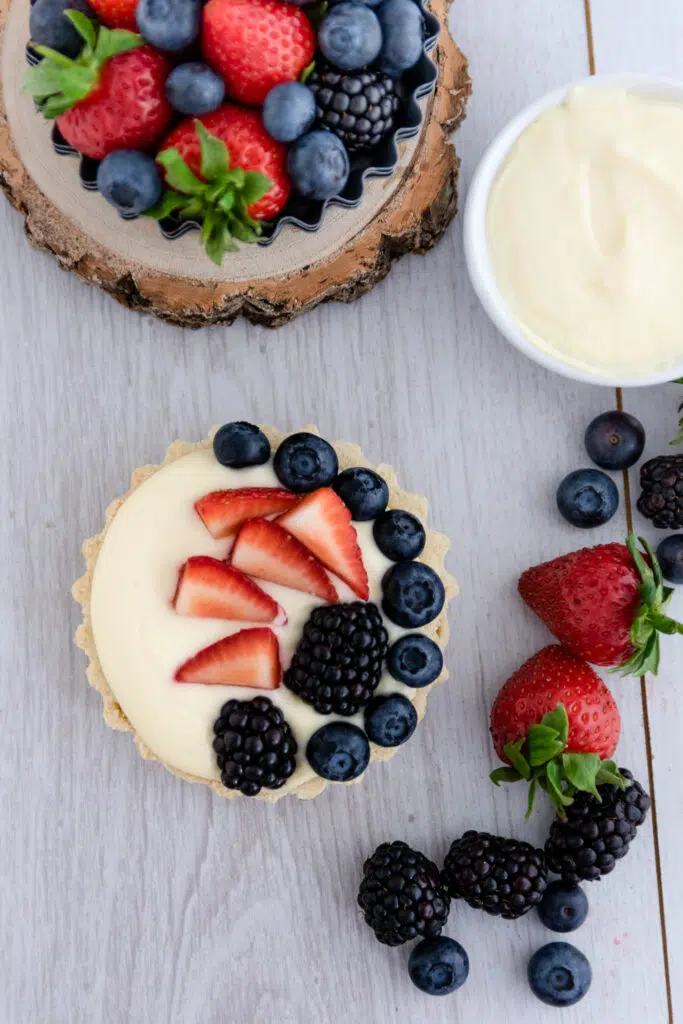 Choose whatever fruit you desire to layer on top of the crème patisserie. There is so much to choose from, you could slices of mangoes, peaches and grapes make lovely toppings as well. I guess it's all down to taste. Dust with some icing sugar and enjoy!!!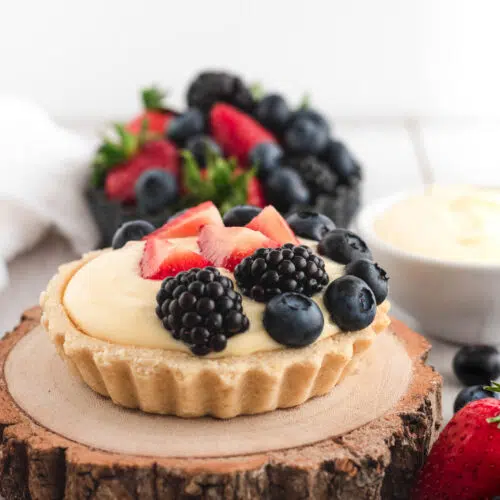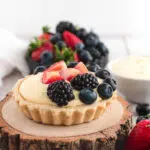 Mixed Berry Fruit Tartlets
These mixed berry fruit tartlets made with  pâte sucrée ( sweet shortcrust pastry), luscious creme patissiere and medley of mixed berries is a simple yet elegant dessert to make for family and friends.
Print
Pin
Rate
Equipment
8 tartlet tins

Greaseproof paper cut into small circles

Ceramic baking beans or rice
Ingredients
Pâté Sucre ( Sweet Shortcrust Pastry)
400

grams

(3 ⅓ cups)

210

grams

(¾ cup plus 2 tablespoons unsalted butter)

½

teaspoon

nutmeg (optional)

100

grams

(½ cup) caster sugar

2

eggs
Cream Patisserie
3

egg yolks

50

grams

(¼ cup) sugar

2¼

tablespoons

corn starch

240

ml

(1 cup) milk

1

teaspoon

vanilla extract

120

ml

(½ cup) whipping cream
Instructions
Pâté Sucre ( Sweet Shortcrust Pastry)
Cut butter into small cubes and add to flour . Rub in using your fingertips, lifting your hands above the bowl to incorporate more air.

Stir in sugar and nutmeg.

Add eggs and use your fingers to bring pastry together. Turn dough out onto a light floured work surface and knead lightly.

Shape pastry into a square and wrap in cling film and chill in fridge for 30 minutes or until ready to use.

Remove pastry from fridge and onto a lightly floured work surface.

Roll out pastry to 3 mm thick and line 8 tartlet cases, leaving an overhang of pastry.

Line the pastry cases with greaseproof paper and fill with baking beans or rice. These baking beans help to conduct the heat and cook the pastry as well as prevent the pastry from puffing up in the centre.

Bake in preheated oven for 10 minutes then remove the paper and beans. Prick with fork and brush with beaten egg. Place back into oven and bake for a further 10 minutes until the pastry is just golden.

Remove from oven and allow to cool for 15 minutes. Trim of egdes using a sharp knife. Leave to cool on a cooling rack.
Crème Patisserie
In a bowl, whisk together egg yolks and sugar until light and thick. Stir in cornflour.

Put milk into a saucepan and bring it slowly up to a boil. Slowly add milk into egg mixture whisking all the time.

Return the mixture to the pan and stir over a low heat heat until it comes to a gentle boil.

Stir constantly using a whisk for 2 minutes or until thickened.

Remove from heat, stir in vanilla extract and transfer to a bowl.

Cover with cling film by pressing cling film directly onto surface of crème patisserie and allow to cool. Once cooled, place in fridge until ready to use.
To assemble tartlets
Whip cream until soft peaks form. Fold cream into crème patisserie.

Spoon crème patisserie into piping bag and pipe onto pastry cases.

Top the tarts with strawberries, raspberries and blueberries or with fruits of your choice.
Notes
Pate Sucre can be quite crumbly, so it may be easier to roll out between two sheets of cling film.
If you find your crème patisserie is lumpy, press mixture through a sieve.
If you made this recipe, I would love to hear from you.
Tag Bakes By Chichi on Instagram or hashtag #bakesbychichi