Vanilla Cake filled with lots and lots of confetti and frosted with whipped vanilla buttercream.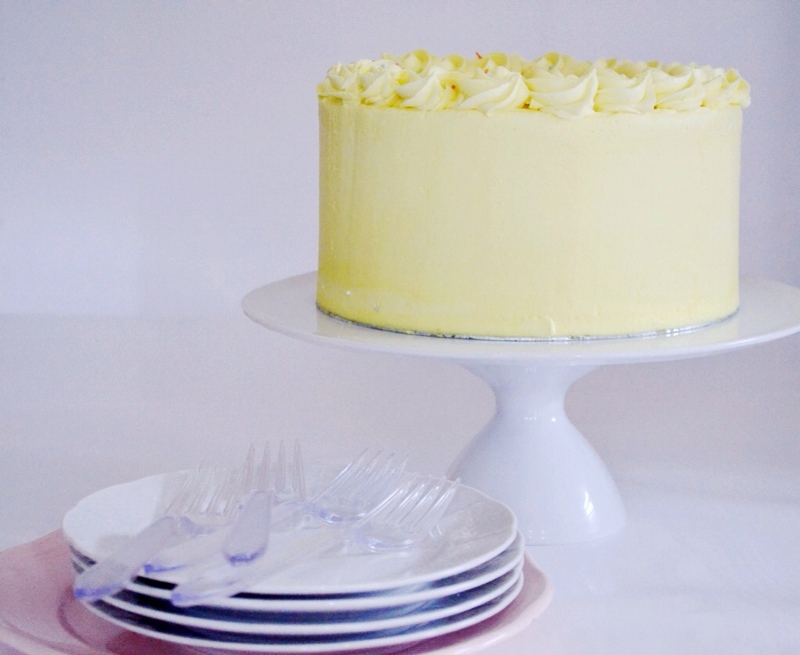 Yesterday was the last day of term at Esme's school and they had a class party. Whoop! Whoop! summer holidays have began. I don't even know why i am cheering, it isn't like i have the whole summer off. I'm working. *sheds tears*. Esme moves on to key stage two, year 3 . That is the older children part of the school. *sheds more tears* my baby is getting bigger. I hope in year 3 she doesn't think she's too grown to be giving me cuddles.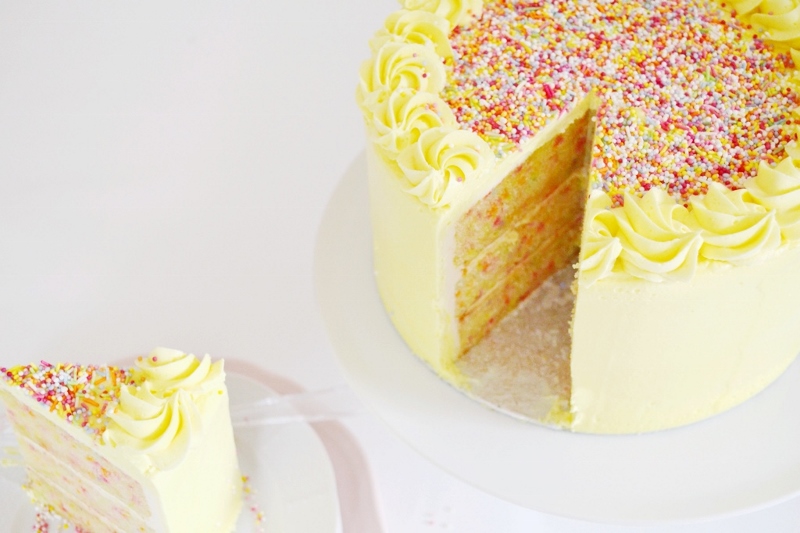 I  have always been a fun of confetti cake after seeing lots on the internet.Some of my favs are Sweetapolita's Funfetti Layer Cake, Love and olive oil's Frosted Vanilla Cake , Live love Sugars Funfetti Cake Batter Ice Cream Cake and Baked Bree Funfetti Cake. There is something about confetti or sprinkles or funfetti that makes me want to celebrate. No celebration is complete without confetti. So i  jumped the opportunity when i got the note saying end of term class party please bring drinks and snacks i just knew i had to make a vanilla cake filled with lots of confetti.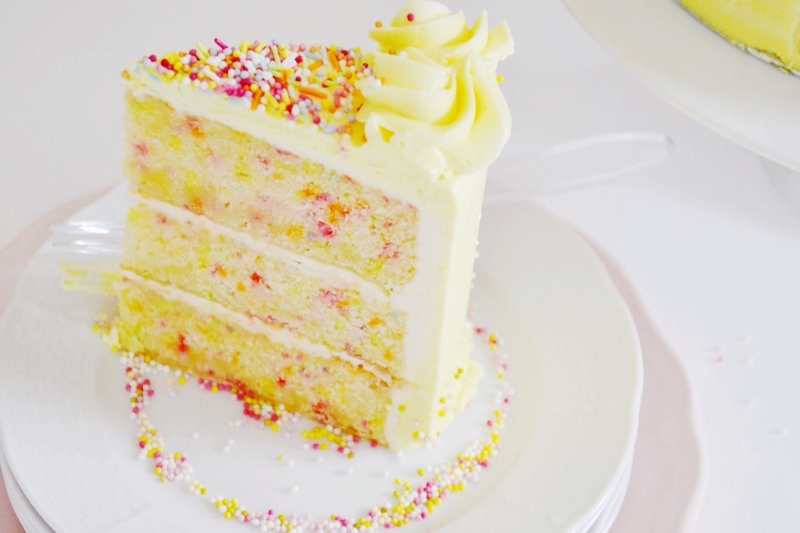 Now this cake is a moist vanilla cake frosted with whipped vanilla buttercream. I made this cake using my go to vanilla cake recipe only this time i tried the reverse creaming method instead of using the traditional cream butter and sugar first method. Reverse creaming is where you cream the dry ingredients with butter then add the wet ingredients. This method i must say is super easy and still produces a moist and fluffy cake. And for the frosting i made a whipped  vanilla buttercream which tastes just like icecream.
Vanilla Confetti Cake with Whipped Vanilla Buttercream
Ingredients
For Cake

320g (11/2 cups) butter
240ml (1 cup) whole milk
5 eggs
2 tsp vanilla extract
450g (21/4 cups) sugar
360g (3 cups) cake flour
2 tsp baking powder
1/2 teaspoon salt
120ml (1/2 cup) sour cream

For Buttercream Frosting

240g (1 cup) unsalted butter, room temperature
500g (5 cups) icing sugar
60ml (1/4 cup) whipping cream
2 teaspoons vanilla extract
food colouring
confetti or sprinkles for decorating
Instructions
For Cake
Preheat oven to 170 degrees celcius. Grease bottom and sides of three 9 -inch round cake tins and line bottom and sides with parchment paper.
In a measuring cup combine milk, eggs, and vanilla until well blended.
In the bowl of stand mixer combine sugar, flour, baking powder and salt. Beat together on low speed for about 30 seconds.
Add butter and mix on low speed until all butter is incorporated and flour is moistened.
Add milk mixture into flour mixture in 3 separate batches, beating on medium speed for about after each addition. 
Add sour cream and beat on medium speed for another 30 seconds. Gently stir in confetti until just combined.
Divide batter evenly between prepared pans and bake for 30 -35 mins or until a tooth pick inserted into centre of cake comes out clean.
Leave cakes to cool in tin for 20 minutes. Invert onto cooling racks and turn cakes back up and leave to cool completely before frosting.
For buttercream frosting 
In bowl of stand mixer beat butter until light and creamy , about 5 minutes.
Add icing sugar and mix well until combined. As frosting thickens add whipping cream and beat until frosting is light and fluffy. Add vanilla extract and food colouring and beat until evenly incorporated.
To assemble cake
Using a serrated knife level each cake by cutting the domed top.
Spread a thin layer of icing on your cake board. .Place one layer of cake, flat side down on top and plop a big dollop of icing in the middle. Spread the icing carefully. Once it is nice and flat, stack the second cake, flat side down and spread another generous amount of frosting then place final cake, flat side down.
Spread a thin layer of frosting on the sides and then top of cake. It helps to use a turntable when frosting a cake. Hold a scraper flat against the side of the cake and then turn the turntable and scraper to make a nice, smooth coat of icing. Smooth the top of cake with scraper, drawing the peaks o the top edges of cake into the centre.
Chill crumb coated cake in fridge for 30 minutes until buttercream is nice and firm.
Once cake is chilled, cover evenly with buttercream using an off set spatula and then use a scraper to smooth the edges. Pipe decorative borders and sprinkle with confetti if desired.
3.1
https://bakesbychichi.com/vanilla-confetti-cake-with-whipped-vanilla-buttercream/