Creamy fluffy nutella marshmallow frosting ,swirled high on a moist delicious homemade chocolate cupcakes and topped with a delicious chocolate hazelnut truffle.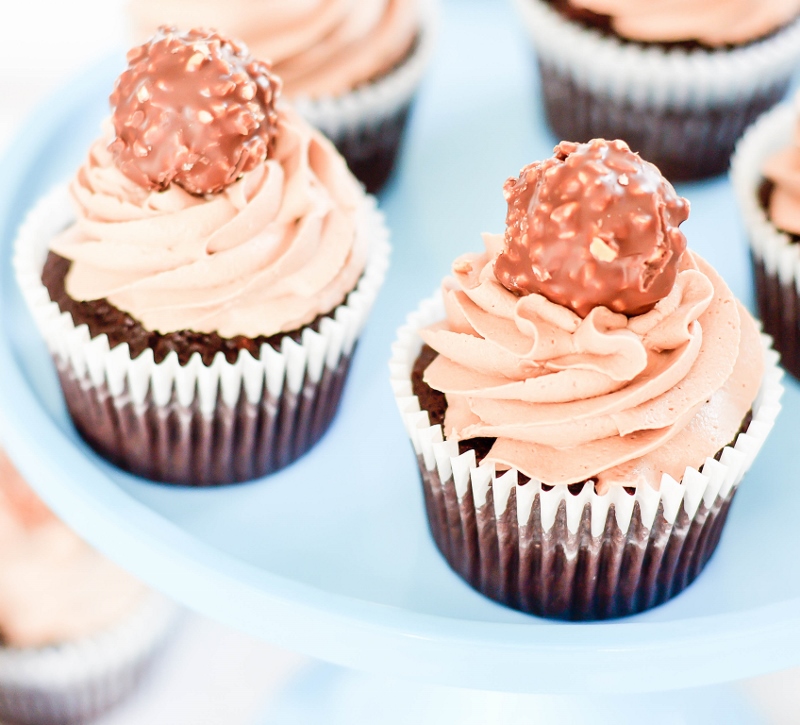 My Mr's birthday and Father's Day usually fall on the same day. Not this year. I want to know whose idea was it to move it by one week. Two presents this change cost me. Not that I am complaining, he absolutely deserves both presents and more. To celebrate Father's Day I made him these nutella marshmallow frosted chocolate cupcakes.
I have used this chocolate cake recipe many times , like here (another variation ) , here , here , here and also here (with a slight variation to the usual recipe).  It is simply the best recipe and never fails me. To enhance the chocolate flavour and give it that boost I added some coffee extract to chocolate cupcake batter.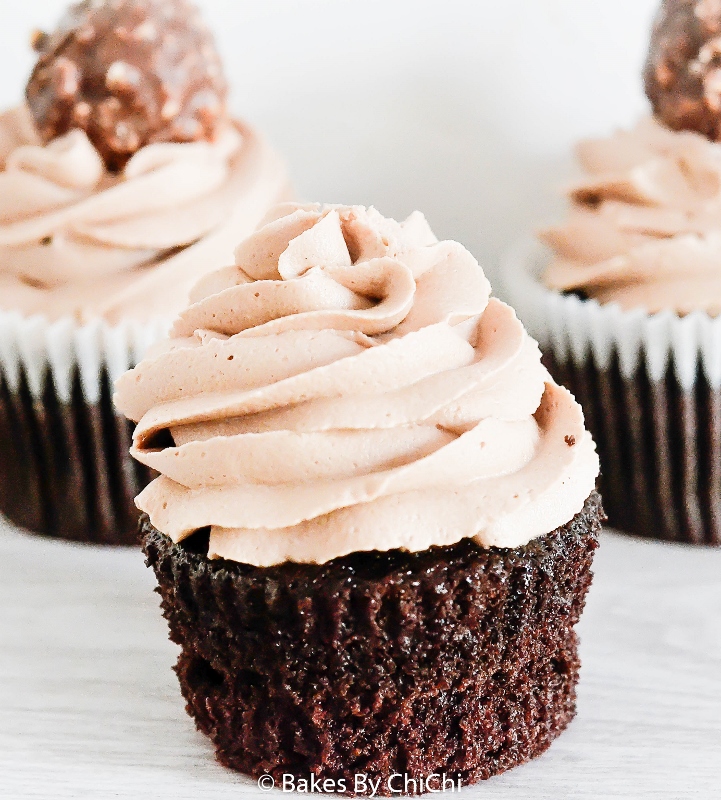 Now for the pièce de résistance of this chocolate cupcake, Nutella Marshmallow Frosting. Saying this frosting is delicious is an understatement. There needs to be a word invented to describe just how good the nutella marshamallow frosting is. It has the creamiest texture and with the delicious flavours of nutella and marshmallow creme.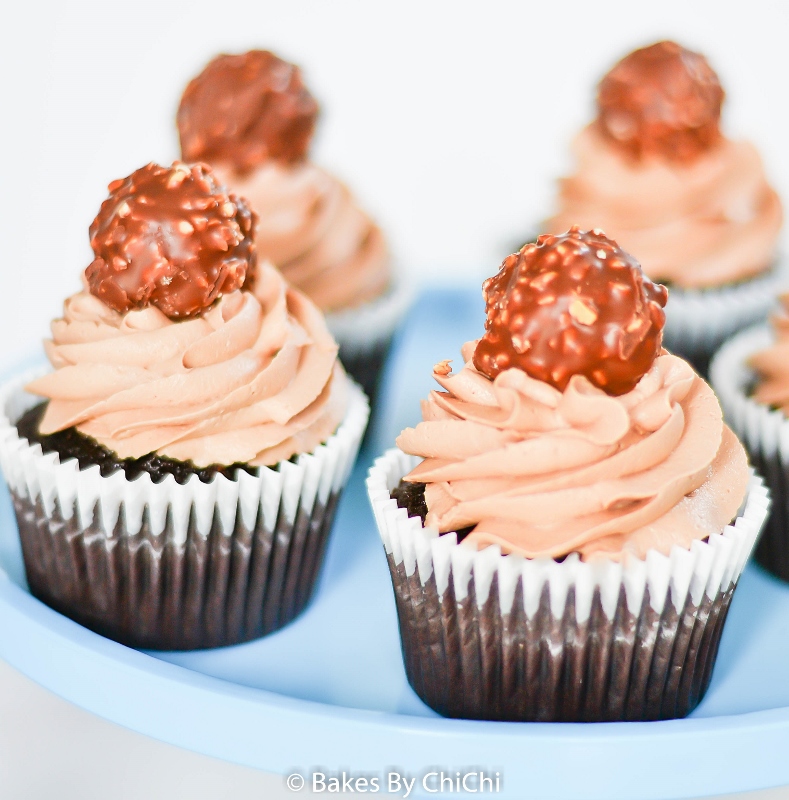 I started the frosting with my favourite whipped vanilla buttercream recipe. Some of the butter was substituted with vegetable shortening because I wanted a crusting buttercream. If you don't have vegetable shortening that's okay, just use butter. Beat the butter until it is creamy and light. What we want is a very creamy, fluffy frosting. Add in sifted icing sugar and beat until well combined. Be sure to sift icing sugar, just to remove any hardened lumps and also incorporate air. I know, sifting icing sugar can get quite messy, but the last thing you want is a lumpy frosting. Mix in vanilla extract and if you have any some, chocolate extract. Add nutella and marshmallow fluff and mix in.
Add 3 tablespoons of whipping cream and beat until well combined and frosting is light and fluffy. The whipping cream gives the frosting this wonderful creaminess.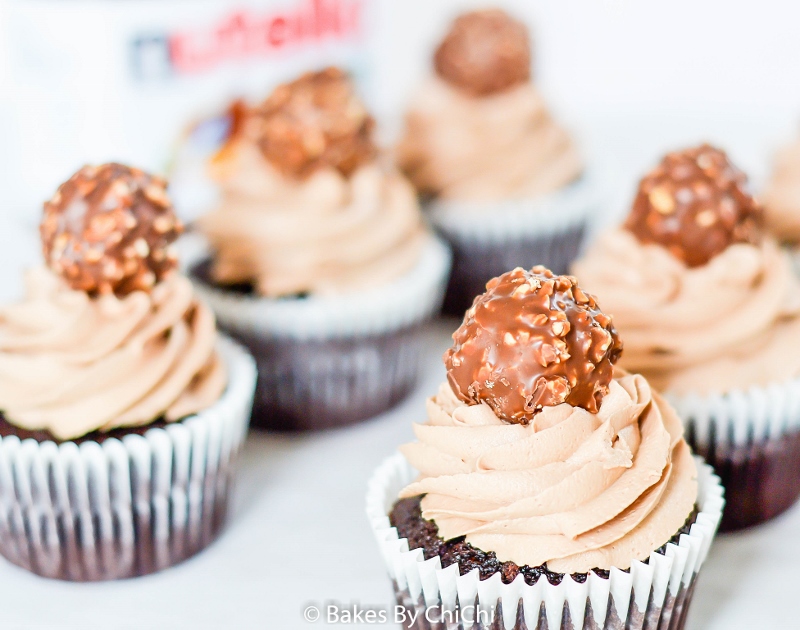 Be sure to taste the frosting to see what you think. If you think it needs more nutella, by all means add some more. The more nutella the better. More marshmallow fluff needed, add some more.
Now it is time to frost your cooled cupcakes. I have two methods of frosting swirls on cupcakes using a 1M open star.
Frosting from the outside of the cupcake into the centre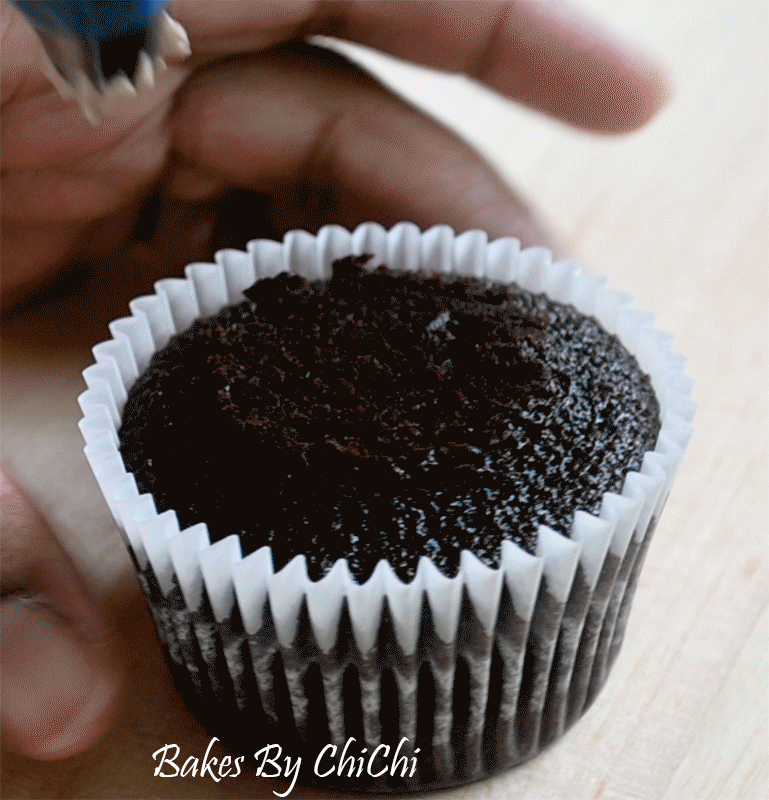 Or frosting from the centre of the cupcake and upwards.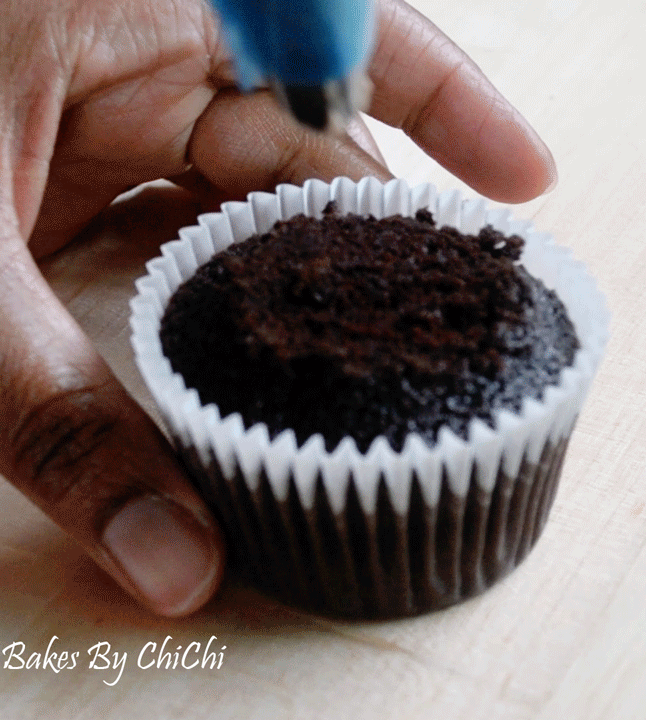 Decorate cupcakes with chocolate hazelnut truffles like I did or with crushed nuts, chocolate chips or chocolate vermicelli.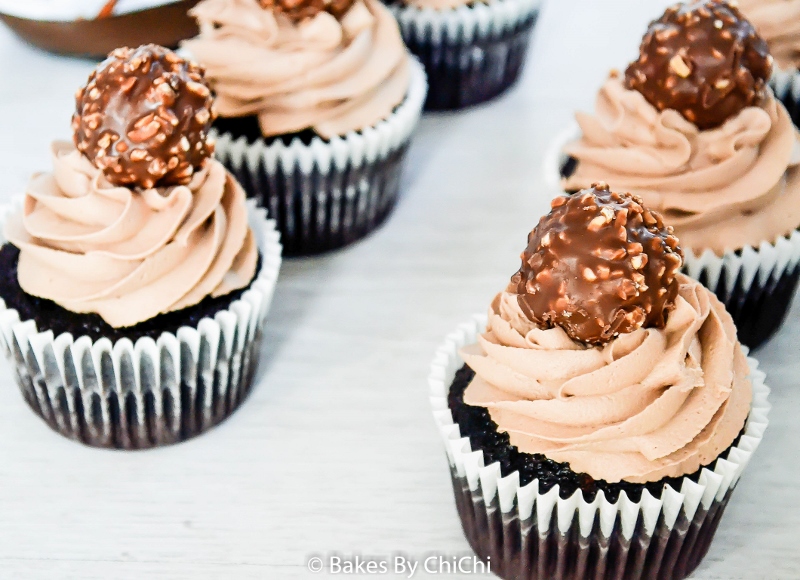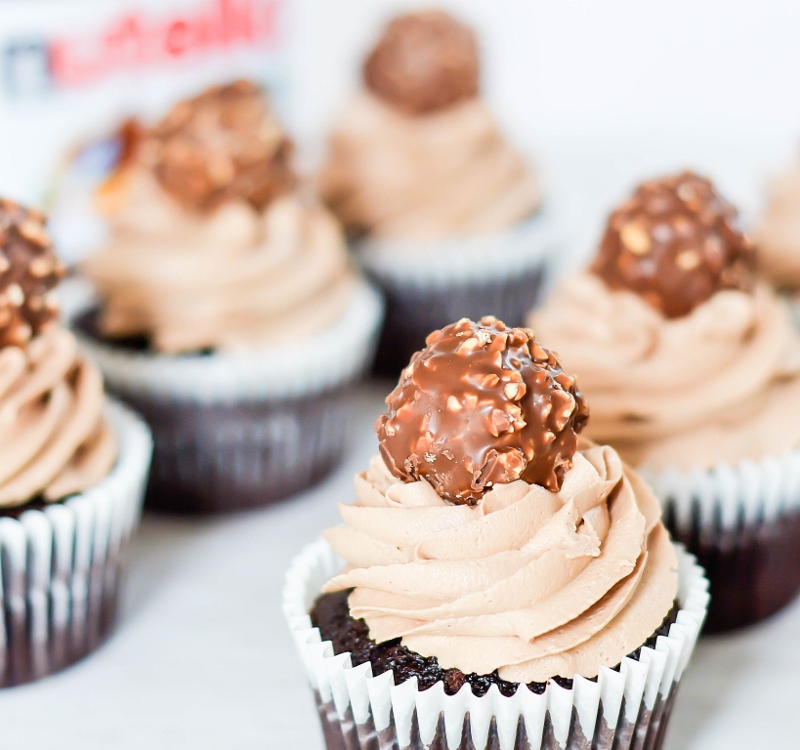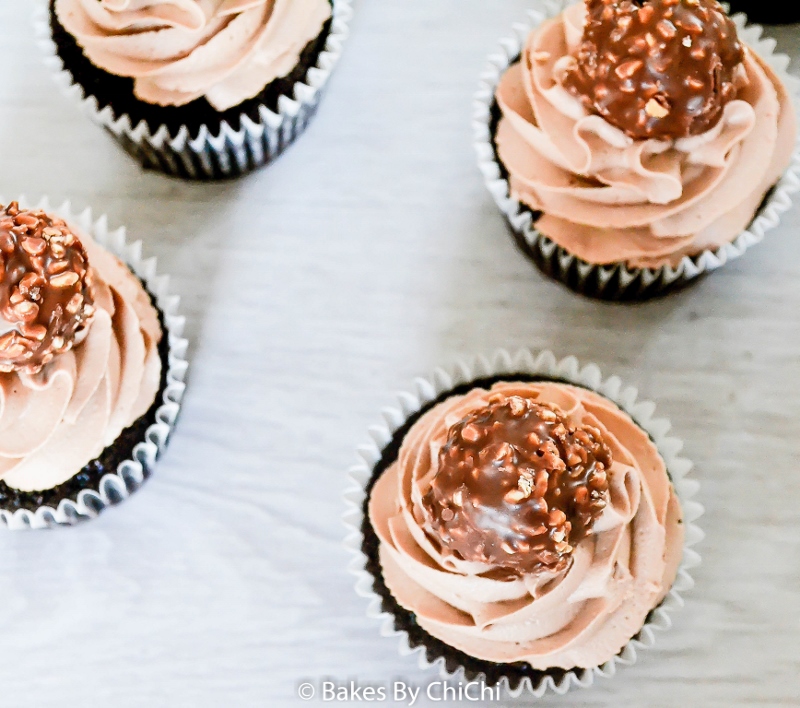 Stay up to date with Bakes by ChiChi on:
Facebook | Instagram | Pinterest | Google Plus | Bloglovin
Nutella Marshmallow Frosted Chocolate Cupcakes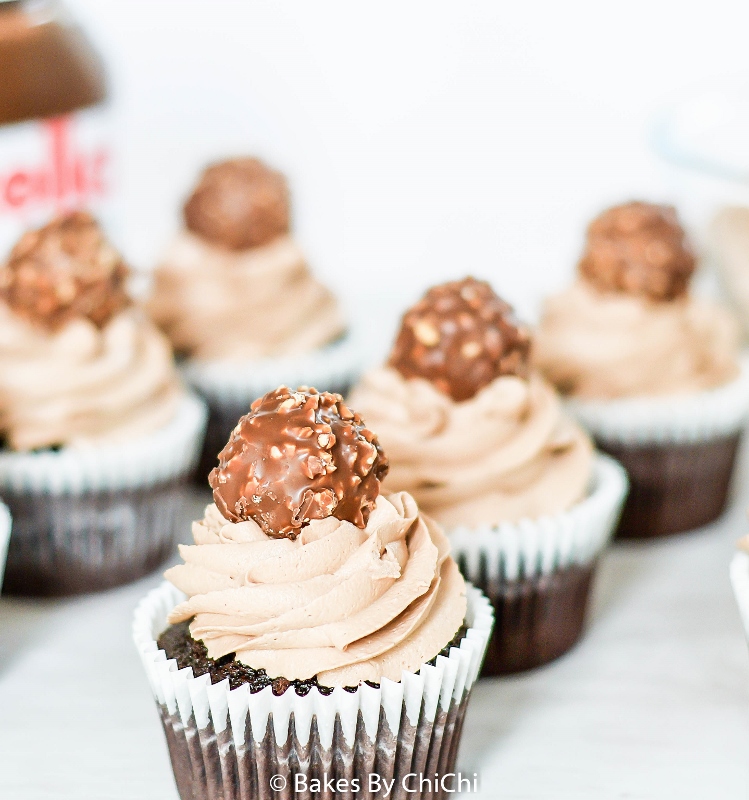 Ingredients
Chocolate Cupcakes

210 g (13/4 cup) all purpose or plain flour
400 g (2 cups) lsugar
120 g (1 cup) cocoa powder
1 teaspoon bicarbonate of soda
1 teaspoon baking powder
1/2 teaspoon salt
2 eggs
120 ml (1/2 cup) sunflower oil
2 teaspoons coffee extract
250 ml (1 cup) milk
250 ml (1 cup) hot water

Nutella Marshmallow Frosting

240 g (1 cup) unsalted butter room temperature
95 g (1/2 cup) Trex (vegetable fat)
400 g (4 cups) sifted icing sugar
2 teaspoons vanilla extract
2 teaspoons chocolate extract , optional
300 (1 cup) nutella
105 g (3.75 ounces ) marshmallow fluff
3 tablespoons whipping cream
hazelnut truffles, optional
Instructions
Chocolate Cupcakes
Preheat oven to 160 degrees Celsius. Line muffin tin with paper liners.
In the bowl of your stand mixer sift together cocoa powder, sugar, flour, bicarbonate of soda, baking powder and salt.
In a measuring jug or bowl combine eggs, oil, milk and vanilla extract. Add liquid mixture to flour mixer and beat on medium speed until smooth and incorporated. Stir in hot water.
Fill each liner 2/3 full and bake for 20 - 25 mins or until a toothpick inserted in the centre comes out clean. Let cupcakes cool in pan for 5 minutes before removing to cooling rack to cool completely.
Nutella Marshmallow Frosting
In bowl of stand mixer beat butter and vegetable shortening on medium speed until light and creamy, about 5 minutes.
Tun down speed to low and add sifted icing sugar a cup at a time and beat well until combined.
Add nutella and beat on medium speed. Then add marshmallow fluff and beat. As frosting thickens add whipping cream and beat until frosting is light and fluffy. Beat in extracts and beat until evenly incorporated.
Frost cooled cupcakes and decorated with hazelnut truffles. Enjoy!!
Notes
I use muffin size cases for cupcakes. Using smaller cases will yield more cupcakes.
If you haven't got coffee extract, mix in 2 teaspoons of espresso powder into hot water and use.
3.1
https://bakesbychichi.com/nutella-marshmallow-frosted-chocolate-cupcakes/