Perfectly spiced gingerbread cake filled and frosted with silky sweet caramel swiss meringue.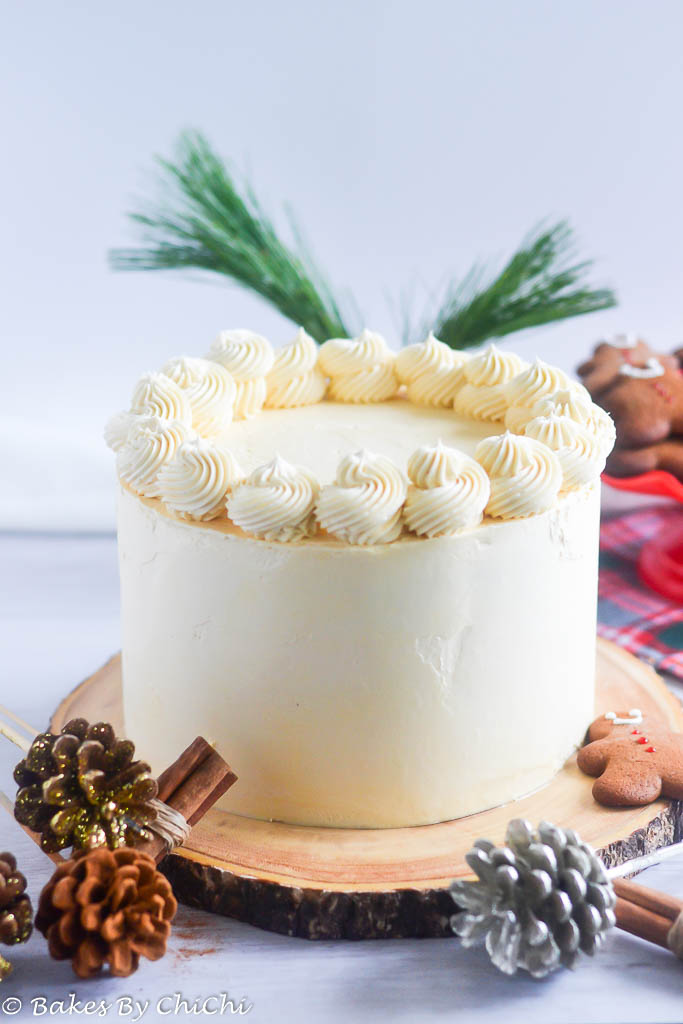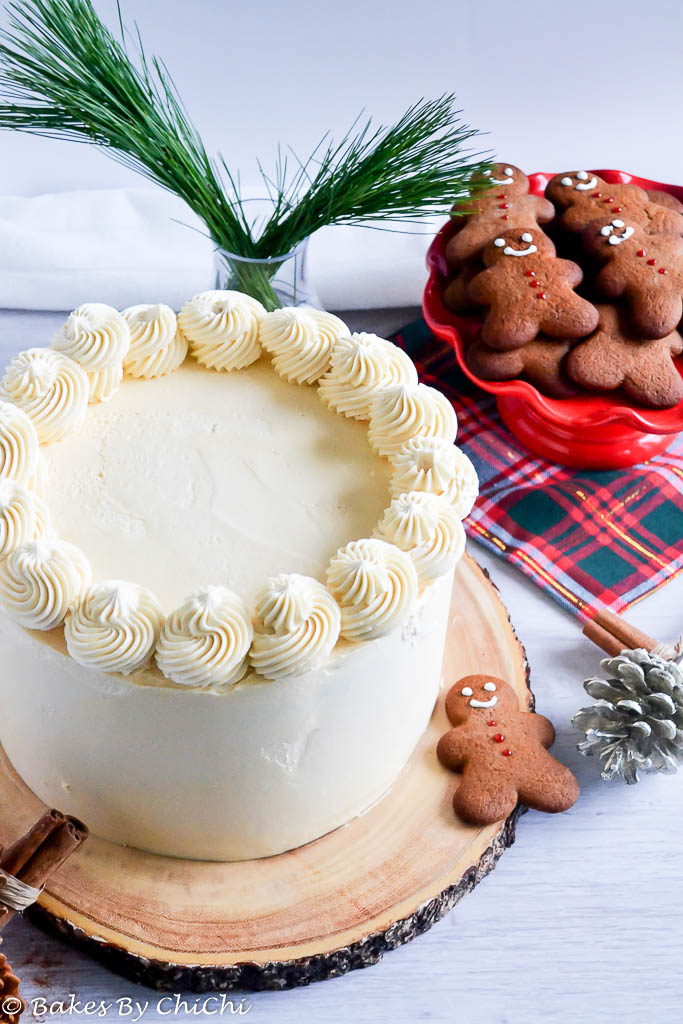 Whose idea was it to create Secret Santa? I had to get a present  for a colleague that cost £5. What am I getting for £5? Okay so they tried to make it easier by asking the participants to create a wish list. Did the person I picked create one??? No!!  My inner voice was screaming , help please. On the plus side, the person I picked is someone I know pretty well.
It was off to TK Maxx for me. I can't abide shopping in the TK Maxx clothes department but I love their home department. Listen, that place is treasure trove. I found a lovely present in their accessories department for my secret Santa pressie.. RESULT!!!  The rest of the time was spent in their home department.
As a food blogger, I am always looking for props, plates , cake stands, cutlery and all sorts for food staging.  I left behind these beautiful copper pot. Emoji sad face 🙁 . Yeah I need to win the lottery fast. On the plus side, I re homed two of the prettiest red cakes stands and the wooden slab in the picture.
After all the shopping, it was time to get my baking on. After the caramel gingerbread cookies, I baking a gingerbread cake was next on my list. Gingerbread is a holiday favourite of mine.  The spiced aromas of this gingerbread cake makes the house feel and smell all Christmasy. Plus I promised my daughter  that we would make gingerbread men. That child would eat gingerbread men everyday if she had her way.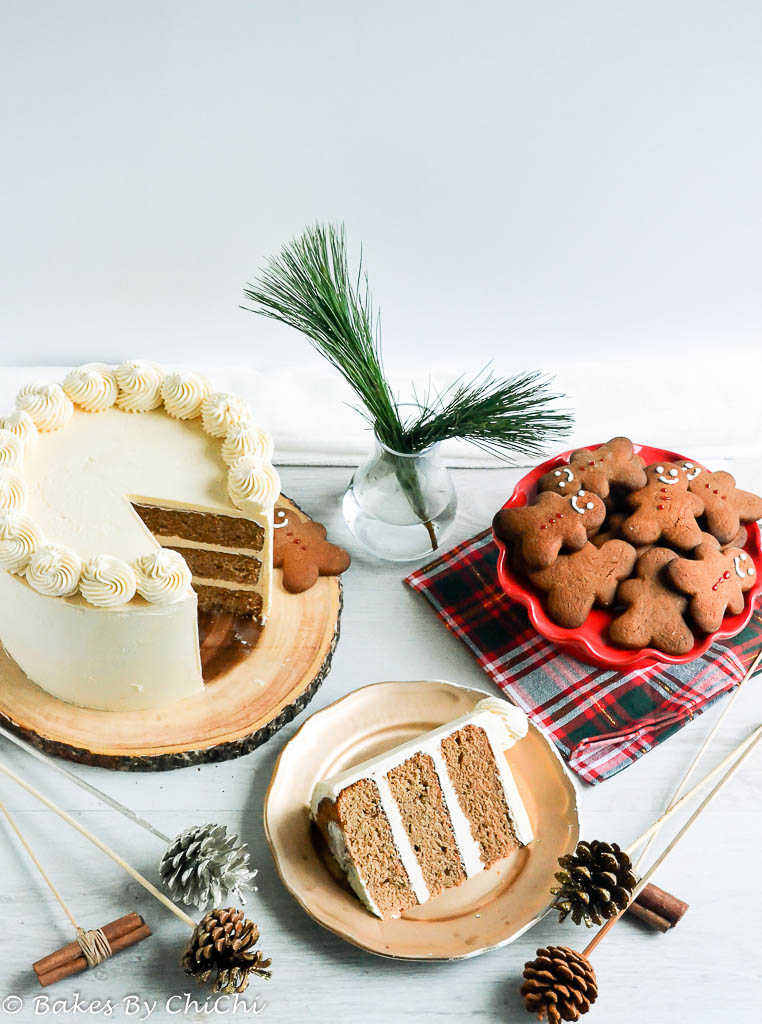 The cake is a simple cake with all the flavours of a gingerbread man, only in a cake. It is full of ginger, cloves, cinnamon, brown sugar and molasses sugar. The rich aroma and flavour of the molasses sugar adds even more flavour to the gingerbread cake.
Not that this gingerbread cake isn't delicious on it's own, the caramel swiss meringue took the cake to whole other level of deliciousness.  Homemade caramel sauce or shop bought can be used to make the caramel swiss meringue buttercream. You can see how I made my caramel sauce here , here and find the recipe here .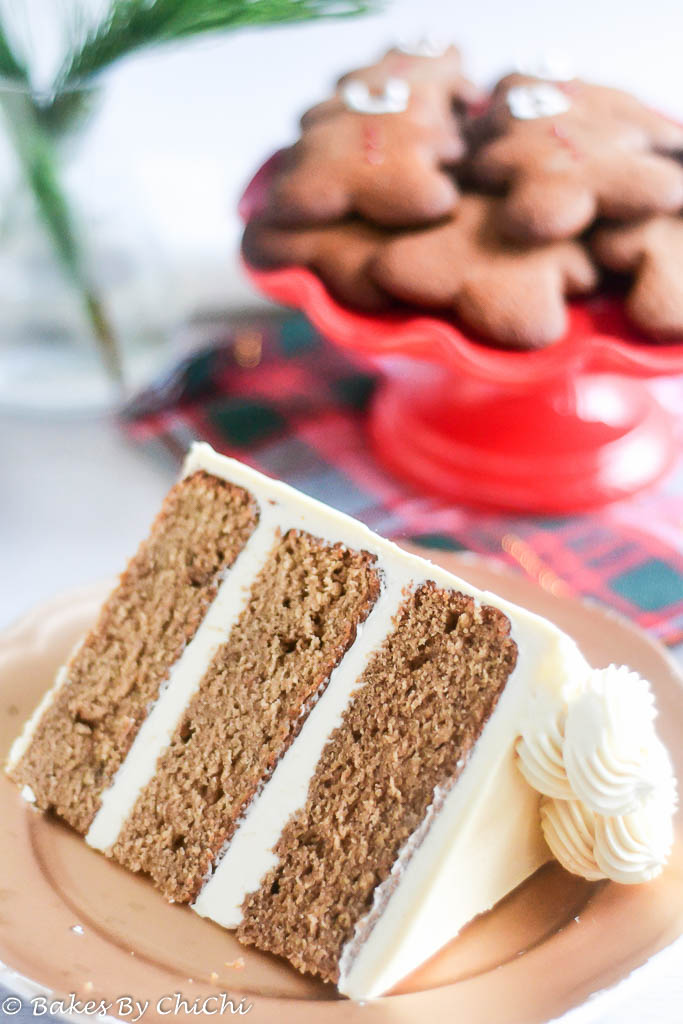 I definitely recommend this Gingerbread Cake making an appearance on your Christmas Day menu.
Stay up to date with Bakes by ChiChi on:
Facebook | Instagram | Pinterest | Google Plus | Bloglovin
or you can subscribe to my weekly newsletter
Gingerbread Cake with Caramel Swiss Meringue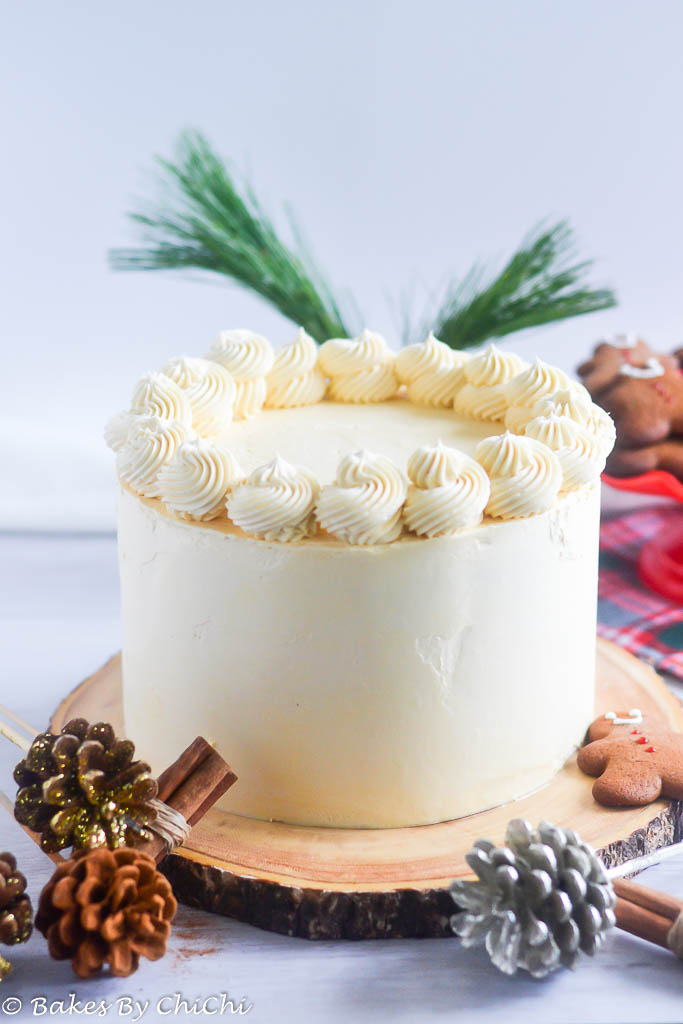 Ingredients
Gingerbread Cake

375 g (1 1/2 cups) unsalted butter, room temp
270 g (1 1/2 cups) brown sugar
100 g (1/2 cup) caster sugar
90 g (1/2 cup) mollasses
5 eggs
2 teaspoons vanilla extract
540 g (4 1/2 cups) plain flour
4 1/2 teaspoons ginger
2 teaspoons cinnamon
2 teaspoons cloves
3 teaspoons baking powder
1 teaspoon salt
240 ml (1 cup) buttermilk

Caramel Swiss Meringue Buttercream

450 g (15.9 ounces) fresh egg whites
750 g (3-3/4 cups ) sugar
1080 g (4 -1/2 cups) unsalted butter, cut into cubes and cool
2 teaspoons vanilla extract
pinch of salt
250 ml (1 cup) caramel sauce
Instructions
Gingerbread Cake
Preheat oven to 170 degrees Celsius. Grease 3 , 8 -inch round cake tins and line with parchment paper.
In the bowl of stand mixer beat butter, sugars and molasses until light and fluffy about 6 minutes.
Sift together flour, ginger, cinnamon, cloves, baking powder and salt. Set aside.
Add eggs one after the other beating well after each addition Add vanilla extract and beat until combined.
With mixer on low, alternately add the flour mixture and buttermilk, beginning and ending with flour mixture.
Divide batter evenly between cake tins. (I used a measuring cup and a scale)
Bake for 30 -35 minutes or until tooth pick inserted in centre comes out clean. Leave to cool tin on wire racks for 10 minutes, then invert onto rack gently, discard parchment paper and cool completely.
Wrap cakes in cling film and chill in the fridge for 1- 3 hours
Caramel Swiss Meringue Buttercream
Wipe bowl of mixer , attachments and whisk with a paper towel and lemon juice to remove any trace of grease.
In bowl of stand mixer combine sugar, egg whites and salt over a pot of simmering water. Gently whisk constantly until mixture is warm to touch and sugar has completely dissolved and or until temperature reaches 140 degrees F on a candy thermometer.
Using a whisk attachment starting to whisk until meringue is thick and glossy and completely cool, about 10 minutes.( Test by touching bottom of the bowl)
Switch to a paddle attachment and with mixer on low speed add butter cubes one at a time mixing well after each addition and beat until frosting is smooth. Add vanilla and beat on low speed until well combined.
Fold in caramel sauce.
To assemble
Using a serrated knife level each cake by cutting the top.
Spread a thin layer of caramel swiss meringue buttercream on your cake board .Place one layer of cake, flat side down on top and plop a big dollop of buttercream in the middle. Spread the buttercream carefully. Once it is nice and flat, stack the second cake, flat side down and spread another generous amount of buttercream then place final cake, flat side down.
Spread a thin layer of frosting on the sides and then top of cake. It helps to use a turntable when frosting a cake. Hold a scraper flat against the side of the cake and then turn the turntable and scraper to make a nice, smooth coat of buttercream. Smooth the top of cake with scraper, drawing the peaks off the top edges of cake into the centre.
Chill crumb coated cake in fridge for 30 minutes until buttercream is nice and firm.
Once cake is chilled, cover evenly with buttercream using an off set spatula and then use a scraper to smooth the edges. Pipe decorative borders if desired.
Notes
Wrap cake in cling film and chill in the fridge overnight before cutting and icing. It is always best to work on a chilled cake. Use a turn table to easily rotate the cake whilst icing and smoothing. Crumb coat is a thin layer of icing applied to seal in the crumbs For smooth edges I use a bench scraper.
3.1
https://bakesbychichi.com/gingerbread-cake-with-caramel-swiss-meringue/