Yummy vanilla cake pops dipped in orange candy melts and sprinkled with fun colourful funfetti. A fun Halloween treat for children.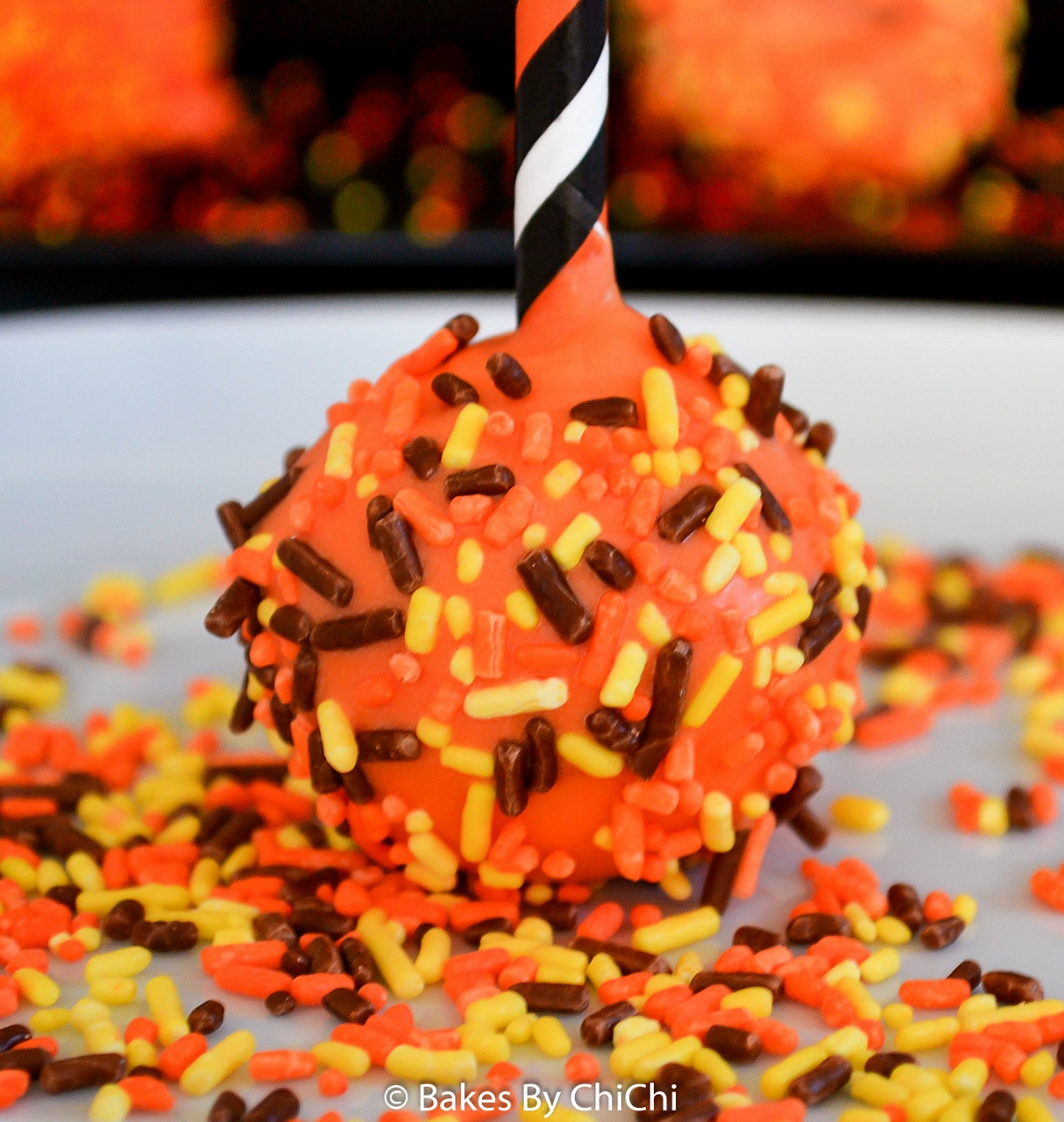 One more sleep till Halloween. So why not treat your little trick or treaters  to some funfetti cake pop sweetness. Get them to help with making the cake pops as well.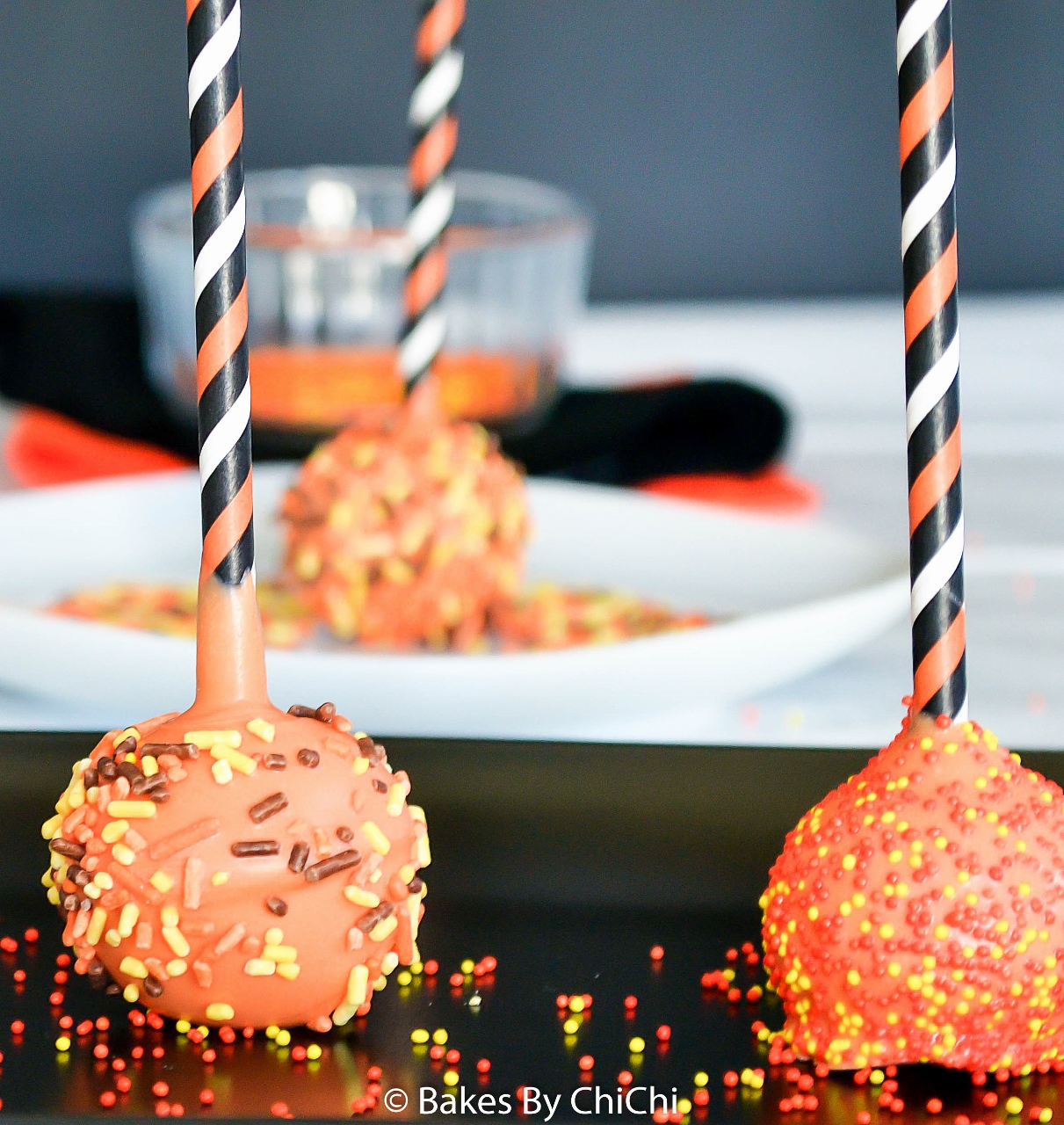 Start off  by baking your favorite cake recipe and leave it to cool. Trim crust off the cake and crumble the cake . I get my assistant Esme involved at the point. She is very good cake crumbler ( is that even a word).  Mix in frosting a little at a time until you have a good consistency. Use a small ice cream scoop to have all the balls the same size. Scoop up some of your cake and roll into a ball. Cake pops can be put in the fridge or in freezer for  to firm up. If chilling in freezer leave for 15 minutes, you do not want them to be frozen.
Melt candy melts at 30 second intervals stirring in between until melted. It's easier to coat pops with a thinner consistency candy coating, so mix in a little bit of vegetable oil at a time to thin the candy coating.
Resist the temptation to stir the coating with the cake pop. This may cause your cake to fall off the lollipop stick into the candy coating . Dip cake pop in one swoop. Double dipping may result in the cake pop falling off the stick. Before dipping cake pops have to be firm not frozen.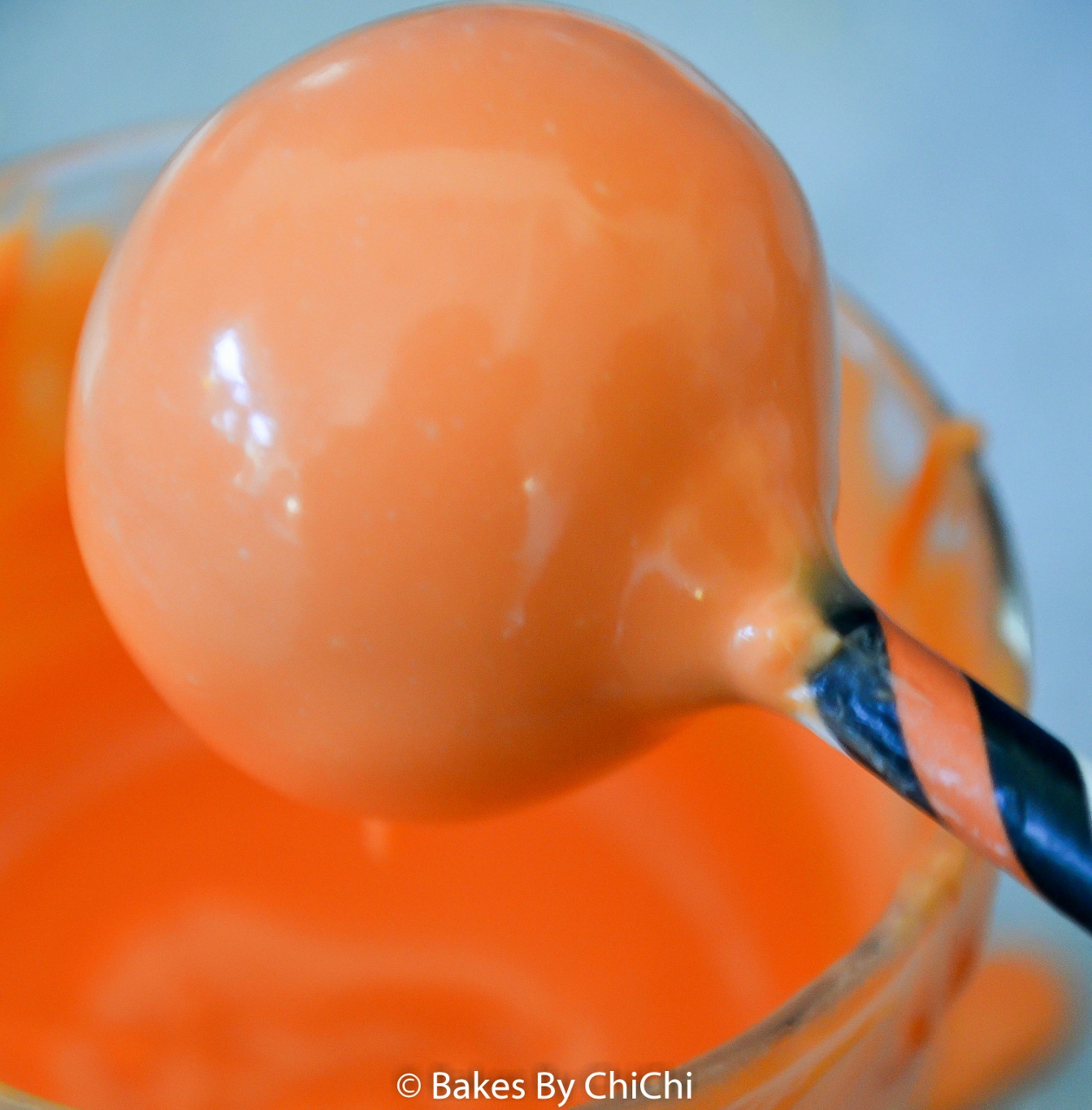 Coat cake pops with funfetti whilst wet. Leave to dry and then enjoy.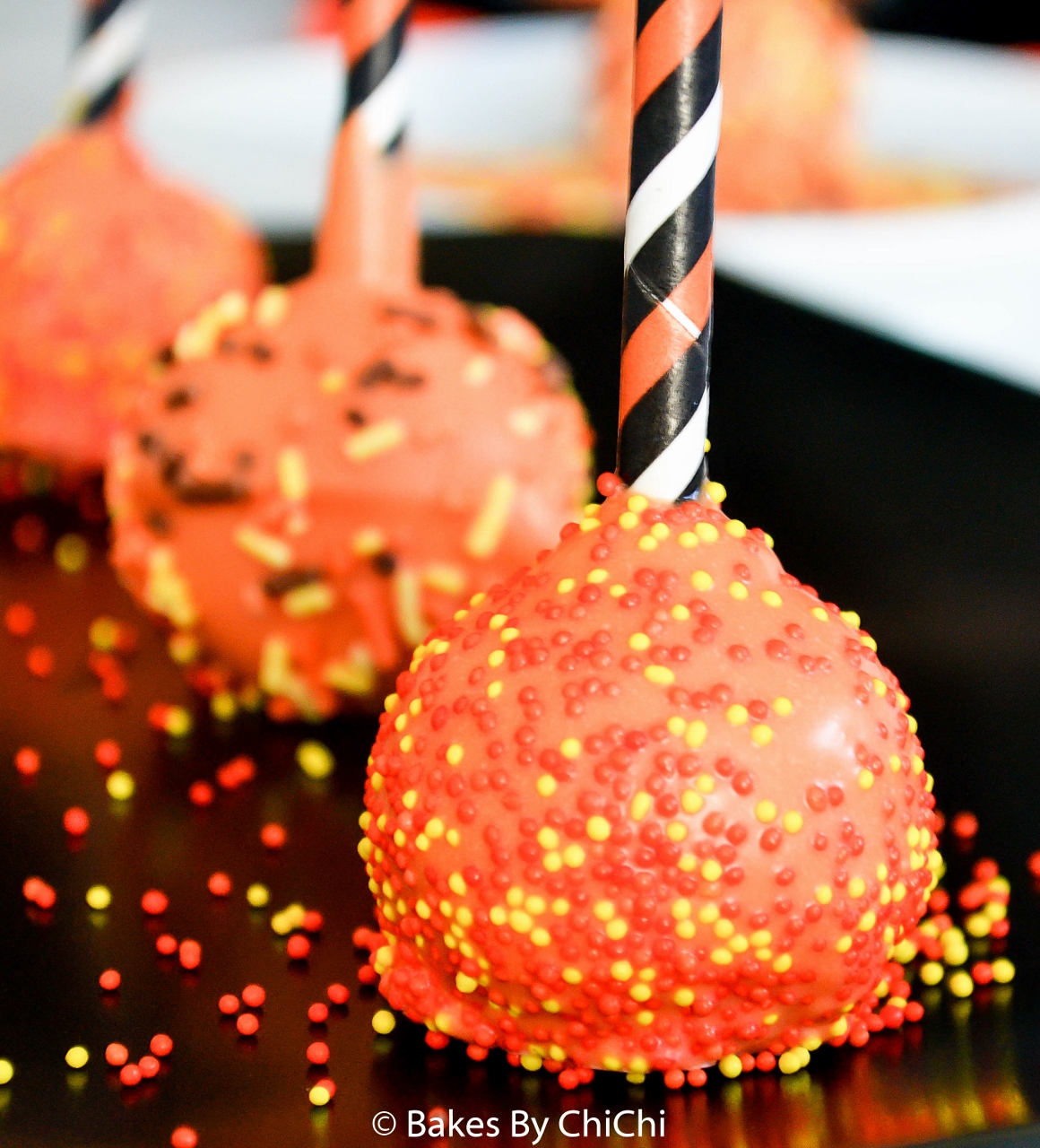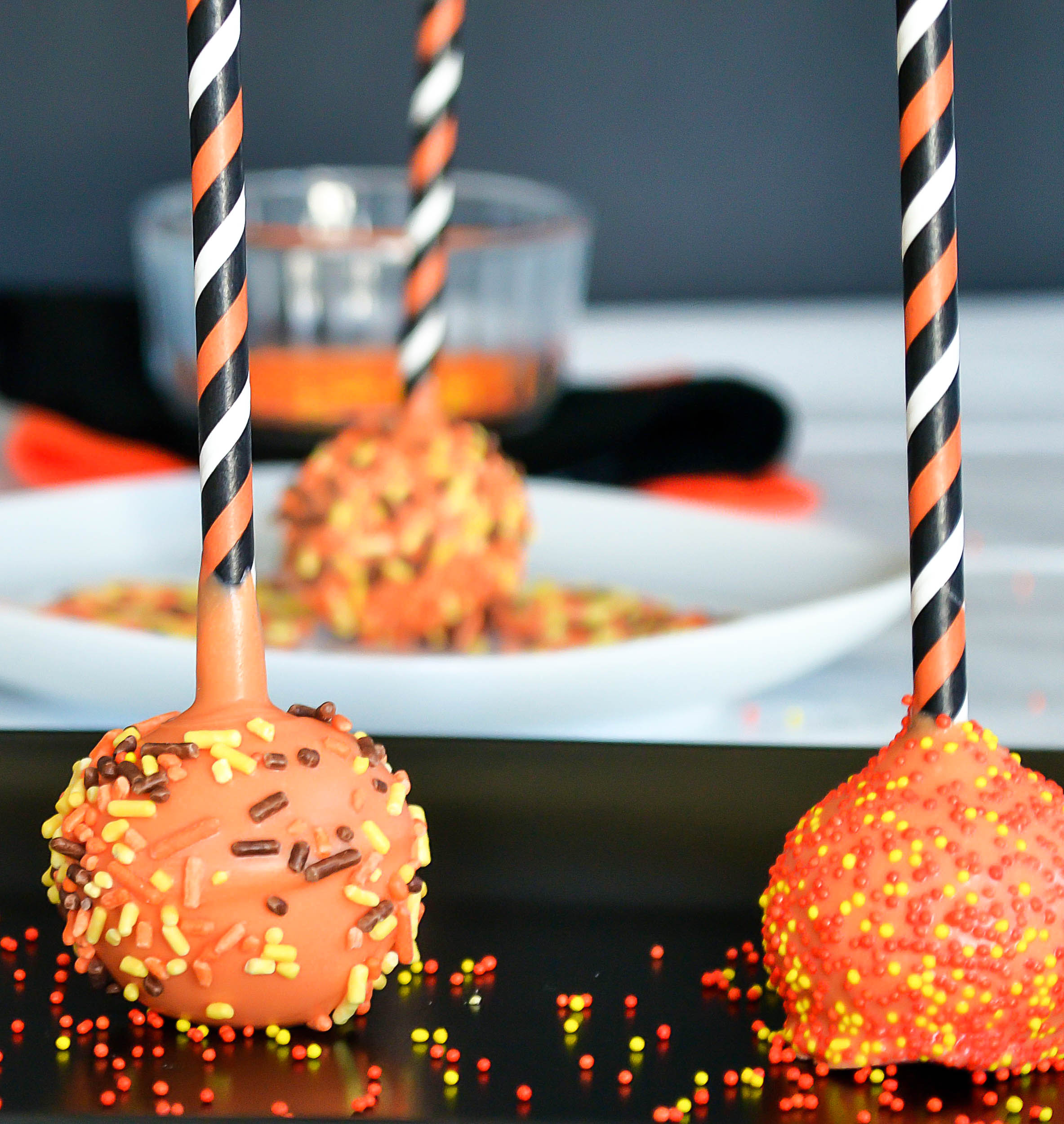 Ingredients
For the cake

150g caster sugar
150g unsalted butter, room temperature
2 eggs, room temperature
150g all purpose(plain flour)
1 teaspoon vanilla essence

You will also need

Two baking sheets
Parchment Paper
Large mixing bowl
450g container of ready made frosting
340g candy melts
Deep, microwave safe bowl or cup
Lollipop Sticks
Instructions
To make cake
Preheat oven to 160 degrees Celsius (315 F/Gas Mark 2-3). Grease, line with non stick baking paper 
Cream butter and sugar on medium until light and fluffy about 5 minutes
Add eggs one by one, beating well after each addition and scraping down sides of bowl with spatula. If mixture curdles add a teaspoon of flour.
Add the vanilla and mix until combined
Sift in the flour and mix thoroughly.
Pour mixture into tin, place in oven and bake for 30 minutes or until toothpick or skewer inserted in centre comes out clean
Leave cake to stand in tin for 10 minutes before turning out onto wire rack to cool.
To make Cake pops
Line baking sheets with non stick baking paper.
Trim any crust off the cake. Crumble the cooled cake into a large bowl.
Add small amounts of icing to cake crumbs. Using the back of a spoon mix up the icing and cake until fully incorporated. If you find your cake not holding together well, you can add small amounts of icing until you get a good consistency. ( Please note you do not want to add too much icing or cake balls will be too moist)
Using an ice cream scoop to make sure your cake balls are of consistent size, scoop out your cake and then using your hands rolls them into balls and place on lined sheet pan.
Let them rest for 20 minutes before chilling.
Cover with plastic wrap and  chill balls in freezer until firm not frozen. About 15 minutes. You want the balls to be firm but not frozen.
Melt candy melts in microwave in 30 second bursts until melted, stirring between each interval.  Make sure not to overheat the coating. If coating is too thick add vegetable oil to thin it.
Transfer cake pops to fridge and take out a few cake balls to work with. Keep the rest of the cake balls in the fridge so that they stay firm
Dip one at a time about 1/2 an inch of the lollipop stick into the melted candy melt and then insert the lollipop stick straight into a cake ball, making sure to push not more than halfway through.  Put your cake pops in the fridge to chill for dipping. 
Take the lollipop stick with the cake ball attached and dip the entire cake into the melted candy melts until it is completely covered. Remove the cake pop from the melted candy by pulling it straight up.
Hold cake pop over bowl/ cup and use the other hand to gently tap  allowin the excess coating to fall off evenly. Rotate the lollipop stick to allow the coating to fall off evenly.
After most of the excess coating has fallen off and it is no longer dripping, sprinkle funfetti all over cake pop 
Set the cake pop on  a lined baking sheet or plate and leave until completely dry.
Repeat with the remaining cake pops
Notes
Before dipping cake pops have to be firm not frozen It's easier to coat cake pops with a thinner consistency candy coating Re- submerging the cake pop after it has been dipped once will cause the cake pop to fall off the lollipop stick Resist the temptation to stir the coating with the cake pop. This may cause your cake to fall off the lollipop stick into the candy coating
3.1
https://bakesbychichi.com/funfetti-cake-pops/