These dazzling cake pops are perfect for a New Year's treat. Delightfully crisp sweet candy melt exterior which opens up to a soft delicious vanilla cake.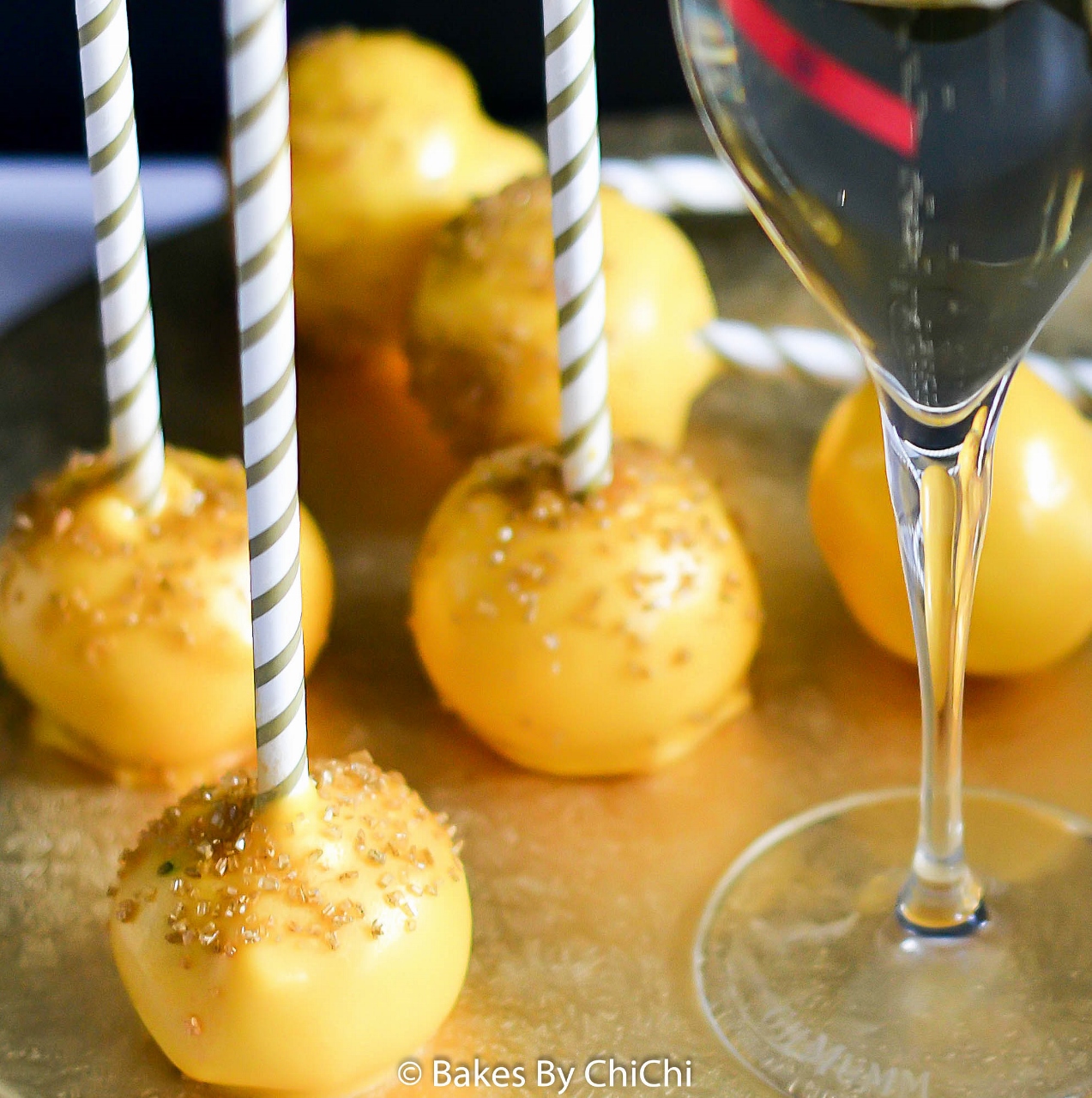 Happy New Year's eve everyone. Wow, what a year 2015 has been. This year I launched Bakes By Chichi and what a journey it has been. I would like to say a big thank you to all you wonderful people who took the time to visit this little blog of mine. I am really appreciative for all the shares, the like and comments.
To celebrate the last day of 2015 I thought why not indulge in some golden dazzling cake pops. Oh and whilst I was at it a glass of champagne too. Who knew cake pops and champagne went together so well. Pop and fizz, just the way to end the year.
These cake pops couldn't be easier to make. All you need is your cake mix, some buttercream, a small ice cream scoop, cake pop sticks, candy melt and gold shimmer spray for that dazzle.
Mix and bake the cake mix as per instructions on the box. Leave to cool, then slice off the crust. Mix in the some buttercream a little at a time till you a good consistency. Too much of buttercream will make the cake pops too soft and soggy. Too little will make it crumbly and fall off the stick when dipping. Which is why I suggest a little at a time. Scoop using a small ice cream scoop and roll the cake pops in your palm. I try and and get it as round as possibly. It doesn't have to be perfect, we will be covering the pops in candy melt. Place the rolled cake pops on a baking tray covered with non stick and parchment paper. Cover with cling film and leave to chill in the fridge for about an hour or two. You want them firm, not frozen. The cake pops can be popped in the freezer for 15 minutes and then coated in candy melts if you are pressed for time.
Now we can get to dipping. I melt half of the candy melts in the bag. The candy melts are melted at 30 second bursts. Stir in between bursts. The consistency of the melts will be quite thick. To thin it, I mix in a tablespoon vegetable oil or trex at time until the candy melts is smooth and fluid. If the melted candy is too thick, the cake pops will slip off the stick or difficult to cover. I then transfer melted candy melts are transferred to a small deep cup or bowl. This is done so the cake pops can be fully submerged in the candy melts when dipped.
Dip the cake pop in one swoop. Leave to dry and then spray the covered candy melts with gold shimmer spray. If you are feeling fancy, sprinkle on some gold sanding sugar.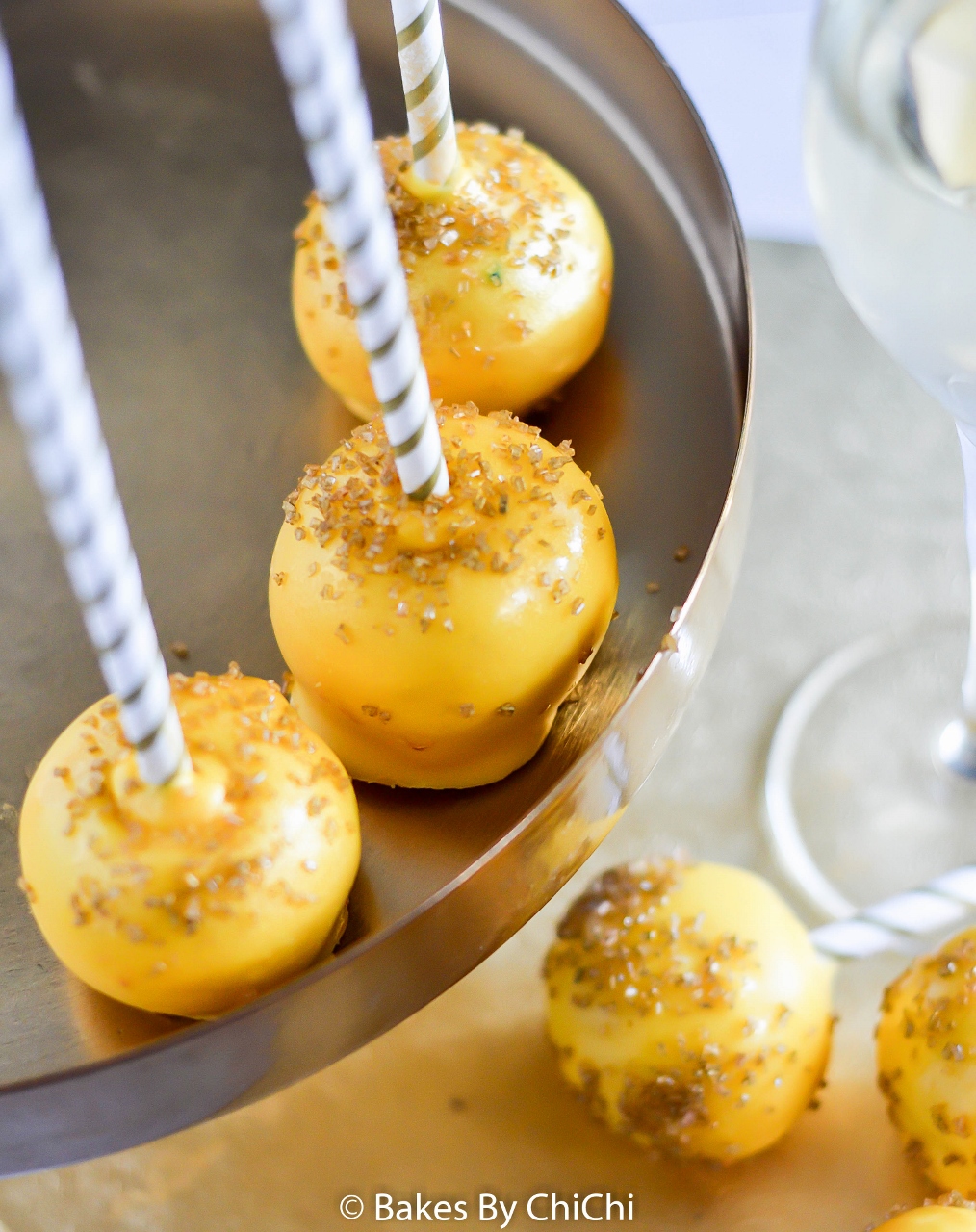 Enjoy your dazzling cake pops with a glass of champagne.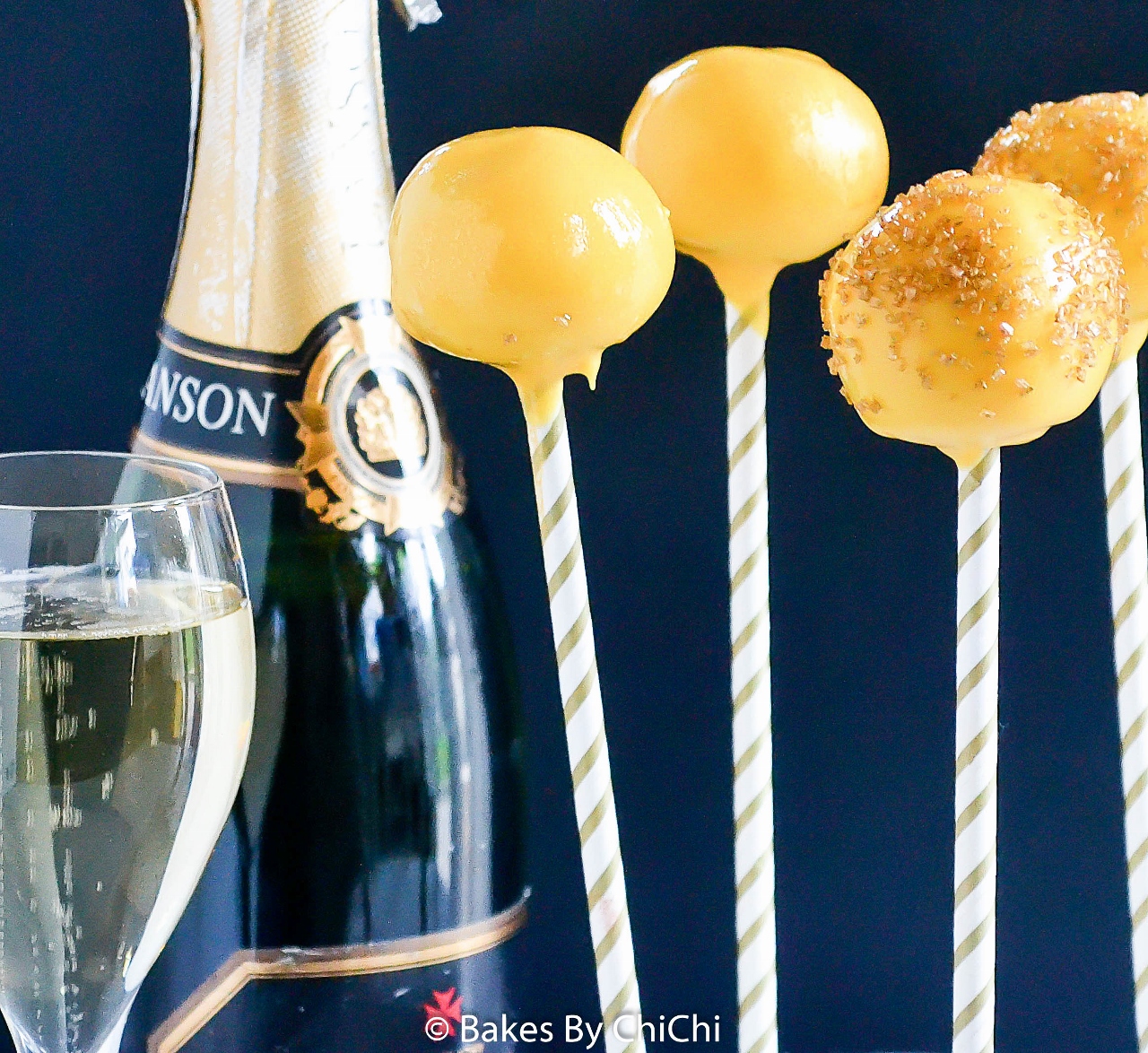 And welcome 2016. Happy New Year!!!
Stay up to date with Bakes by ChiChi on:
Facebook | Instagram | Pinterest | Google Plus | Bloglovin
or you can subscribe to my weekly newsletter
Affiliate link to the tools I used to make these cake pops
Dazzling New Year's Cake Pops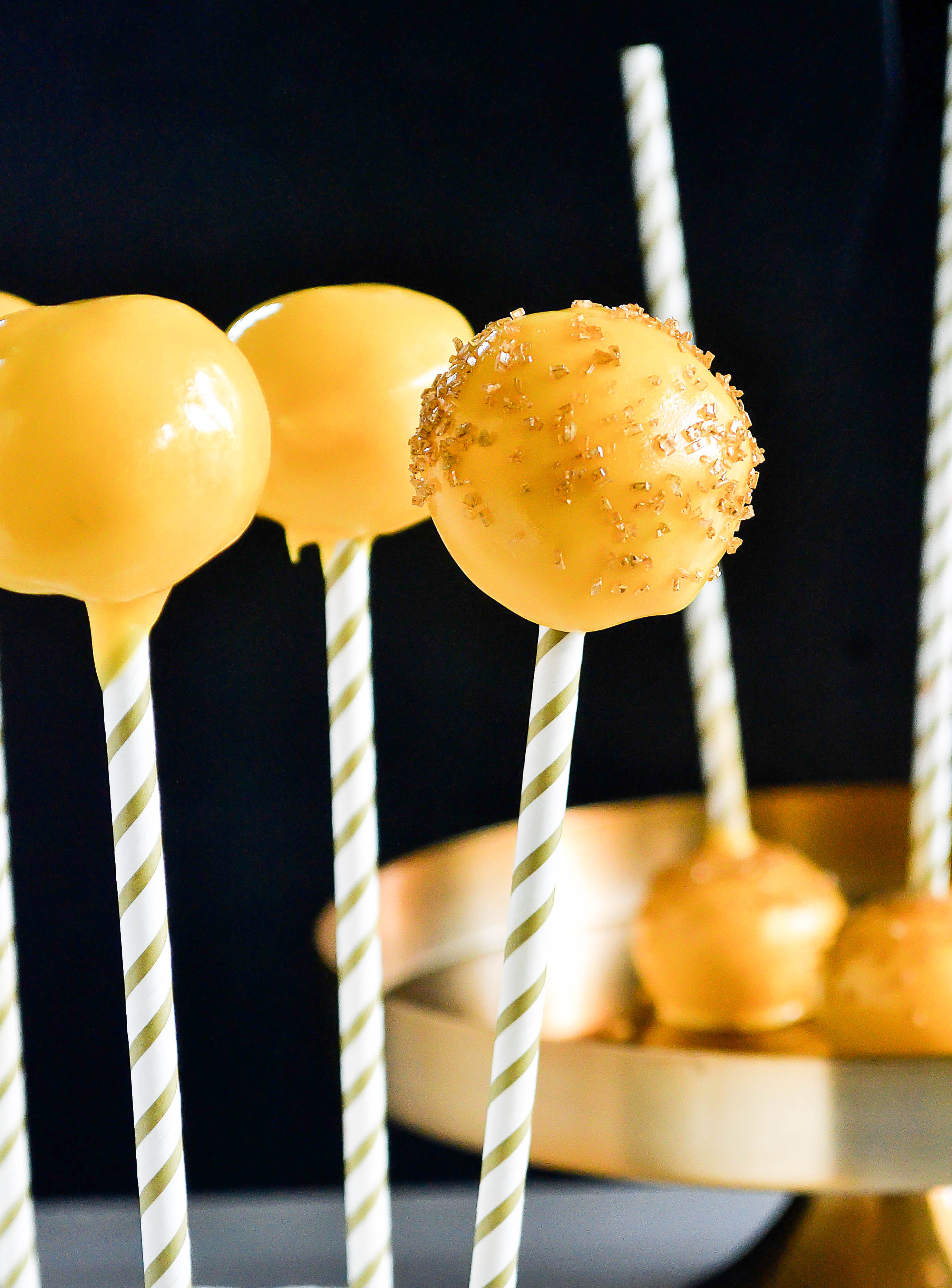 Ingredients
You will need

425 g (15 ounce)box cake mix
9-inch cake pan
Two baking sheets
parchment paper
Large mixing bowl
400 g (14 ounce) container ready-made frosting
Large metal spoon
Plastic wrap
340 g (12 ounces) candy coating (you will need half)
Deep, microwave-safe plastic bowl
12 lollipop sticks
Styrofoam block
Read more at http://www.bakerella.com/basic-cake-pops-recipe/#rL05X4Ju1m26tAj4.99
Instructions
Bake the cake as directed on the box, using the 9 inch cake pan. Let cool completely.
Line baking sheets with non stick baking paper.
Trim any crust off the cake. Crumble the cooled cake into a large bowl.
Add small amounts of icing to cake crumbs. Using the back of a spoon mix up the icing and cake until fully incorporated. If you find your cake not holding together well, you can add small amounts of icing until you get a good consistency. ( Please note you do not want to add too much icing or cake balls will be too moist)
Using an ice cream scoop to make sure your cake balls are of consistent size, scoop out your cake and then using your hands rolls them into balls and place on lined sheet pan.
Let them rest for 20 minutes before chilling.
Cover with plastic wrap and chill balls in freezer until firm not frozen. About 15 minutes. The cake pops can also be chilled in the fridge for several hours. You want the balls to be firm but not frozen.
Melt half the quantity of candy melts in microwave in 30 second bursts until melted, stirring between each interval. Make sure not to overheat the coating. If coating is too thick add vegetable oil to thin it.
Transfer cake pops to fridge and take out a few cake balls to work with. Keep the rest of the cake balls in the fridge so that they stay firm.
Dip one at a time about 1/2 an inch of the lollipop stick into the melted candy melt and then insert the lollipop stick straight into a cake ball, making sure to push not more than halfway through. Put your cake pops in the fridge to chill for dipping.
Take the lollipop stick with the cake ball attached and dip the entire cake into the melted candy melts until it is completely covered. Remove the cake pop from the melted candy by pulling it straight up.
Hold cake pop over bowl/ cup and use the other hand to gently tap allowing the excess coating to fall off evenly. Rotate the lollipop stick to allow the coating to fall off evenly.
After most of the excess coating has fallen off and it is no longer dripping, stick the cake pop into the Styrofoam block. Leave to dry.
Repeat with the remaining cake pops. Spray the cake pops with gold shimmer spray and sprinkle with gold sanding sugar if desired.
Notes
Notes
Before dipping cake pops have to be firm not frozen. It's easier to coat cake pops with a thinner consistency candy coating. Re- submerging the cake pop after it has been dipped once will cause the cake pop to fall off the lollipop stick Resist the temptation to stir the coating with the cake pop. This may cause your cake to fall off the lollipop stick into the candy coating.
3.1
https://bakesbychichi.com/dazzling-new-years-cake-pops/