Chocolate Peanut Butter Swirl Banana Bread that is soft, moist, chocolatey, nutty and just delicious.
This is not the cake to make if you are on a diet, note to self. I took one bite of this bread and and it was love. Moist banana bread, with homemade chocolate peanut butter swirled in and topped with semi sweet chocolate chips. Totally worth the extra workout in the gym after having a slice.
Banana and peanuts have always been a favorite snack of mine. For as long as i can remember I have always eaten them together. With bananas once they start to brown it is time for banana bread. Usually I would just use them to make my favorite banana bread recipe, till I saw the jar of chocolate peanut butter spread I made about a week ago. I simply cannot get enough of chocolate peanut butter and I knew it had to be added to the banana bread.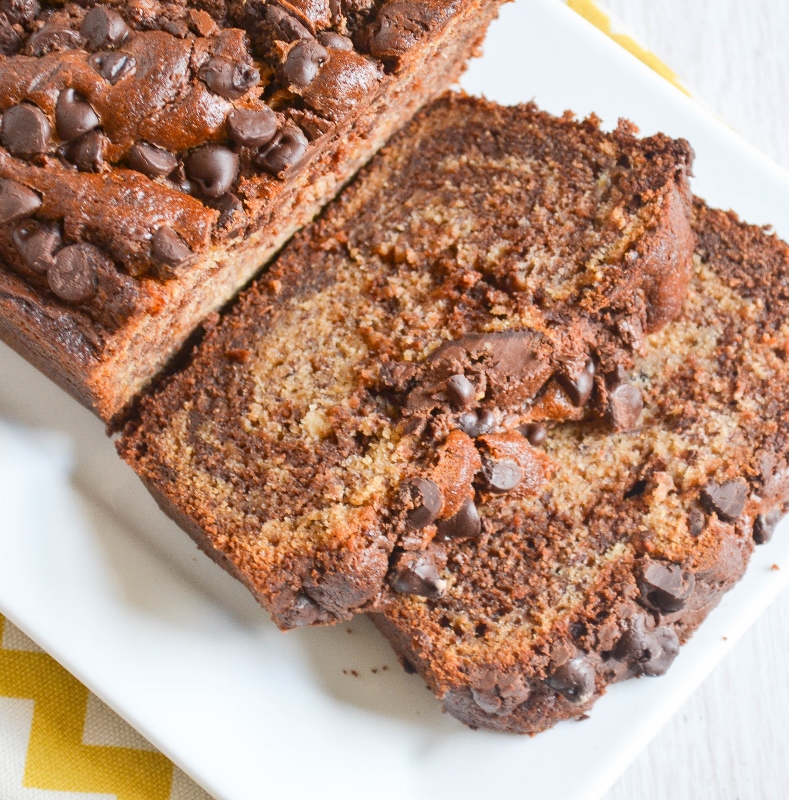 As recipes goes this chocolate peanut butter banana bread is a super simple recipe. All it takes is mixing mashed bananas and sugar together, add in sour cream. Mix in flour and bicarbonate of soda, finally sitirring in melted butter. Dollop banana bread batter with chocolate peanut butter and swirl. Sprinkle semi sweet chocolate chips over top of batter and into the oven it goes.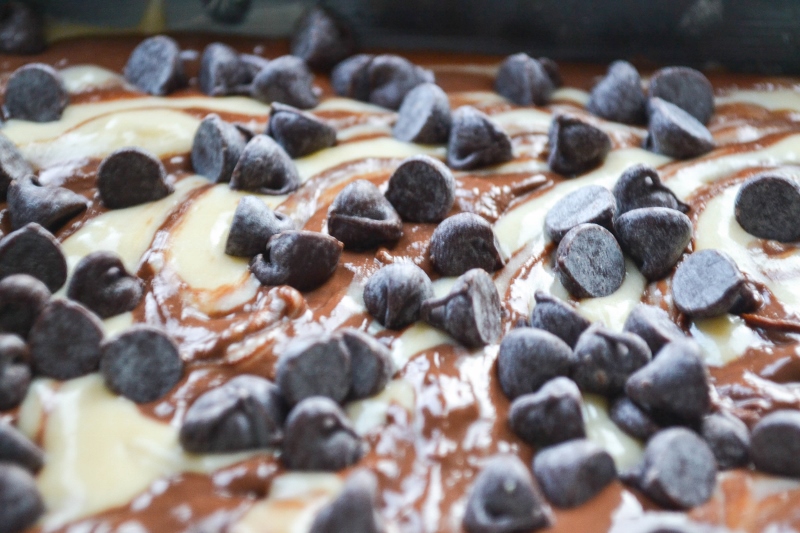 For a moist sweet intense banana flavour in this chocolate peanut butter swirl banana bread be sure to use extra ripe bananas.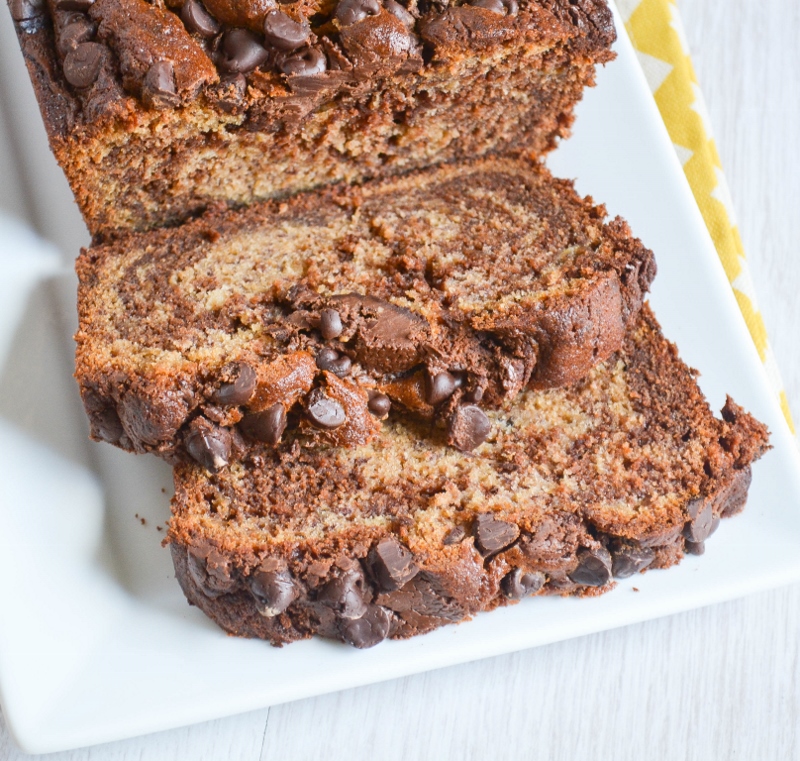 Chocolate Peanut Butter Swirl Banana Bread
Ingredients
135g (3/4 cup) light brown sugar
2 egg
200g banana (about 3 bananas)
1 teaspoon vanilla extract
60ml (1/4 cup) sour cream
180g ( 11/2 cup ) flour
1/2 teaspoon baking powder
1 teaspoon bicarbonate of soda
120g (1/2 cup) butter, melted
100g chocolate peanut butter
50g (1/4 cup) semi sweet chocolate chips
Instructions
Preheat oven to 170 degrees celcius. Grease and dust a loaf tin with flour.
In the bowl of stand mixer beat sugar and egg until well incorporated. Beat in mashed bananas and sour cream.
Sift into egg mixture the flour, baking powder, bicarbonate of soda and beat until combined.
Pour in melted butter and beat until well combined.
Heat chocolate peanut butter in microwave for 20 seconds to soften it. Drizzle about half of the chocolate peanut butter over the banana bread batter.
Using a table knife gently swirl the chocolate peanut butter into the batter, trying not to over mix.
Pour batter carefully to prepared loaf tin then add the rest of the chocolate peanut butter and swirl into batter. Sprinkle top of batter with chocolate chips.
Bake for about 1 hour or until a toothpick or skewer inserted in the centre comes out clean. Leave to cool tin for 15 minutes, then run a knife around the edge and invert onto cooling rack.
3.1
https://bakesbychichi.com/chocolate-peanut-butter-swirl-banana-bread/