A simple carrot nest cupcake recipe yet it is rich, moist, flavourful and absolutely delicious. The coconut flakes form a cute nest for the easter eggs . The cupcake isn't too sweet and the cream cheese icing adds just enough sweetness.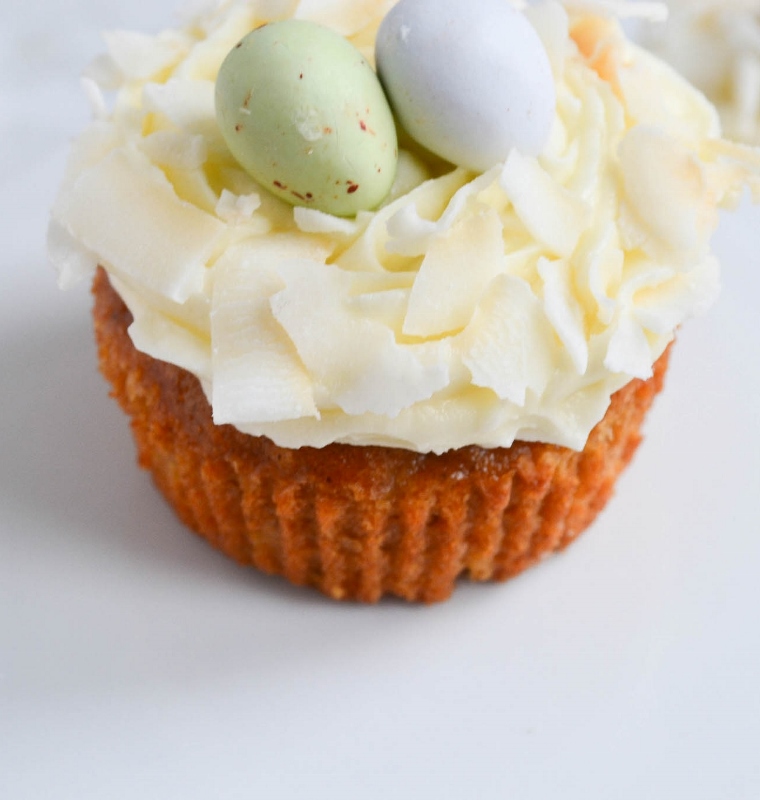 I love carrot, just not steamed carrot. That's weird right! Juice it, make a coleslaw out of it, i will drink it and eat it . Steamed carrot is a big No No.  This carrot cupcake recipe is easy, you beat the eggs and sugar, add the oil , flour and spices, coconut and crushed pineapple. Then finally the grated carrots go in. No stand mixer in sight.  When it came to grating the carrots i thought of using a food processor but all the washing up of the attachments put me off. I got my arm exercises done using a manual grater. :-).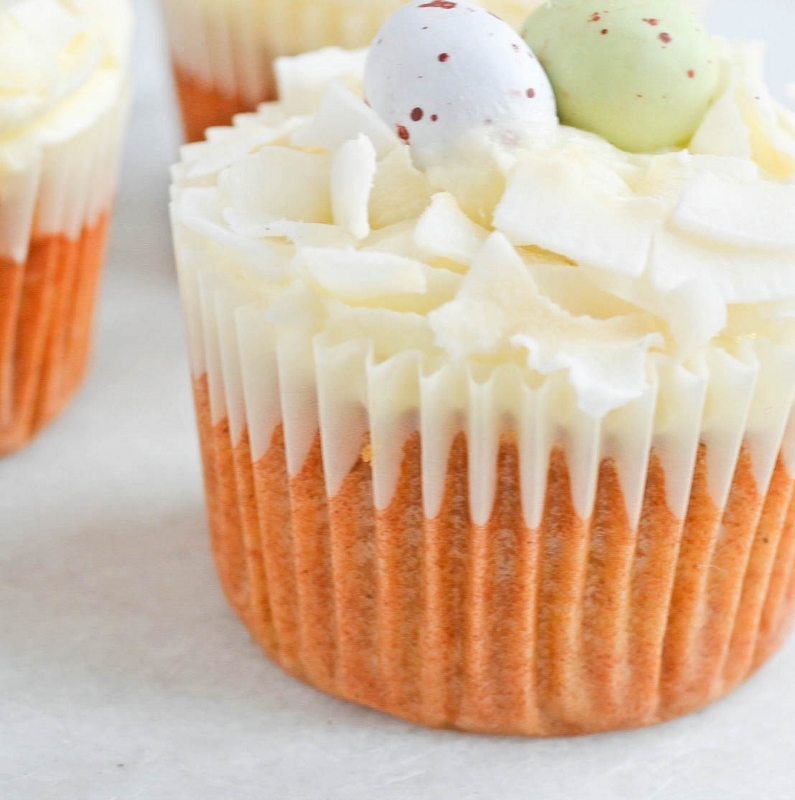 I have tried many many cream cheese recipes but mostly end up with runny cream cheese which doesn't hold when piped. Finally i found a wonderful recipe on Cake Central which advised that the cream cheese be added last to ensure the right consistency of cream cheese icing. This cream cheese is a delicious delight which pipes and holds well atop the carrot cupcakes.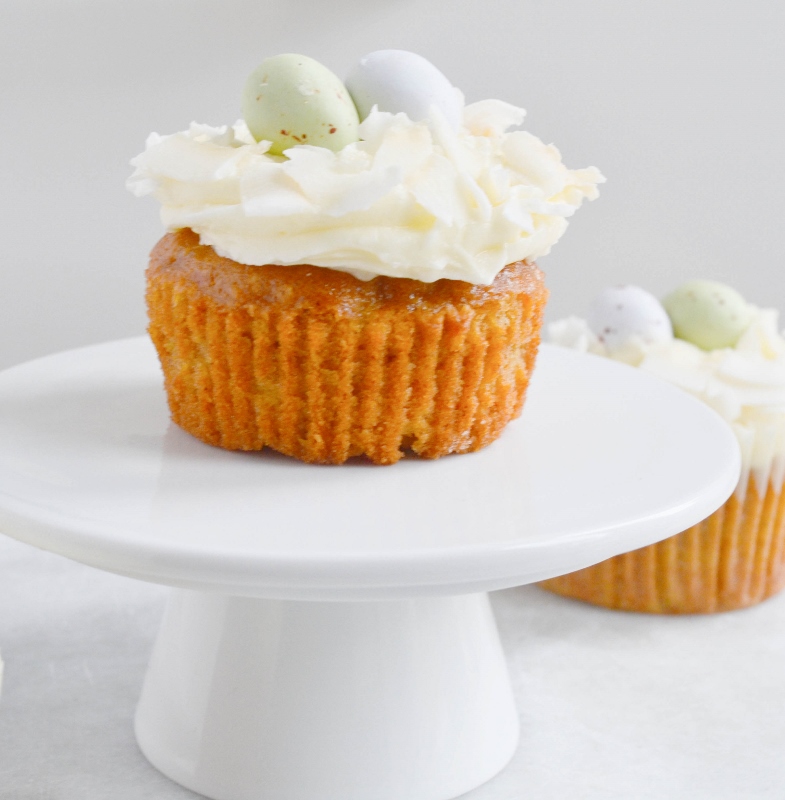 Piped cream cheese frosting with a nest made from toasted coconut flakes  and topped with pastel mini eggs make this carrot cupcake perfect for a Easter celebration.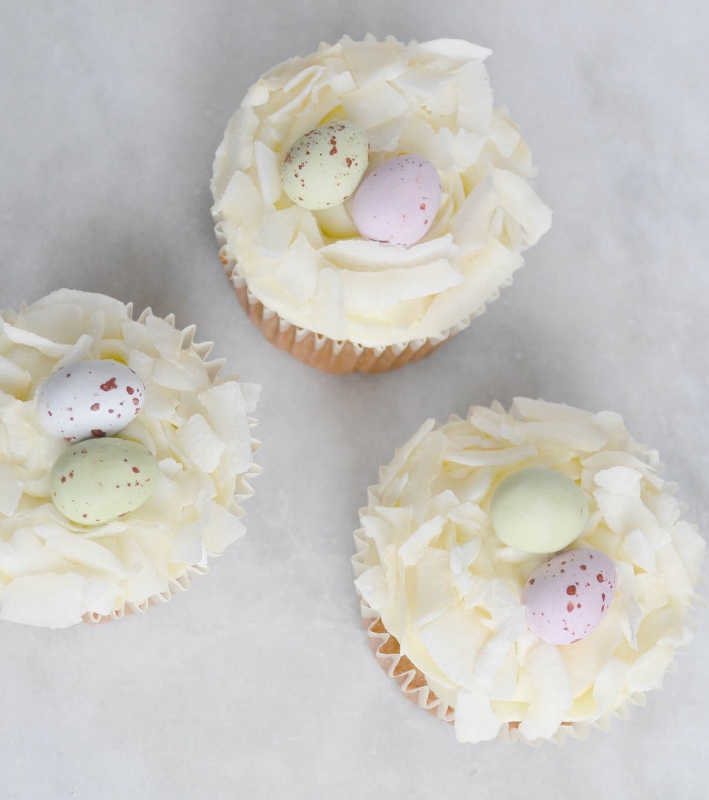 Chichi
xoxo
Ingredients
Ingredients
Carrot Cupcakes

135g (3/4 cup) light brown sugar
50g (1/4 cup) caster sugar
2 large eggs
120ml ( 3/4 cup or 4 fl oz) vegetable oil
2 teaspoon vanilla extract
135g (1 cup + 2 Tbsp) plain flour
13/4 teaspoon ground  cinnamon
2 tsp ginger
1 tsp nutmeg
11/4 teaspoon baking powder
1/2 teaspoon salt
1/4 teaspoon bicarbonate of soda
50g (1/2 cup) sweetened dessicated coconut
80ml (1/3 cup)crushed pineapple
150g (1 cup) finely grated carrot

Cream Cheese Frosting

60g (1/4 cup) butter , at room temperature
300g ( 3 cups) icing sugar
230g (8 oz ) cream cheese, at room temperature
2 tsp vanilla extract
Instructions
Carrot Cupcakes
Preheat oven to 170 degrees C
Line muffin tin with cupcake liners
In bowl of mixer (or using a handheld mixer) beat sugar and eggs until thick and creamy. Add oil and vanilla extract.
Sift together flour, spices, bicarbonate of soda, baking powder, salt,  and desiccated coconut and add to sugar mixture and beat until combined. Fold in crushed pineapple and grated carrot until incorporated.
Evenly  fill cupcake cases with batter and bake for 20 - 25 minutes or until a toothpick inserted into centre of cupcake comes out clean
Remove from oven and place on cooling rack and leave to cool completely before frosting.
Cream Cheese Frosting
Beat butter until light. With the mixer on low speed slowly add icing sugar and beat until well combined.
Add cream cheese to mixture and beat until fluffy. Beat in vanilla extract.
To assemble
Fill piping bag with cream cheese frosting and pipe a rose swirl on top of cupcake ( i used a 1M open star nozzle)
Sprinkle toasted coconut flakes around the edges of the frosting
Place 2 or 3 mini eggs in the centre of cream cheese frosting
Notes:
Notes
If you do not like your cream cheese frosting too sweet you can add less icing sugar and more cream cheese For a stiffer consistency icing reduce the amount of cream cheese added
3.1
https://bakesbychichi.com/carrot-nest-cupcakes/