Delicious low fat blueberry pound cake drizzled with lemon glaze that melts in your mouth.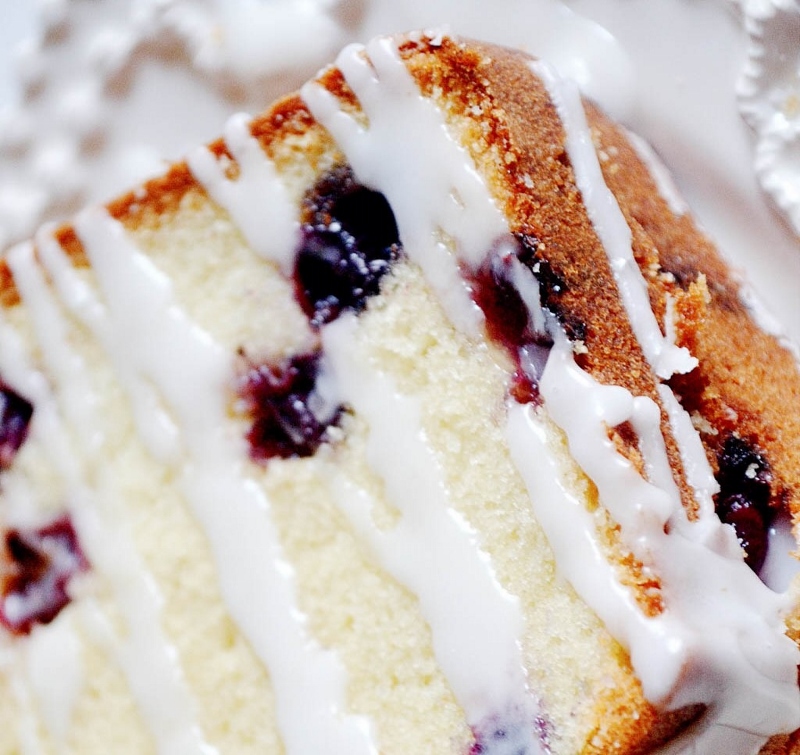 It's already three weeks into 2015 and i am somewhat sticking to my resolutions. I still haven't seen the inside of a gym, though i am sticking to my healthy eating habits. After 21 days of being good it seemed like the right time to bake a cake. A simple no frills delicious cake, so i went back into my archives and adapted this Vanilla Bean Pound Cake. Low fat baking spread was used in place of butter and layers of blueberries added.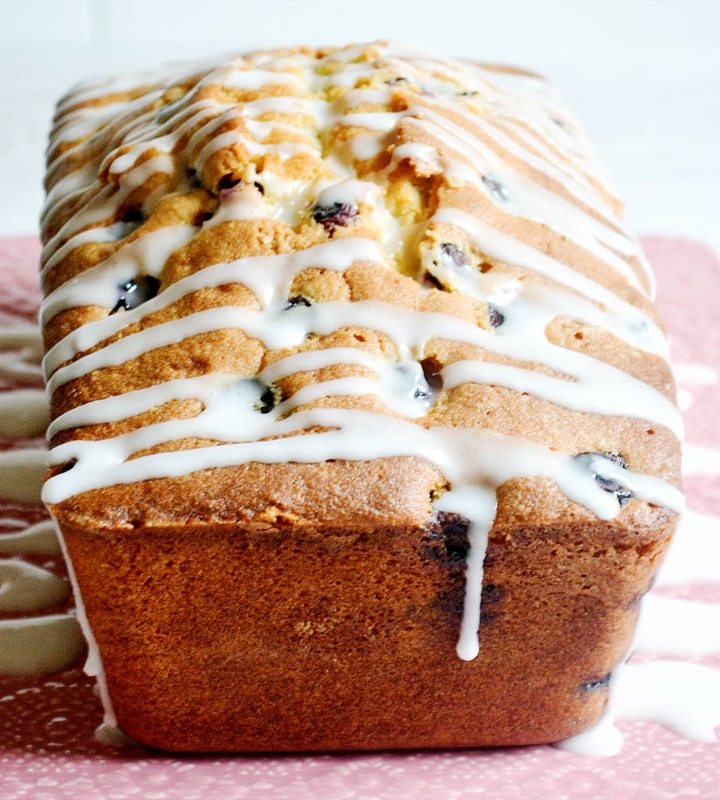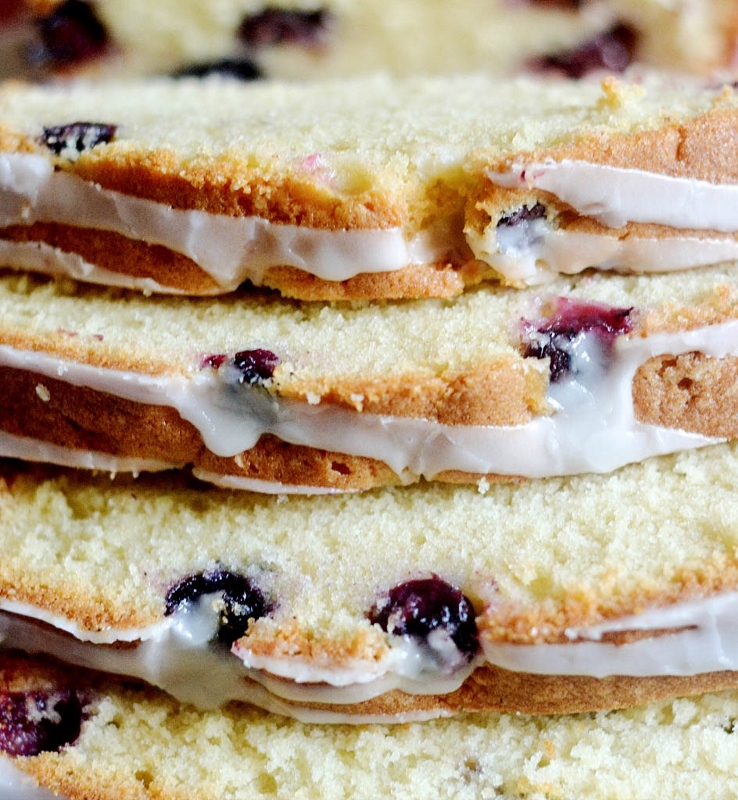 This is a simple cake to make and it's so delicious you won't believe it contains no butter. I used fresh blueberries in the pound cake, frozen blueberries can be used as well. Though blueberries are not in season my local supermarkets still sell them, though they are a tad more expensive than in the summer. Tossing the blueberries in a tablespoon of flour stops them from sinking to the bottom of the cake pan.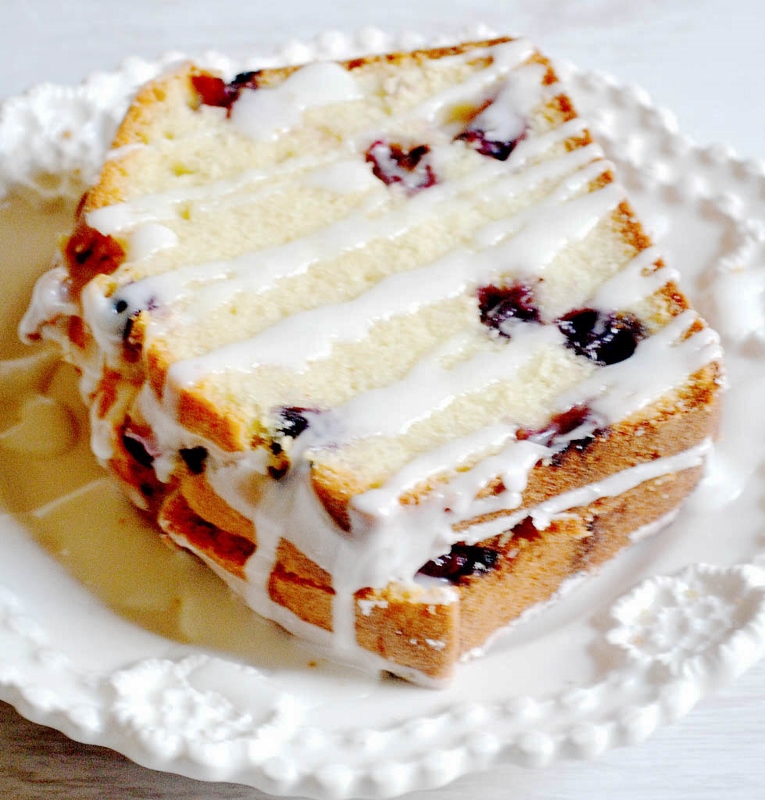 Drizzle lemon glaze on cooled blueberry cake after baking to add that lovely citrusy flavour. The bursts of lemon combined with the delicious blueberry pound cake is just delightful.
Low Fat Blueberry Pound Cake with Lemon Glaze
Ingredients
Low Fat Blueberry Pound Cake

240g (1 cup) baking spread, at room temperature (I used Stork)
200g (1 cup) caster sugar
2 teaspoon vanilla extract
240g (2 cups) Plain/All purpose flour
4 eggs
1/2 teaspoon salt
1/2 teaspoon baking powder
190g (1 cup ) blueberries
1 tablespoon of flour to toss blueberries in

Lemon Glaze

100g (1 cup) icing sugar
3 tablespoons lemon juice
Instructions
Low Fat Blueberry Pound Cake
Grease and lightly dust a loaf tin
Preheat oven to 170 degrees Celsius.
In the bowl of mixer cream baking spread and vanilla extract until light then gradually add sugar and beat until fluffy, about 5 minutes.
Sift flour, baking powder and salt into a bowl.
Add eggs one at a time, beating well after each addition.
At a low speed add flour mixture slowly until well combined. Set aside
Sprinkle blueberries with a tablespoon of flour and toss to coat.
Place some of the cake batter into the loaf tin and spread a layer of blueberries over the top of batter. Top with remaining batter and then spread remaining blueberries. Tap tin gently on counter top to eliminate air bubbles. Bake for 60 - 80 minutes or until a toothpick inserted in centre of cake comes out clean.
Cool cake in tin for 15 minutes, then invert tin onto rack and let cake cool completely.
Lemon Glaze
Mix together icing sugar and lemon in a small bowl until smooth and combined. You may have to use more or less lemon juice to achieve the consistency requires
Drizzle glaze over cake.
3.1
https://bakesbychichi.com/low-fat-blueberry-pound-cake-with-lemon-glaze/