Hot Honey Chicken Wings– sweet, spicy, and full of flavour. These perfectly seasoned wings are baked till crispy and then tossed in a homemade hot honey sauce. They are the perfect appetizer for any occasion.
I'm currently obsessed with these hot honey wings. Whether as an appetizer or with a main, they are amazing. I love having them with jollof rice or potato wedges. They are also perfect with mac and cheese or even a salad. You can never go wrong when it comes to chicken wings.
Let's get into these Hot Honey Chicken Wings
Ingredients you will need for this recipe. 
Chicken wings: Separate the wing portions into a drum and flat. Remove the tips and use them to prepare chicken stock so nothing is wasted. 
Salt: It enhances the taste of the wings. 
Oil:  It is used as a binder to help keep the spices on the wings and also prevents the wings from sticking to the rack.
Seasoning Mix: A blend of sweet smoked paprika, onion powder, garlic powder, ginger powder, black pepper, and marjoram adds a depth of flavour to the chicken wings. Basil or thyme can be used in place of marjoram.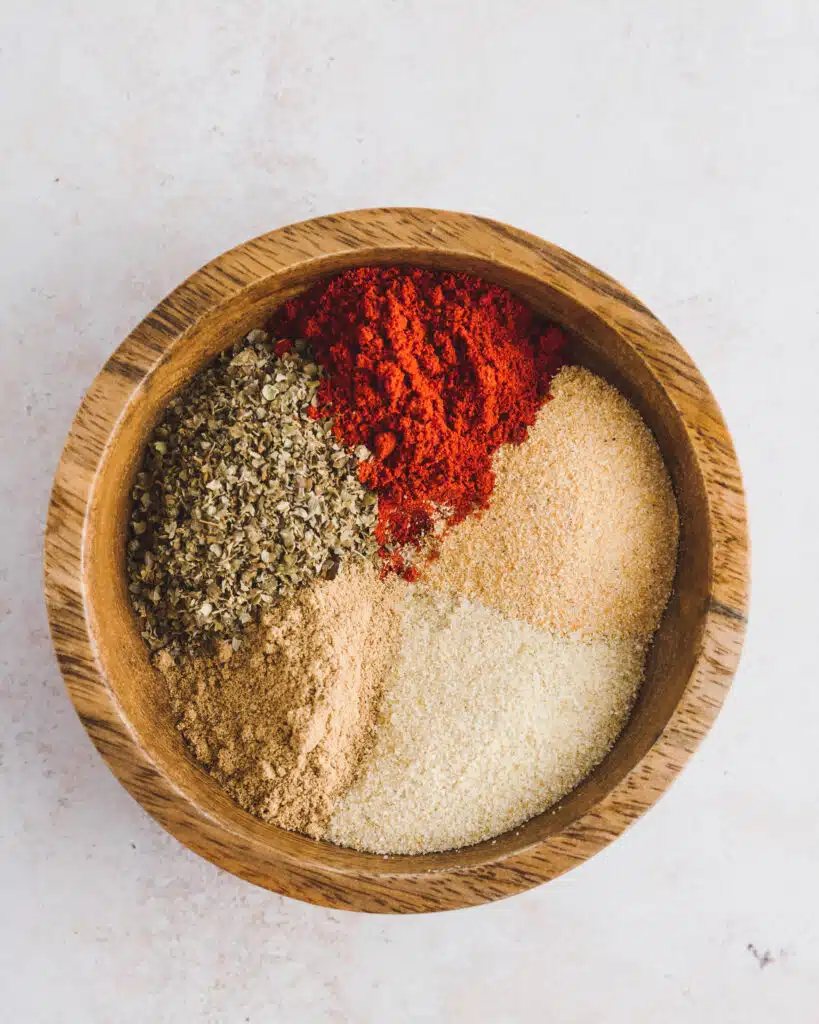 Aluminium-free baking powder: It's the secret to getting crispy wings. Coat the wings with baking powder just before baking. Corn or potato starch is great substitutes. 
Unsalted Butter: Butter adds richness and flavour to the hot honey sauce. It also  helps coat the sauce on the wings 
Honey- Use light or mildly flavoured honey. A strong flavoured honey may impact the taste of the hot honey. 
Hot Sauce: Use any hot sauce of your choice. Frank's Red Hot is my favourite. 
Pat the wings dry with paper towels to remove as much moisture as you can. Add wings to a large mixing bowl and season with salt. Coat with 2 tablespoons of oil. Sprinkle the seasoning mix over the wings, and mix until all the wings are 

evenly coated. 
Cover and leave to marinate in the fridge for at least an hour. I prefer to marinate mine overnight. Let the chicken sit for up to 30 minutes before cooking. This allows the chicken to come to an even temperature, which will help ensure even cooking.
Preheat the oven to 200°C. Just before baking, add in your baking powder and toss to coat the chicken wings. 
Arrange the wings in a single layer on a large baking rack.  The rack ensures that there is airflow through the wings, which results in perfectly crispy wings.
Bake them until crispy and browned. 
In a saucepan over medium heat add unsalted butter to melt. Mix in hot sauce and honey. Simmer over low heat until the sauce thickens. Remove from the heat. 
Toss the wings in the sauce to coat. 
For crispy skins, pat the wings dry with a paper towel before marinating. 
Marinate the wings overnight. This allows the chicken to absorb the flavour and makes it tastier.
For extra crispy skins, toss the wings in some baking powder.  
You can make the hot honey even spicier by adding in some chilli pepper flakes.
For more appetizers, check these out: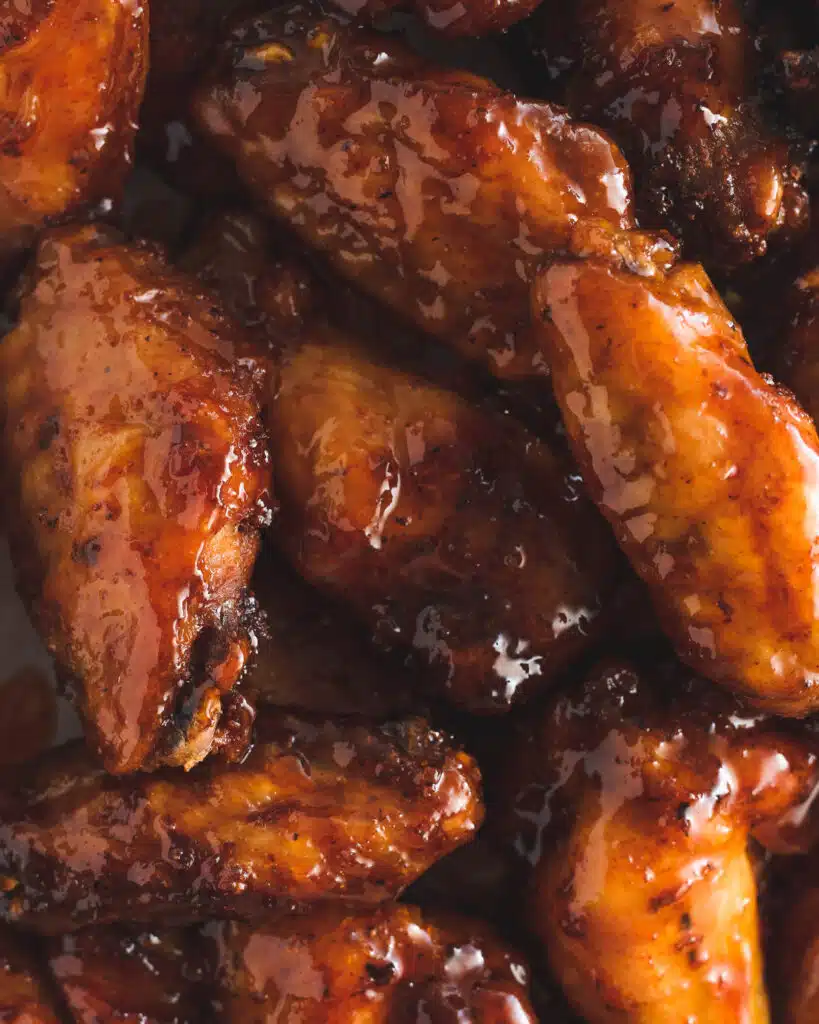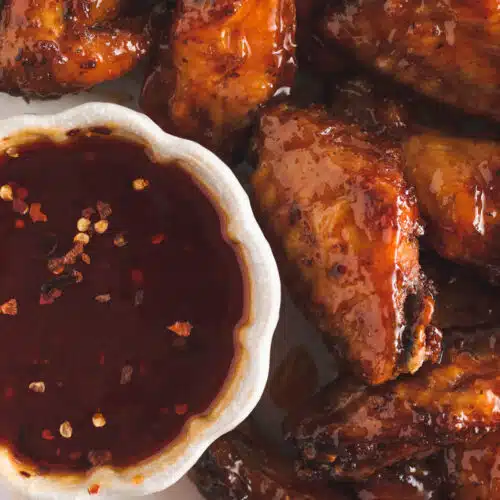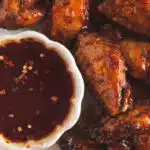 Hot Honey Chicken Wings
These Hot Honey Chicken wings start with perfectly seasoned crispy wings which are then glazed with a sticky sweet hot honey sauce. You can have these wings as a  starter (appetizer) or with a main meal. 
Print
Pin
Rate
Ingredients
1

kilogram

(2.2 lbs) chicken wings, patted dry

2

tablespoons

sunflower oil (or any neutral tasting oil)

1

tablespoon

onion powder

1

tablespoon

garlic powder

1

tablespoon

ginger powder

1

tablespoon

smoked paprika

1

teaspoon

black pepper

1

teaspoon

marjoram

½

teaspoon

salt

2

teaspoons

aluminium free baking powder
Hot Honey Sauce
50

grams

(¼ cup) unsalted butter

80

grams

(⅓ cup) honey

60

grams

(¼ cup) hot sauce
Instructions
Cut each wing at the joint, so you have a wing and a drum. Clean the wings in a water bath made with lemon juice and vinegar. Pat the wings dry with paper towels to remove as much moisture as you can.

Season the wings with salt. In a small bowl, combine onion powder, garlic powder, ginger powder, smoked paprika, black pepper, and marjoram, together. Whisk well to combine. Pour oil over the wings. Then sprinkle the seasoning mixture over the wings. Toss wings through the seasoning until coated. 

Cover the wings and place them in the fridge and leave them to marinate for at least 1 hour. Remove the wings from the fridge and sprinkle the baking powder over them and toss them together to make sure the baking powder coats all of them.

Adjust the oven rack to the middle position and preheat the oven to 200°C or 390°F

Line a rimmed baking tray with an oven liner or aluminium foil and set a wire rack inside.

Arrange the wings on the rack in a single layer.

Bake for 20 minutes, flip, and continue to cook for another 20 minutes, until golden brown and crispy. The cooking time may vary depending on the size of the wings. The internal temperature of the wings should read 73° C or 165 °F.
Hot Honey Sauce
To a saucepan add the butter and heat over medium heat until melted. Turn down the heat to low and add in honey and hot sauce. Leave to simmer until thickened, for 5 minutes. Remove from the heat.

Toss wings through the hot honey sauce to evenly coat. Serve immediately.
If you made this recipe, I would love to hear from you.
Tag Bakes By Chichi on Instagram or hashtag #bakesbychichi