Light and tender crumb devil's food cupcakes filled with cherry conserve, frosted with cherry buttercream and a cherry on top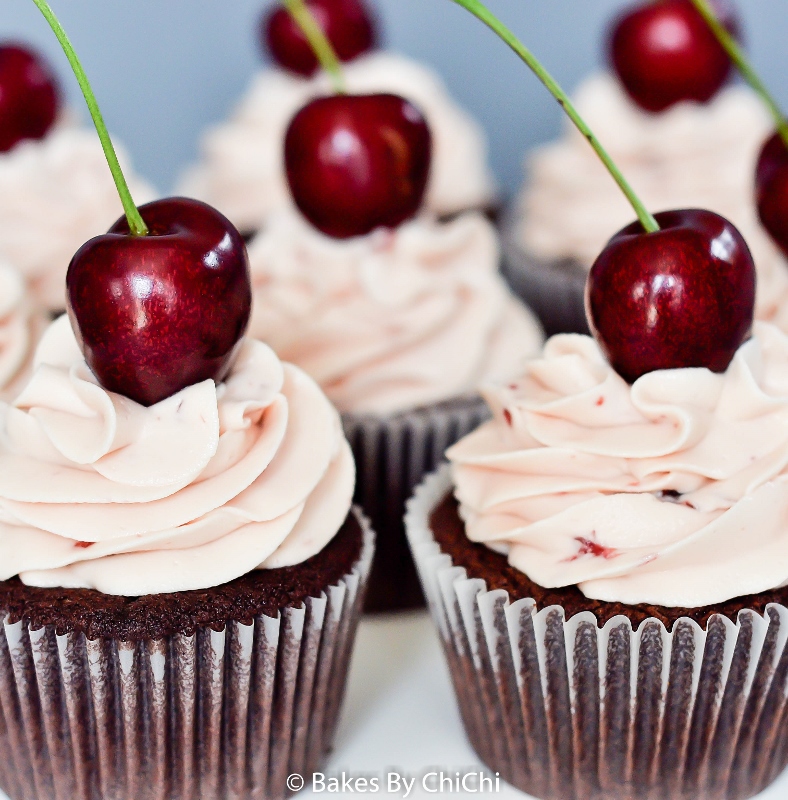 Have I mentioned my love for summer fruit?? I may have mentioned it once or twice. Lol! Out of all the summer fruit, cherries have a special place in my heart. In the summer, most of the supermarkets stock picota cherries from Spain. And let me just say those cherries are value for money. At £1 for 250g , my purse isn't crying. Sometimes I have to put myself in cherry detox, because once I start eating them, there is no stopping me.
When my Mr asked for cupcakes to take to work on the last day of school, I just knew I had to incorporate cherries into it. Wanted to share my cherry love plus this blog is missing a cherry recipe. I made a batch of devil's food cupcakes using the same recipe from my devil's food poke cake.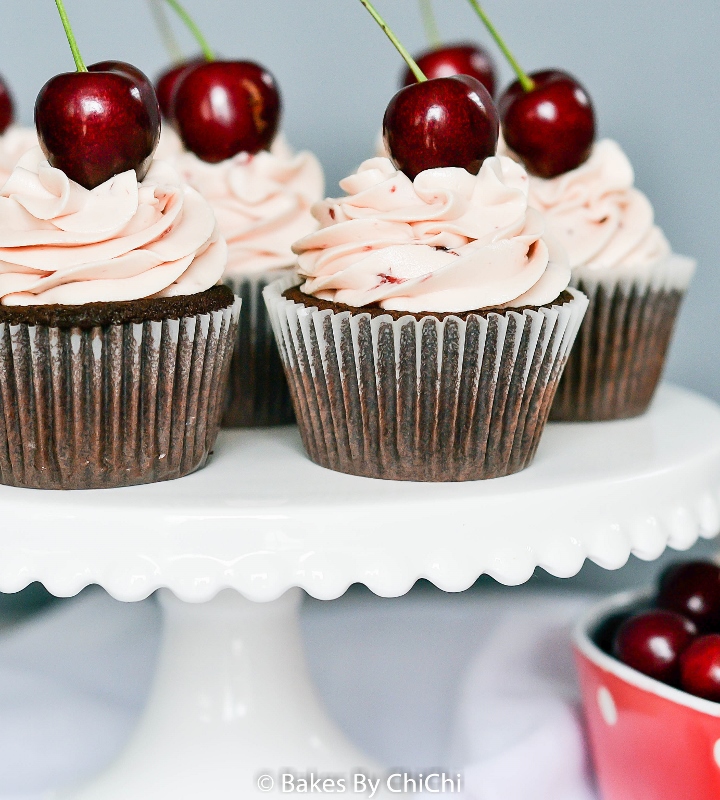 Once the devil's food cupcakes cooled the centre's where scopped out and filled with cherry conserve. Simply carve a hole in the centre using a sharp knife. Be sure not to cut all the way to the bottom of the cupcake, this can cause the conserve to seep through the liner.  Fill centre with cherry conserve. You can top the cupcake with piece you removed or snack on them like I did. Either way is ok . The centre won't be visible, it will be covered with frosting.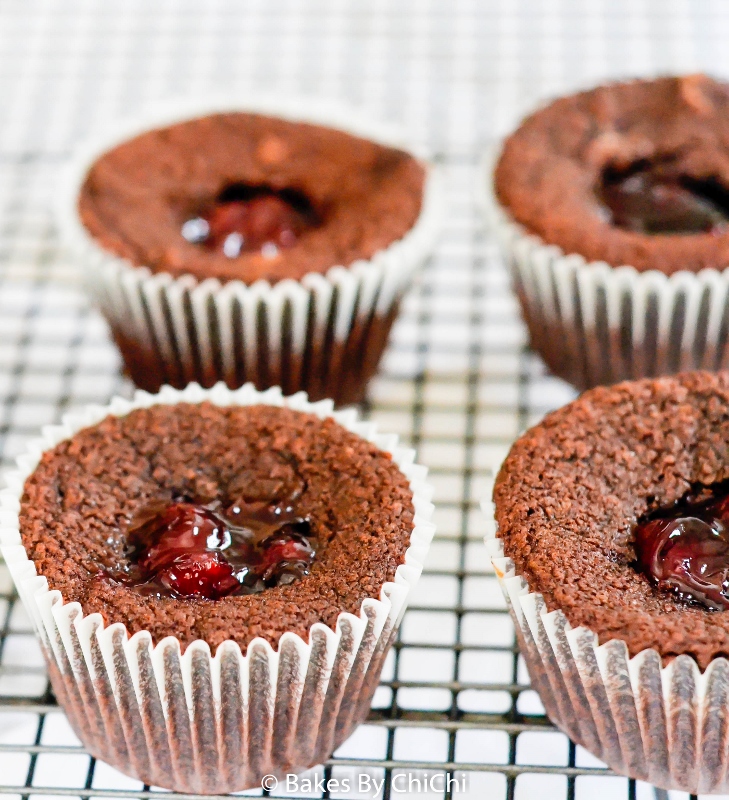 The cherry buttercream begins with a basic buttercream recipe.  Then beat in a 80g (1/4 cup ) cherry conserve into buttercream.  What you get is luscious, creamy pink cherry buttercream. The flavour from the cherry conserve stands out without being overpowering. Pipe the cherry buttercream onto the cupcakes. Be sure to use a piping nozzle with an open wide enough for the cherry chunks to come through. Like an open star nozzle.
Chocolatey cupcakes filled with cherry conserve and frosted with with creamy cherry buttercream is just the ideal summer cupcake.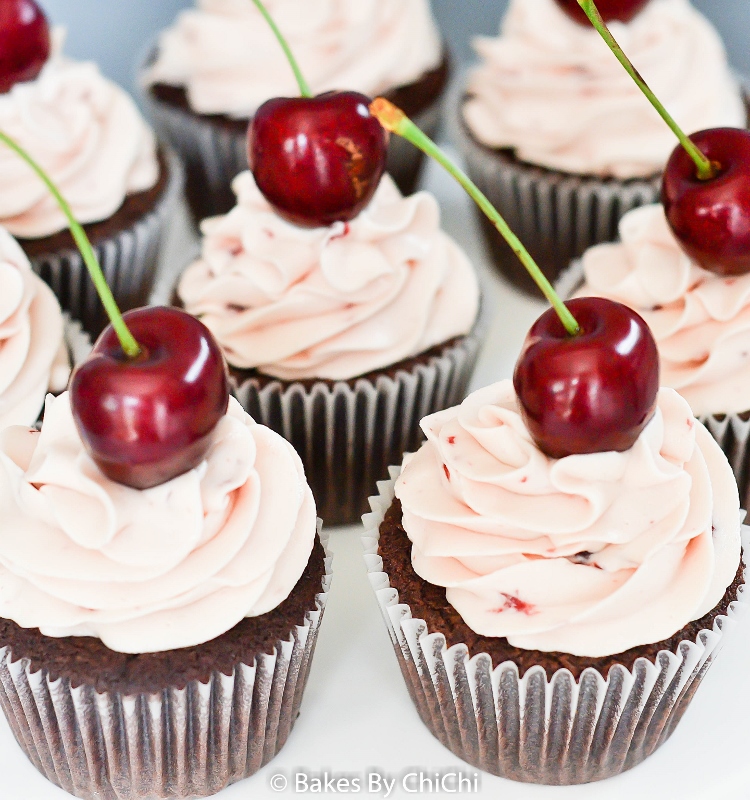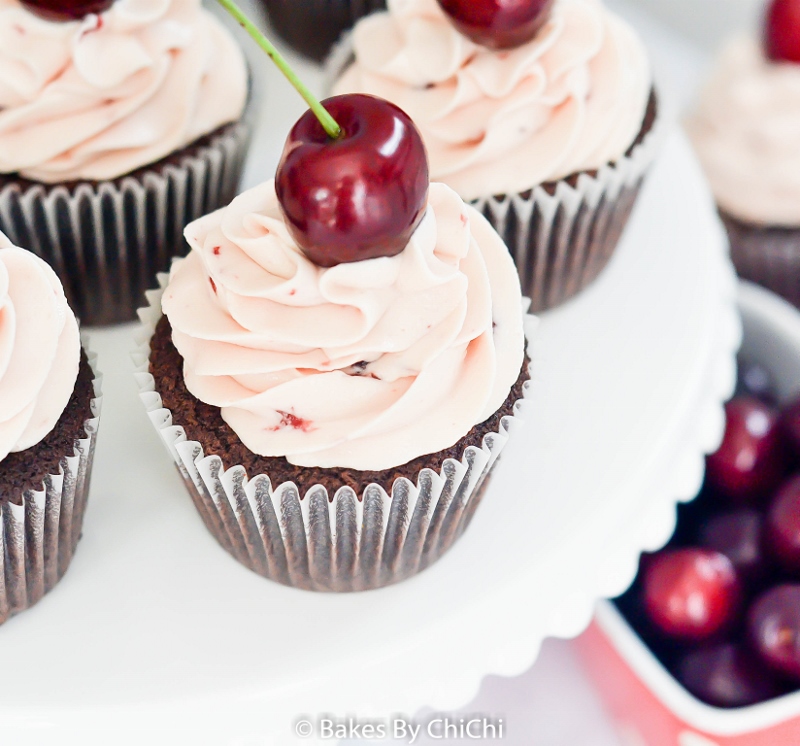 Cherry Filled Devil's Food Cupcakes with Cherry Buttercream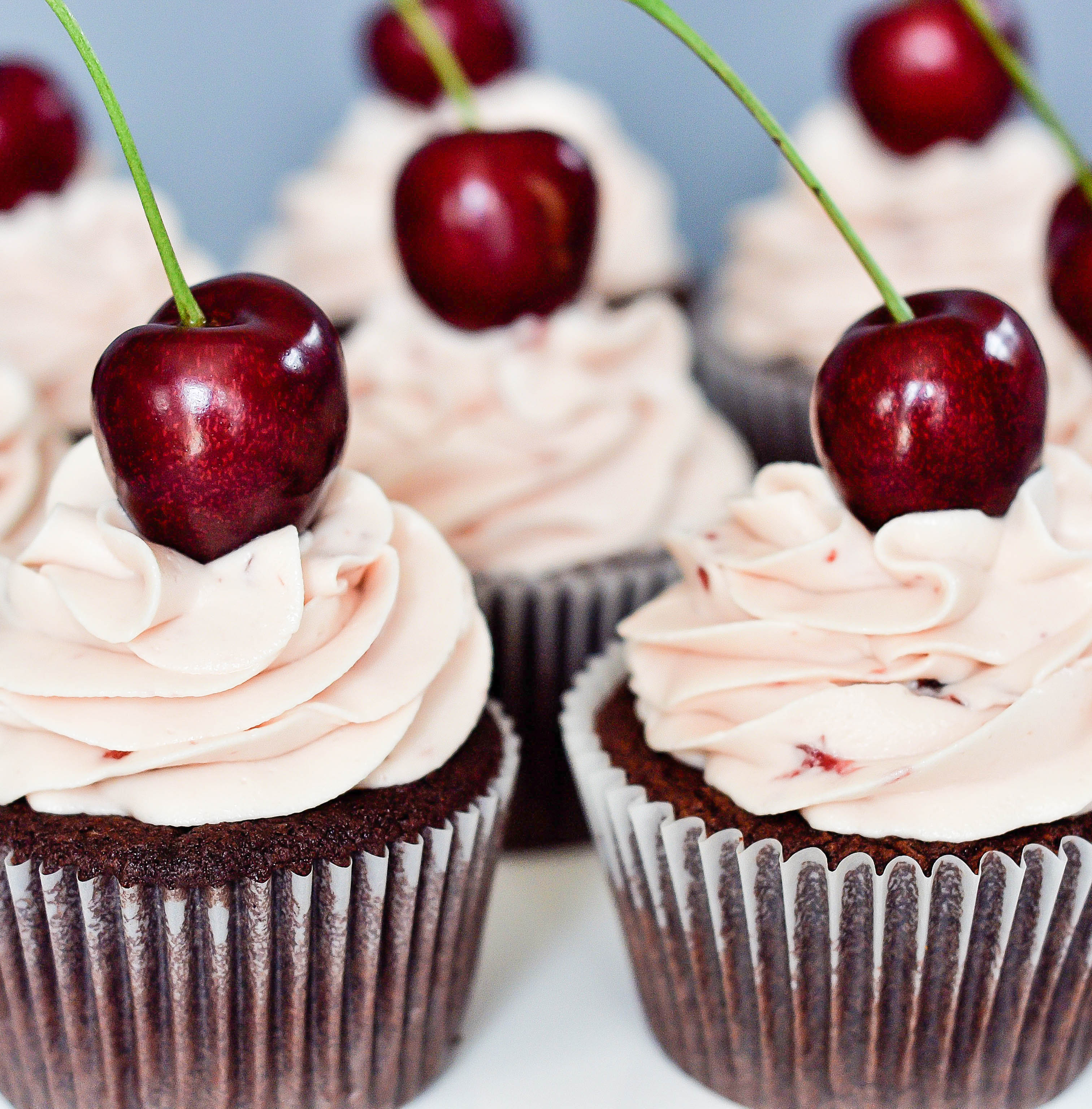 Ingredients
Devil's Food Cupcakes

120g (1/2 cup) unsalted butter, room temperature
240g (11/3 cup) light brown sugar
100g (3.5 oz) semi sweet chocolate, chopped
90g (3.1 oz) cocoa powder
120ml (1/2 cup) boiling water
3 eggs
120ml (1/2 cup) buttermilk
1/2 teaspoon bicarbonate of soda
160g (11/3 cup) self raising flour
340 g (12 oz) cherry conserve, divided use

Cherry Buttercream

250 g (1 cup) unsalted butter room temperature
125 g (2/3 cup) vegetable shortening or Trex
400 g (4 cups) icing sugar, sifted
80 g (1/4 cup) cherry conserve
1-2 tablespoons whipping cream
1 teaspoon vanilla extract
Instructions
Devil's Food Cupcakes
Preheat the oven to 190 degrees celcius.
In a jug or deep bowl combine the chopped chocolate, cocoa and boiling water and whisk until smooth.
Sift the flour and bicarbonate of soda and set aside.
Cream butter and sugar together until light and fluffy, about 5 minutes.
Beat in vanilla extract and the eggs, one at a time, beating well after each addition.
Add the melted chocolate mixture into the mixture and beat until well blended.
With the speed of the mixer on low, add half the flour mixture, then the buttermilk and the rest of the flour mixture.
Fill each liner 3/4 full and bake cupcakes, rotating tins halfway through for about 20 minutes or until a toothpick inserted in the centre comes out clean.
Let cupcakes cool in pan for 15 minutes before removing to cooling rack to cool completely. Cupcakes can be stored overnight at room temperature, or frozen up to 2 months, in airtight containers.
Cherry Buttercream
In the bowl of mixer beat together butter and shortening until light, about 3 minutes.
Add icing sugar a cup at a time and beat until well incoporated.
Beat in cherry conserve. Taste and see if more conserve is required. If you think more is needed then add.
Add a tablespoon at a time of whipping cream until the buttercream has reached a consistency you require. Add a pinch of salt and beat on high until fluffy.
Fill and Frost Cupcakes
Use a sharp knife and cut a circular hole into the centre of the cupcake to create a little hollow.
Be sure not to go all the way down to the bottom of the cupcake, this can cause your filling to seep through the liner.
Spoon 1 teaspoon of cherry conserve filling inside. Repeat with all the other cupcakes.
Fit a piping bag with a 1M open star, fill with cherry buttercream and pipe swirls on top of cupcakes.
3.1
https://bakesbychichi.com/devils-food-cupcakes-with-cherry-buttercream/