Thick, soft baked triple chocolate chip pudding cookie cake baked in heart cake tin.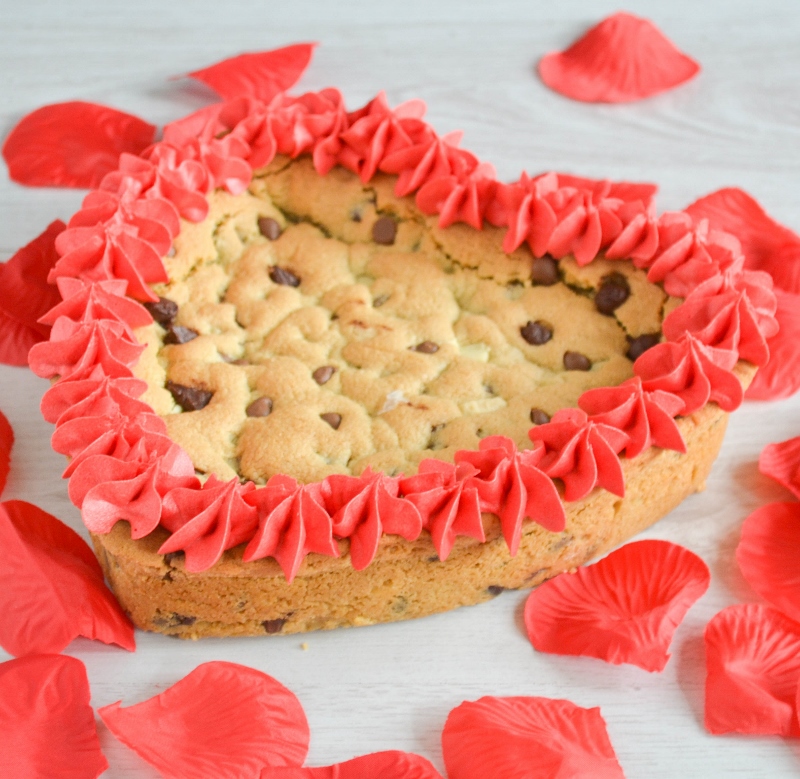 Happy Valentine's Day!!
I am fan of soft baked cookies. So far i have made Mocha Chocolate Pudding Cookies, Soft Baked Red Velvet Cream Cheese Cookies, Brown Butter Chocolate Chip Cookies and Soft Baked Ginger Crinkle Cookies. Two things I have learnt are if you want soft baked cookies add cornstarch or pudding mix to the recipe.  This creates a wonderfully soft cookie which i totally love. For this recipe i used pudding mix.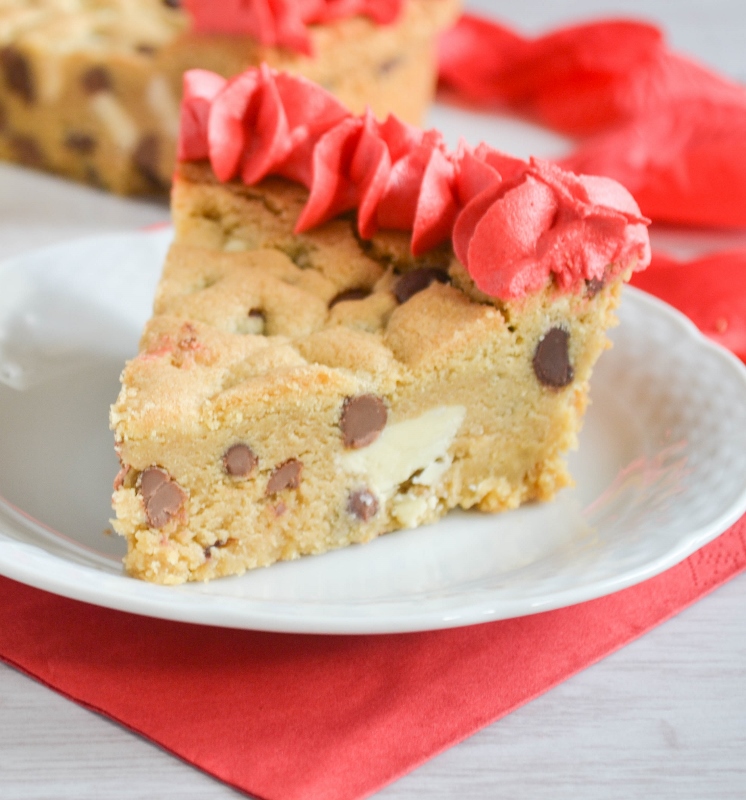 Being as it is valentine i thought i would bake this triple cookie chip cake in an 8 inch heart tin. The recipeadapted from Averie Cooks chocolate chip cookies is so easy and straightforward. To mine i added less sugar,only because i was going to load the batter with lots of white, milk and semi sweet chocolate chips. I added an extra egg for moisture and extra richness to the cookie cake.  The batter for the triple chocolate chip cookie will thick so be sure to scoop it into the heart tin before chilling.I lined the bottom of the heart tin so it easier to remove the cookie cake once it has been baked. It is easier to press the dough into the tin whilst it is at room temperature, so get it into every nook and cranny. Then chill the dough in the fridge for 30 minutes before baking.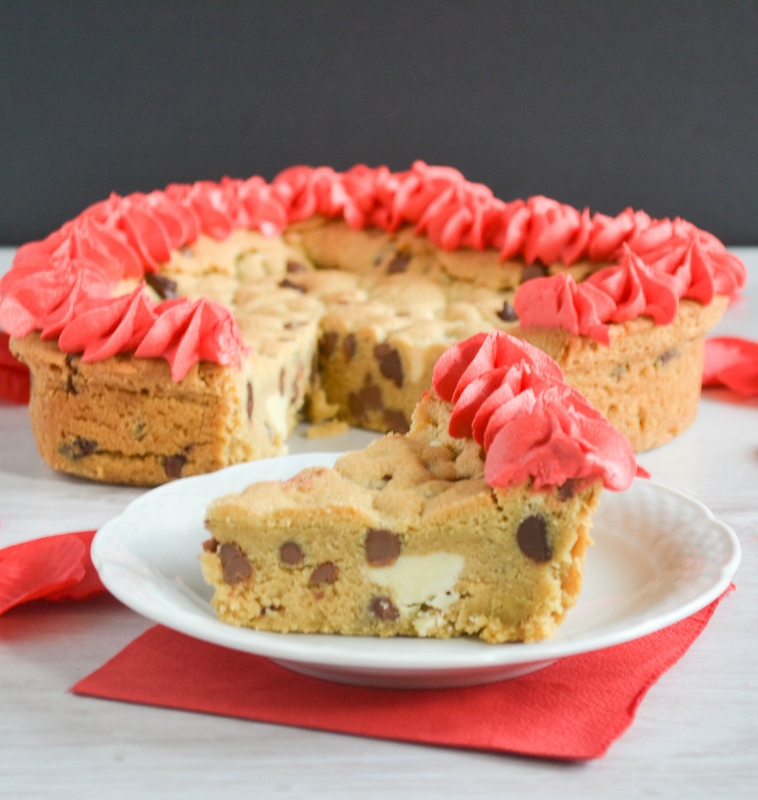 To finish off this triple chocolate pudding cookie cake i tinted some buttercream red and piped a star border around the edges with my favourite piping tip, the 1M.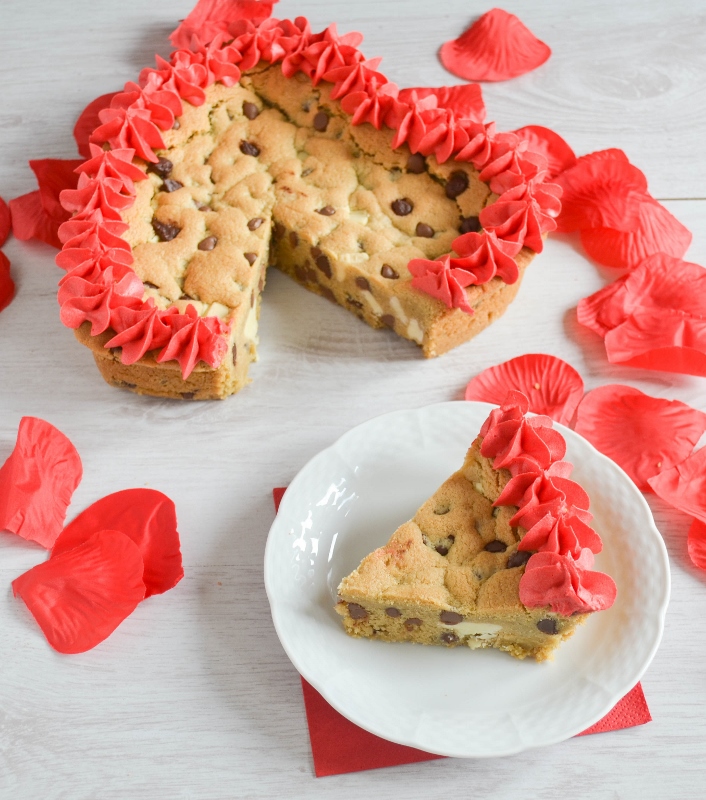 Triple Chocolate Chip Pudding Cookie Cake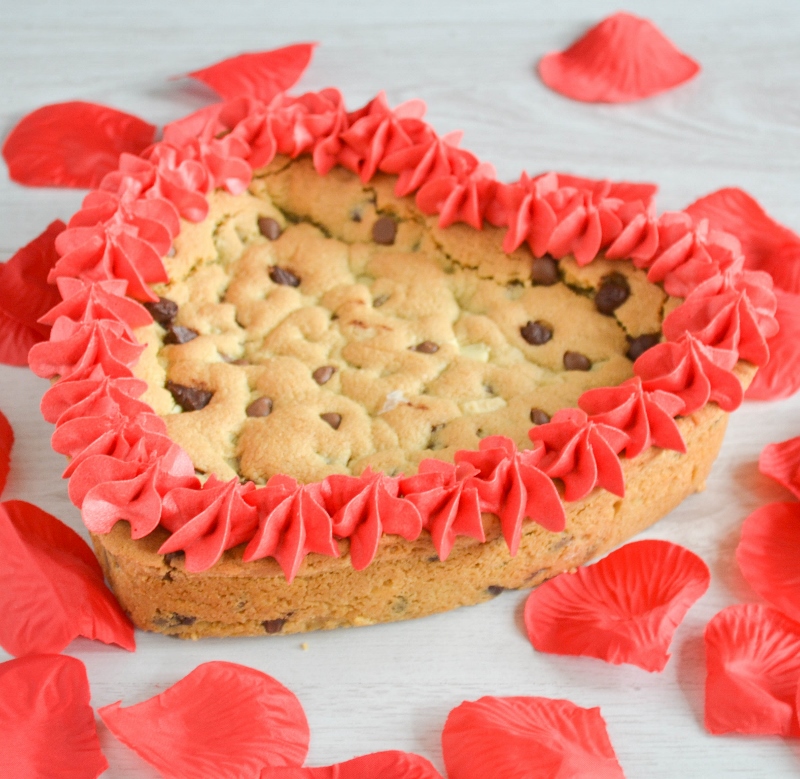 Ingredients
Triple Chocolate Chip Pudding Cookie Cake

170g (3/4 cup) butter, sliced
90g (1/2 cup, lightly packed) light brown sugar
50g (1/4 cup) caster sugar
2 eggs
2 teaspoons vanilla extract
240g (2 cups) plain flour
1 teaspoon baking soda
1/2 teaspoon salt
1 packet instant vanilla pudding mix
100g (1/2 cup) milk chocolate chips
100g (1/2 cup) semi sweet chocolate chips
100g (1/2 cup) white chocolate chunks

Vanilla Buttercream

120g (1/2 cup) unsalted butter, room temperature
200g (2 cups) icing sugar
1/2 teaspoon vanilla extract
1-2 tablespoons double cream
Few drops of red food paste
Instructions
Triple Chocolate Chip Pudding Cookie Cake
Place grease proof paper at the base of heart tin.
In the bowl of stand mixer beat butter and sugar until light and fluffy, about 5 minutes. Add eggs one at time, mixing well until combined. Scrapping sides as needed. Add vanilla extract.
Add pudding mix and beat until combined.
Sift flour and baking soda into mixture. Mix until combined on low speed.
Fold in chocolate chips.
Scoop dough into tin and press evenly into tin.
Chill for 30 minutes.
Preheat oven to 165 degrees Celsius
Bake chilled cookie dough batter in oven for 25 - 30 minutes or until cookie cake is golden brown
Remove from oven and cool on baking sheet to cool completely.
Run a table knife around edges to loosen and and invert onto serving plate.
Vanilla Buttercream
Beat butter until light
With the mixer on low speed slowly add icing sugar a cup at a time , then mix in whipping cream.
Add vanilla extract, red food paste and beat until fluffy.
3.1
https://bakesbychichi.com/triple-chocolate-chip-pudding-cookie-cake/
Few recipes to try out 
Soft Baked Red Velvet Cream Cheese Cookies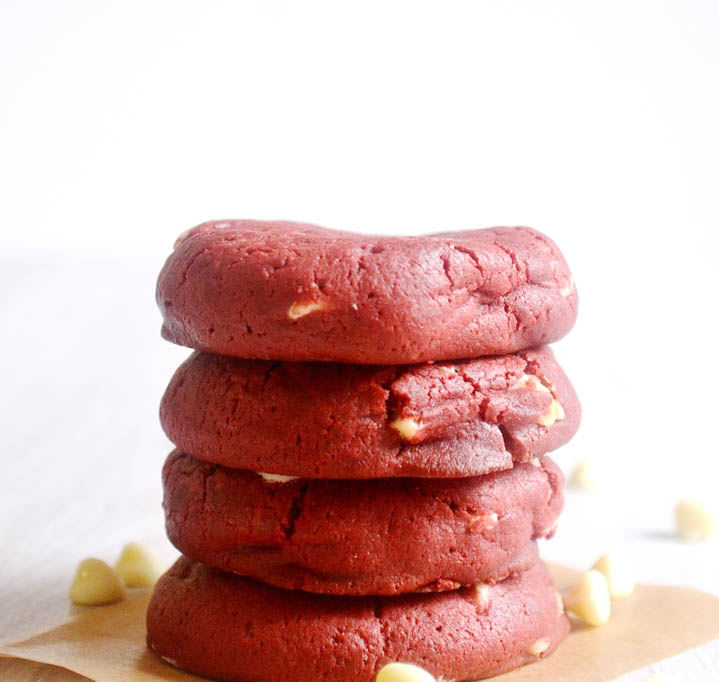 Mocha Chocolate Chip Pudding Cookies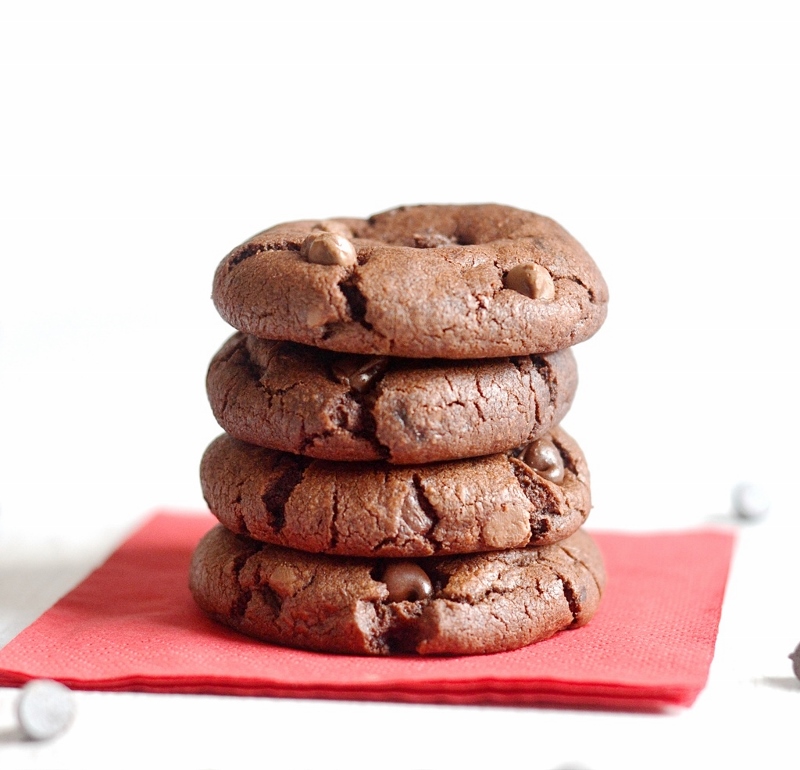 Brown Butter Chocolate Chip Cookies