Moist, decadent chocolatey chocolate cupcakes frosted with strawberry buttercream, drizzled with ganache and topped with dark chocolate covered strawberries.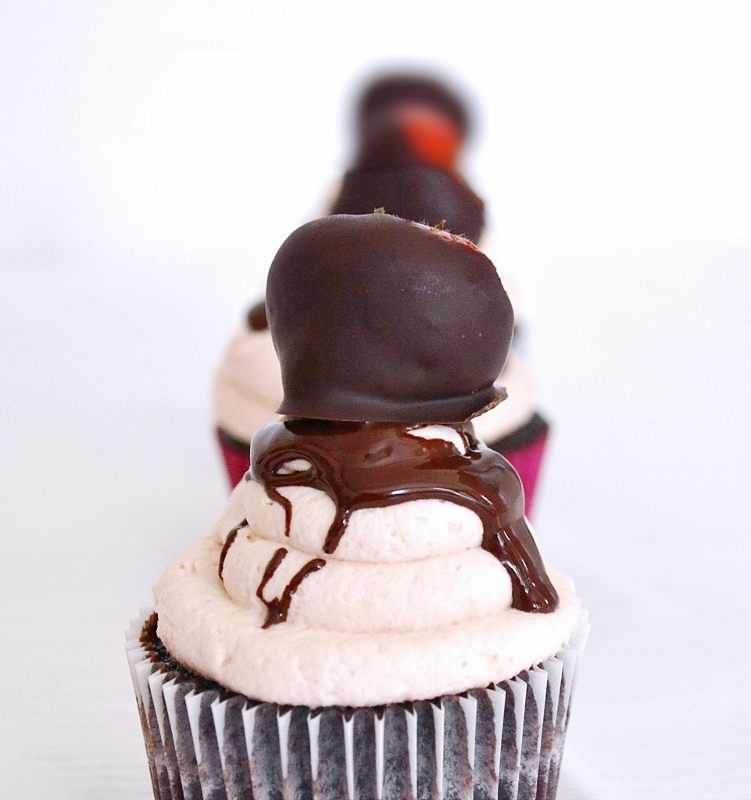 Nothing says Valentine like chocolate and strawberries. What more this a Chocolate Cupcake topped with Strawberry Buttercream topped with more chocolate. I do not think it gets better than this.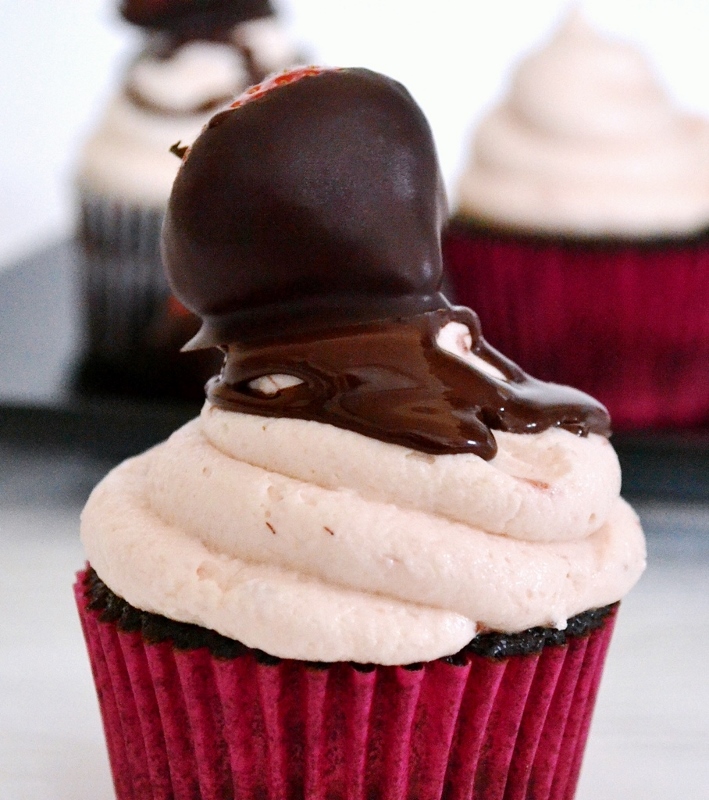 With valentine almost upon us I thought I would share this recipe. This is my go to chocolate cupcake recipe. Extremely moist and decadent. It a one bowl chocolate cupcake recipe. You don't need a mixer for this. Dry ingredients go in first, followed by wet ingredients then mix, pour into cupcake cases and bake. That simple!!!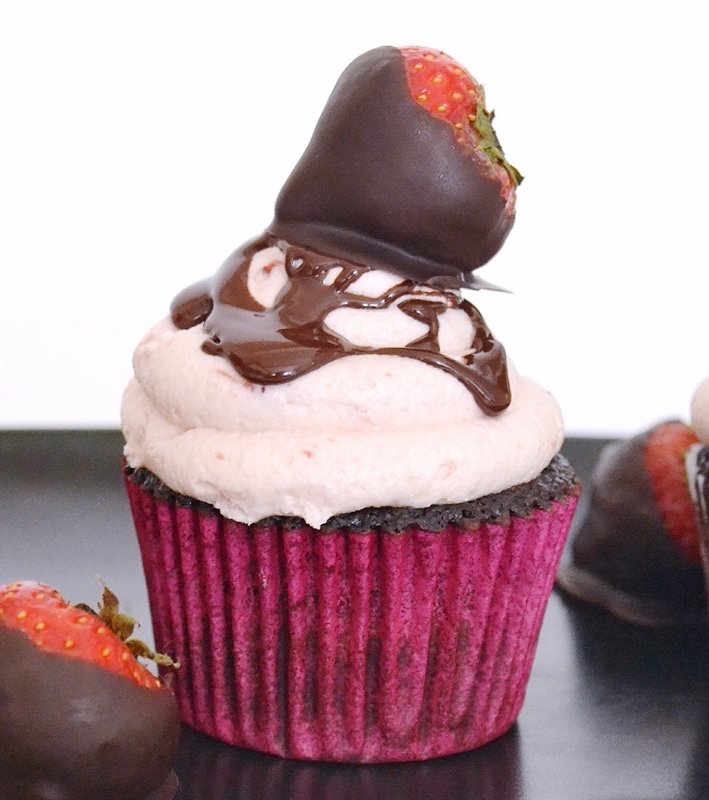 This recipe has it all ; chocolate cupcakes, strawberry buttercream and chocolate covered strawberries. Guaranteed to give a chocolate lover their fix. The strawberry buttercream is bursting with lots of strawberry flavour. The strawberry syrup is made out of fresh strawberries, so you are guaranteed that nataural strawberry flavour. The strawberry buttercream compliments the chocolate cupcake. Pipe the strawberry buttercream onto the cupcake then top with a chocolate covered strawberry. Just the perfect Valentine's dessert. All that is missing is a glass of Champagne.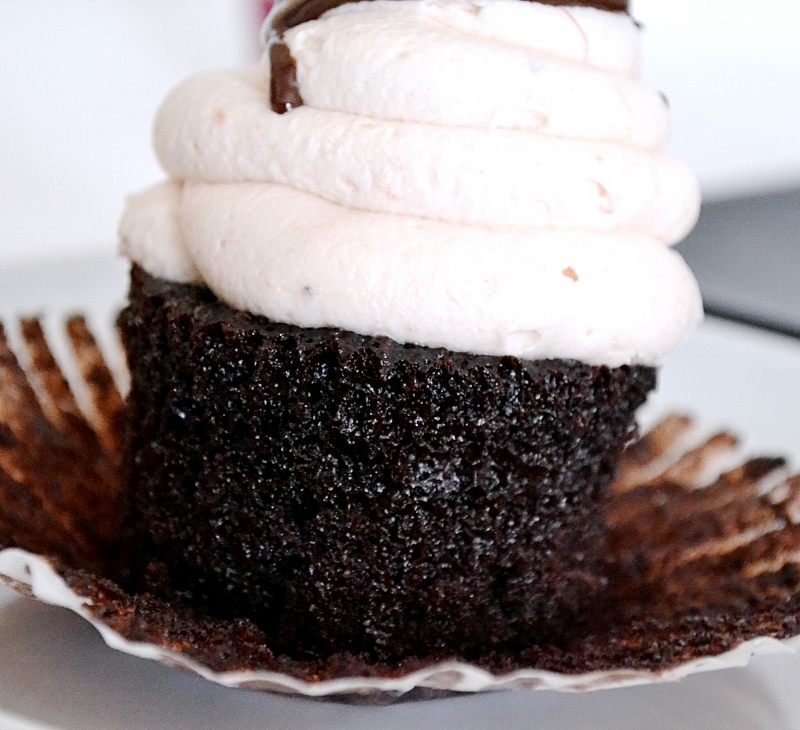 Chocolate Cupcakes With Chocolate Covered Strawberries
Ingredients
Chocolate Cupcakes

100g cocoa powder
240g all purpose( plain ) flour
1 teaspoon baking powder
1 teaspoon bicarbonate of soda
1/4 teaspoon salt
2 large eggs
300g caster sugar
120ml vegetable oil
240ml sour cream
2 tsp vanilla extract
1 cup hot water

Strawberry Syrup

300g sliced fresh strawberries
100g granulated sugar
120ml water

Strawberry Buttercream

240g unsalted butter, room temperature
400g icing sugar, sifted
4 tablespoons strawberry syrup
1 teaspoon strawberry flavouring
pinch of salt

Chocolate ganache

336g chocolate ( use your favourite)
240ml whipping cream
Instructions
Chocolate Cupcakes
Preheat oven to 160 degrees Celsius. Place paper liners in cupcake pans.
Sift together cocoa powder, sugar, flour, bicarbonate of soda, baking powder and salt into bowl of mixer.
Add eggs, oil, sour cream and vanilla extract and beat on medium speed until incorporated. Stir in hot water.
Fill each liner 2/3 full and bake for 20 - 25 mins or until a toothpick inserted in the centre comes out clean. Let cupcakes cool in pan for 5 minutes before removing to cooling racks
Strawberry Syrup
Place strawberries, sugar and water in a pot and bring to a boil over medium- low heat.
Reduce heat and allow to simmer for about 10 mins
Remove from heat and pour into jar of a blender.
Blend on until smooth
Pour into a cover, cover with cling film and refrigerate until chilled, about 20 mins
Strawberry Buttercream
In the bowl of mixer mix together butter and half the icing sugar and to that add 2 tablespoons of strawberry syrup.
Add the rest of the icing sugar and remaining 2 tablespoons of strawberry syrup.
Beat on high for about 20 seconds to lighten the buttercream.
Add a tablespoon at a time of whipping cream until the buttercream has reached a consistency you require. Add a pinch of salt and beat on high for about 20 seconds
Chocolate Ganache
Place chopped chocolate in a bowl
Heat cream in a saucepan over medium heat
Bring just to a boil
Pour cream immediately over chocolate and allow to stand for a few minutes without stirring.
Once chocolate begins to melt stir mixture until smooth
Set some ganache aside for dipping strawberries.
Allow chocolate to cool and firm up a bit before drizzling over cupcakes
Chocolate dipped strawberries
Line baking tray with non stick baking sheet
Wash and pat dry strawberries
Dip strawberries in melted chocolate so they are covered 3/4 covered.
place strawberries on prepared sheet.
Once all strawberries are dipped, put them in the fridge for about 20-25 minutes until chocolate sets.
Place chocolate covered strawberries on top of cupcakes
Notes
If you find that ganache has thickened during dipping just warm in the microwave at 10 second intervals.
3.1
https://bakesbychichi.com/chocolate-cupcakes-with-strawberries-buttercream/
More cupcake recipes